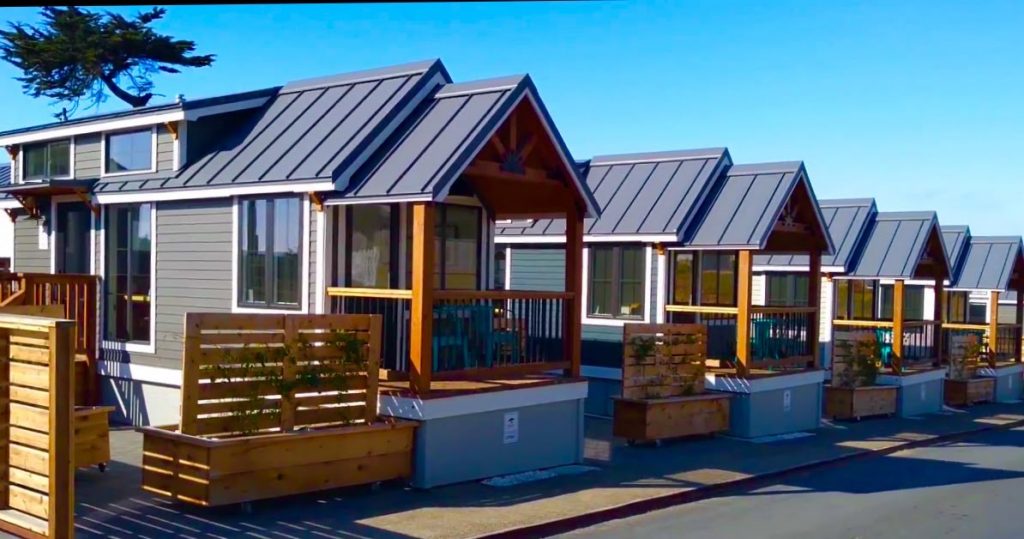 I'm excited to share my top ten destinations in California for you to enjoy!
If you've been toying with the idea of possibly entering into the tiny house movement, why not stay in a tiny house near you and see if this is a reality for you as well?
In this post I will be sharing rental information and the builders behind some of these tiny house getaways.  You'll get a sense of their building style, and you'll have an opportunity to actually stay in their builds to check out their work… or just simply to enjoy a tiny house getaway!
1. Livermore:  First on the list of the top ten destinations in California!
Nestled in the green rolling hills of Livermore, California is a Tiny House Getaway on a 100 Acre Ranch.
Driving up on its very own tiny house road, you'll see this getaway perched on top of the hill overlooking the vast views of the valley. I arrived just in time to an amazing sunset view.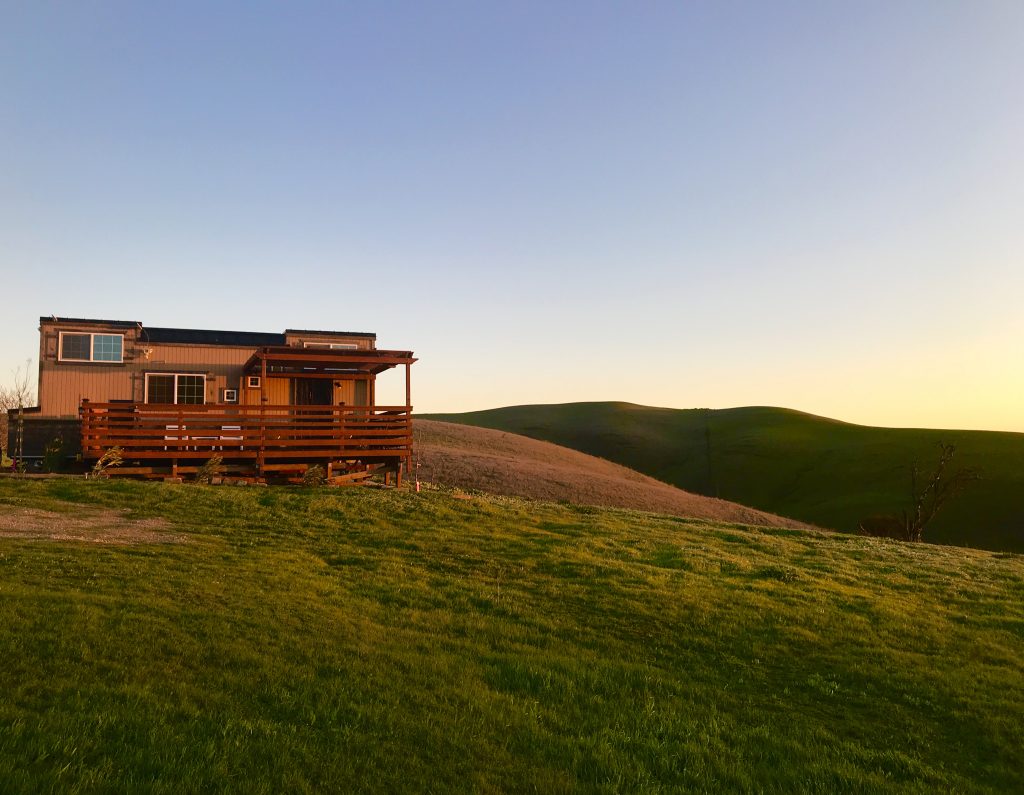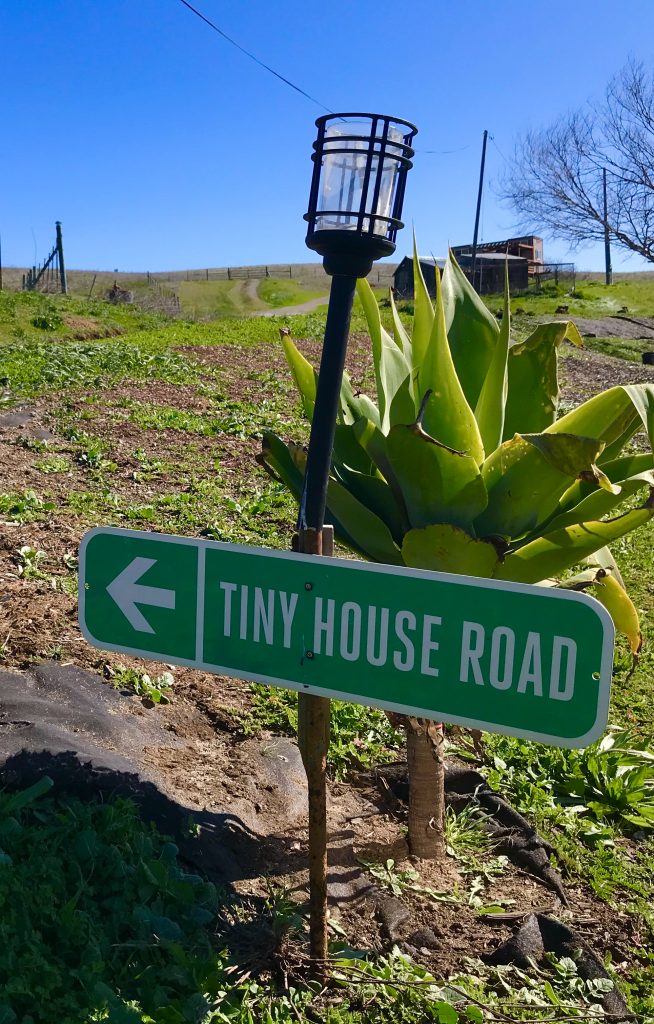 Looking for a tranquil escape from the hustle and bustle of the Bay Area? This is your place to go!
Hosts Hamzeh and Suzanne have created a wonderful little cozy space for guests to enjoy and feel completely at home.
Adding a deck to a tiny house helps extend the usable space, and this tiny house provides so many nice touches for guests to use during their stay, like a yoga mat for morning sun salutations and a bbq for sunset dinners.
The interior is spacious and tastefully decorated to give you an instant feel of a home away from home, or in this case tiny home away from home!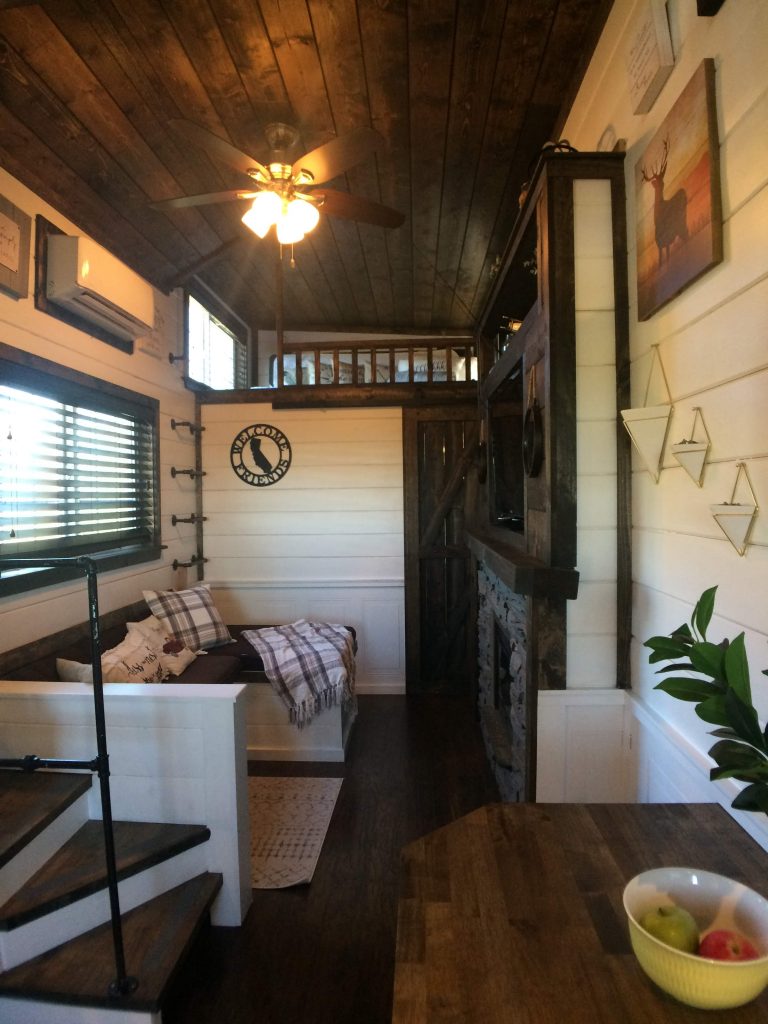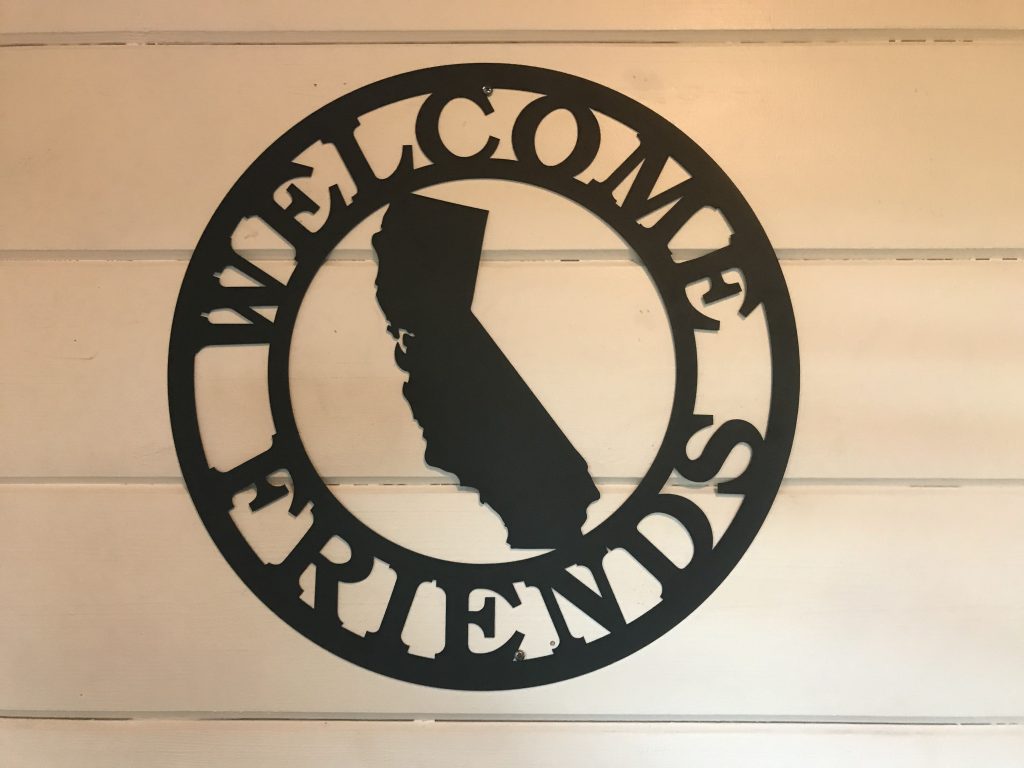 Stepping inside you are greeted with wonderful touches that remind you that you are welcome in this space and to sit back and relax!
I suggest buying some groceries and staying in and cooking your meals here because the hosts have provided everything you need! A fully stocked kitchen with cookware, dishes etc.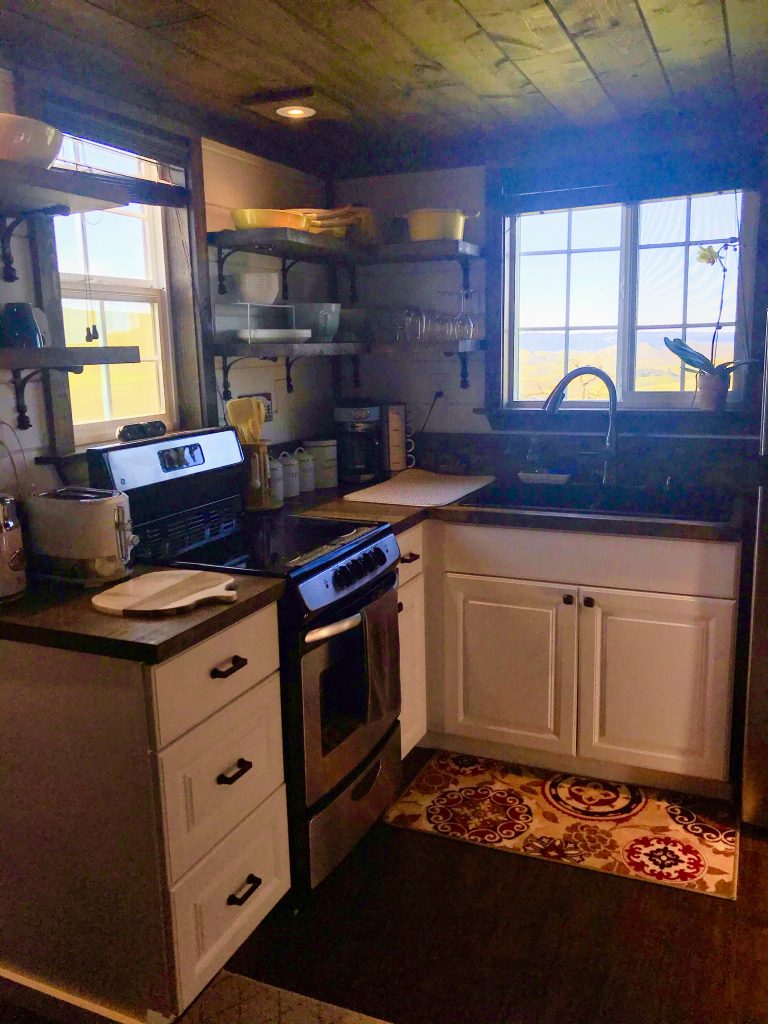 They left eggs, fruit, and coffee for a wonderful morning breakfast too!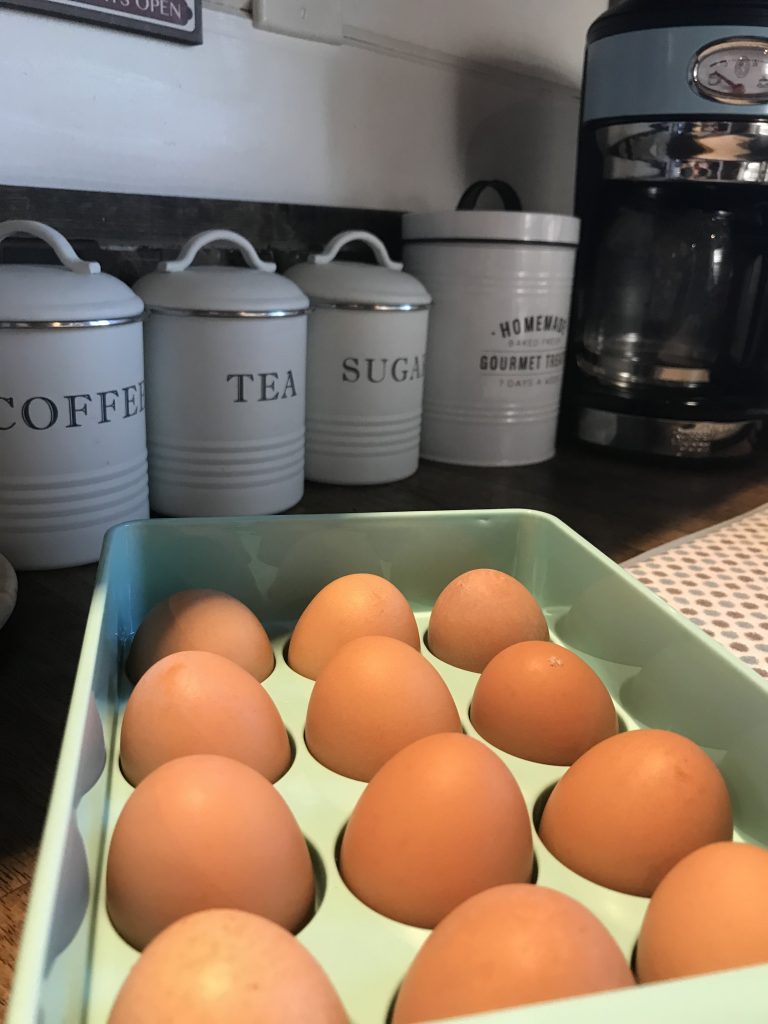 A full-sized, immaculate bathroom fully stocked with toiletries and plush towels.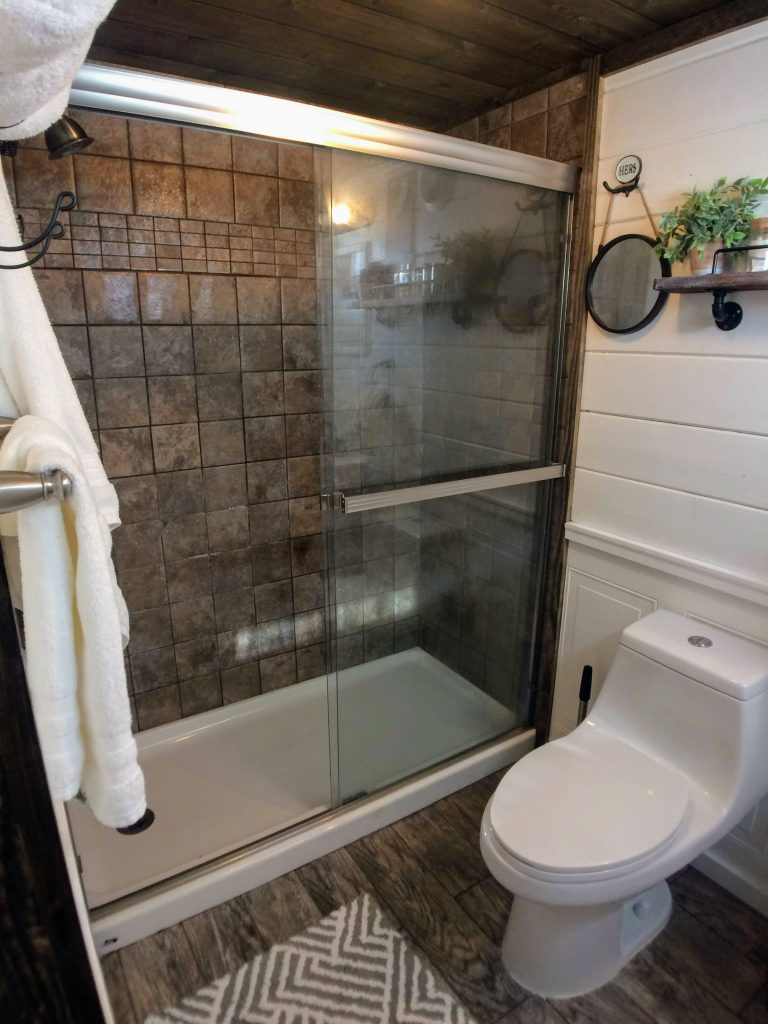 With two lofts this tiny house is great for a couples getaway or for a family vacation.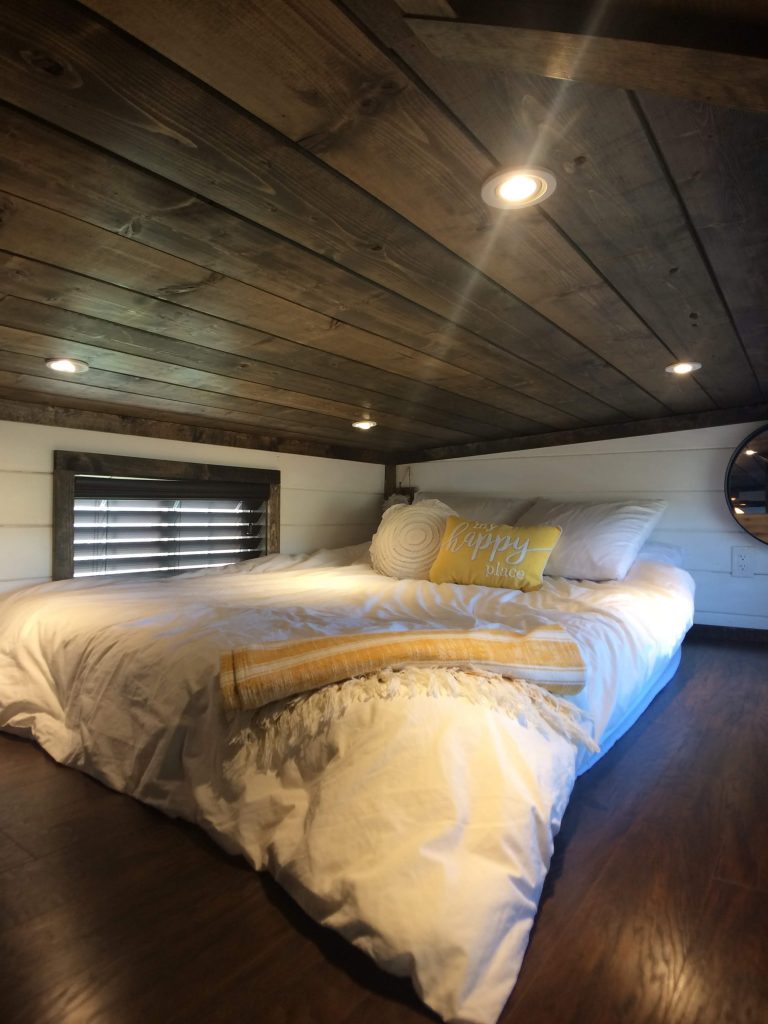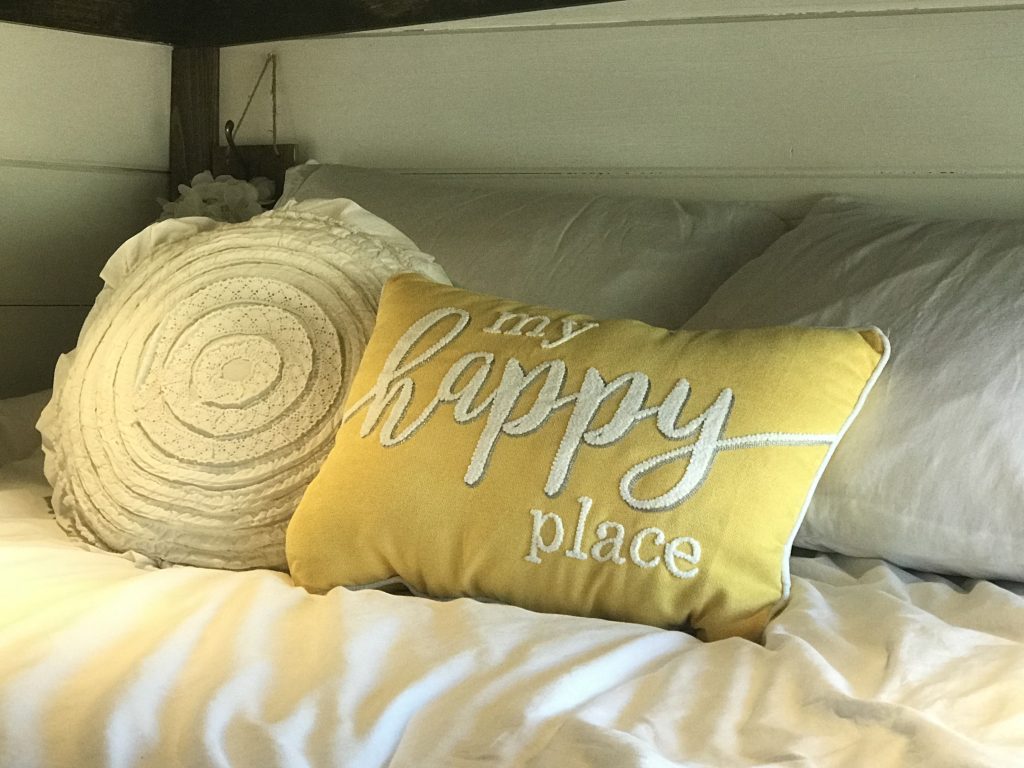 Check out the local wineries and bring back your favorite bottle for a relaxing evening in this cozy tiny house getaway with everything you need!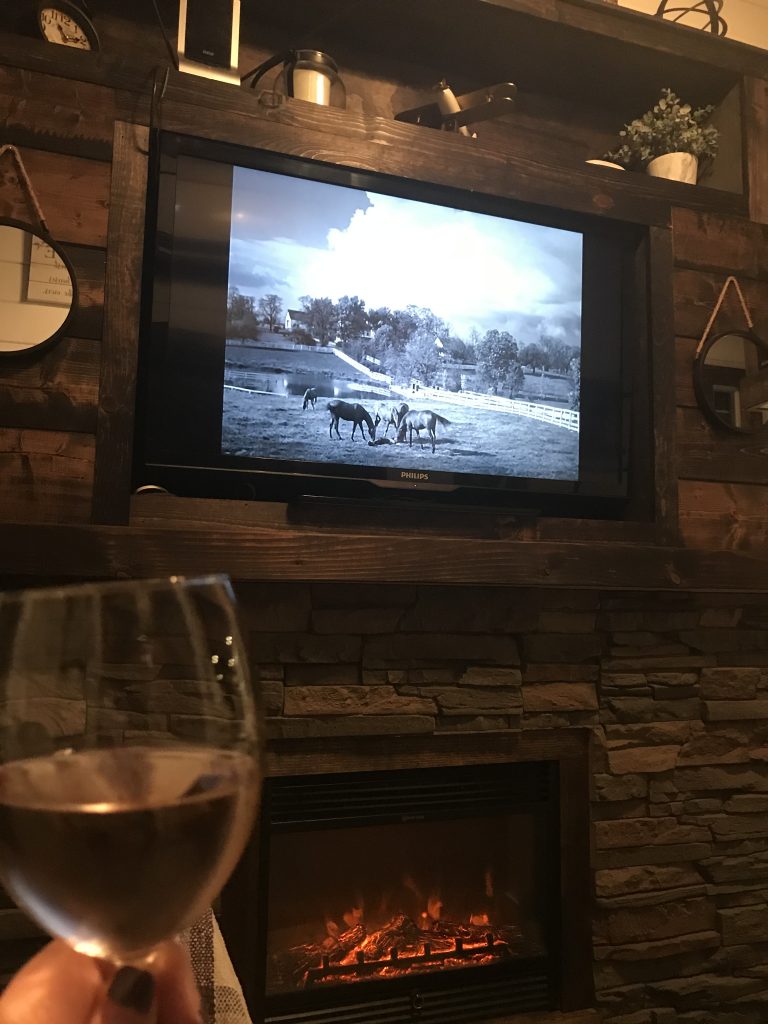 This tiny house getaway was built by KJE Tiny Homes based in Fresno, California, where their motto is, "We Build Tiny So You Can Live Large"
This particular model is their Walnut tiny home offering more of a traditional home style build with the addition of a electric fireplace,and built in entertainment center. It comes with a 11′ master loft and a 2nd smaller loft which can fit a futon style mattress. The kitchen is spacious with enough room for a full stove/oven and a medium size refrigerator. It is 28′ long and 8.5′ side. 
2. Ojai
Ojai is a special little gem in Southern California that offers a quiet getaway.
This tiny house getaway is located on the Caravan Outpost property and it has it's own special name Julian. A rustic southwestern theme with all the comforts of home in this park model style tiny home.
The builder of this tiny home, WheelHaus, is located out of Jackson, Wyoming, where their motto is "Living Large with Less" specializing in custom modular, tiny homes, and RV's
3. Dillon Beach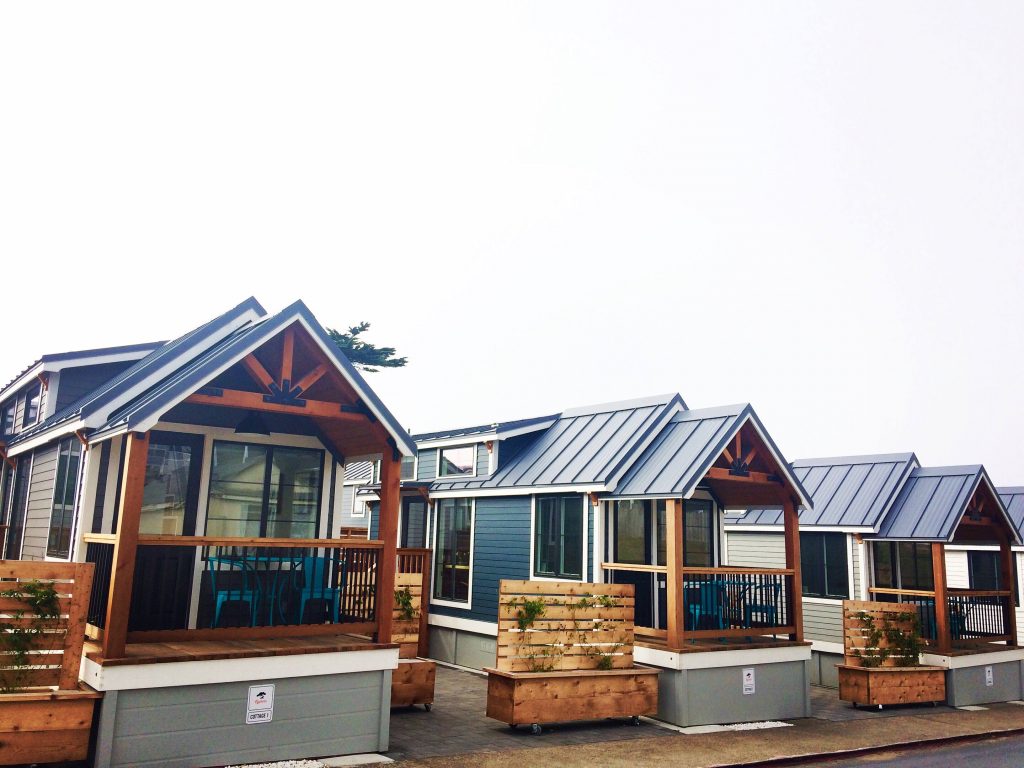 Looking for a tiny house beach getaway? This is the place to go check out the work of Tru Form Tiny House builders where their motto is "Design that Moves"  based in Eugene Oregon.
Several models are available to stay in at Dillon Beach Resort
Just a short walk down the hill and your right on the beach!
4. Joshua Tree
 Joshua Tree National Park definitely belongs on the top ten destinations in California list.  I discovered a couple Tiny House Getaways both in great locations to not only check out the park, but the surrounding area of Palm Springs, Pioneertown, Cochella, and Indio as well.
Check out my Unique Things to do in Southern California for some ideas during your stay in the area.
Castle House Estate is a desert oasis just a short drive from the national park. This a definitely a glamping experience with different types of experiences, such as a two castle towers, bell tents, a container house, a retro camper, spaces to pop your own to tent!
This charming tiny house getaway is located in Morongo Valley perfectly situated between Joshua Tree and Palm Springs….
Paper Moon Outpost is a creative space with retro accents, and everything you need to feel at home.
The hosts bought the tiny house shell from Cornerstone Tiny Homes where their motto is "Turning Dreams into Reality"  based in Longwood Florida. Then finished the interior and lived in for a couple years and then turned into an Airbnb for others to enjoy.
Book a night in The Papermoon Tiny House here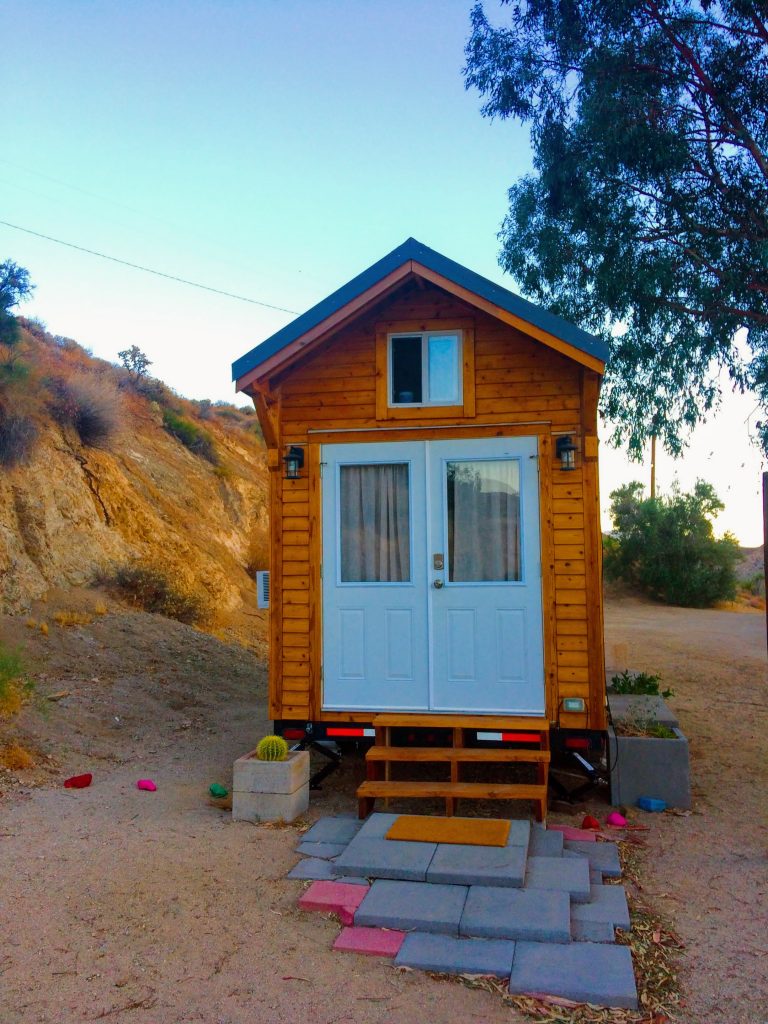 5. Mt. Laguna
Up in the forest covered hills of Southern California just outside of San Diego is the new tiny house community called Tiny House Block.
Not only does this community offer long term parking spots, but it also offers short term rentals that you can check for the night to see if tiny living is for you.
If your a nature enthusiast this the place for you!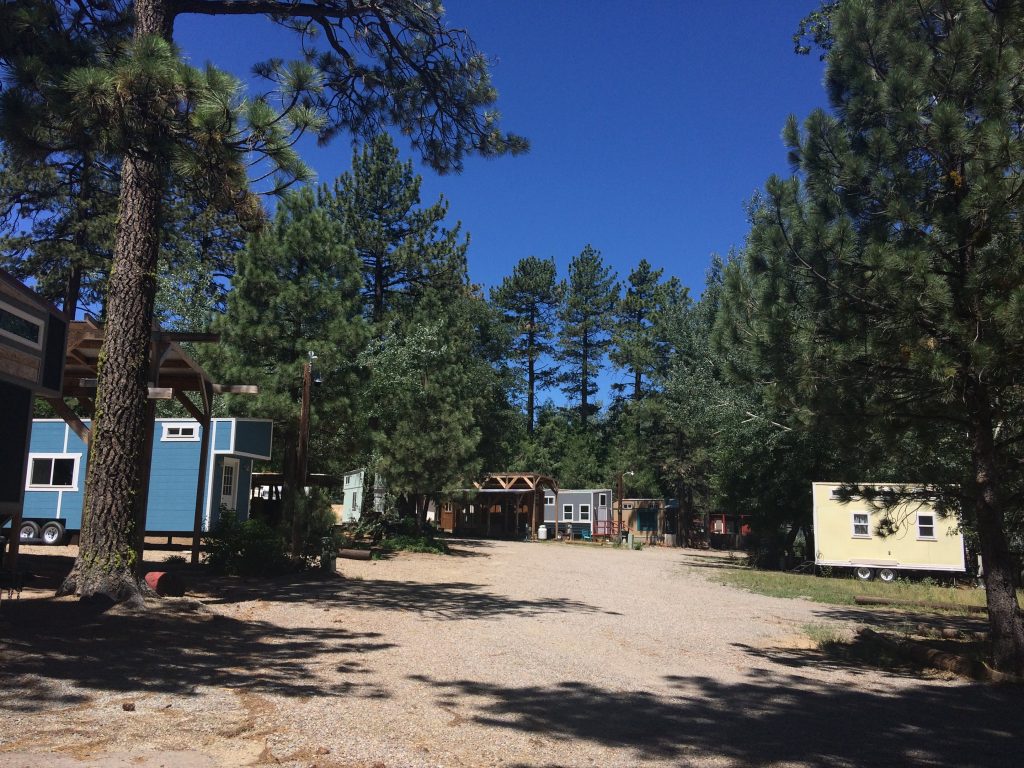 6. New Cuyama
These fun whimsical glamping huts are available at Blue Sky Center, a non-profit community driven project to provide resources and support for the local economy. The proceeds from these rentals go towards projects, and events hosted at Blue Sky Center.
The huts each have their own unique names and were built by local builder Shelton Huts based in Santa Barbara.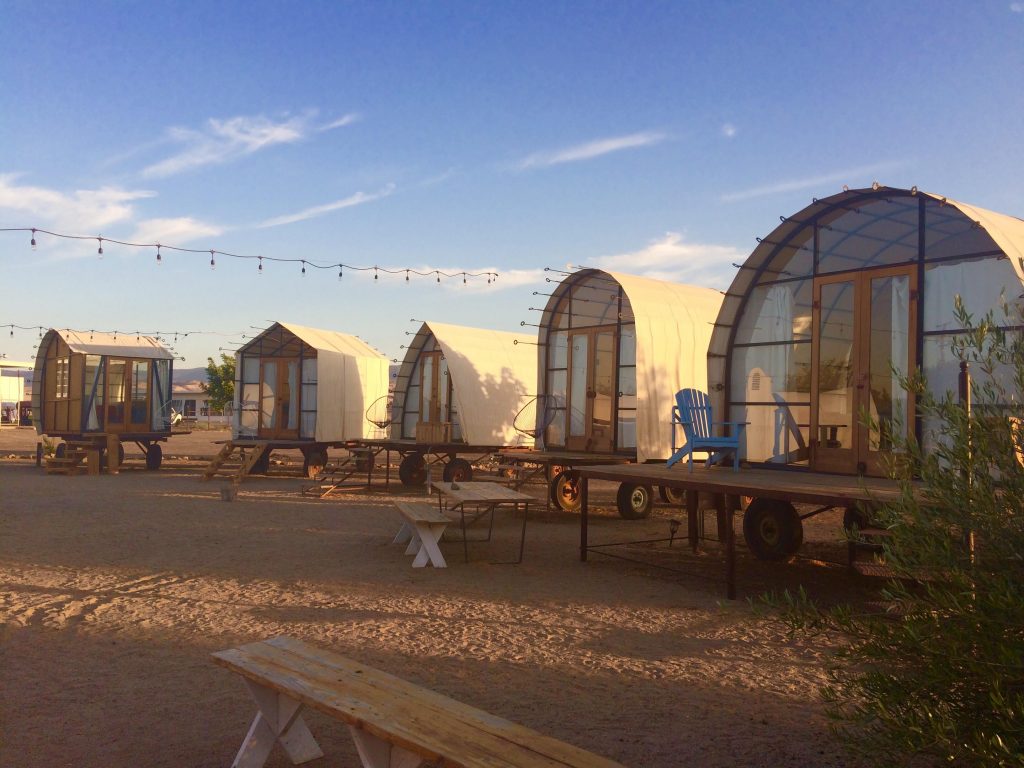 7. Yosemite
One of the most popular national parks is located right in the middle of our beautiful state! Come experience an amazing travel destination in a luxury tiny house getaway
Don't forget to add this tiny house getaway to your top ten destinations in California list!
Book a night in The Luxury Tiny House near Yosemite here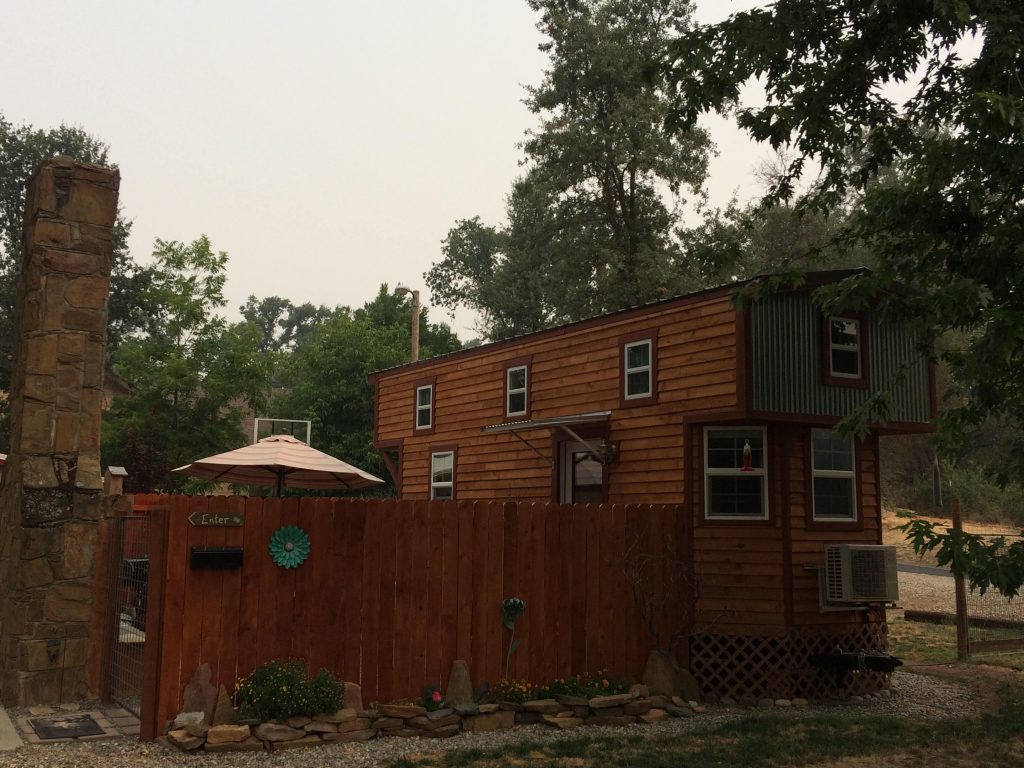 8. Paso Robles
With so many beautiful places to visit in California, Paso Robles without a doubt needs to be on the top ten destinations in California list for tiny house getaways! With so many local wineries you are bound to find your favorite selection to take back to the tiny house to enjoy!
Book a night in The Madison Tiny House here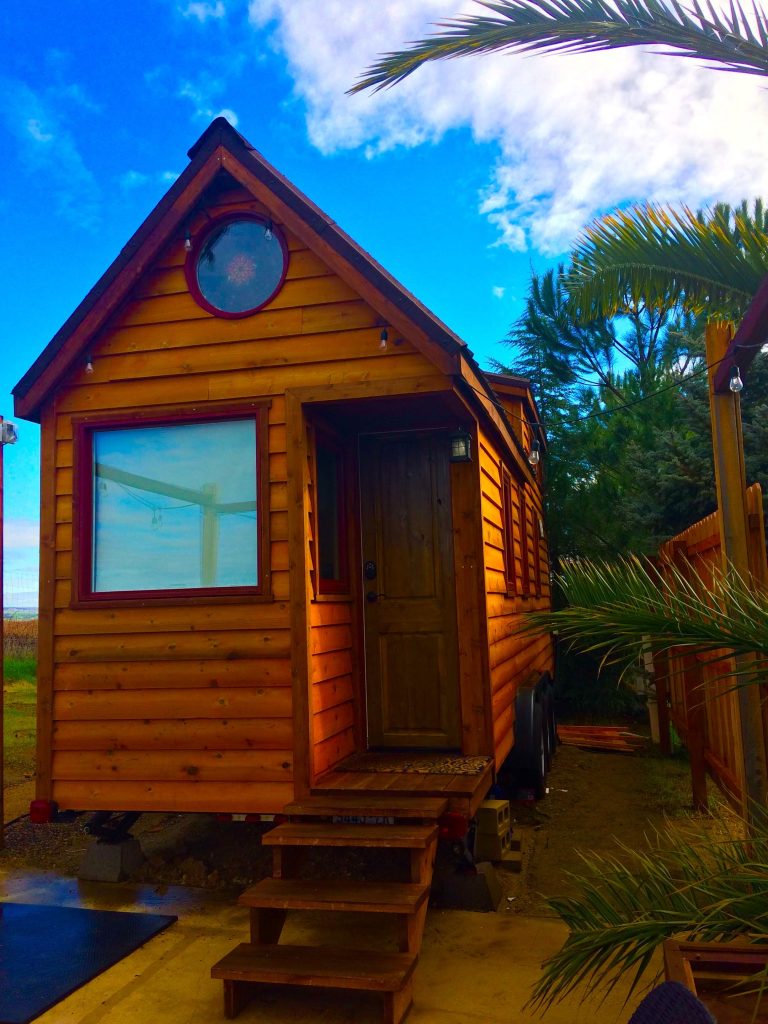 9. Sacramento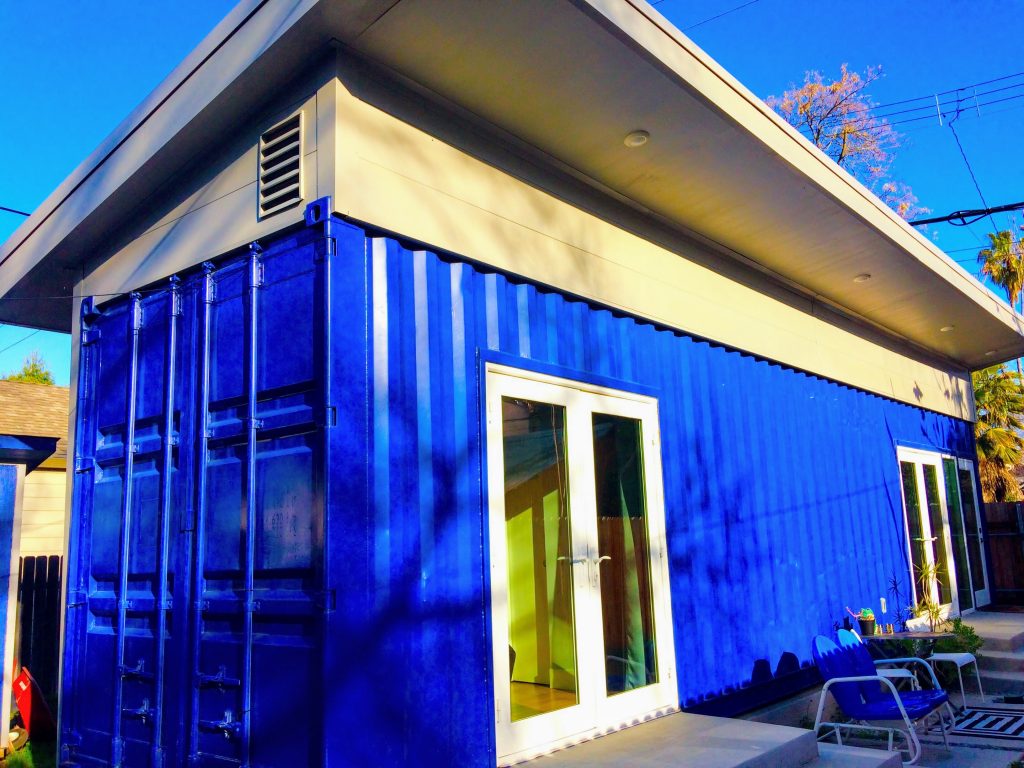 Right in the heart of our capital city of Sacramento is a unique container home, with all the comforts of home, with a full kitchen, bathroom and a comfy bedroom.
Book a night in The Container House here
Check out 20 Indoor Things to do in Sacramento during your tiny house container stay!
10. Last but not least on the top ten destinations in California… San Jose!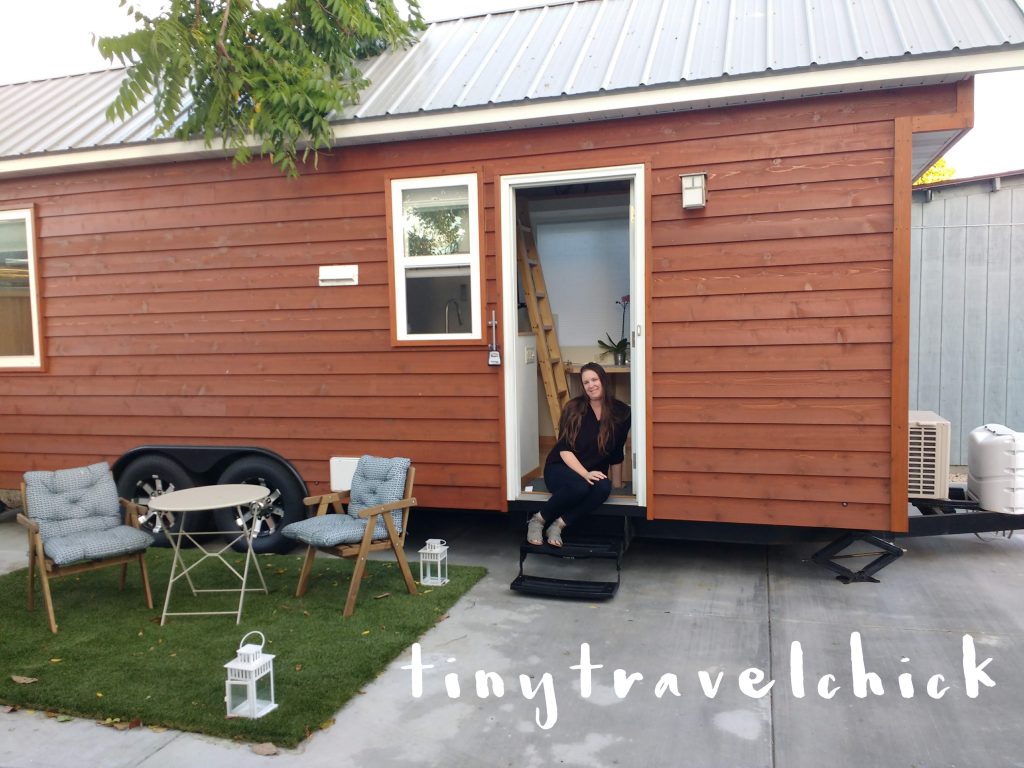 In the "Land of Tech Giants" this tiny getaway is close to all the local San Jose attractions and only a 45 minute drive up to San Francisco.
Book a night in The Silicon Valley Tiny House here
For more information read all about My Travel Experience in a Silicon Valley Tiny House!
Ready to plan your trip to the Top Ten Destinations in California for a Tiny House Getaway? Pin it!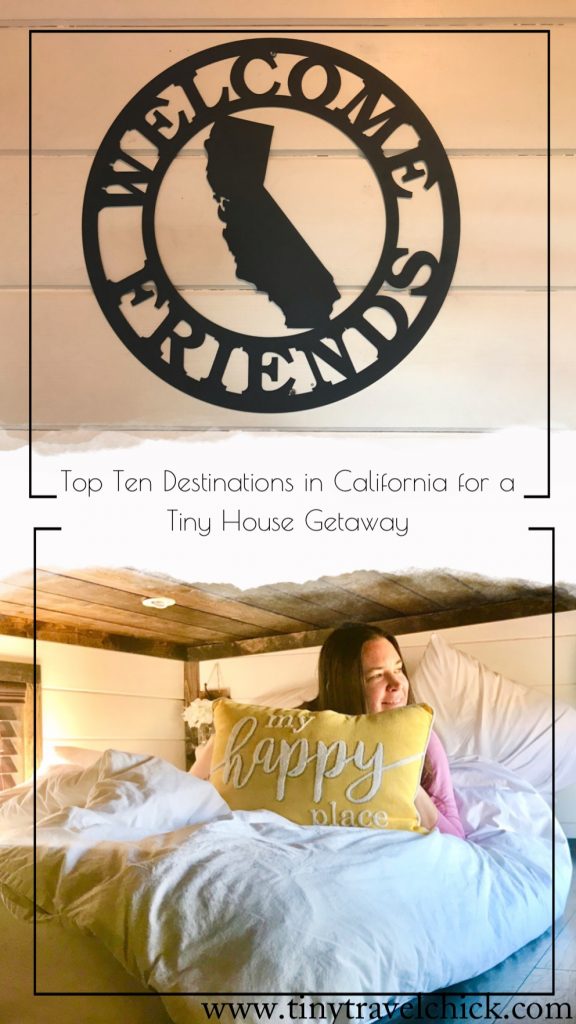 *Disclaimer: I may earn a commission when you book through my links with no additional charge to you, it simply helps me to continue to share my passion for travel and tiny houses with you!