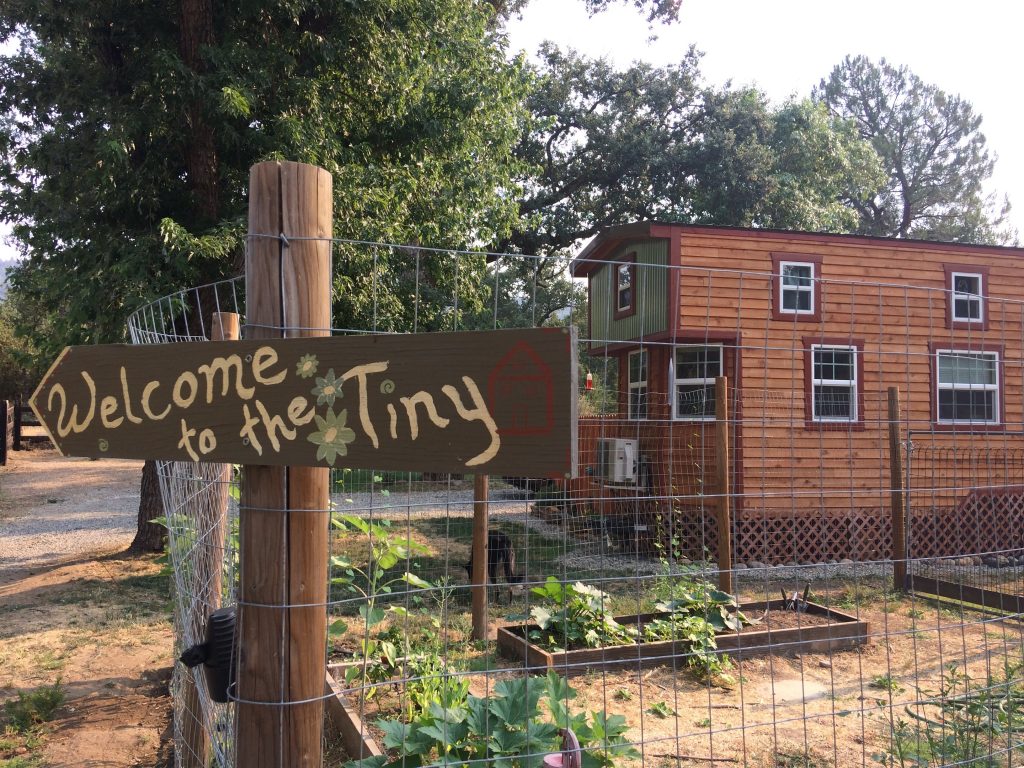 Are you looking for an amazing travel destination for you next family vacation? Tiny Travel Chick has found the perfect place to stay, play and eat near the amazing travel experience of a lifetime, in the majestic Yosemite Valley! My mission is to find these fun little tiny homes as a place for me to "test drive", to truly experience the spaces and design elements of each house, to research how I want to build my tiny house in the future. In addition, to my research I hope to share some amazing travel ideas with my readers. Who knows, maybe I will end up in your backyard so you can add some fun, unique travel experiences onto your must-do list! This little cutie was called "Tiny Luxury near Yosemite" 
Let's take a tour!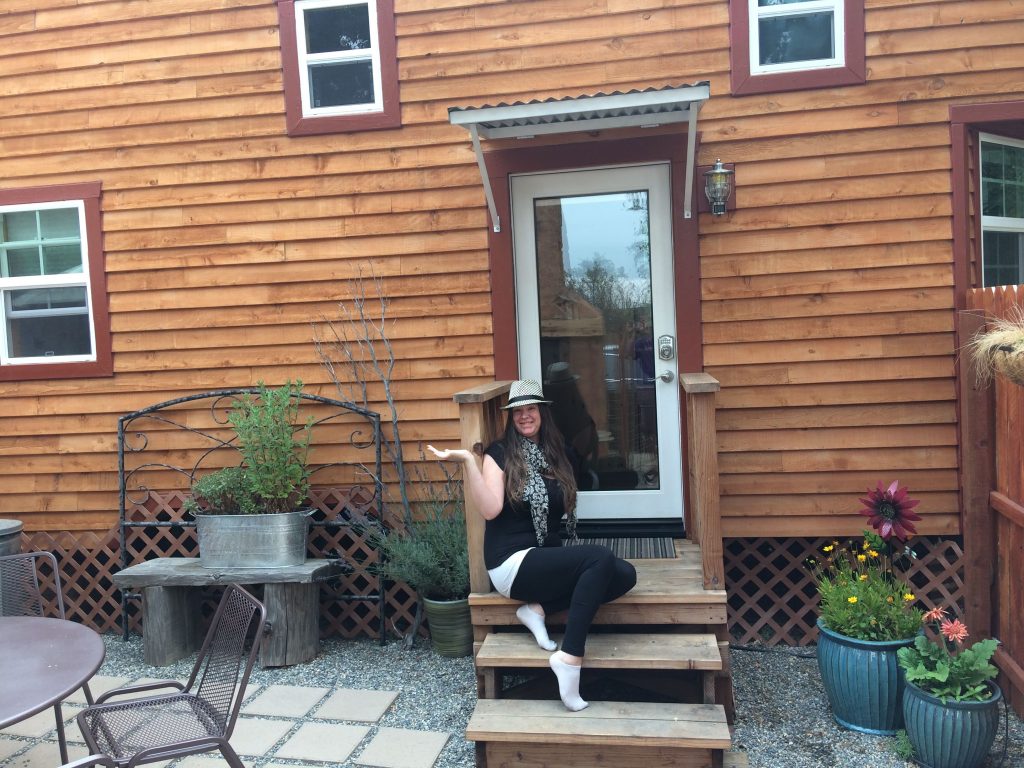 Upon arriving to this tiny house the host made an adorable entrance sign to make it easy to find my way to the parking spot next to the tiny house. The sign was made from an old door, so clever and creative!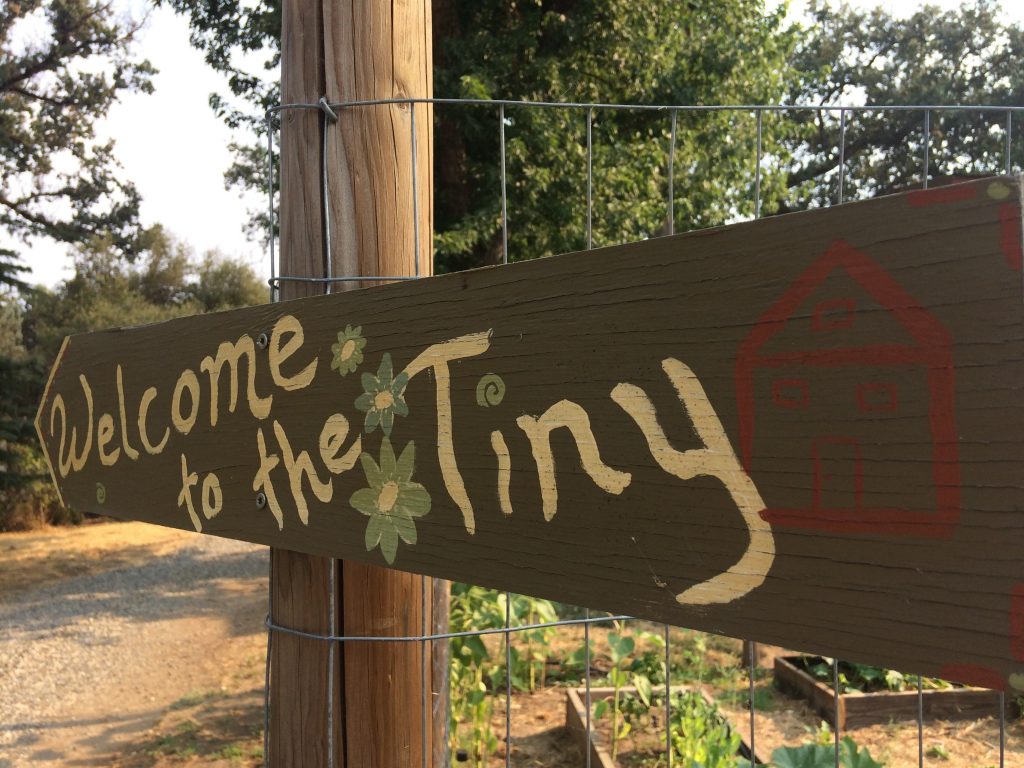 I loved all the little artistic touches that made this tiny stay truly special.The host has two very sweet dogs, Maya and Cota that come to greet you when you arrive. I never met the hosts but they gave me very detailed instructions on how to find the tiny house, where to park, and a keyless entry code. The wheels of the tiny house were attractively covered with lattice on the bottom. I actually forgot I was staying in a tiny house on wheels! The host built a wonderful enclosed patio area to create another usable space. I could definitely see this as a must-do addition onto my tiny house.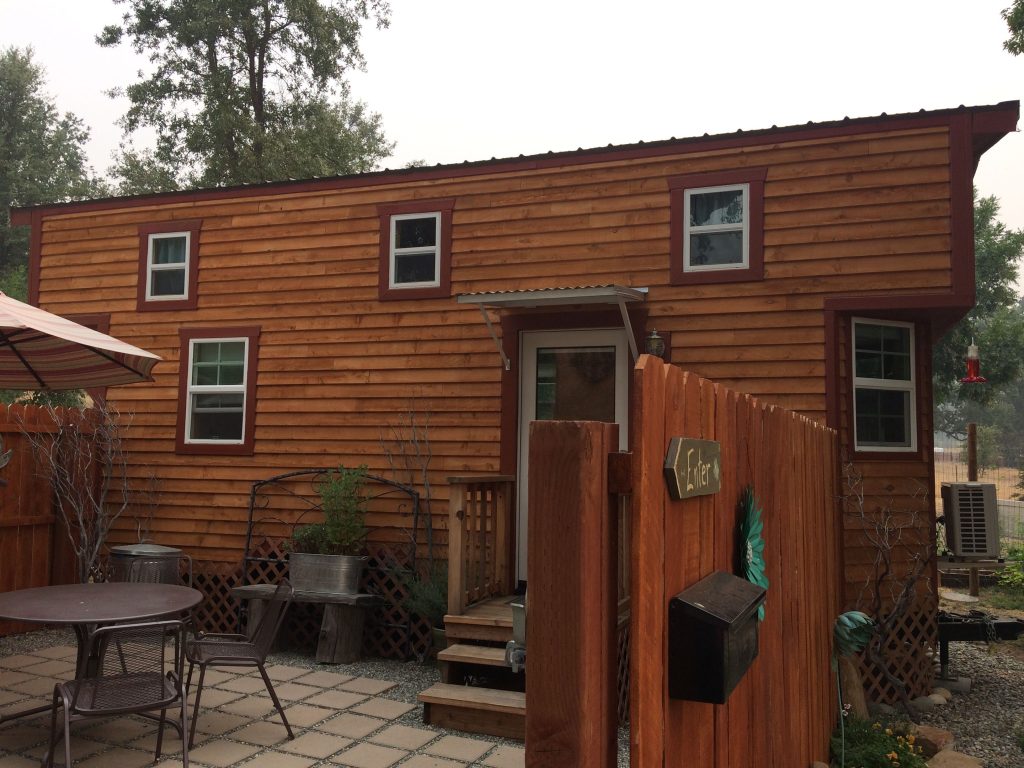 A beautiful outdoor fireplace is available for guests to use. I can envision having this as a wonderful relaxing way to enjoy my tiny living lifestyle. I ended up roasting S'mores that night, so fun!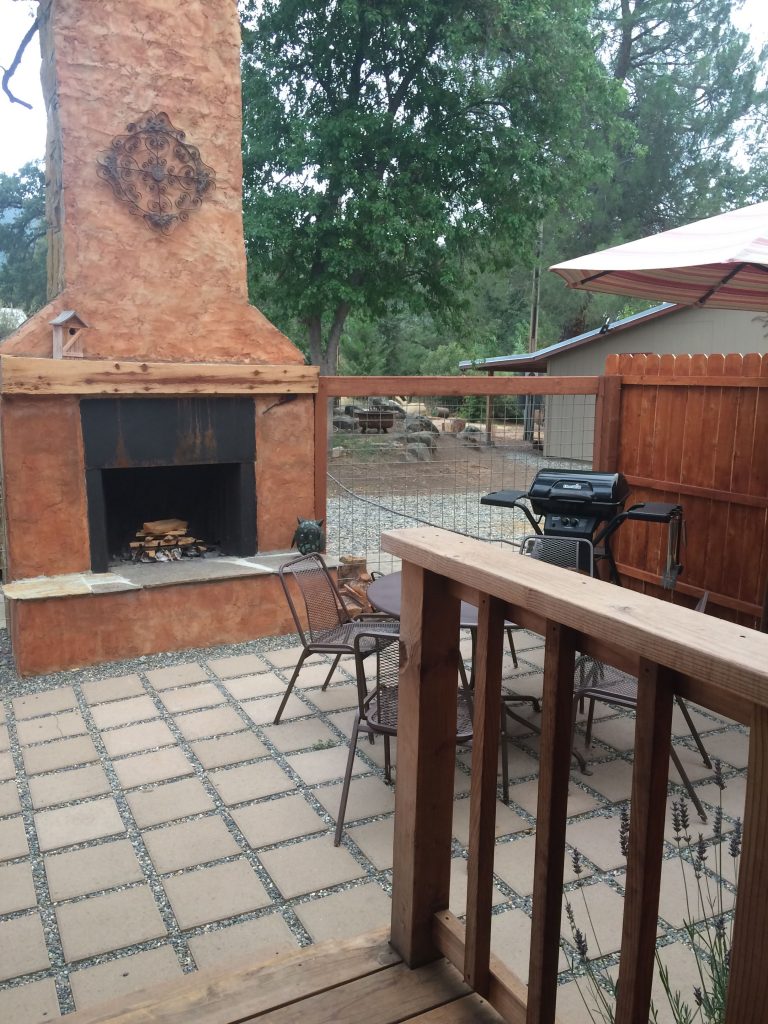 To create a way to access the tiny house builders have to consider what type of stairs to build, that, not only serve as a function but also can be removable if needed to transport. This tiny house had an attractive little porch that added a beautiful entry way. The simple awning is helpful during the rainy season!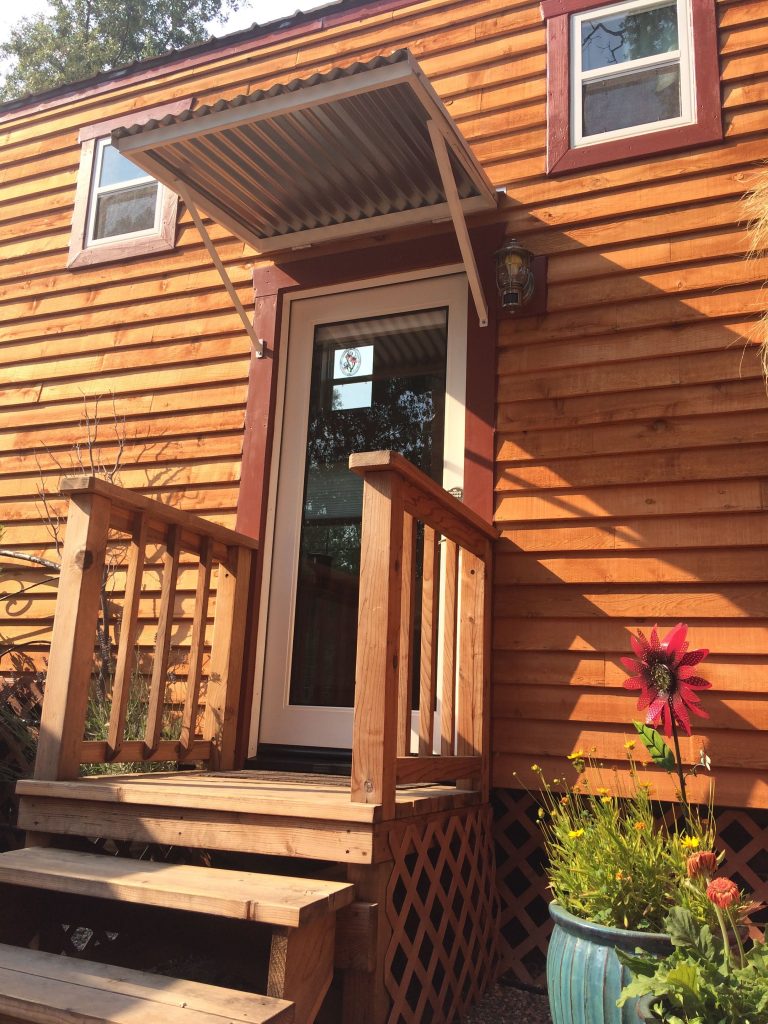 A keyless entry system is a useful way for hosts to allow guests to check in through Airbnb, but I can see this as a useful day to day feature for me as well, no worries on losing keys….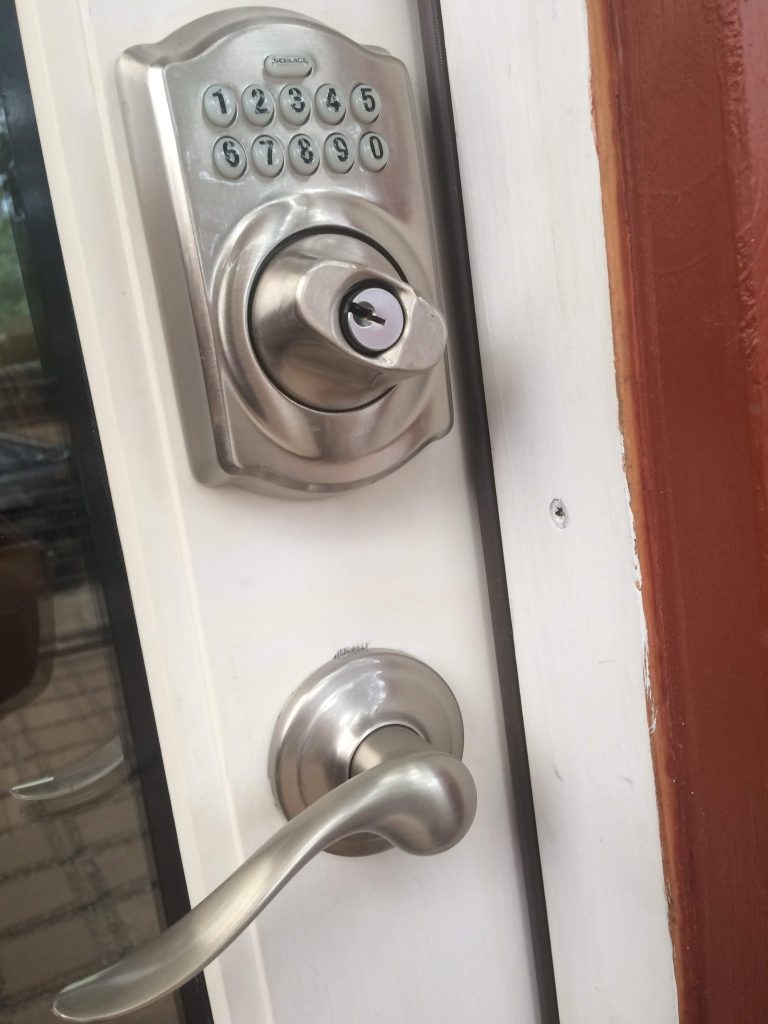 I've seen a couple tiny houses that have used a glass door for the entry way, and this seems to be a great way to create the feeling of more space. I will definitely be using this as a space enhancing feature in my tiny house build.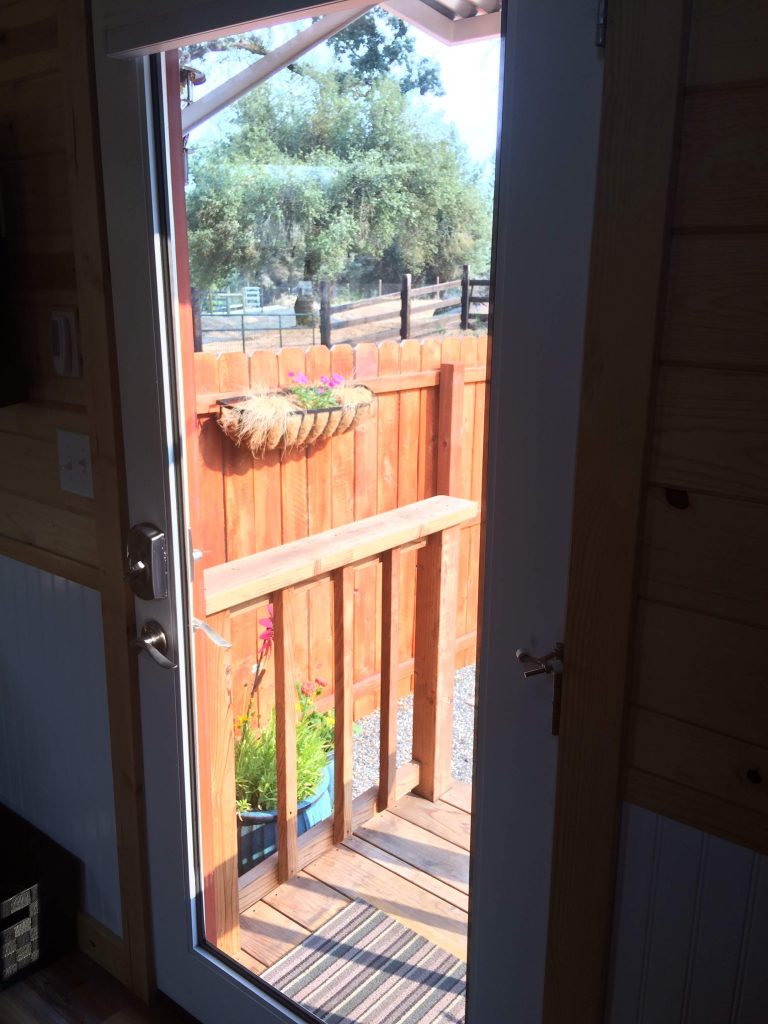 As soon as I walked in I was greeted by all of these wonderful little quotes and pieces of artwork that the host placed around the tiny house. So much of what the tiny house movement is built on is going back to a simpler way of life, to remind us that the concept of "bigger is better" may be causing so much of the stress and anxiety that so many people experience. If we are constantly in a perpetual thinking process of consuming bigger and better "things" it takes us away from the everyday experiences that we are missing. Living tiny will be my way of shifting my energy to what really matters to my personal growth and well being. I have this passion to discover new places, tastes, smells, and sounds. My dream is to travel as much of the world to take in all the little things that every culture has to share. Making this shift in my life is not about following a fad, it's about aligning my soul with what truly speaks to me.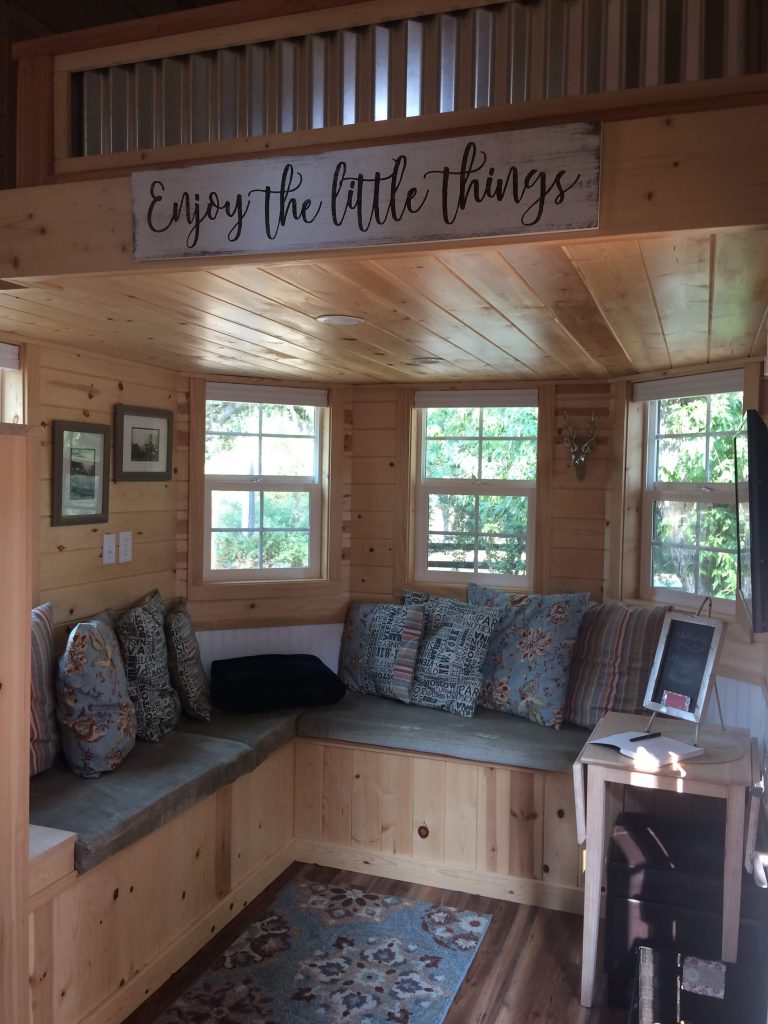 I like the idea of using throw pillows as the back rest of a couch. This couch didn't have any storage, but I'm sure it could be easily incorporated into it's design.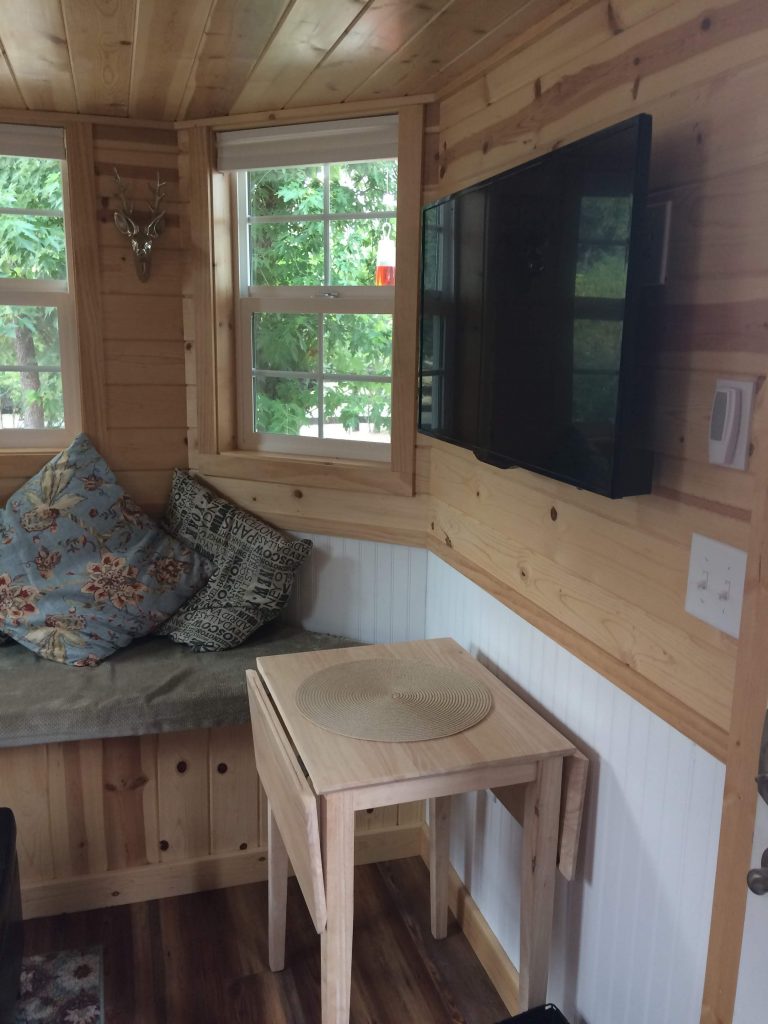 Great amenities are provided for entertainment, like a TV with Netflix, several board games and playing cards. An ottoman was provided for a footrest, which of course doubles as a storage option in a tiny house!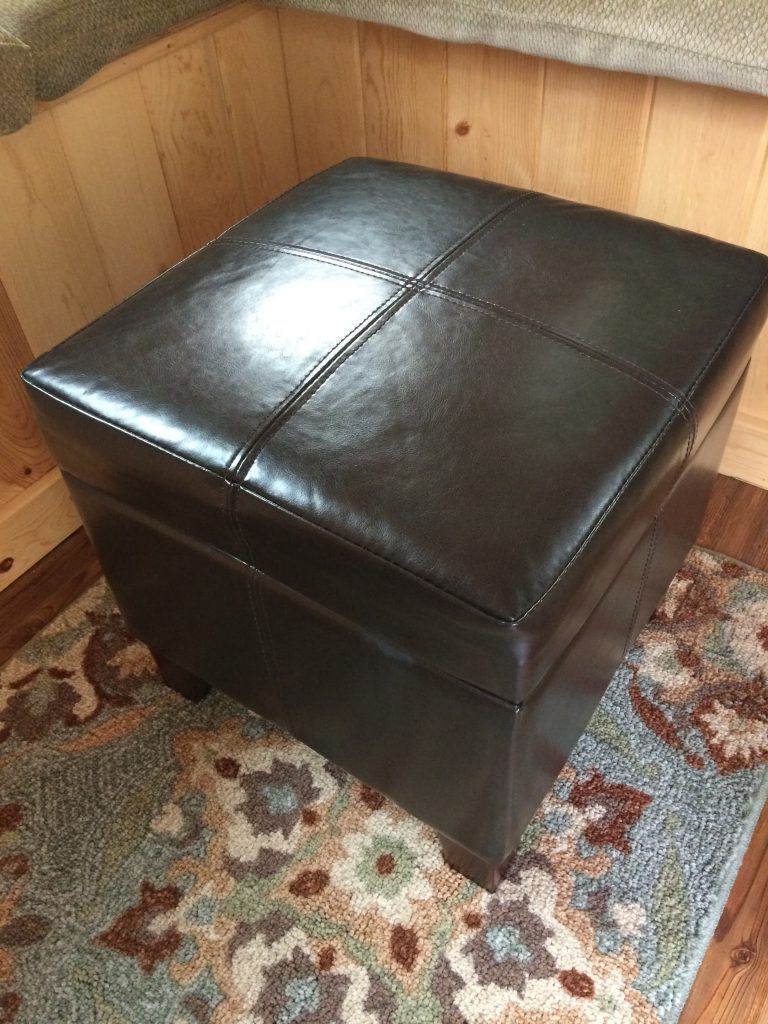 The back of the loft stairs had a three shelf unit as a storage idea, or to simply display decorations.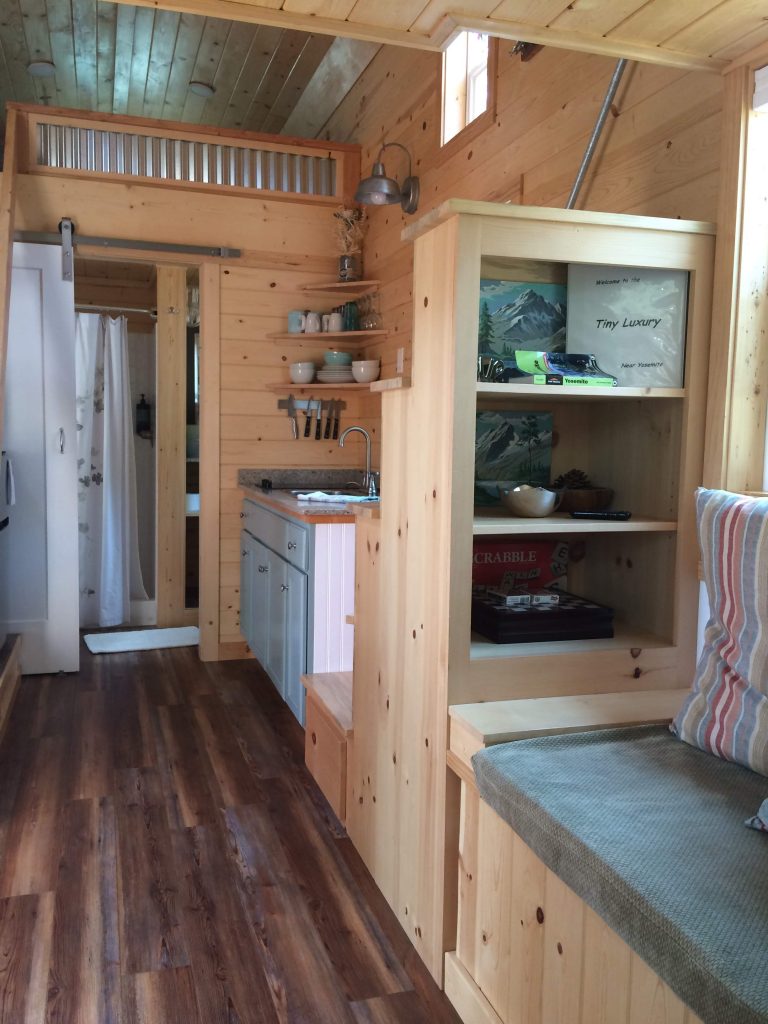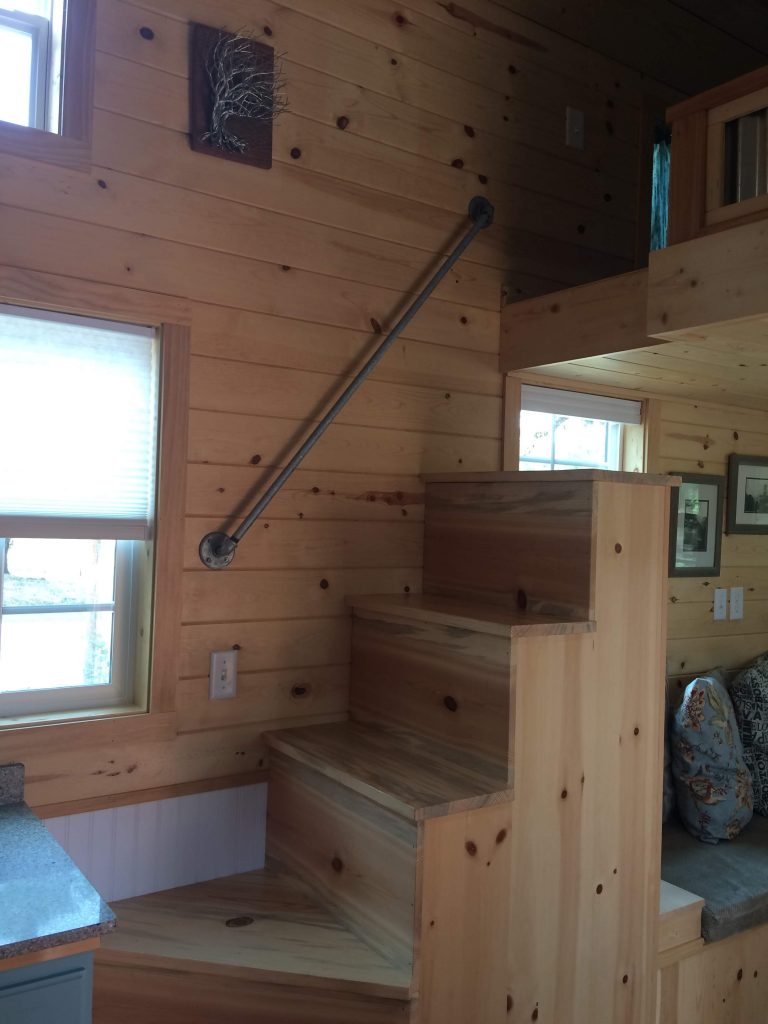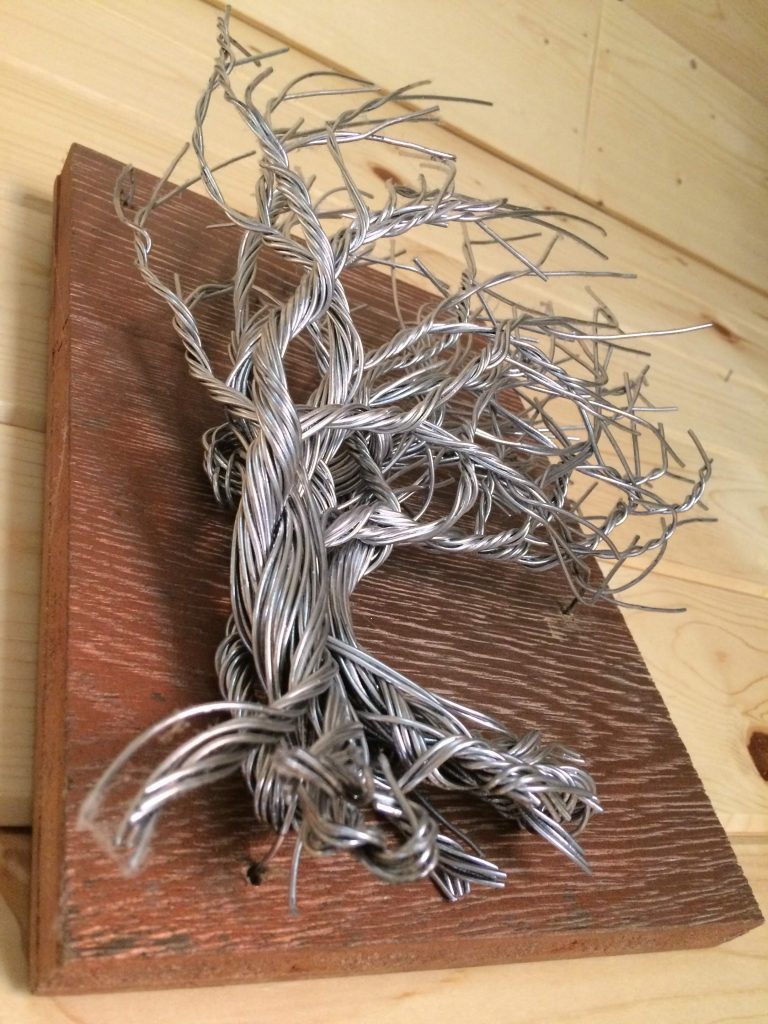 This tiny house stair design only provided one drawer of storage, but I have seen other tiny houses where more storage can be built into the stairs.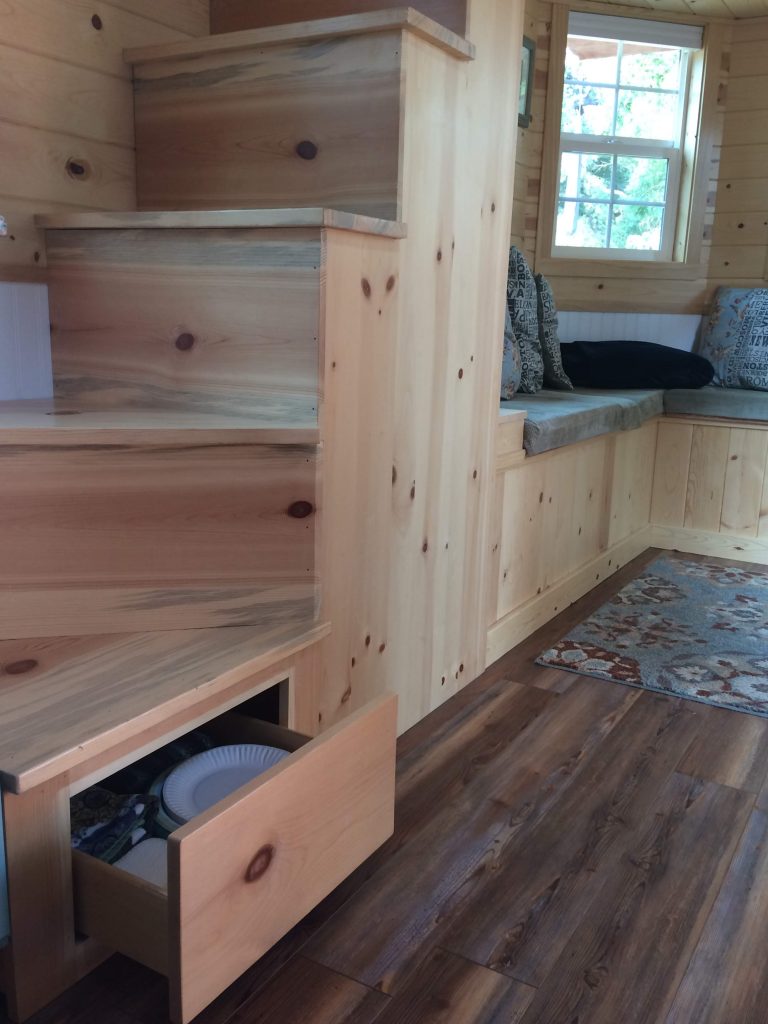 This tiny house had two lofts, which were about the same width. Both lofts fit queen sized beds. The mattresses were very comfortable!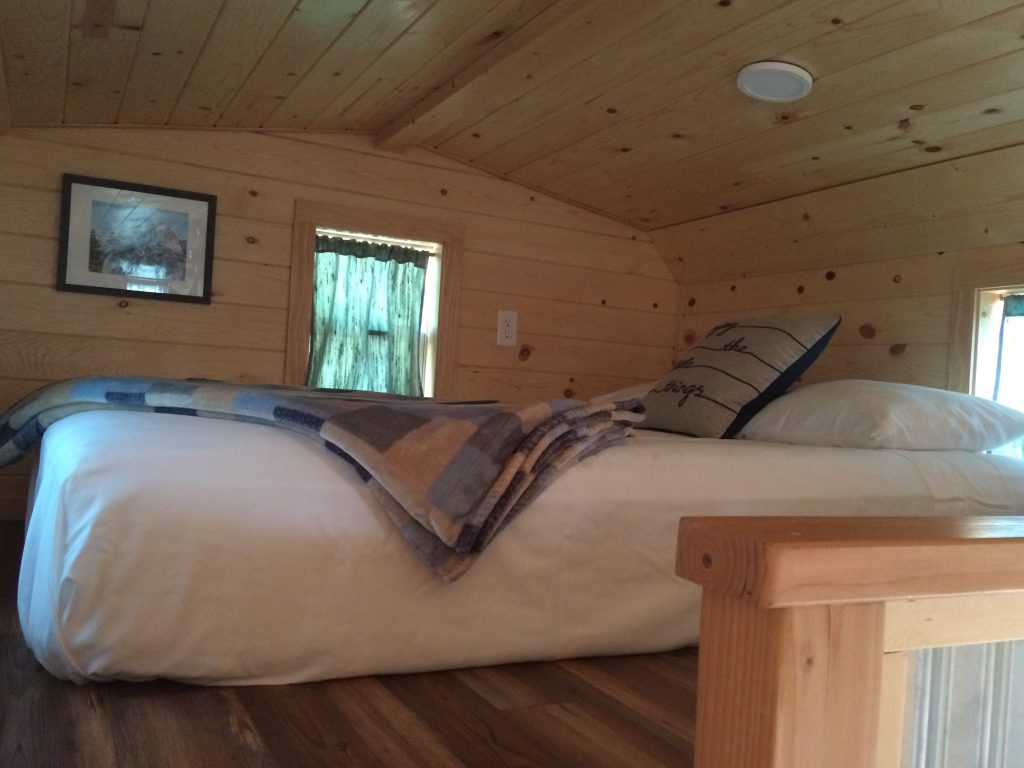 A view from the top of the first loft, looking over to the second loft. I have to be honest, the stairs coming down from this loft were a bit steep, so if I decide to use a stairs design, I really want to make sure it will be the right height. For an over night stay it was completely safe and manageable, but I could see for my own day to day living it would become difficult.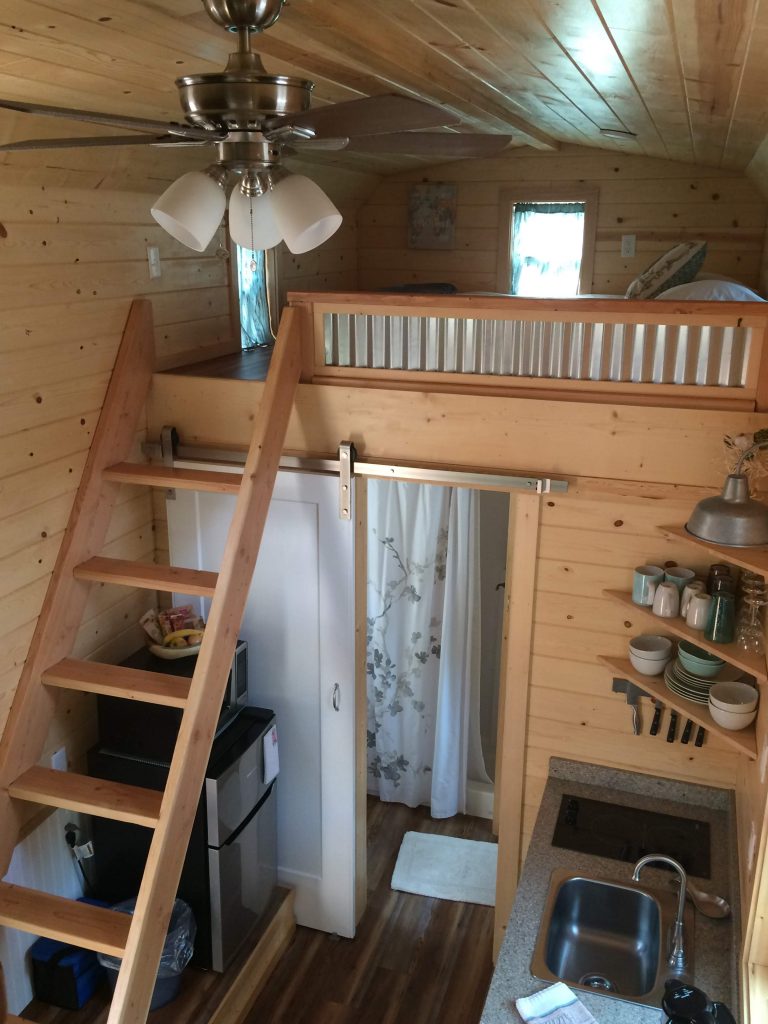 The second loft uses a wide ladder design, and functioned more like stairs, instead of using a detachable ladder that can be stored. This type of design felt easier to manage when compared to other ladder designs that have a small step width. I noticed that under the ladder was a raised step, which is probably where the wheel well is, creating an extra space to store the refrigerator.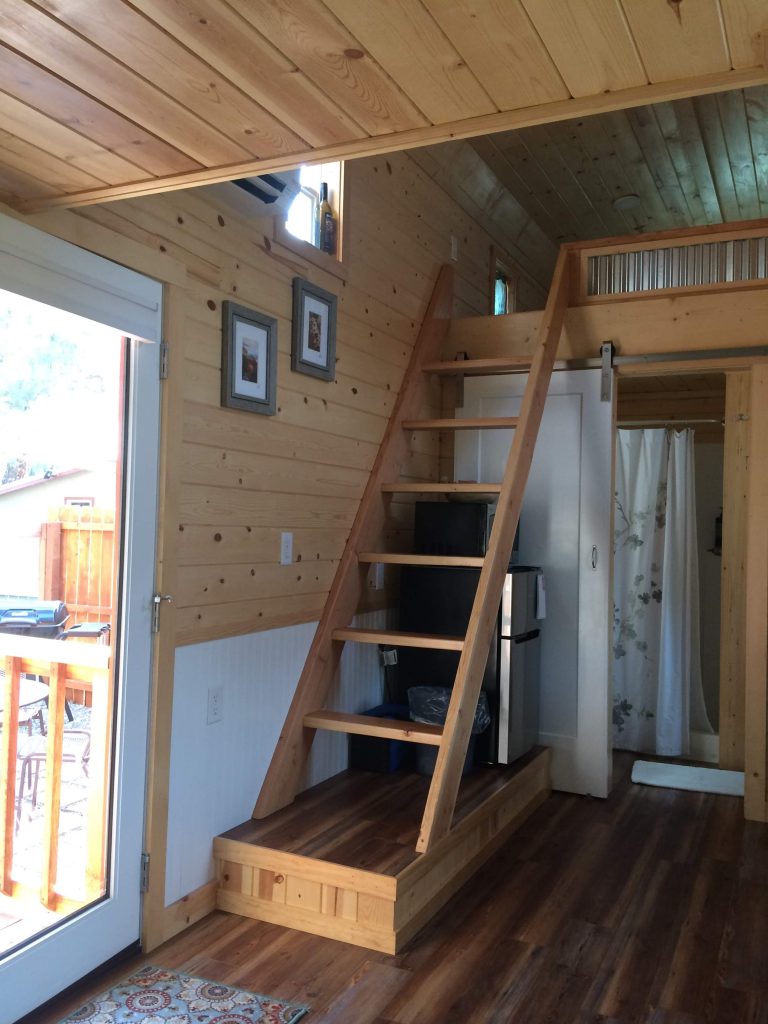 The second sleeping loft had plenty of room to move about, as well as having room to add some storage pieces if needed.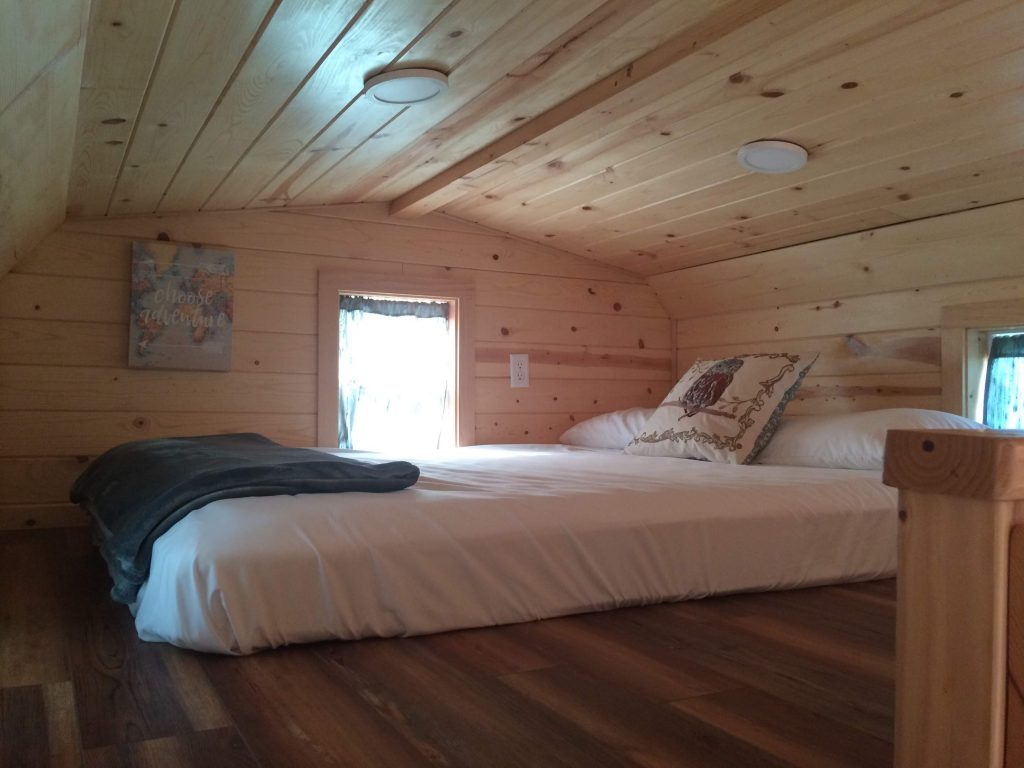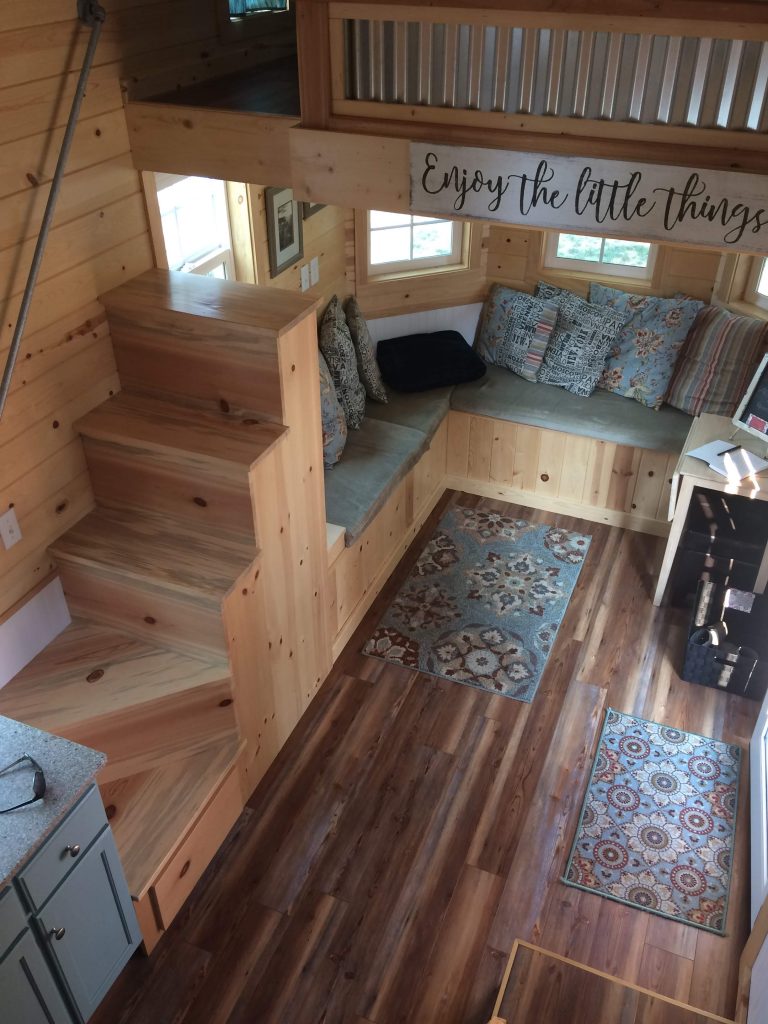 I didn't end up cooking in this tiny house, but looking at the counter space, I would be needing more surface space to cook.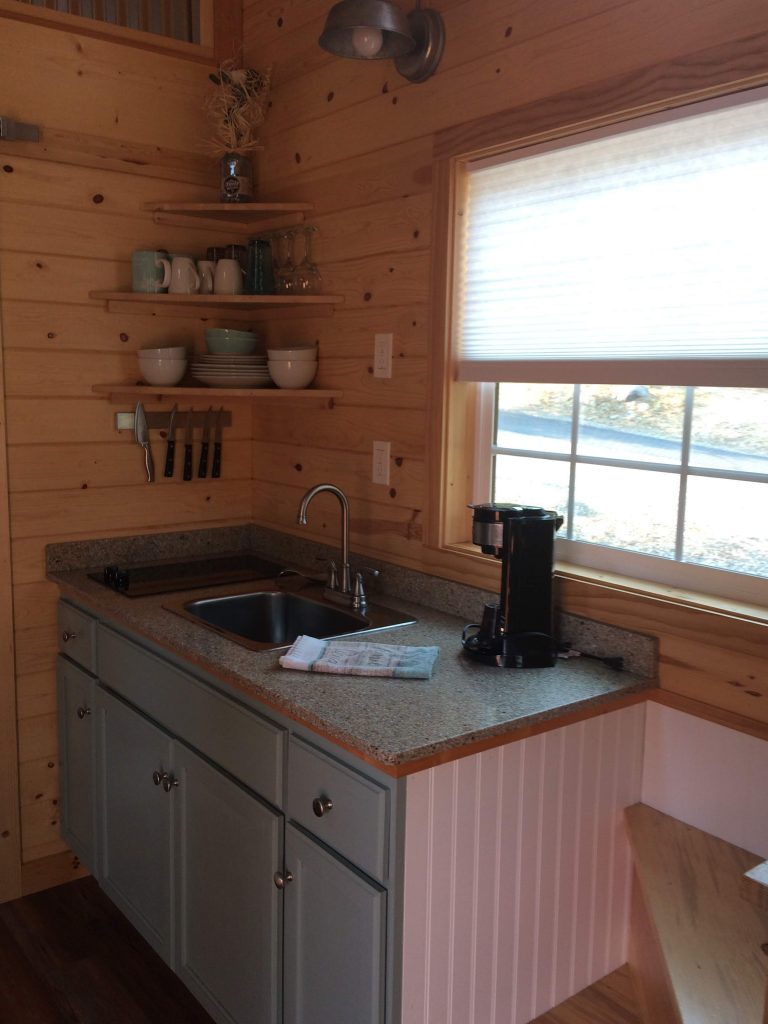 I really like the built in stove top in this kitchen. It had two burners.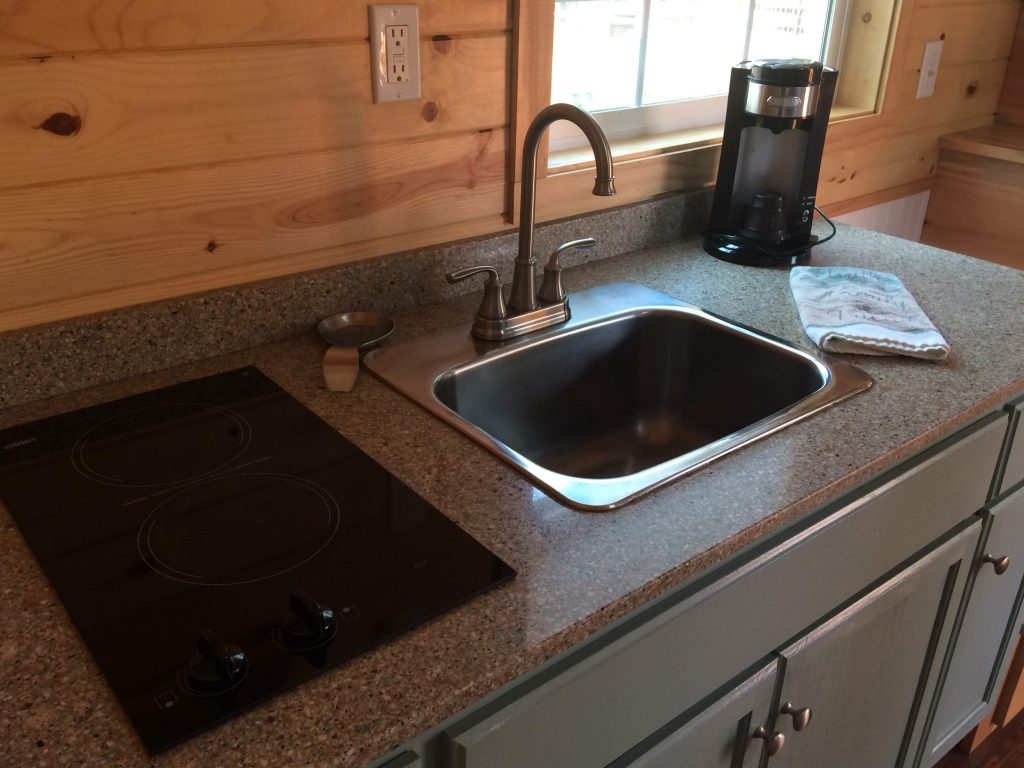 These blue kitchen cabinets against the dark wood floors created a nice pop of color! Plenty of storage underneath for pots and pans. A simple few shelves is all that is needed when living tiny! Using space saving ideas like magnetic knife holders frees up drawer space for other kitchen utensils.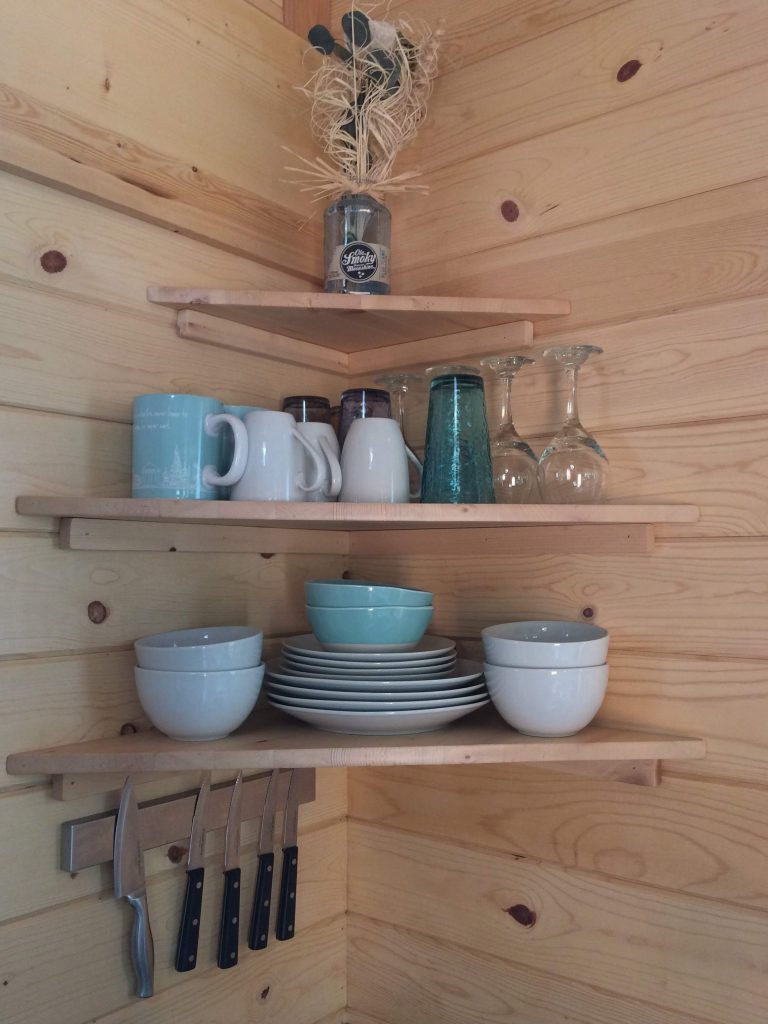 I like to feature possible design ideas that some of my readers may find helpful when choosing lighting options.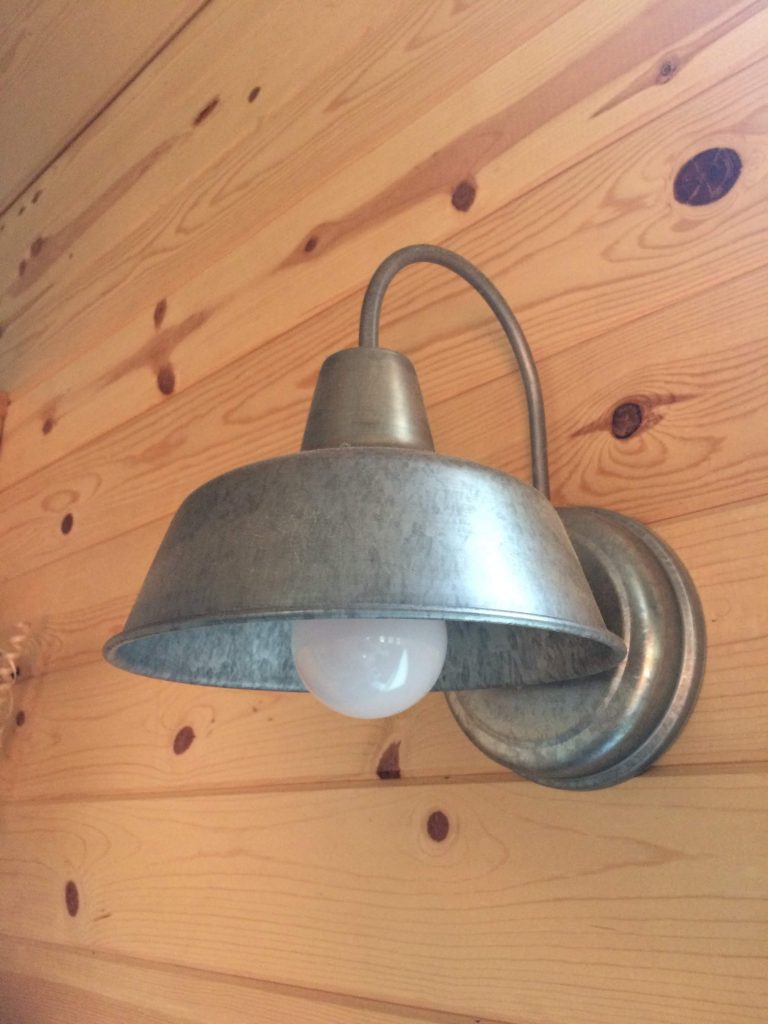 I would imagine most people would find that having a refrigerator so small is a down side to tiny living, but if the focus is to live with less, then it could also double as a great diet plan!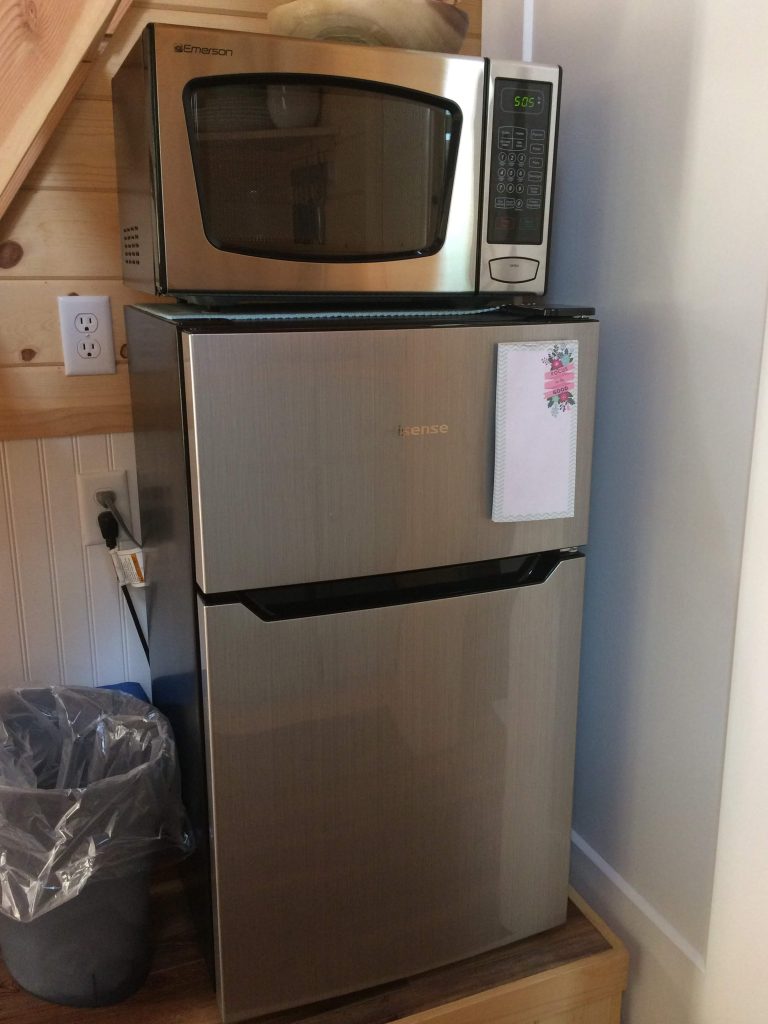 A feature that quite a few tiny houses use, are the sliding barn door, which is a great space saving trick.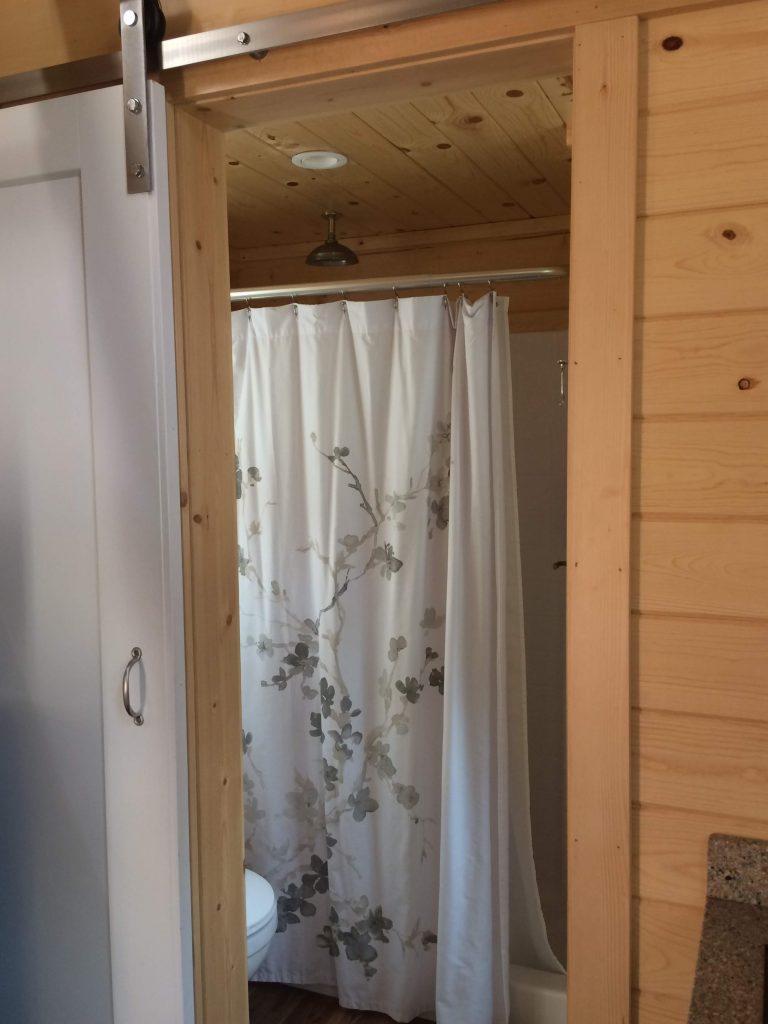 The bathroom was the highlight of the tiny house tour! This bathroom was really spacious, plenty of room to move about, change clothes, and lots of storage.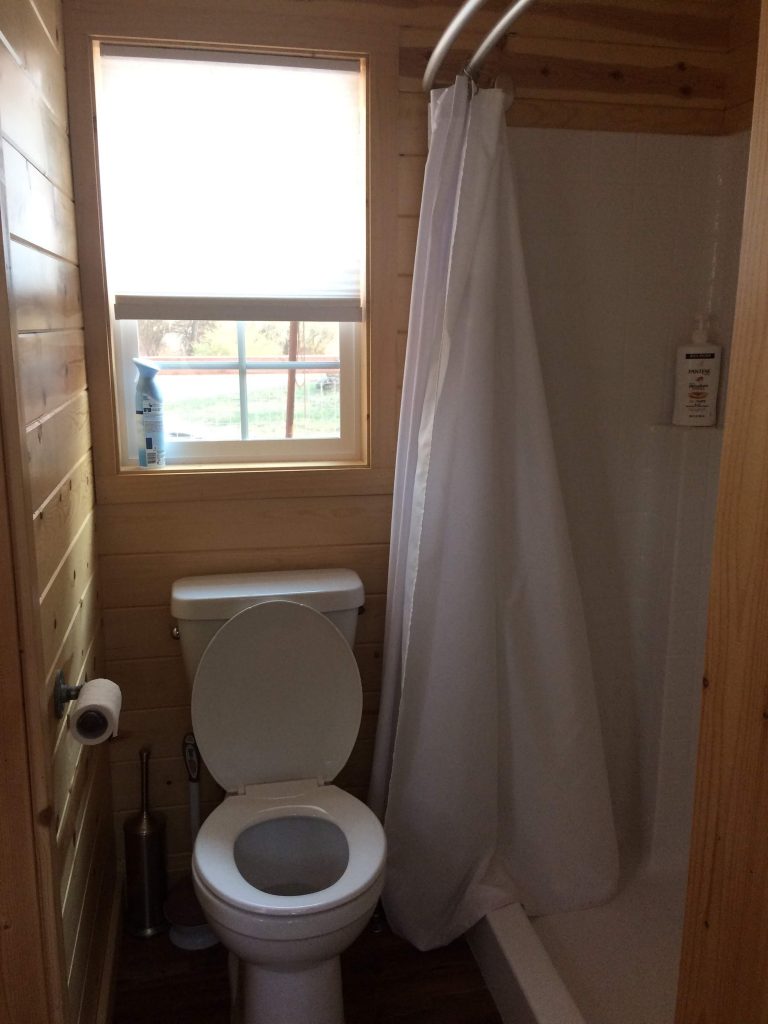 A feature that I have noticed in a couple tiny house bathrooms, is using a curved shower curtain bar, which really adds to the space when using the shower. This tiny house installed a rain shower head up above on the ceiling which I thought was genius! I'm a tall lady so this makes such a difference! The shower itself had tons of room, even enough for two!
I actually preferred this open shelving storage design, to keep it uncluttered, small square baskets could easily be used on each shelf. I noticed the top shelf was not wood, which helps prevent getting water stains or messy toothpaste on the shelf when using it to store hygiene products. I could see this being enough closet space, especially if the mirror and towels were taken out. Obviously it was set up for overnight stays, but I found this to be a functional place to store clothing, especially for getting dressed in such a spacious bathroom. I can imagine having clothes up in the bedroom loft or out in a closet in the main part of the house would end up being cumbersome for long term living.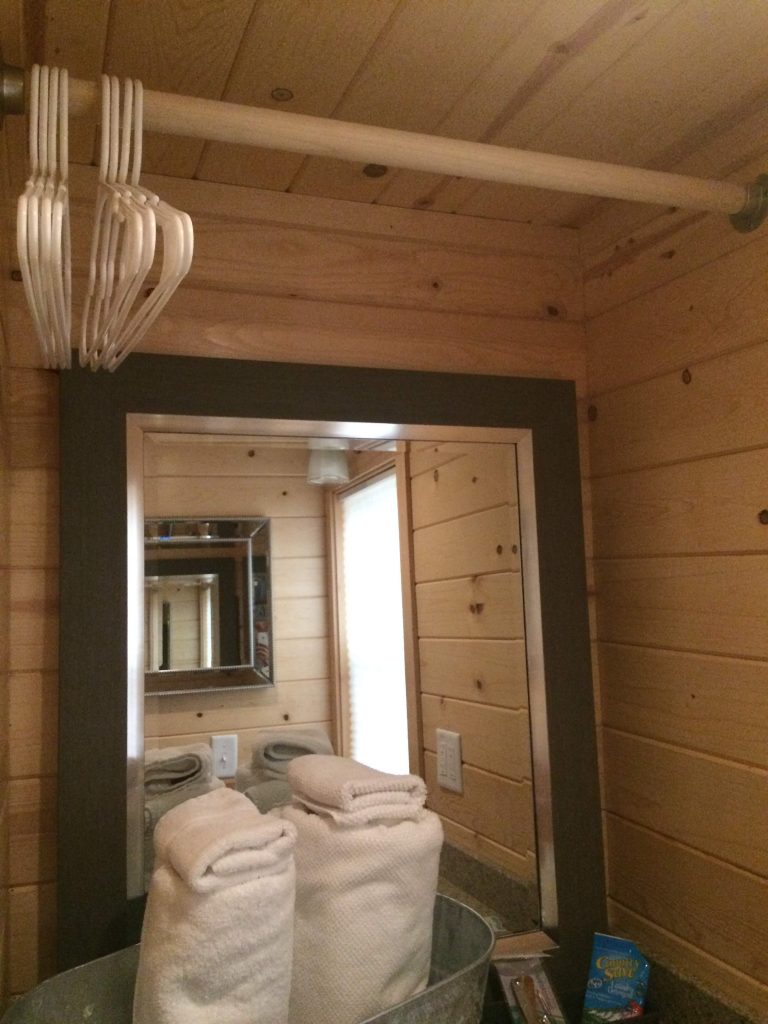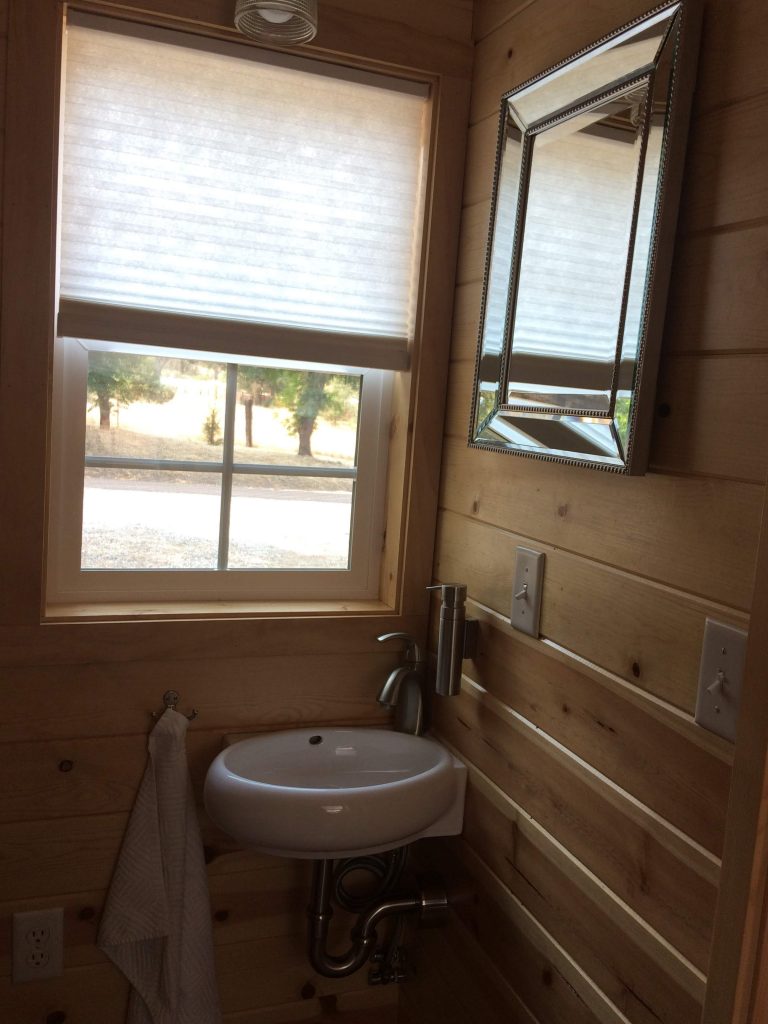 Book a night Here

Many roads lead to this amazing travel destination in California……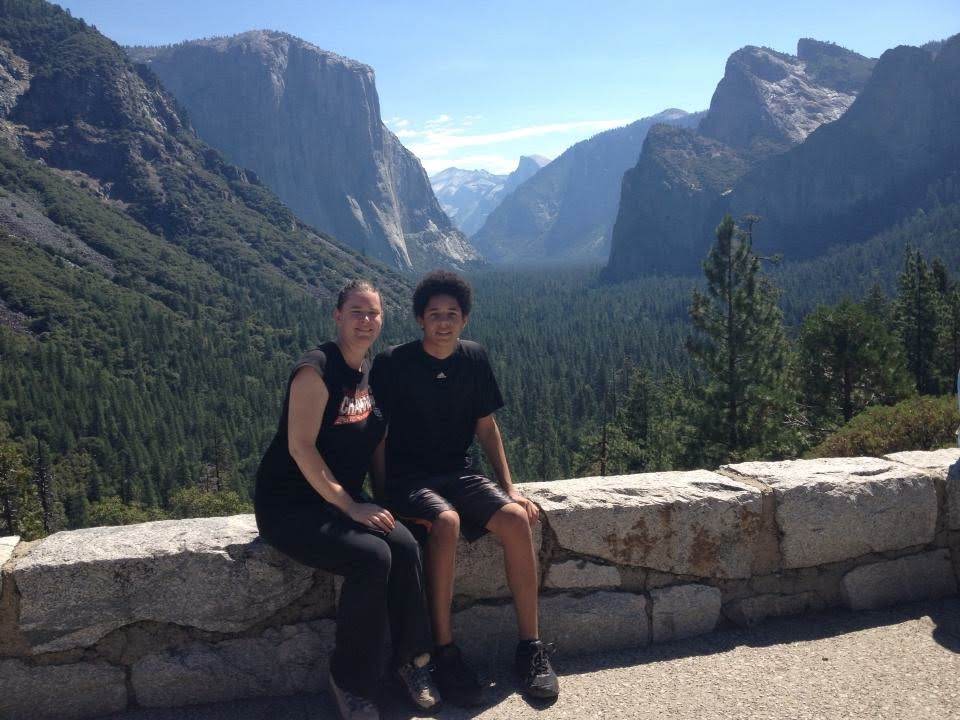 I was so happy to see that this adorable tiny house was so close to the captivating vistas of Yosemite Valley! This particular Airbnb stay was located just near the town of Oakhurst, which is right on the way to one of the many park entrances. To access this entrance, take Hwy 41 from Hwy 99 near the town of Fresno, California. Yosemite Valley is a tourist mecca, attracting visitors from all over the world. It is such a treat to walk around and listen to all of the wonderful languages as you take in the various vista points in the park. I'm just so blessed that it's just a few hours away to visit!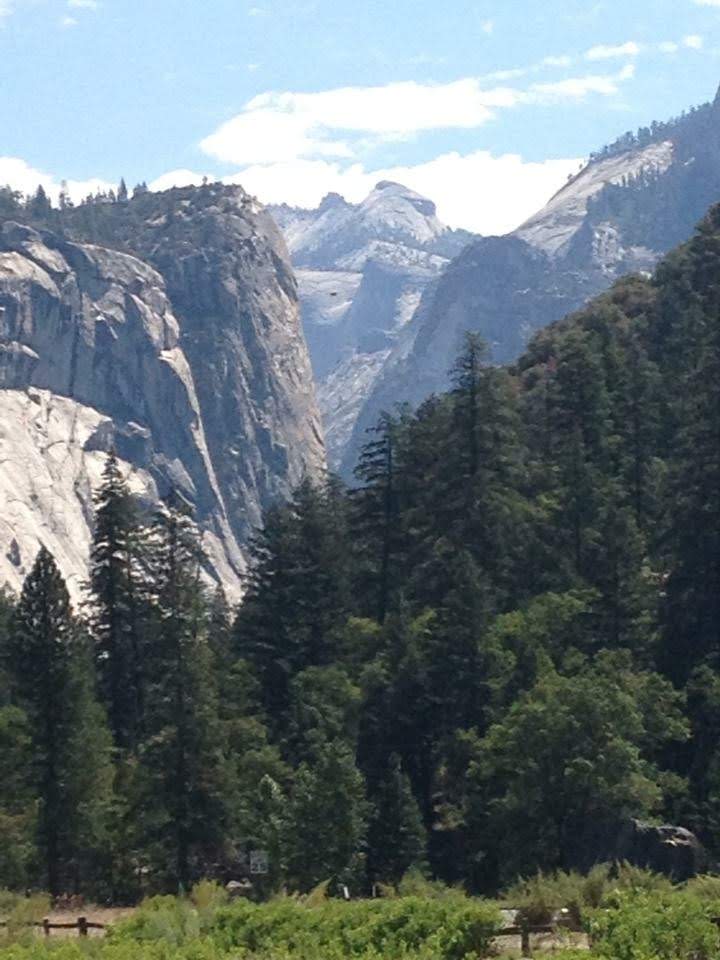 A must do is to start off in the valley of Yosemite, first making a stop at Tunnel View to take the popular Yosemite Valley shot of El Capitan and Half Dome. I highly suggest then driving up to Glacier Point and gaining an overwhelming perspective of where you just were down below! I experienced one of the most life changing moments of complete awe and amazement at how this is can be truly called " The most amazing travel destinations in the world".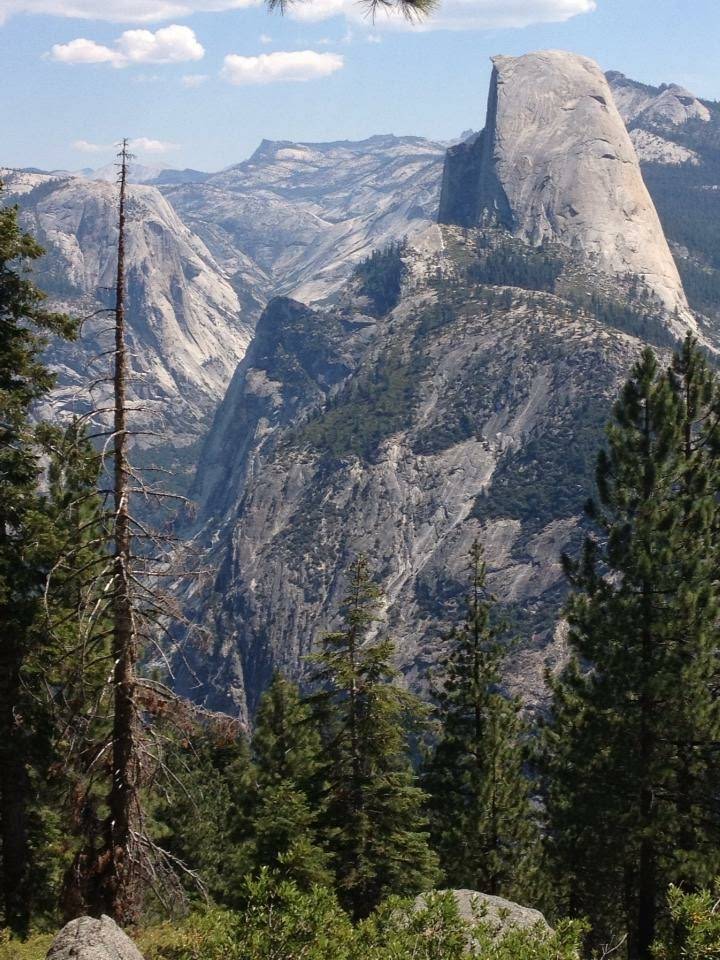 Along the loop through the valley, are many waterfalls to stop and hike to for lots of picture opportunities. I visited the park in July, so the waterfalls were not as impressive as the early spring flow. I suggest coming in the Spring for a waterfall extravaganza.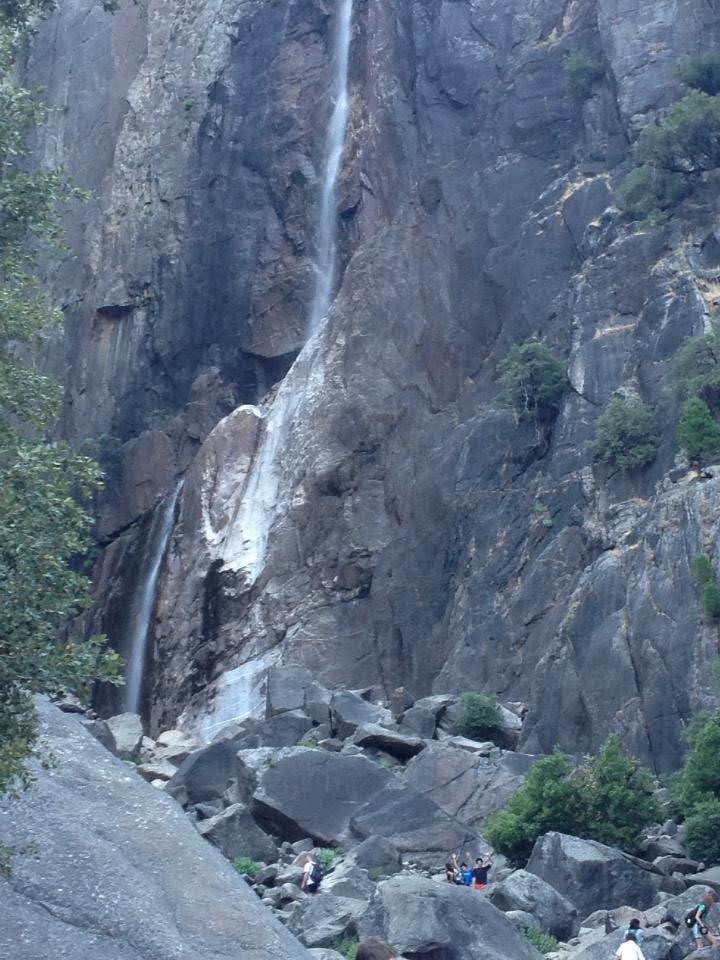 If you head south to the bottom portion of the park, you can take a day tram tour of the Giant Sequoias of Yosemite.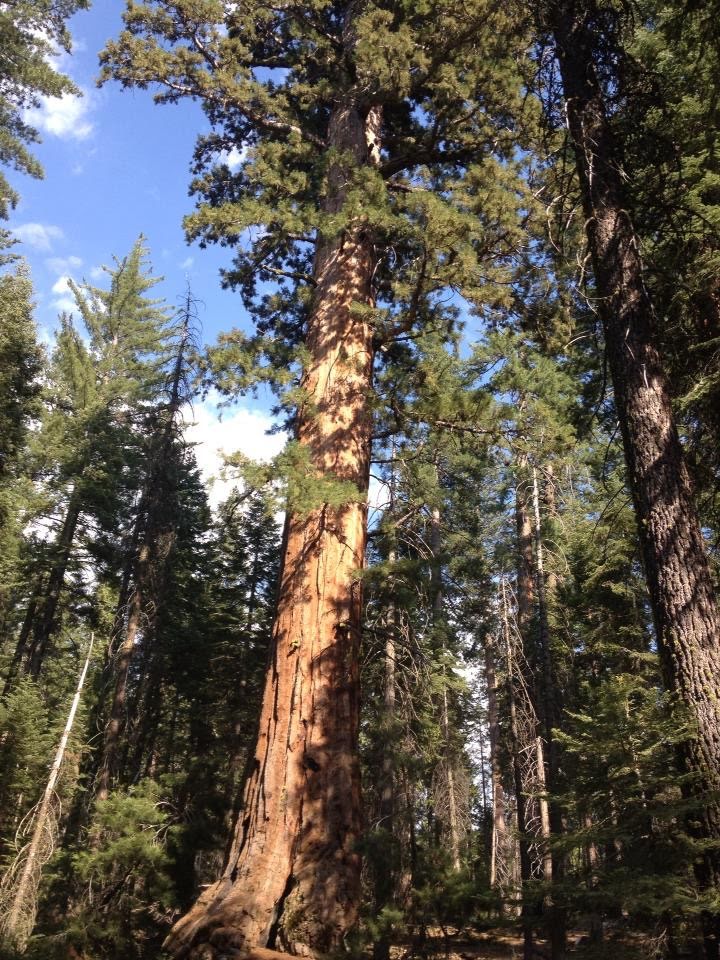 I highly recommend exploring as much of the park as you can, driving the entire park in a day is possible. Taking the Tioaga Pass to Olmsted Point is a vista point on the other side of Half Dome, unfortunately it was quite smoky, but I was able to see it's outline.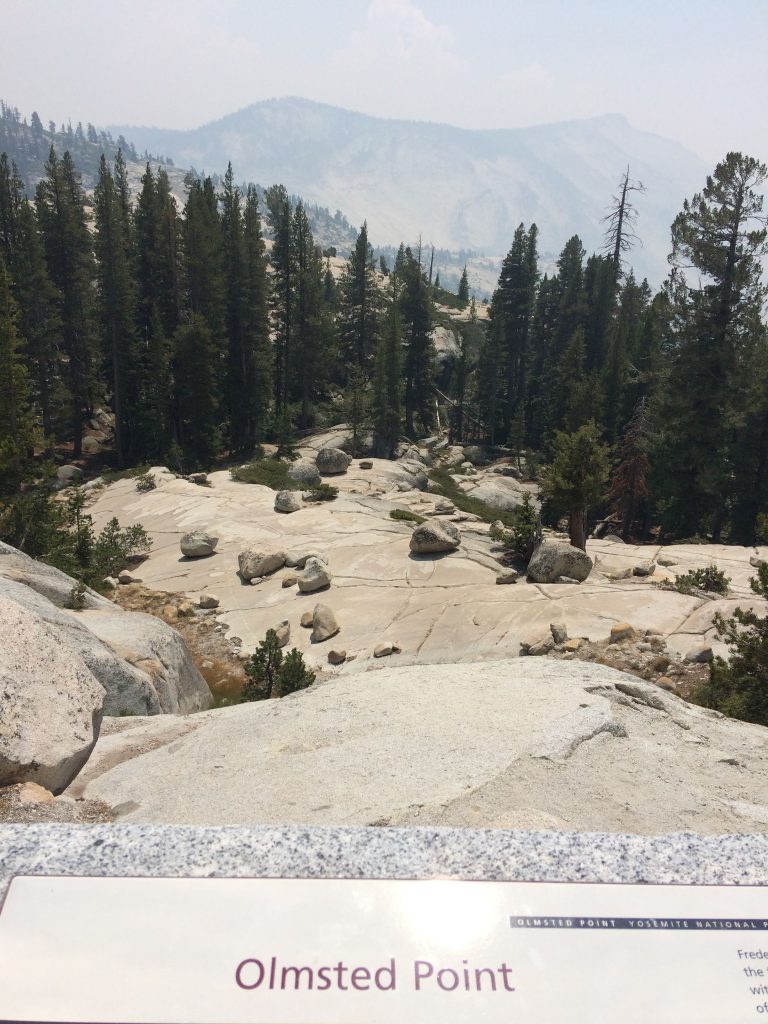 I discovered a wonderful pit stop for a lunch picnic right off the road at Tenaya Lake. I had a couple folding chairs and my cooler, and was treated to this amazing view!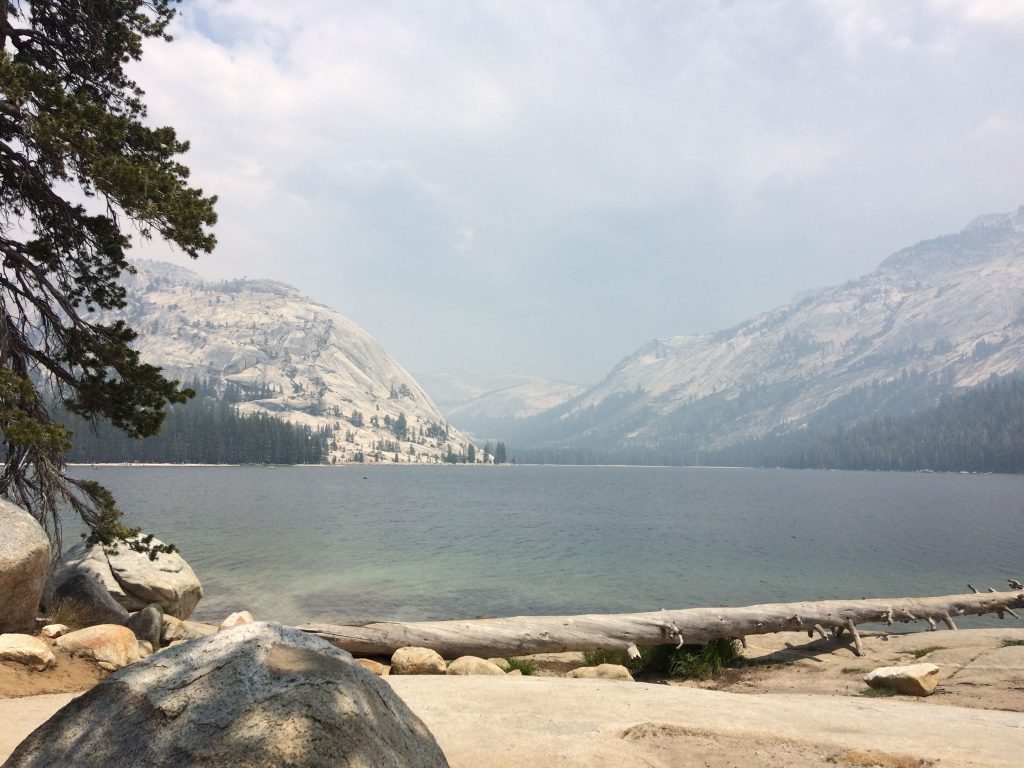 In July it's quite typical for thunderstorms to suddenly roll into the eastern part of the park, so I highly suggest taking a raincoat, if you don't like getting wet. Although I have to say that after a warm afternoon of exploring the park, the rain was a cool break from the heat!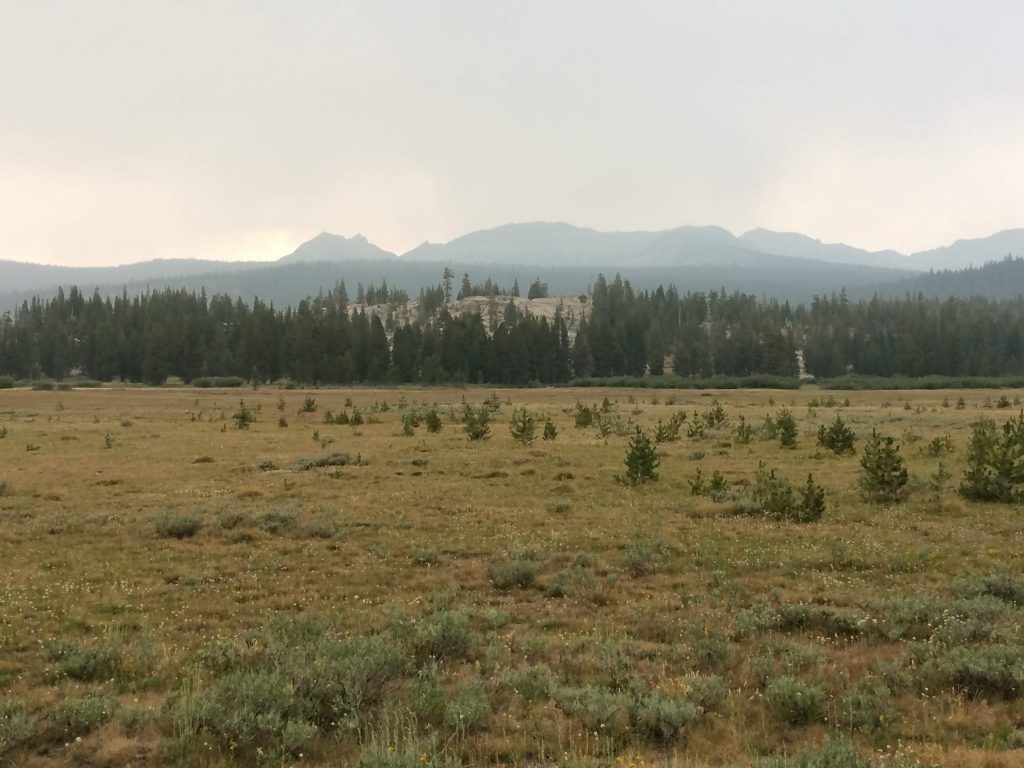 As you near the east entrance of the park, you descend down into the other side of Tioaga Pass, an amazing place to stop and take some last shots of the park.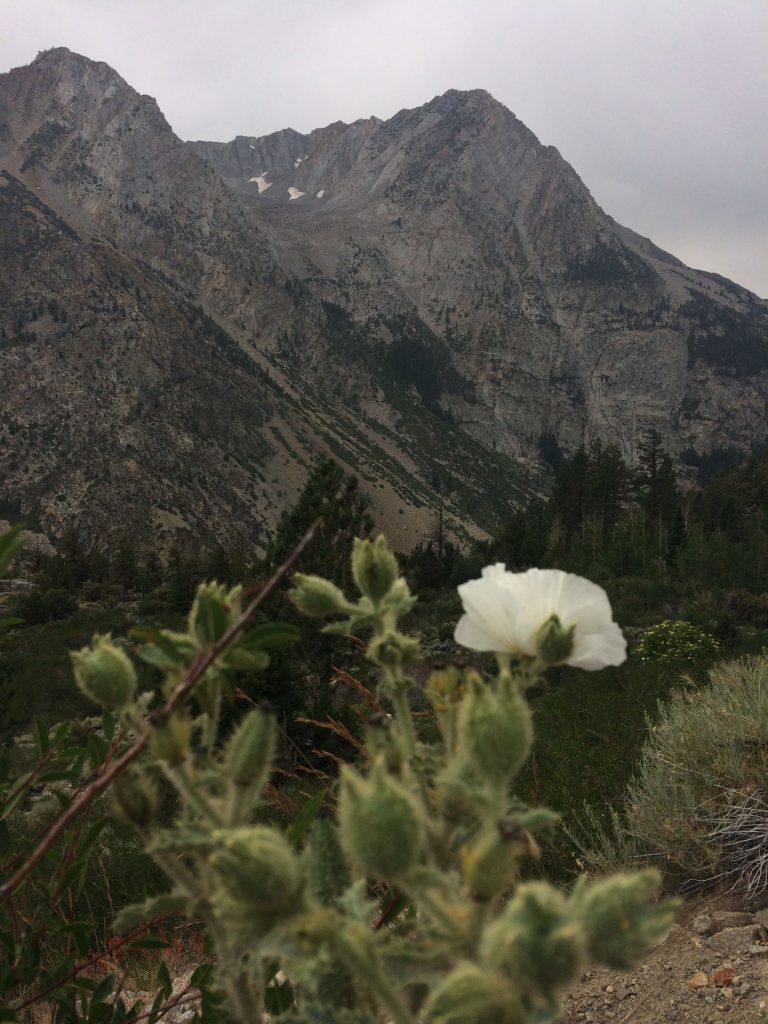 I ended up driving up from the valley along Hwy 120 through the park on the Tioaga Pass, this route takes you completely to the eastern part of the park, which ends up leading you straight to Mono Lake.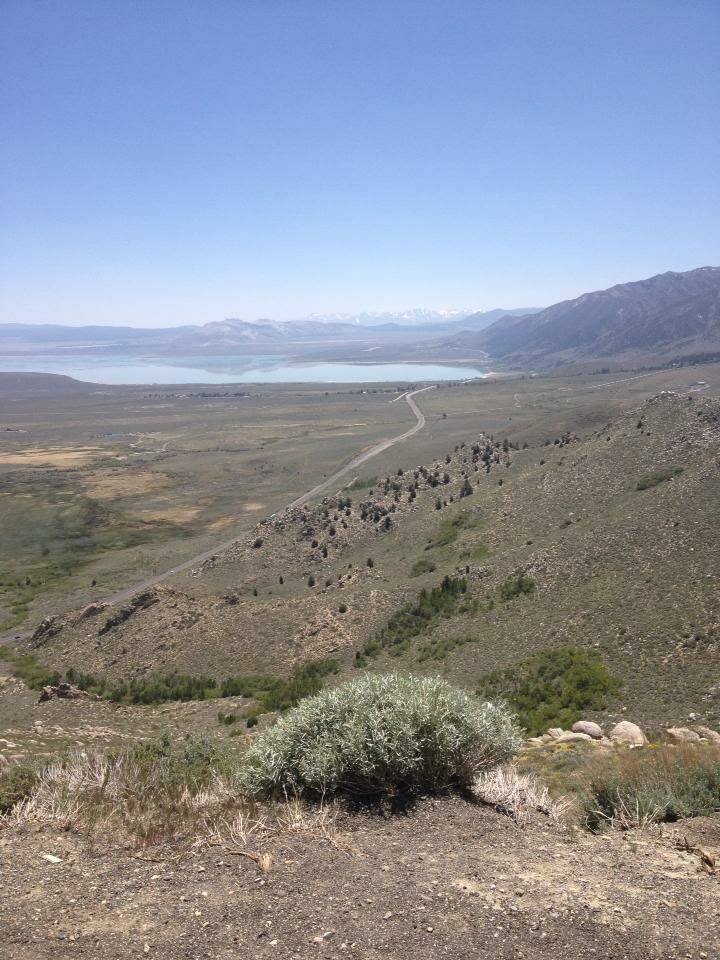 What makes Mono Lake so unique are these towers of limestone, called Tufas, all over the shores of the saline soda filled lake.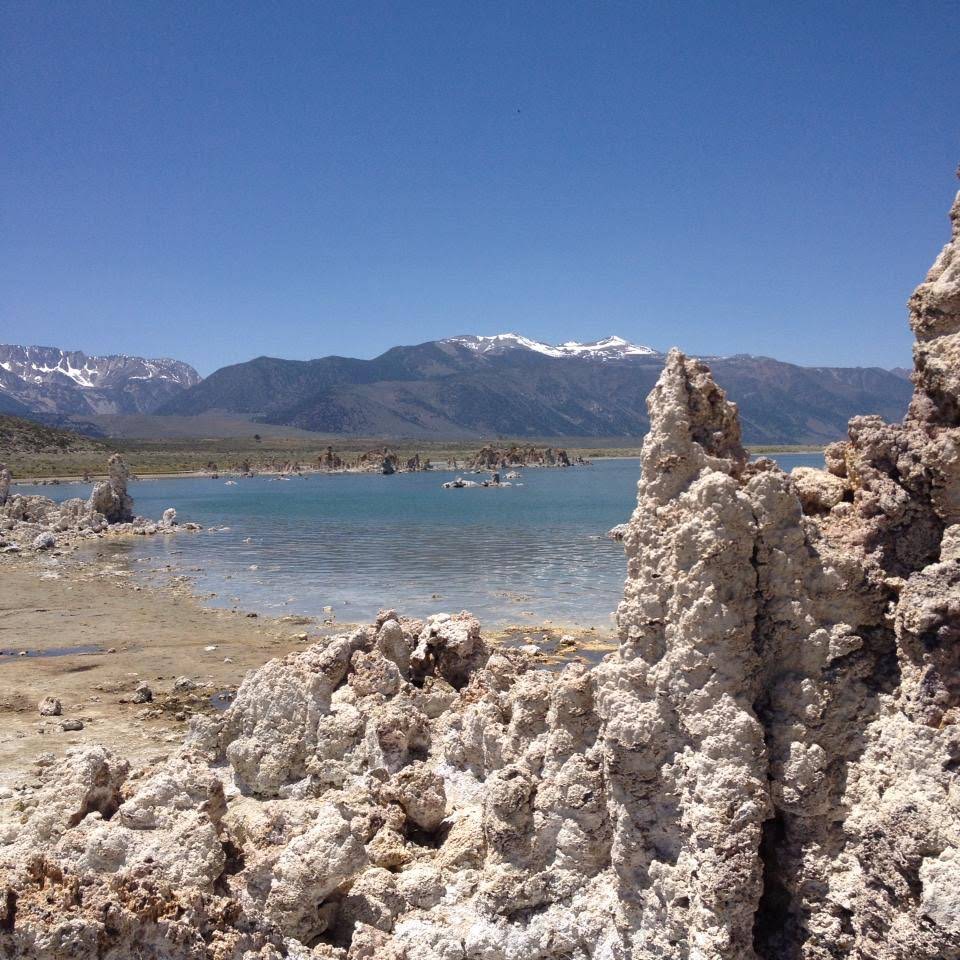 Fuel up on plant power on your way to the amazing travel destination of Yosemite Valley
A must-do is to stop into J & R Tacos in Merced, California and immerse yourself in this culinary mission to blend the old with the new. Their motto: "Create A Healthy Twist on Mexican Cuisine"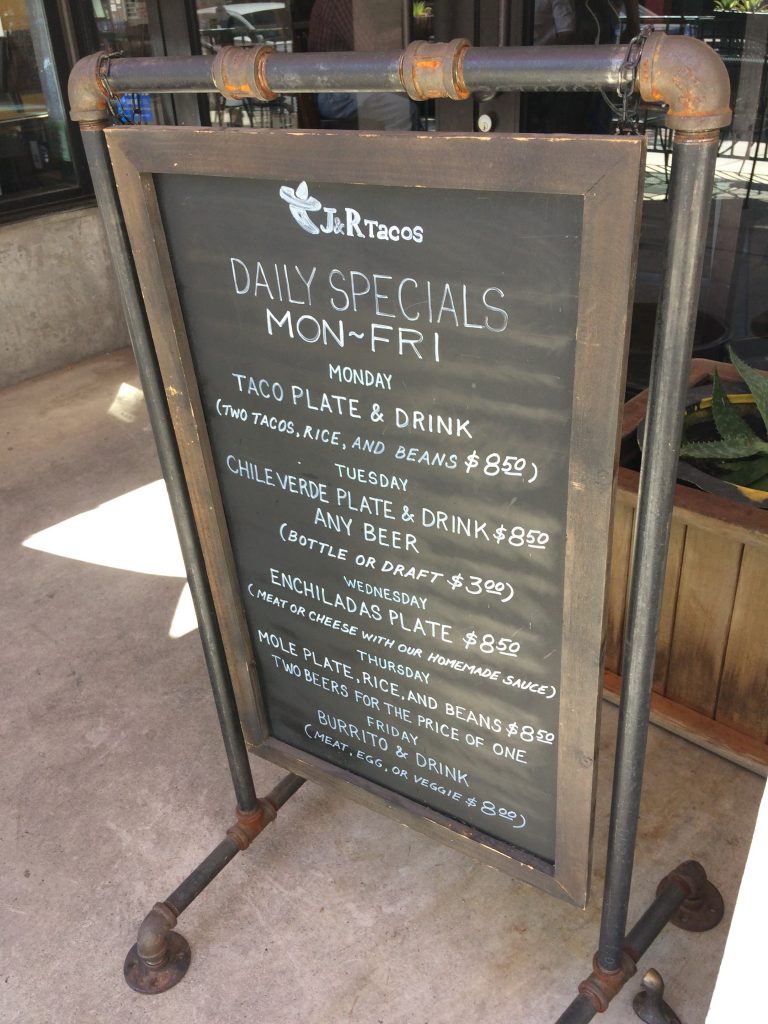 Owners Jana and Oscar started their vision for this community driven restaurant, with a simple sketch of their dream in 2004, as visionary college students wanting to make a difference in downtown Merced, California.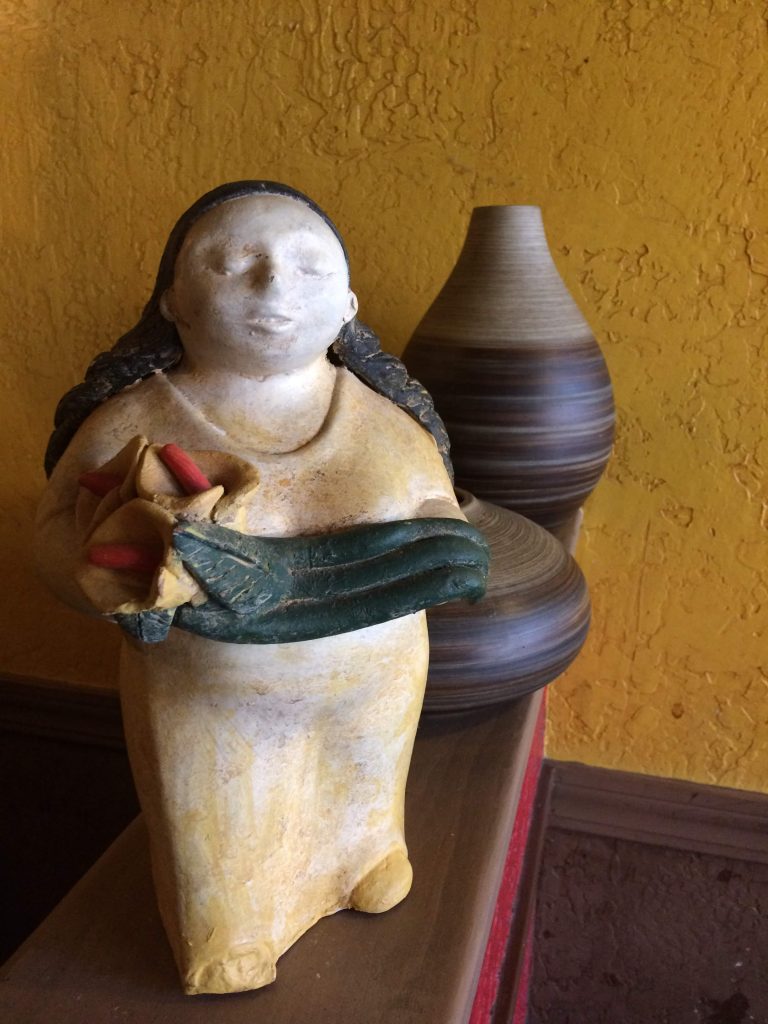 Again so hard to choose, but I went with the Veggie burrito, beans, lettuce, cheese. sour cream. avocado and tomato. You can of course ask for no sour cream if your looking for a Vegan option. You can order your choice of wheat, corn, flour, tomato, or spinach handmade tortillas. Choice of black, pinto beans, refried or whole.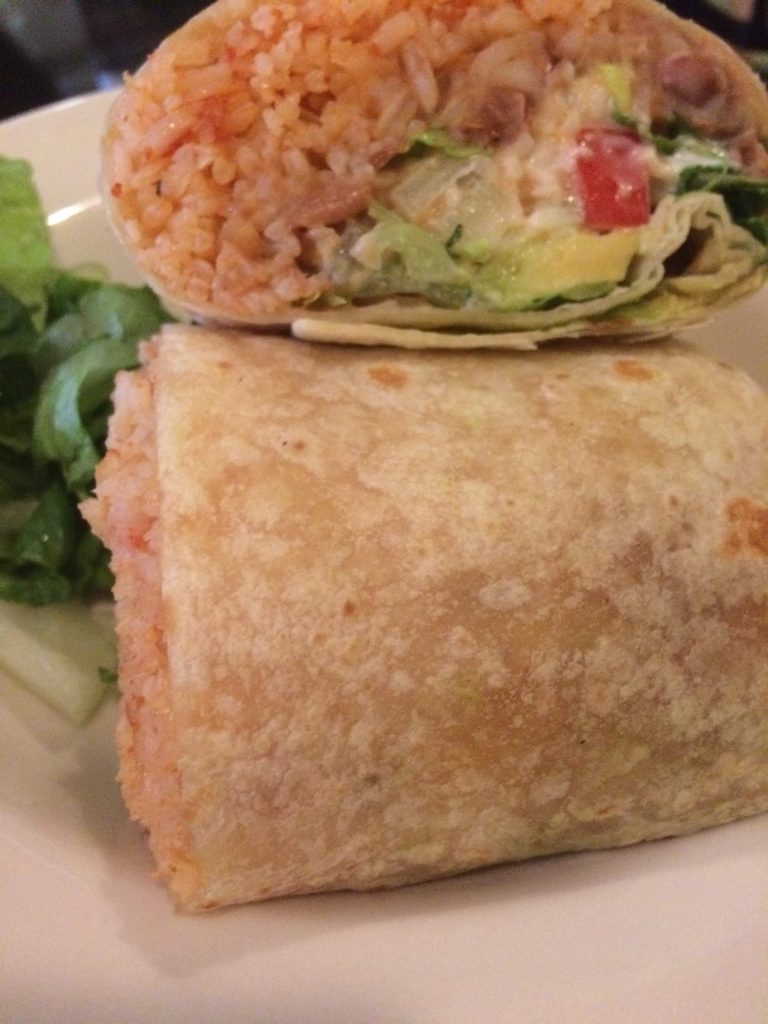 As well as the Gordita, handmade cornmeal biscuit stuffed with cheese, black beans and choice of meat, rajas con gueso, and nopales with veggies.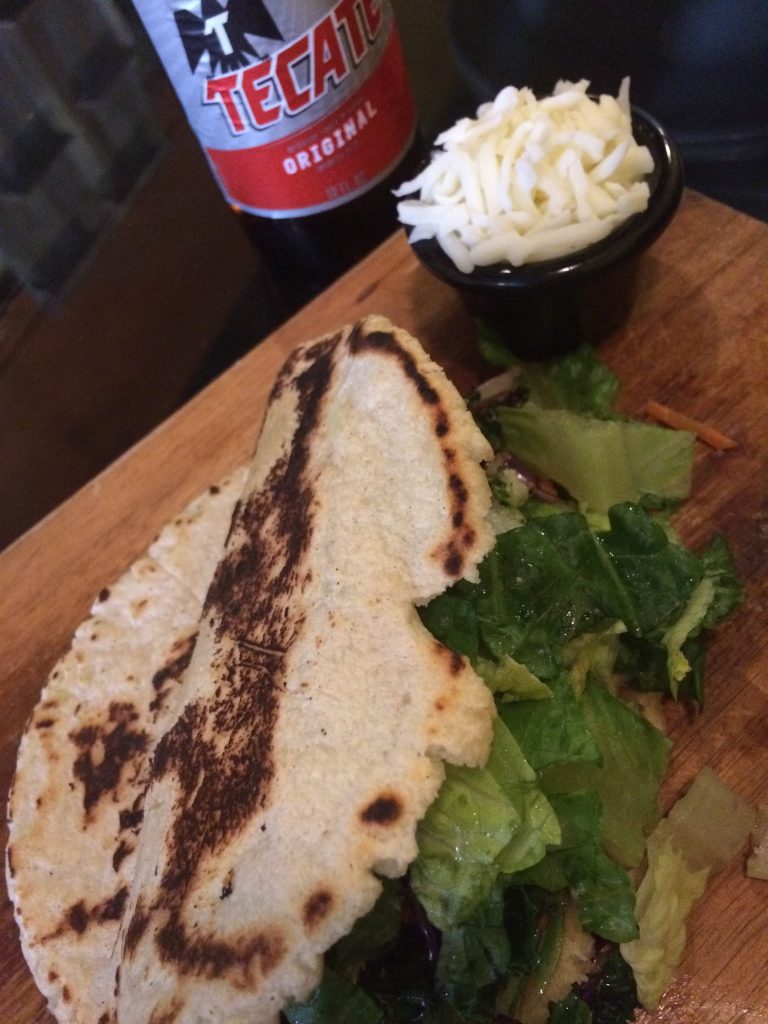 Since I can't call myself a true Vegan, I prefer to call myself plant influenced, because I can't resist a true authentic Chile Relleno!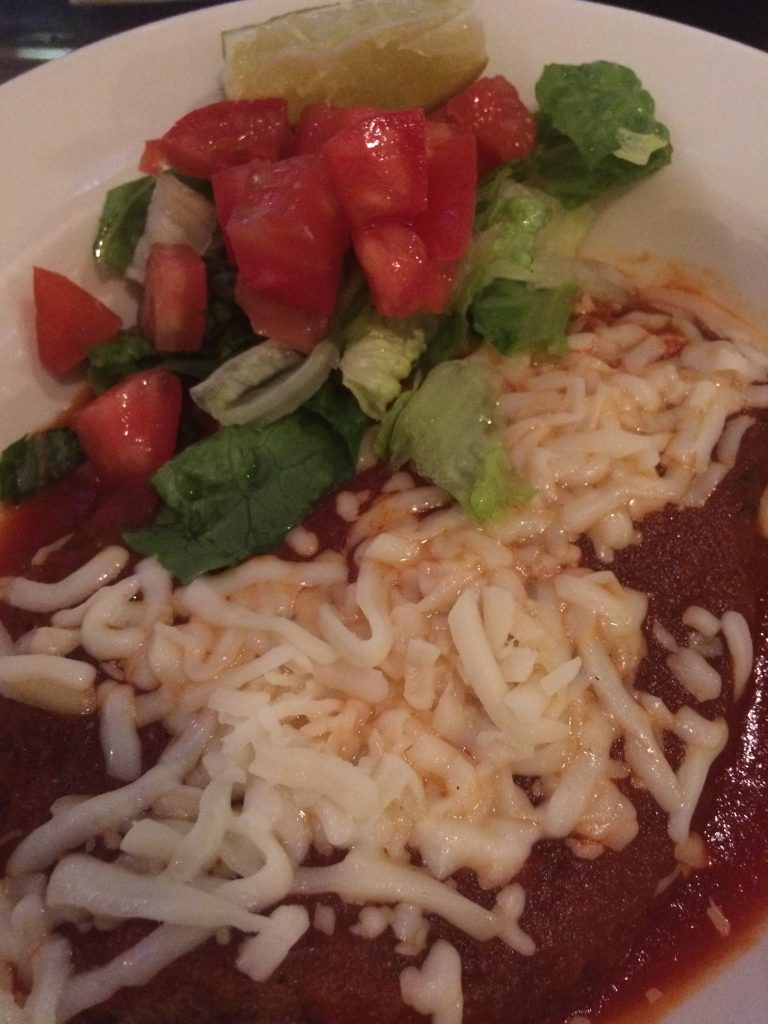 After my night in the Tiny house I was ready to find the perfect vegan breakfast place to get ready for my Yosemite adventure. The Love Cafe, located in Oakhurst, California, is a healthy all vegan plant powered start to an amazing travel adventure through Yosemite Valley!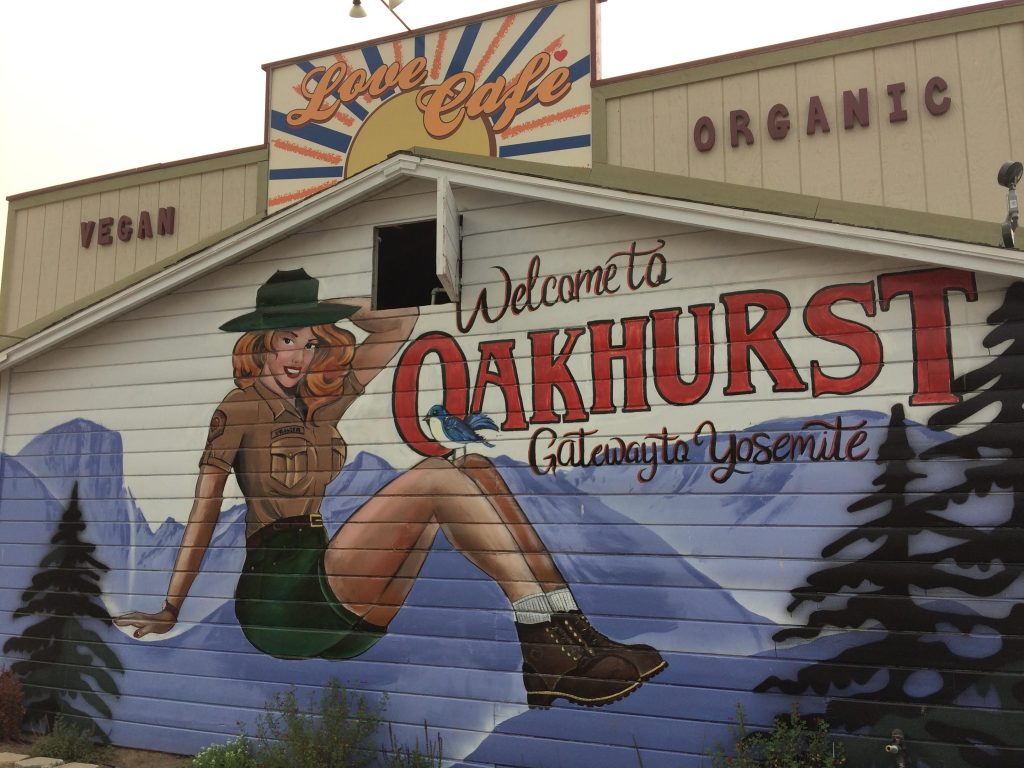 "Love Cafe, where Hearty Comfort Food meets Compassion" is a motto that perfectly describes this little gem in the middle of Madera County, California. Owners, Kent and Tricia wanted to create a special place for locals and visitors alike to come enjoy the foods we all crave for comfort but with a healthy twist. All their menu items are locally sourced organic seasonal produce.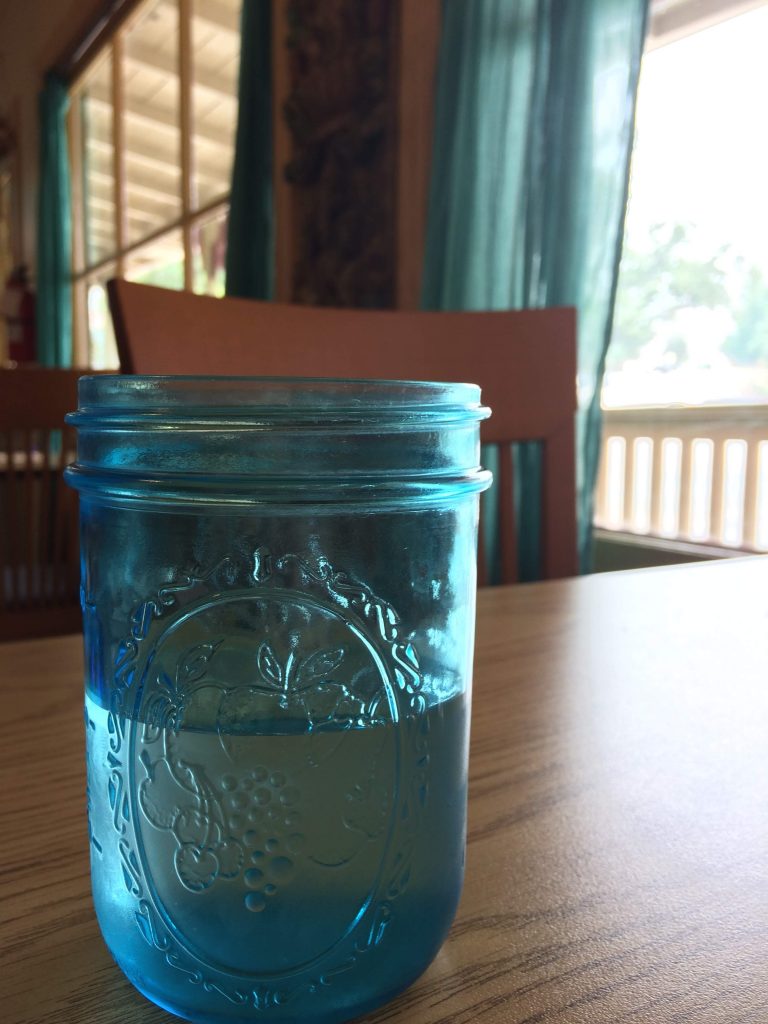 The owners created a playful, creative space for visitors to enjoy their power meal before heading out to enjoy the surrounding area.As a family owned small business they hope to create a place of kindness and compassionate for all to enjoy.I ordered the Biscuits and Sausage with House made Herb Gravy. I'm going to have to try to recreate this at home!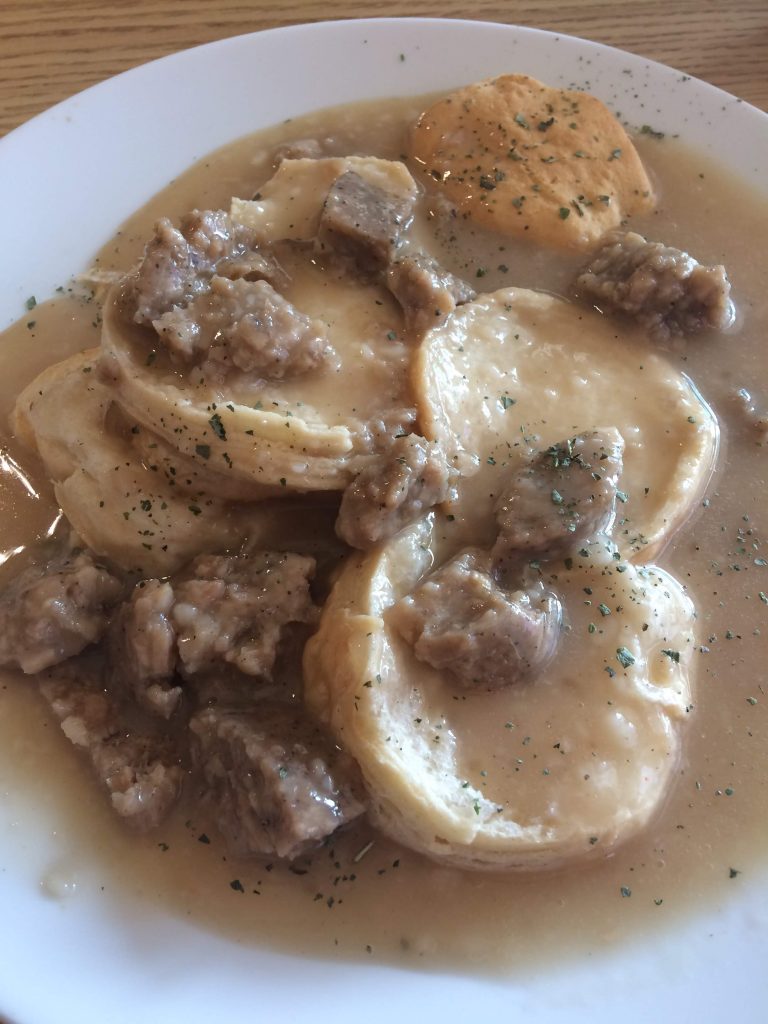 and the Blueberry Banana Vegan Pancakes with "Sausage".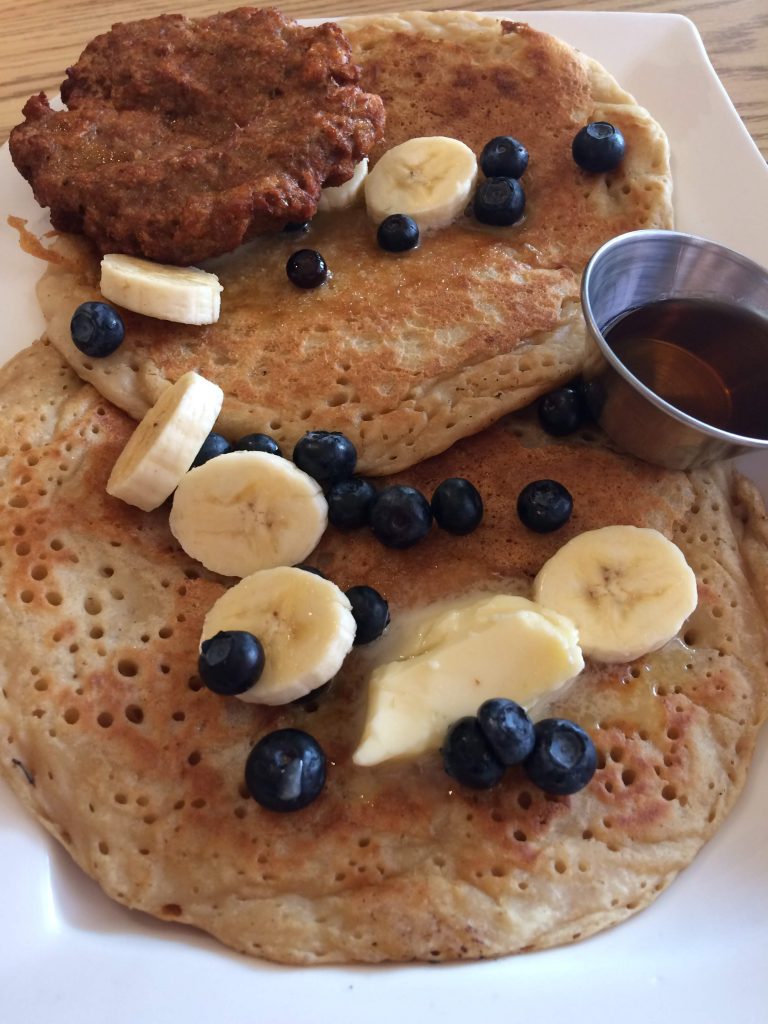 They also offer packed lunches/picnics to take with you on your outdoor adventure.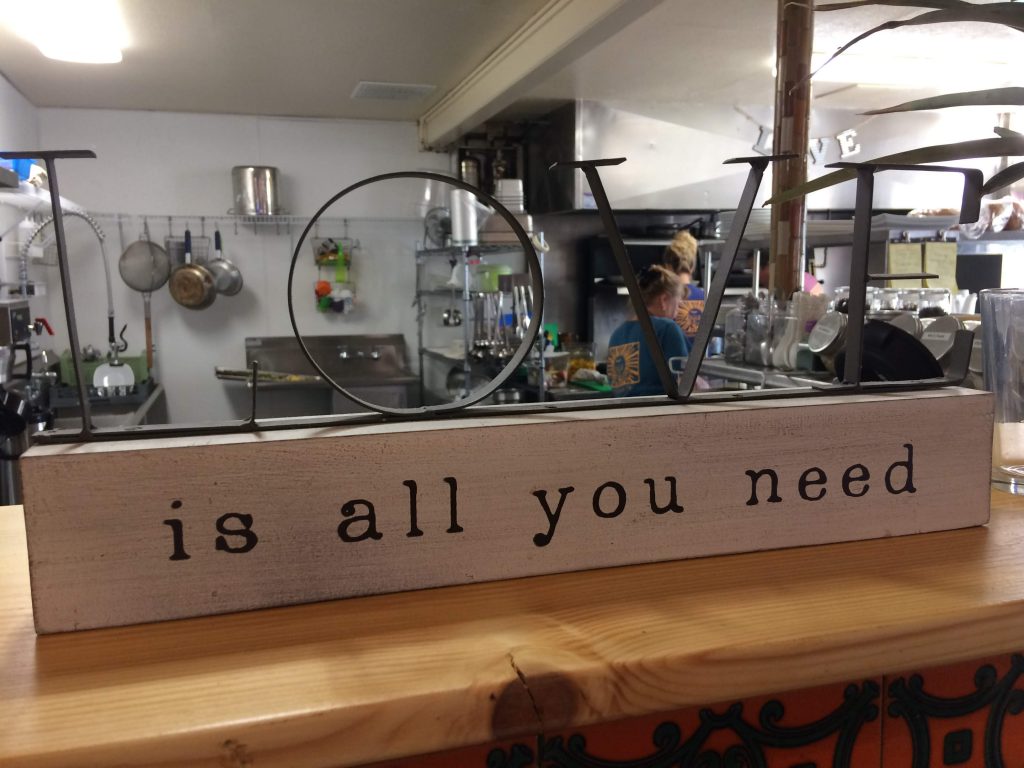 Remember LOVE is all you need to take with you on your next amazing travel experience around the world! Maybe I will end up in your backyard…..
Looking for an amazing travel experience? Pin it!