What are the first thoughts that come to mind when you think of unique things to do in Southern California?
Typically, most people think of Disneyland, the beaches and all things Hollywood.
But there are SO many unique things to do in Southern California besides the typical tourist traps!
Come along with me as I share my recent road trip down to Southern California and some of my favorite discoveries.
Castle House Estate Tiny Houses
Can't get any more unique than actually getting to stay in your very own tiny house castle tower!
Escape the city and head out to the desert oasis of Joshua Tree to explore this fun glamping experience.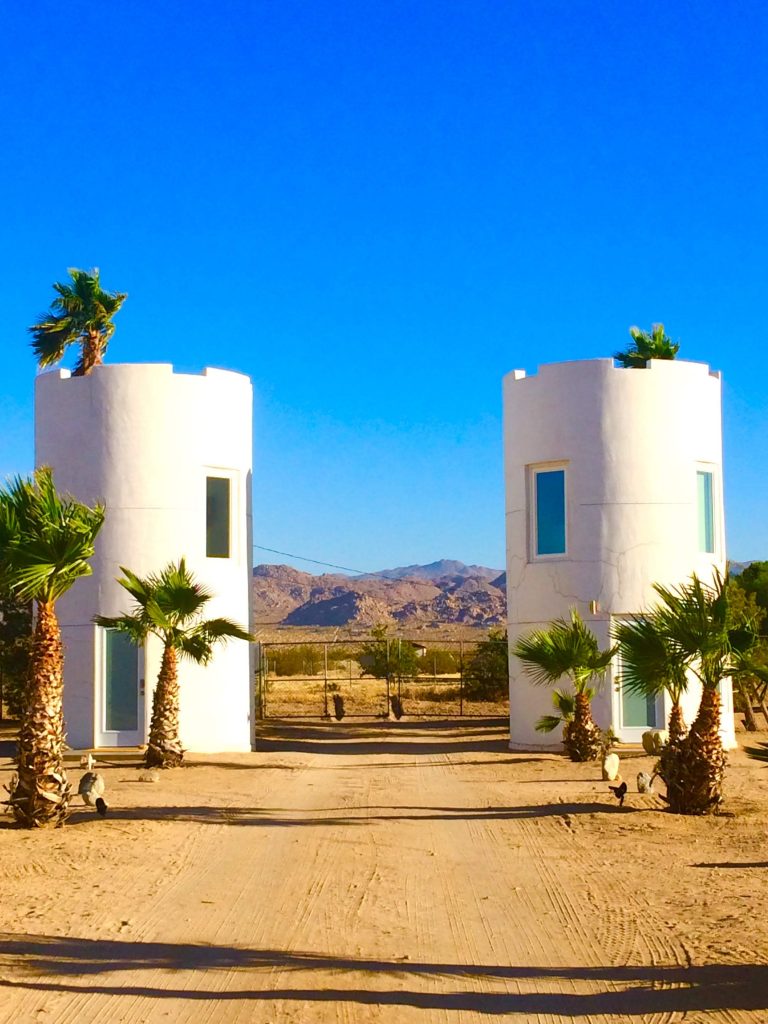 Upon entering into the grounds, you are greeted by two castle guard towers, each a separate space to rent.
I stayed in Guard Tower 2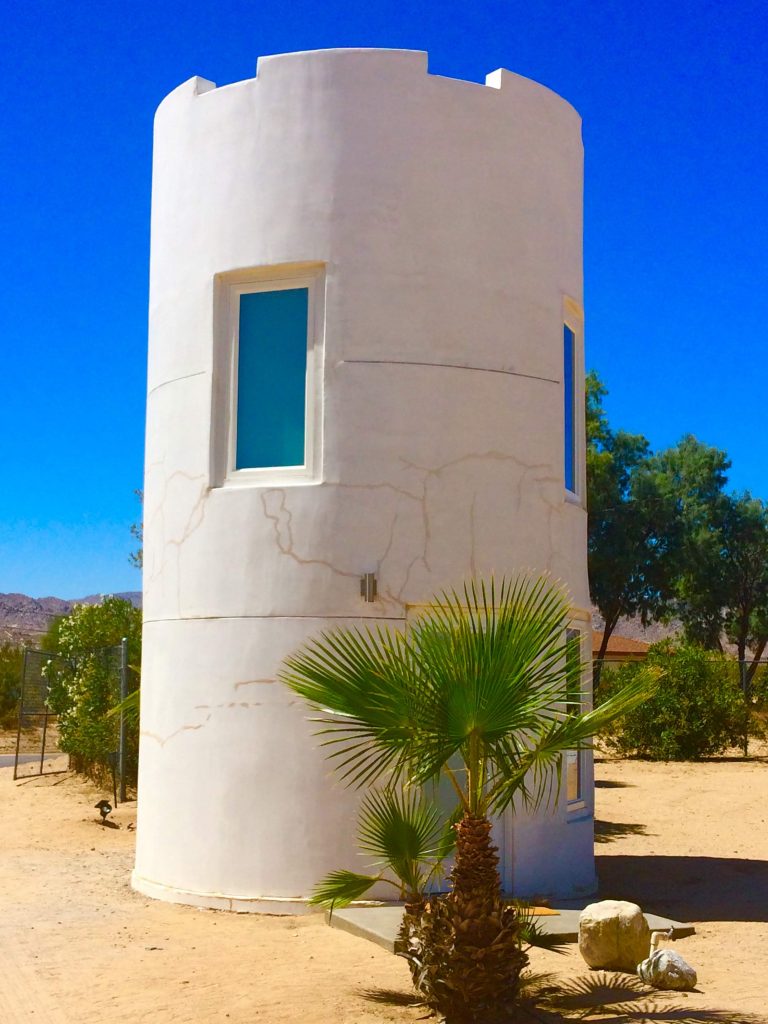 With all the basics of a hotel, it has a comfy main floor living room space complete with a refrigerator and coffee for the morning.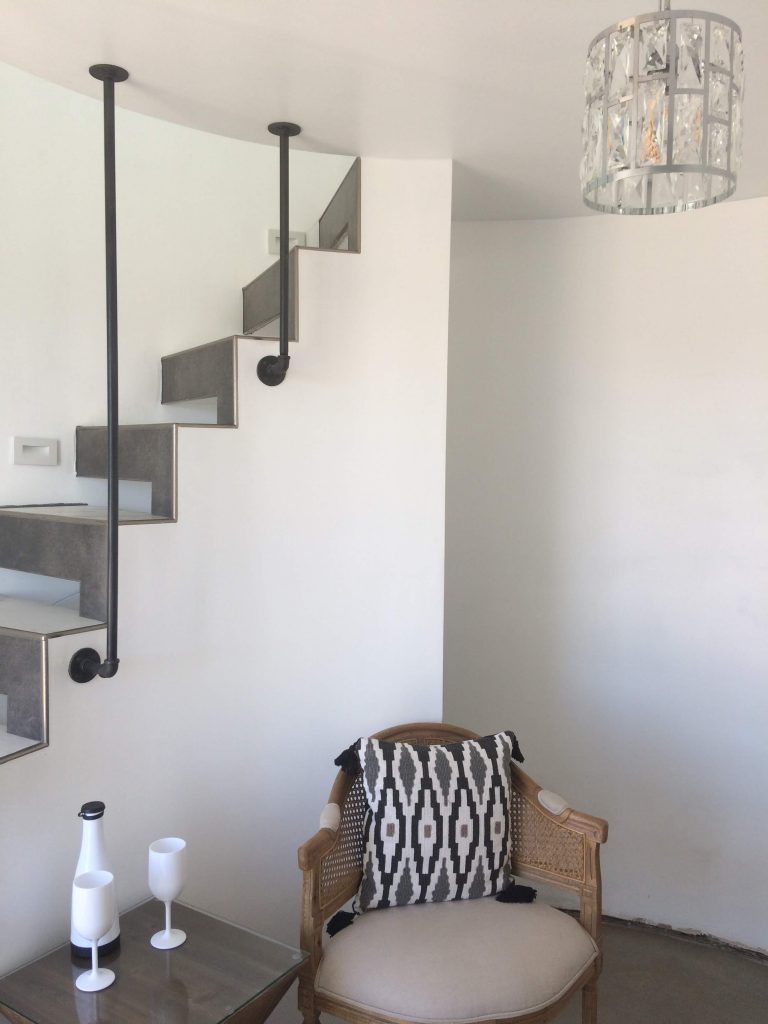 The second level is the bedroom space with a TV that has the usual streaming channels, an AC/Heat unit, and a very comfy queen bed.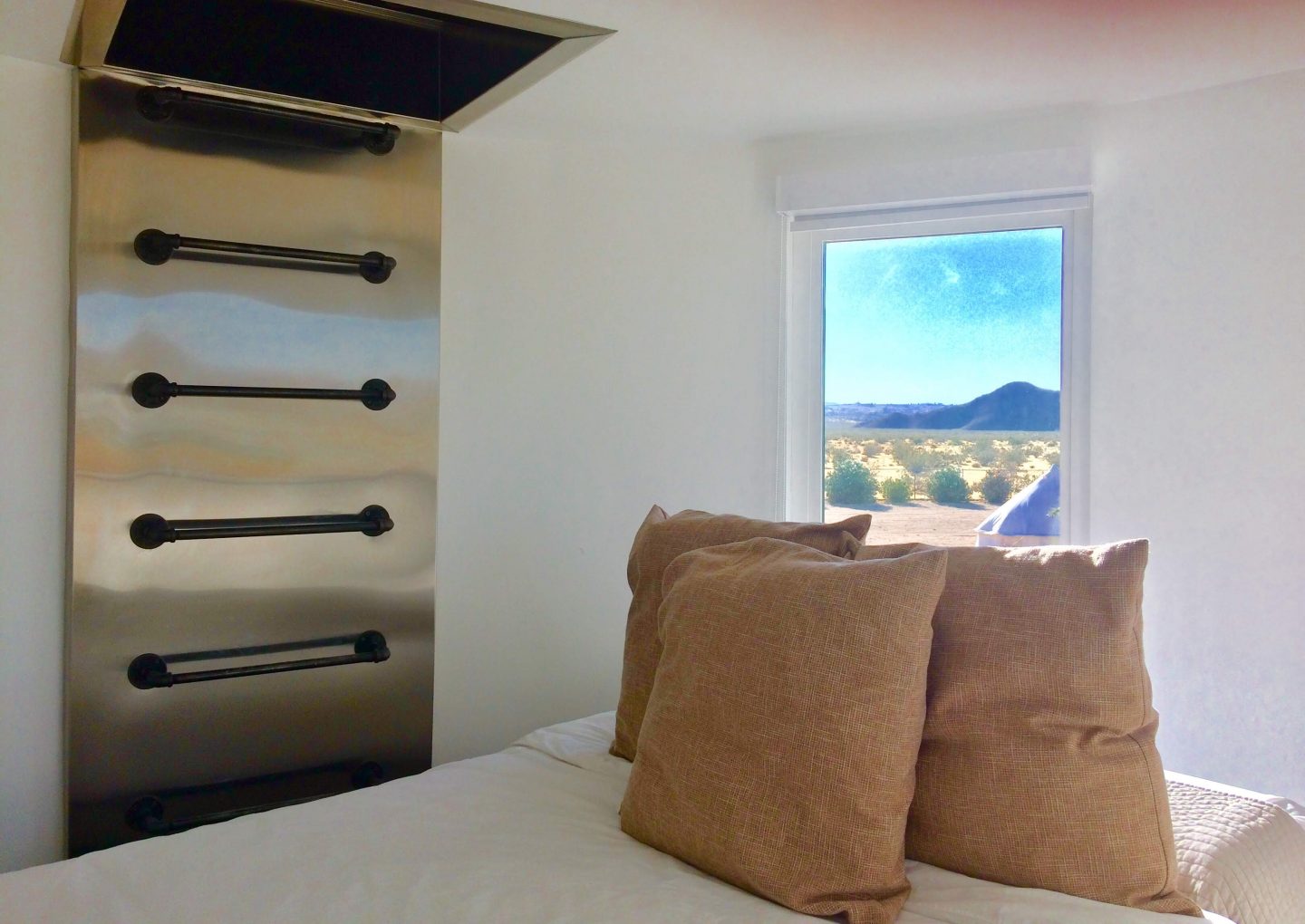 Head up through the hatch to the rooftop deck to take in the sunsets and stars on the outdoor lounge bed. If you're lucky, you'll get a full moon view!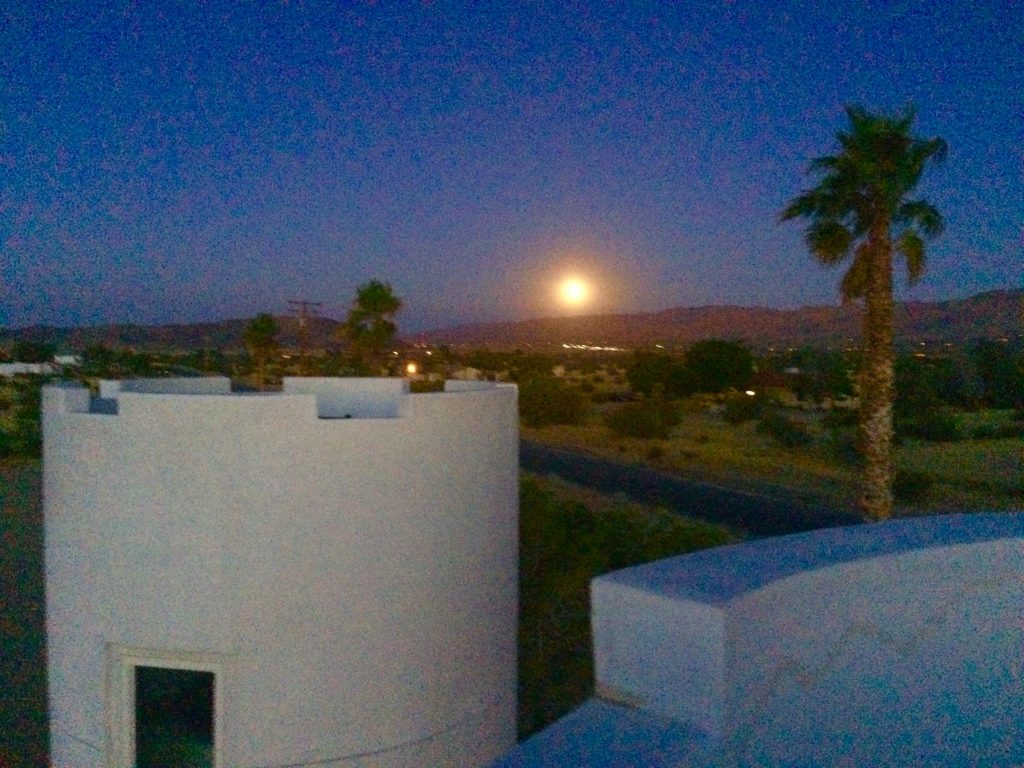 Keep in mind this is technically a glamping site. Along with glamping comes using the outdoor toilet and shower! So the towers do not have any plumbing in them.
In addition to the two castle towers, there are several Glamping Yurt Tents, camping spots to pitch a tent, and a container home built by Alternative Living Spaces.
I definitely want to come back to add the Container Tiny Home to my list of unique things to do in Southern California!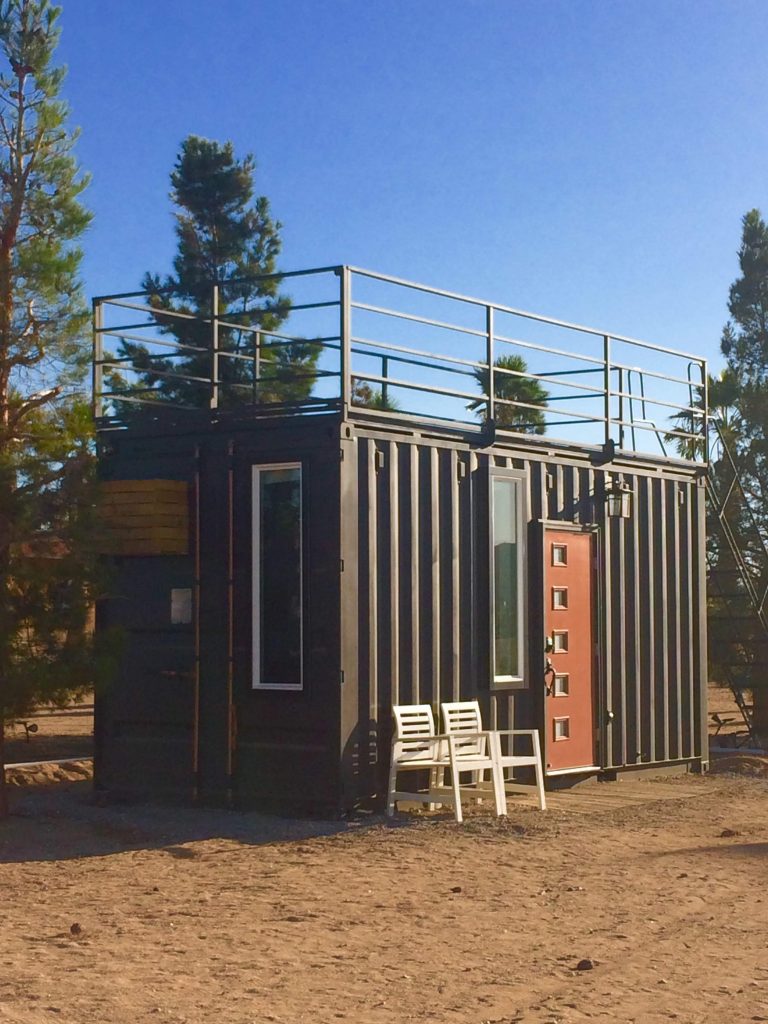 Drive a short 15 minutes from the Castle House Estate to the outdoor desert museum created by the late Noah Purifoy. This by far is one of the most unique things to do in Southern California, with it's artwork focused on using recycled materials made into quirky statement pieces.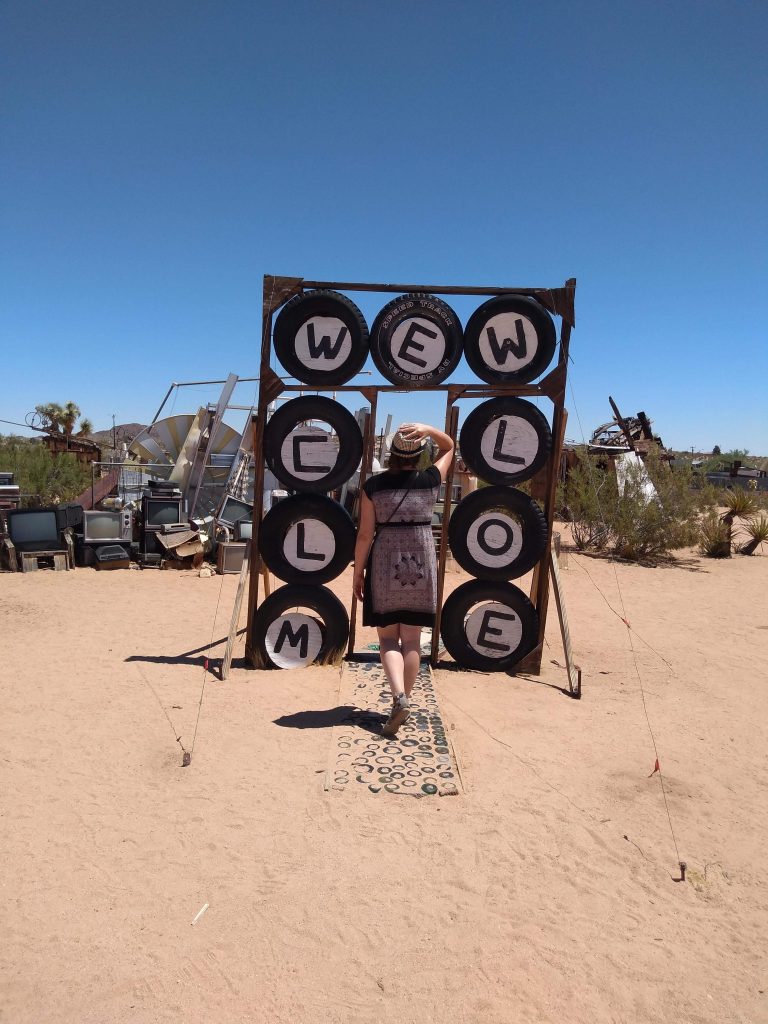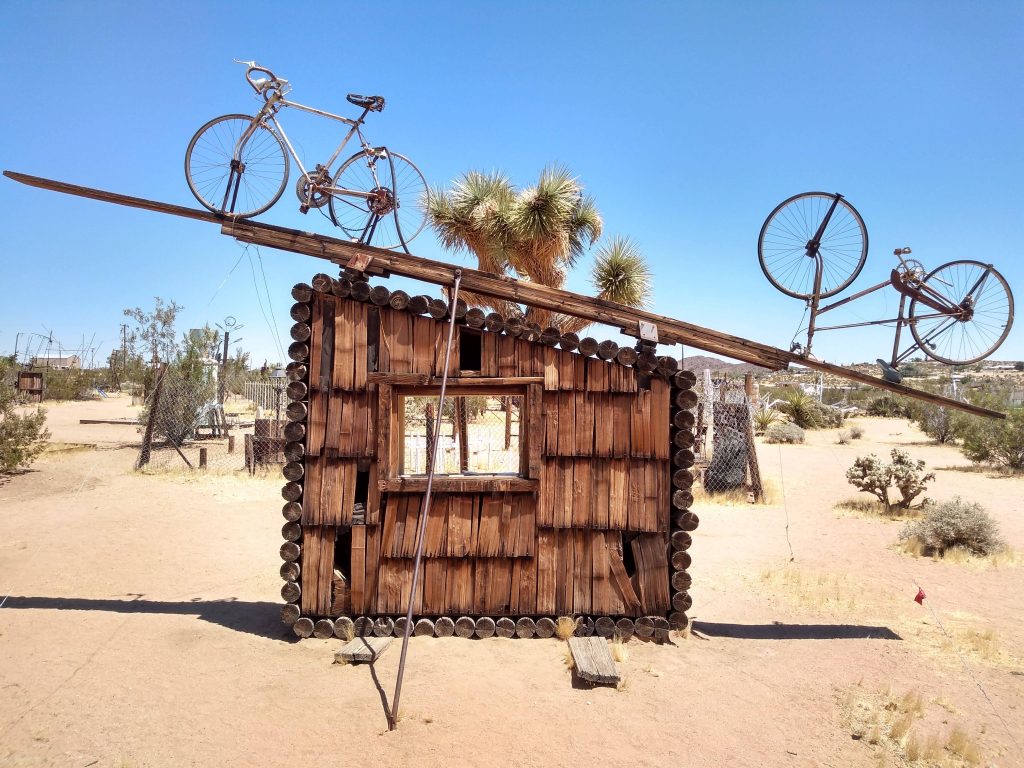 The Castle House is only 45 minutes from the North Entrance of the Joshua Tree National Park. This is like no other National Park I have ever visited.
With miles and miles of the famous Joshua Trees, there are plenty of picture opportunities.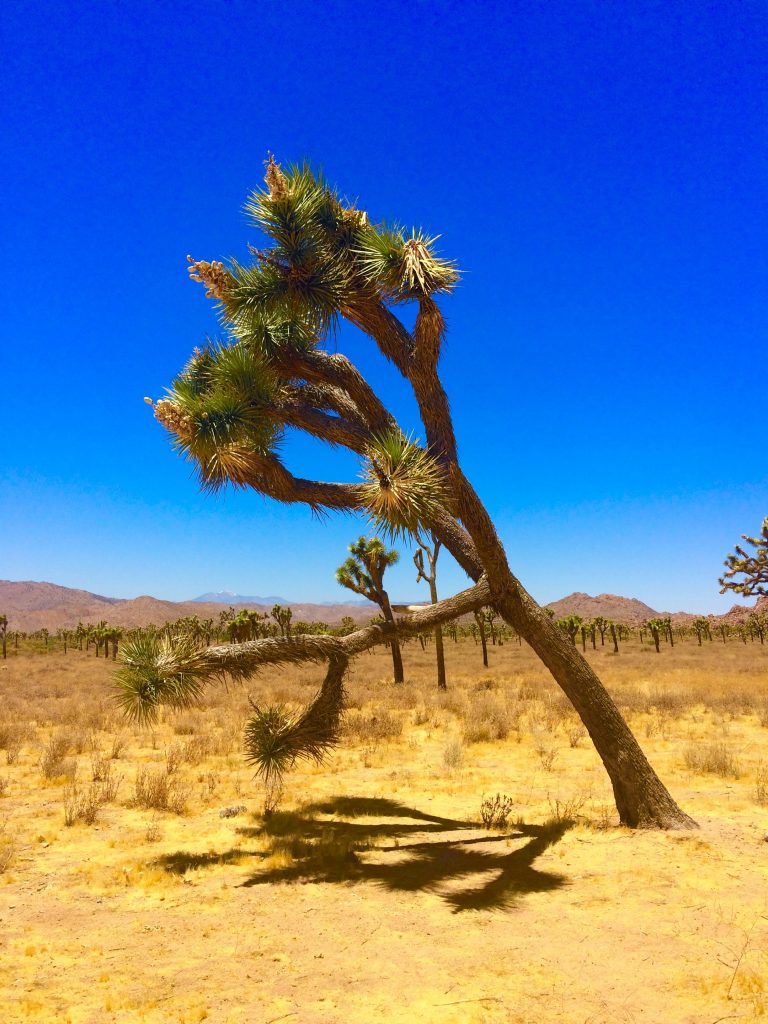 Scattered throughout the park are massive rock formations for all to enjoy right off the main road. Simply park and explore….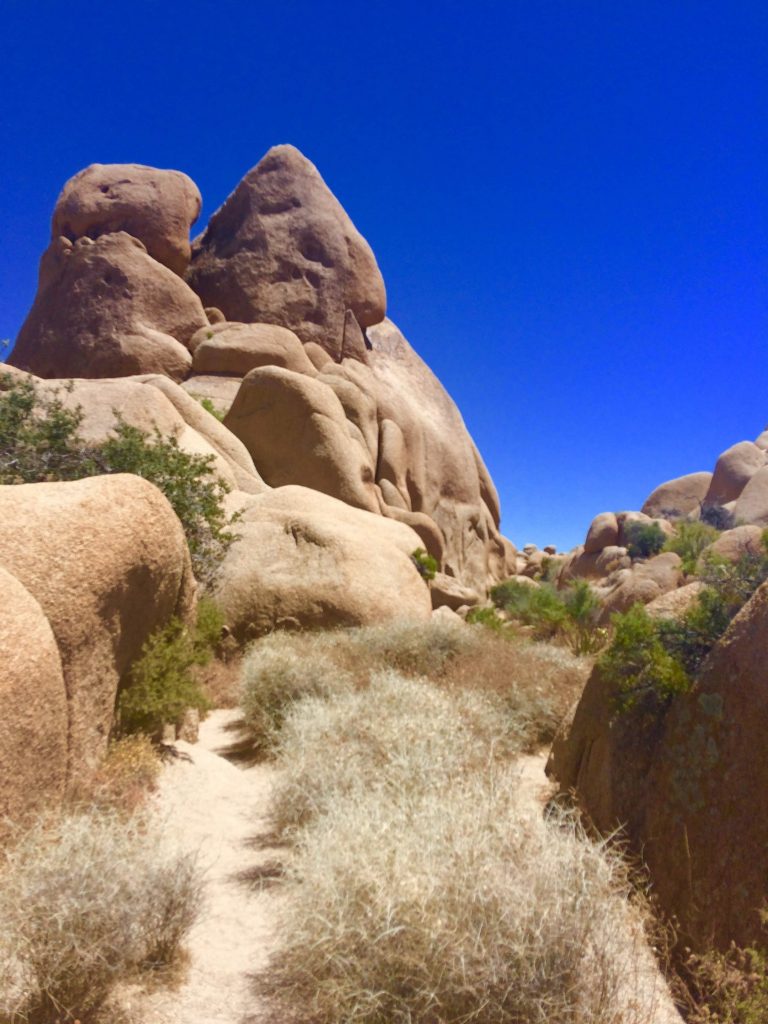 There are plenty of hiking trails to enjoy throughout the park, ranging from easy, moderate to strenuous. Personally I'm all about the easy trails. A must do view is Keys View overlooking the whole Coachella Valley. It includes the towns of Indio and Palms Springs with amazing mountain ranges all around. And of course, the famous San Andreas Fault runs right through this area!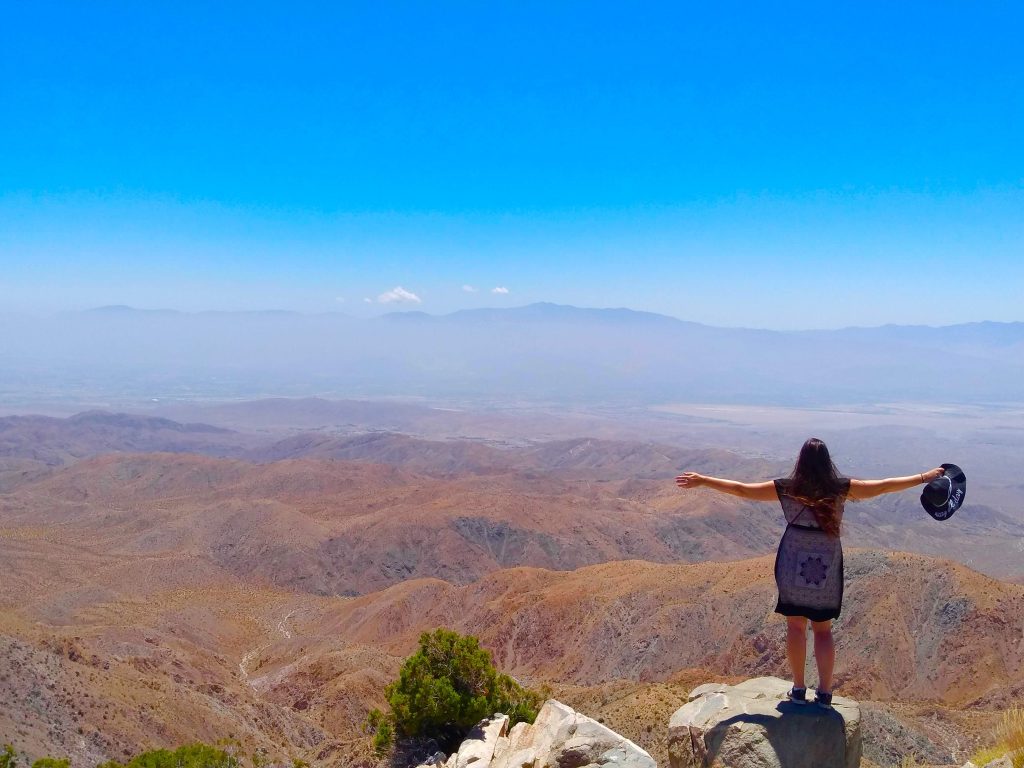 Have you wondered what it might be like to live in a Tiny House? I found a tiny house in Morongo Valley, nestled between the cities of Palm Springs and Joshua Tree to put on your unique things to do in Southern California to do list!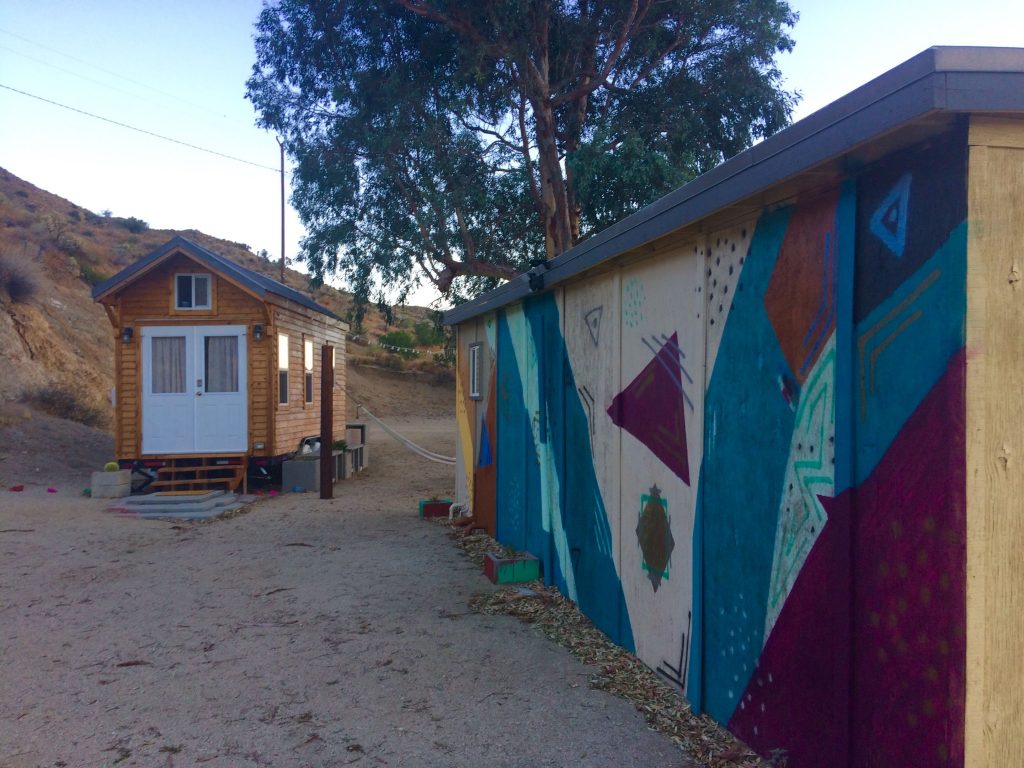 As you walk towards the tiny house, you immediately are greeted with touches of creativity and magical little spots that the hosts of this adorable space have created to make you feel welcome.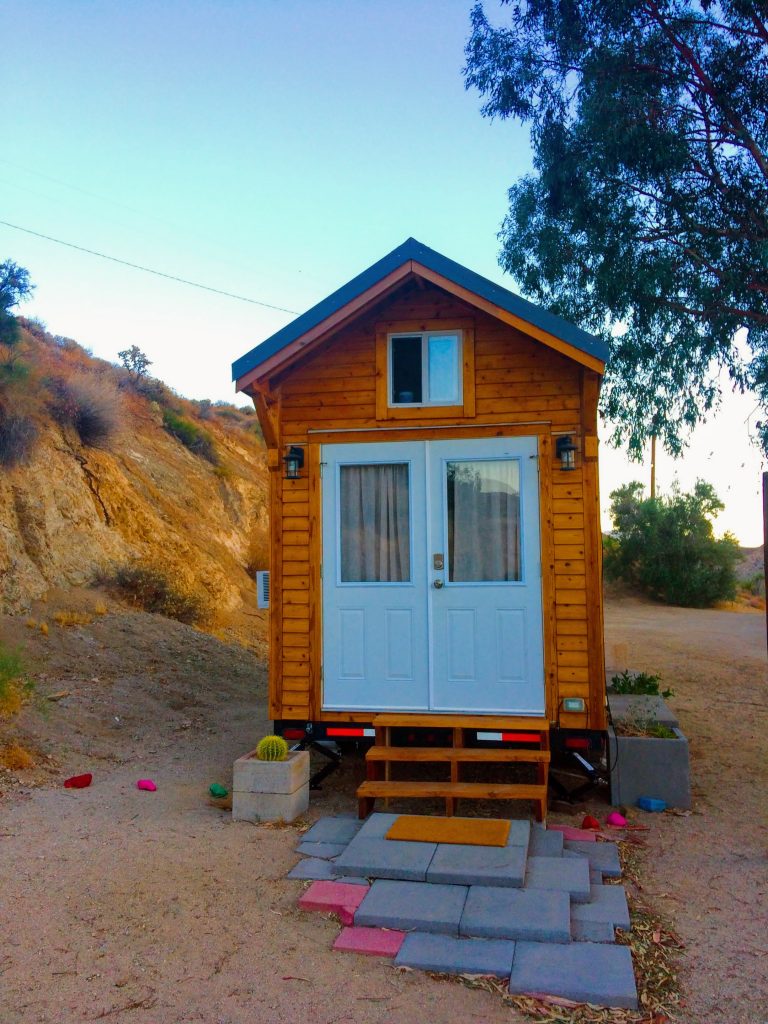 Brady greeted me as I arrived and showed me around the tiny house. It had so many thoughtful touches to make my stay feel like my own special tiny home away from home.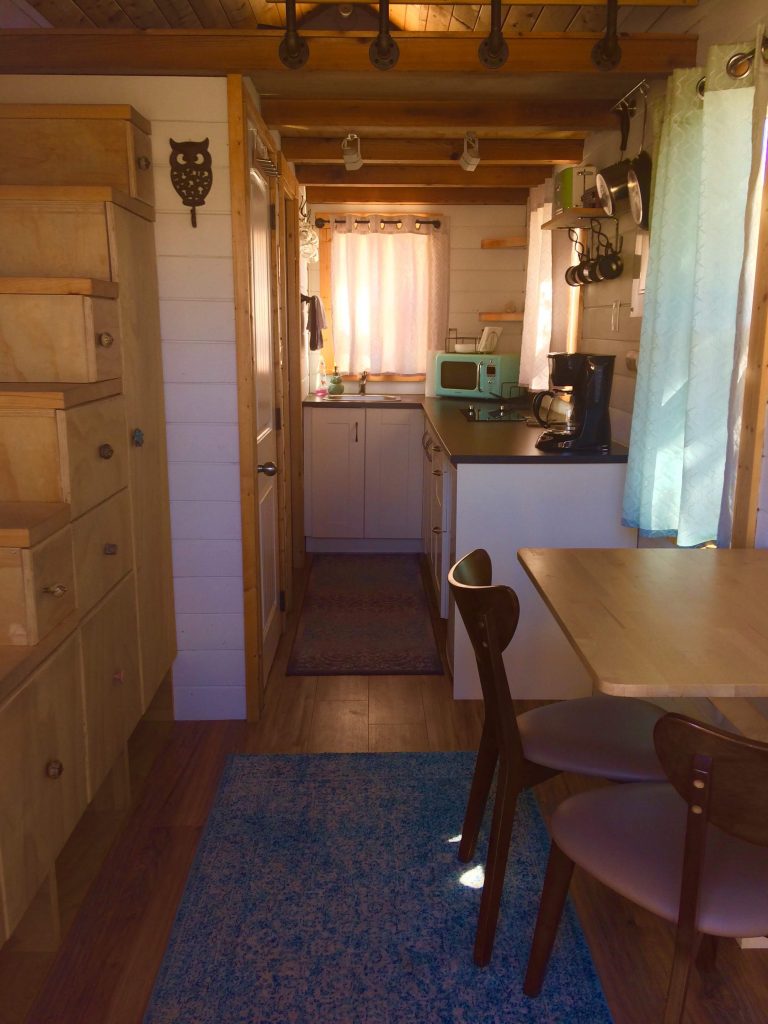 I loved all the colorful artistic details and retro style fun that gave this tiny house it's own special charm.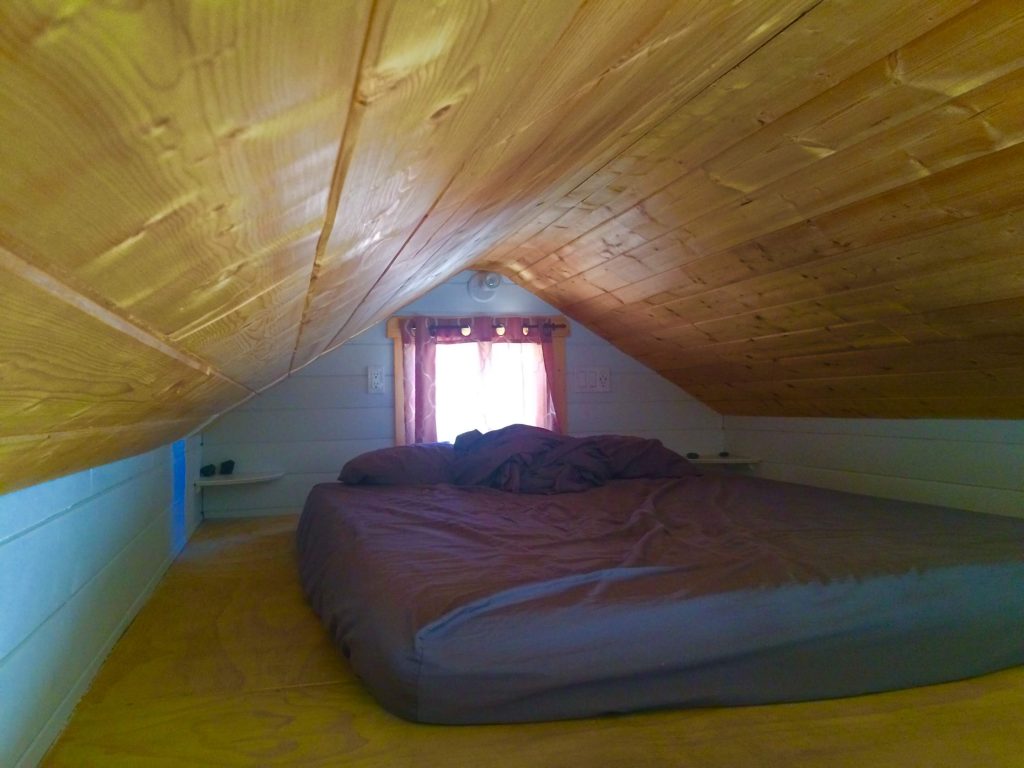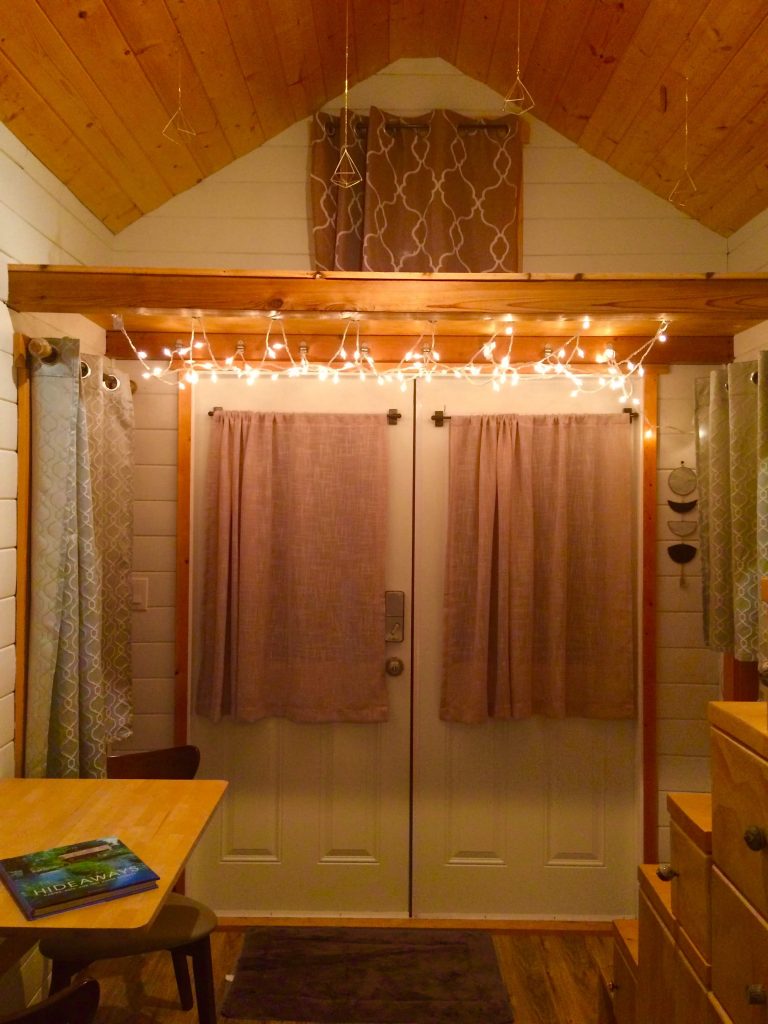 In the evening it was fun to turn on the indoor and outdoor lights and experience a little magic in the desert of Morongo Valley.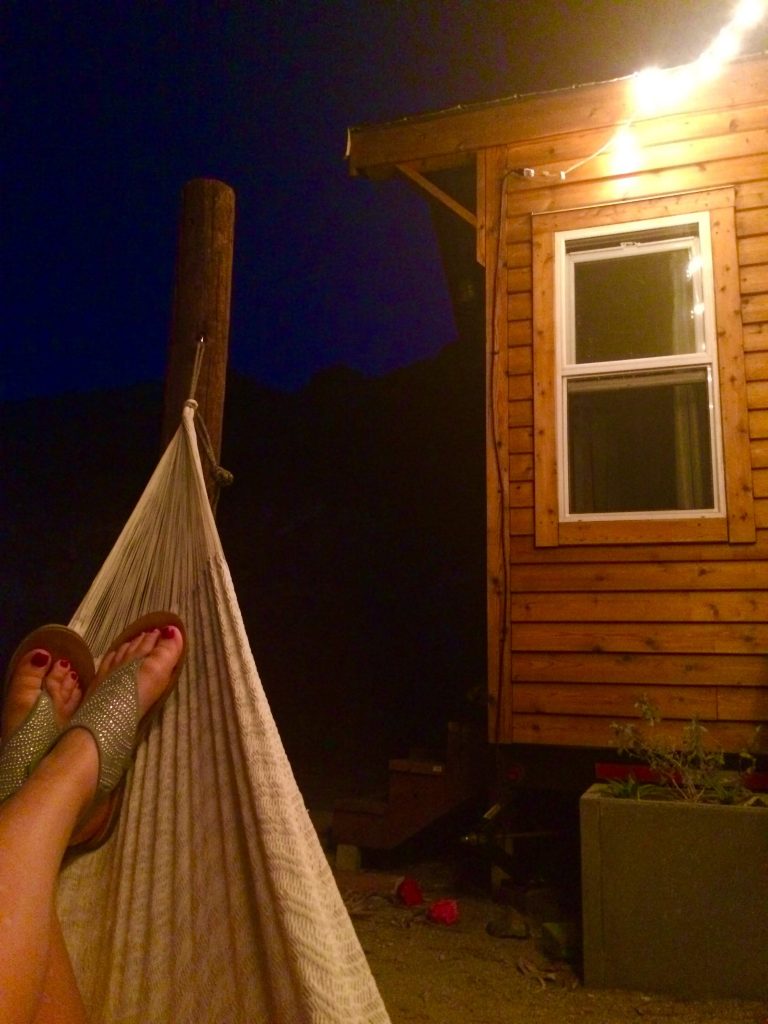 Head out towards Pioneertown to get a little taste of the Wild West! Originally an old western movie set, it's now definitely one of the unique things to do in Southern California.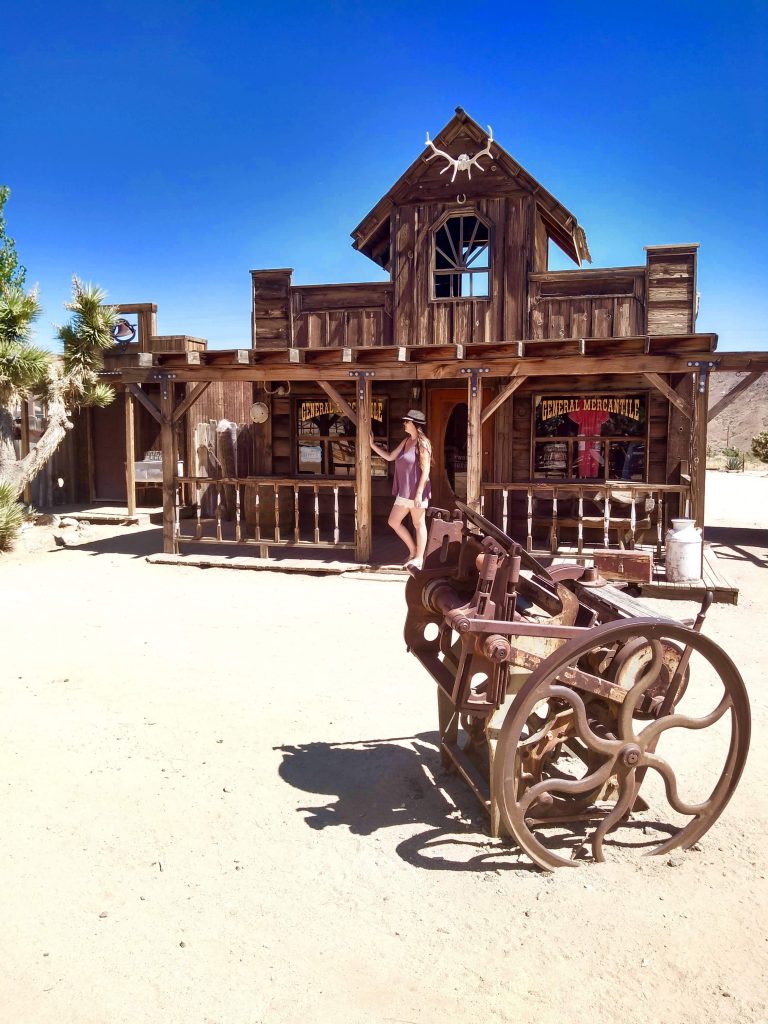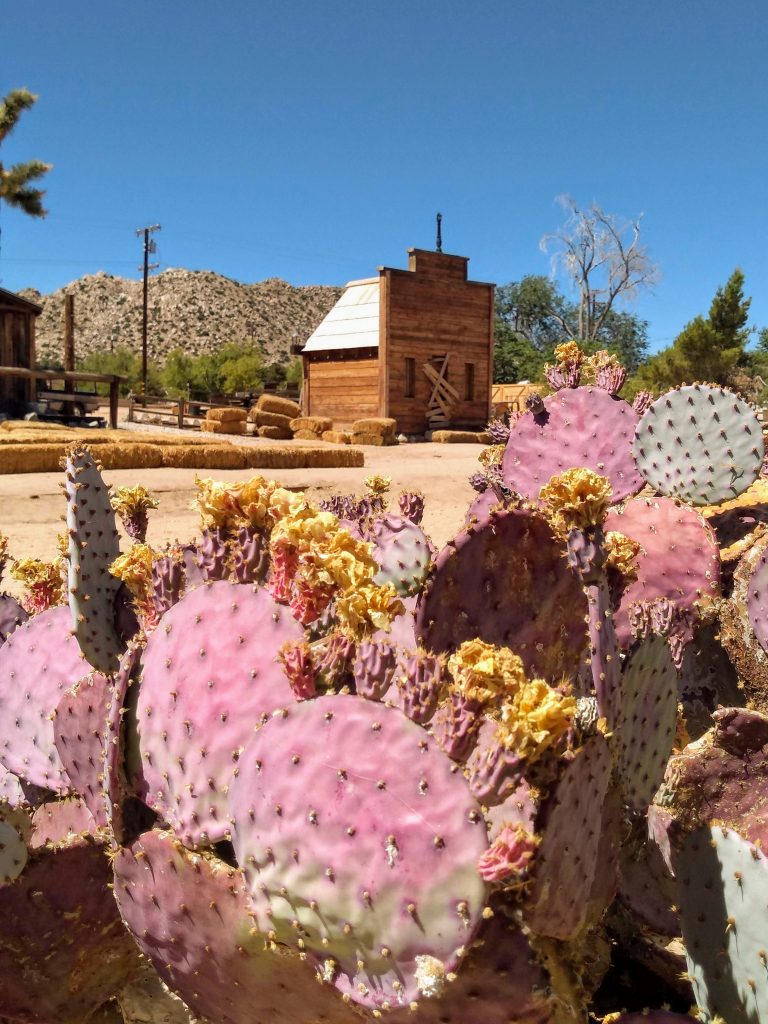 After driving down from Pioneertown, as you turn right back onto Hwy 62, immediately on your right is an eye catching store front called ArtFX and Furnishings. With fun quirky art, gift, and furnishings, it's a must do stop to add to a unique things to do in Southern California road trip.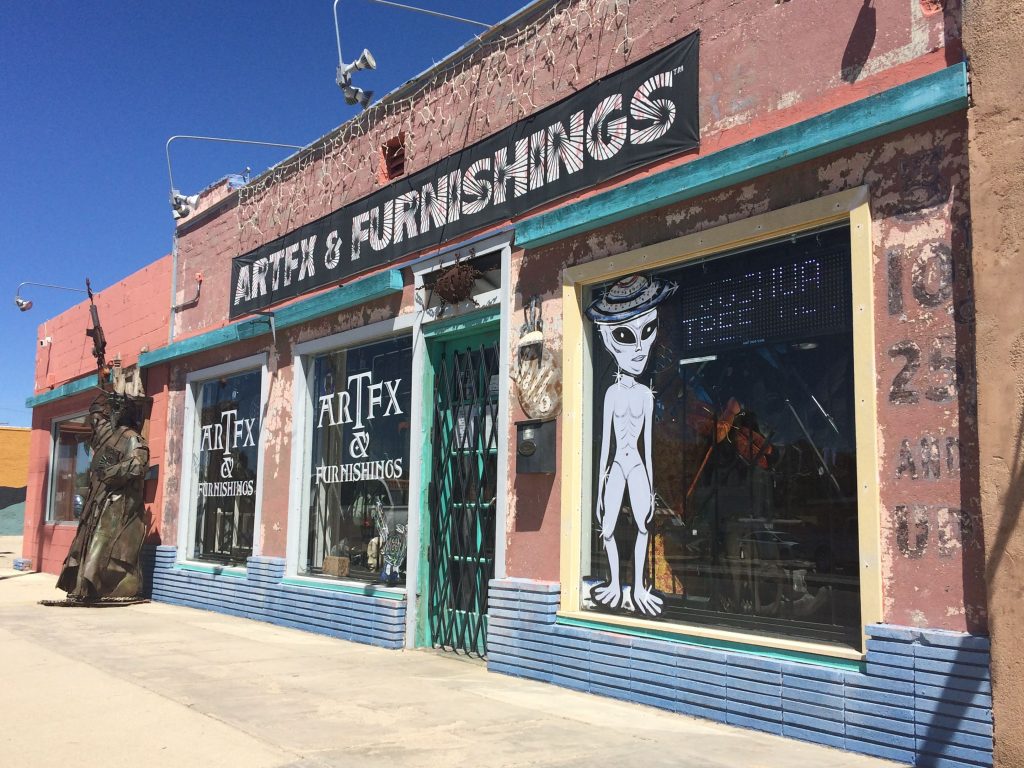 Within a 45 minute drive from Morongo Valley is the popular town of Palm Springs. You can catch the Palm Springs Tram, the world's largest rotating tram car,that takes you to the top of Mount San Jancinto mountain towering over the desert valley.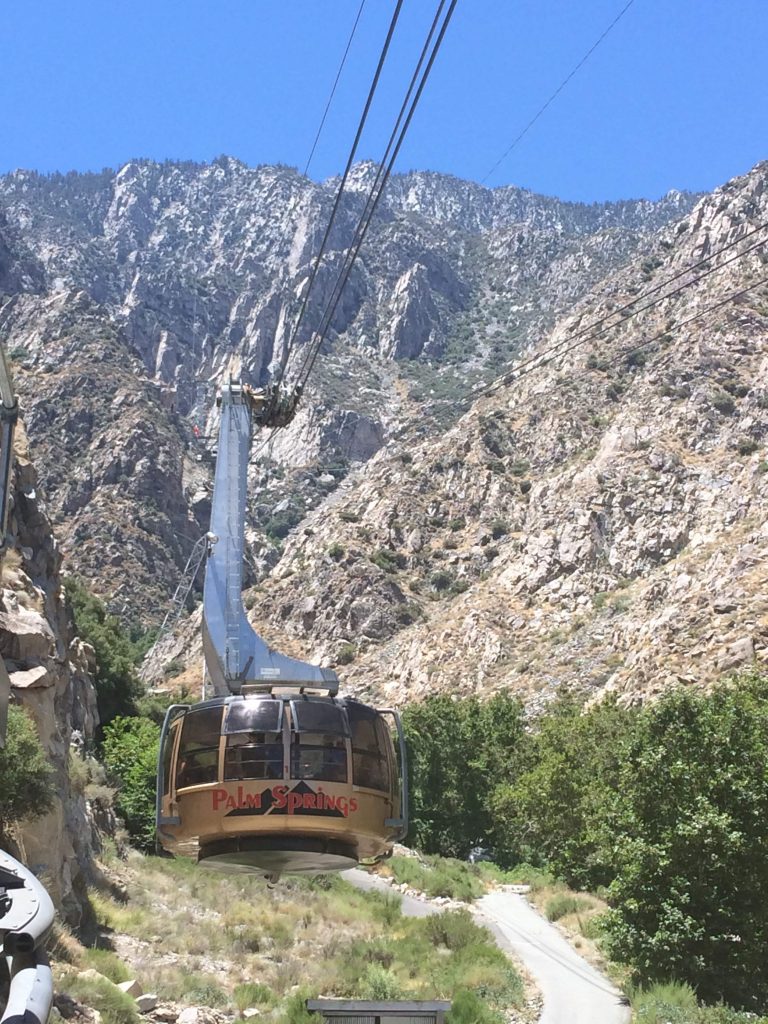 Although I'm afraid of heights, I'm so glad I had this experience. There is nothing like going up a sheer mountain cliff to a height of 8500 ft., hanging from a wire basically!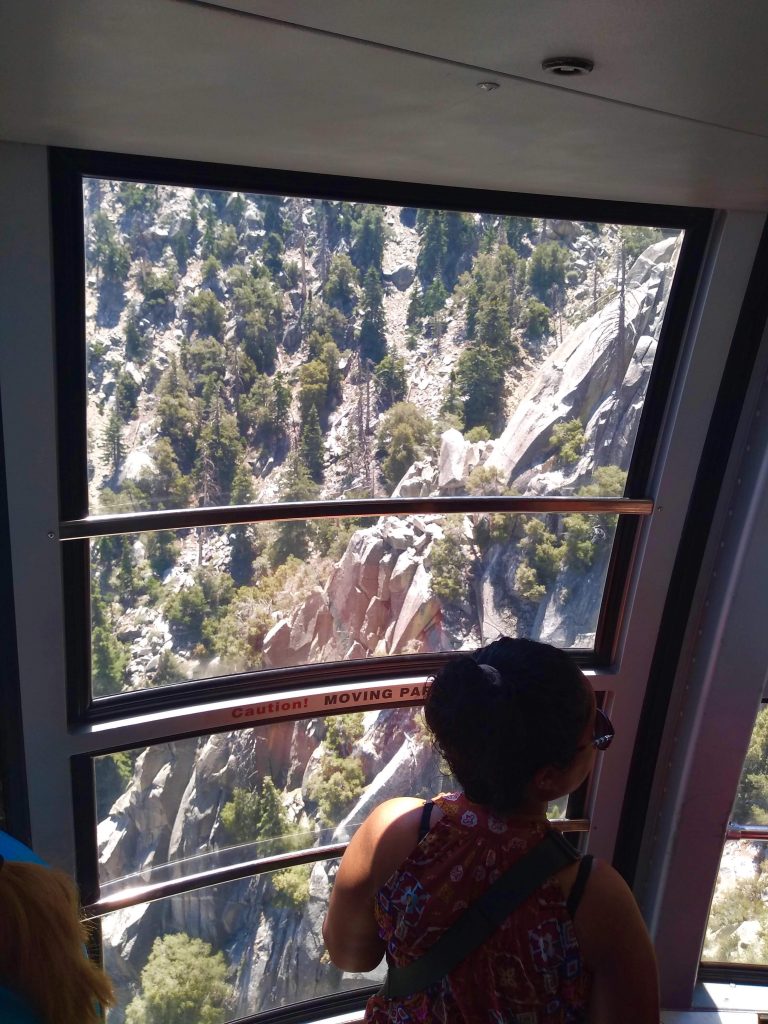 The ride takes about 10 minutes, and the tram slowly rotates 360 degrees so you can take in every aspect of the valley and mountain as you ascend up towards the summit.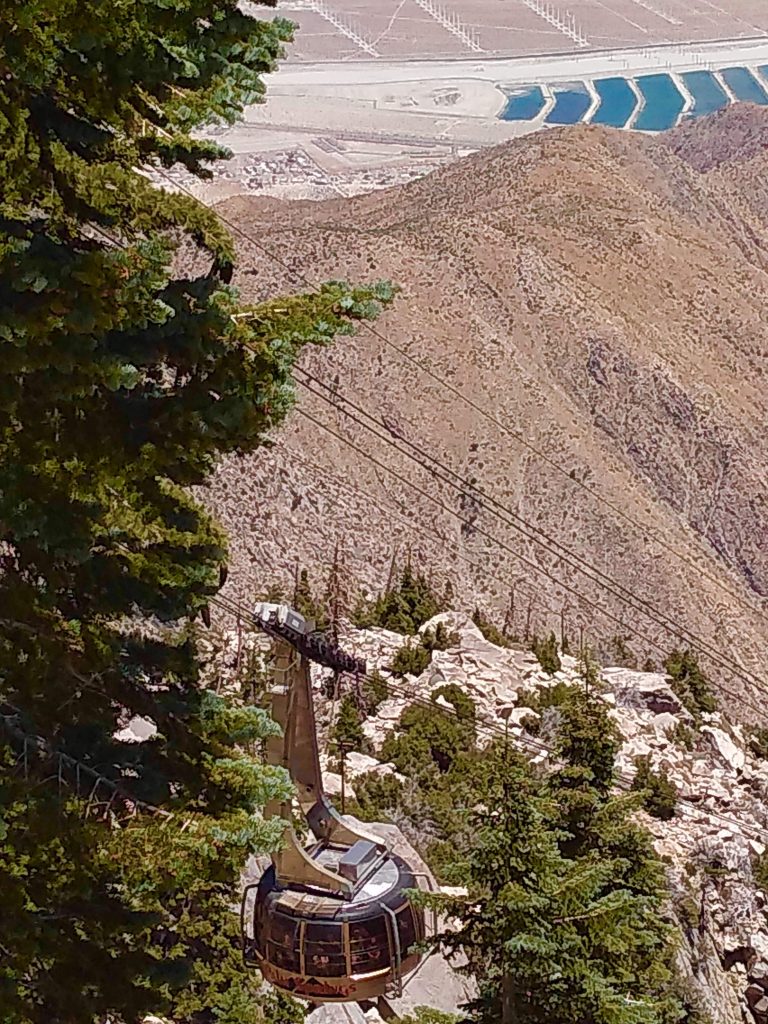 Once at the top there are many vantage points to take in the views of the other side of Coachella Valley. The top of the mountain is Mount San Jacinto State Park. You can definitely spend an entire day up here exploring the numerous trails and back country if you're looking for adventure. There is a restaurant and a bar area with plenty of places to eat and drink up there, so don't worry about bringing food. Unless you do want to take a picnic, in which case there are plenty of beautiful spots for that!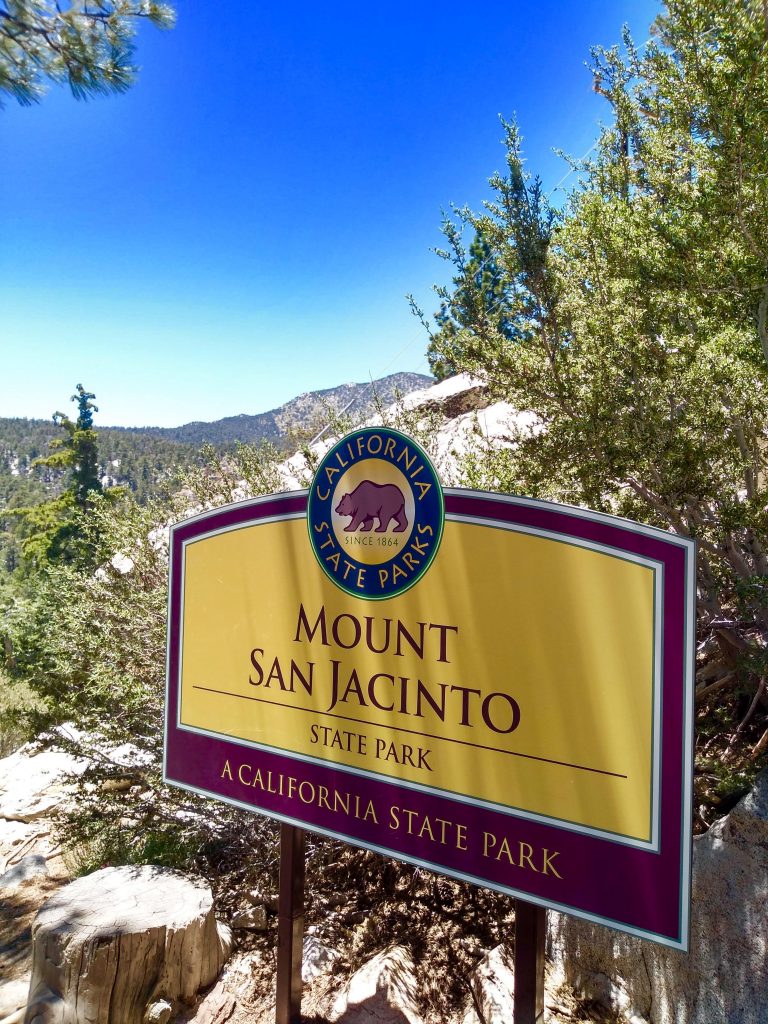 As you walk down the winding path to the valley of the park, there are lots of easy trails to check out. I recommend Desert View Trail if you're looking for a simple easy loop that gives you views of the desert valley and green meadows.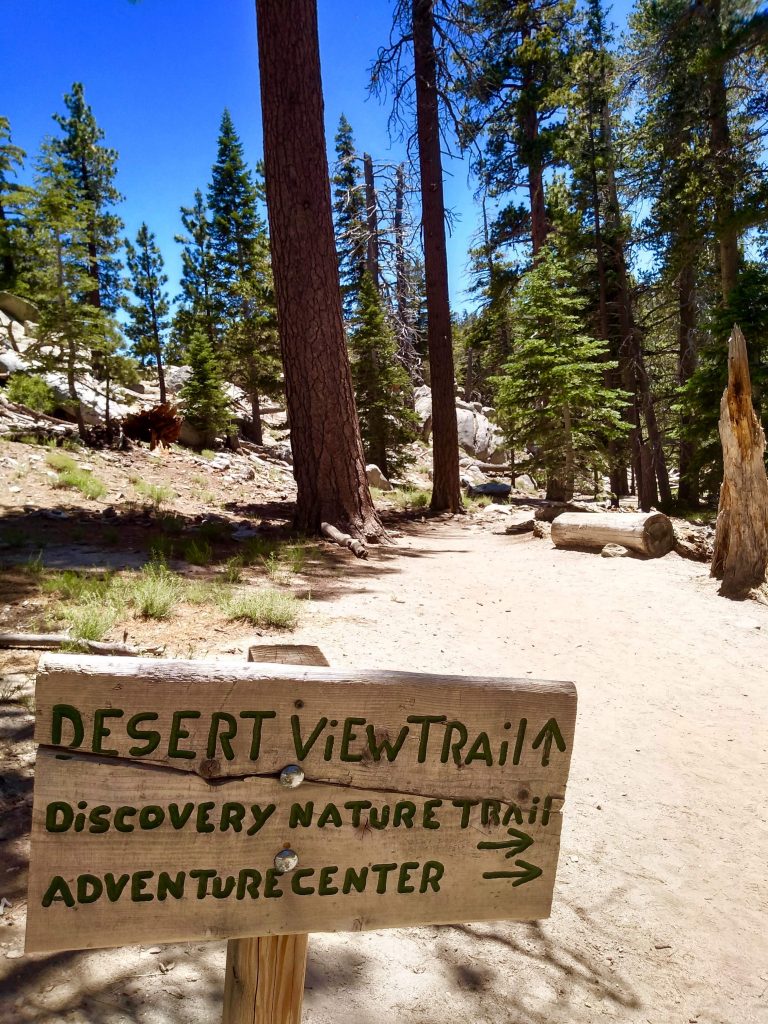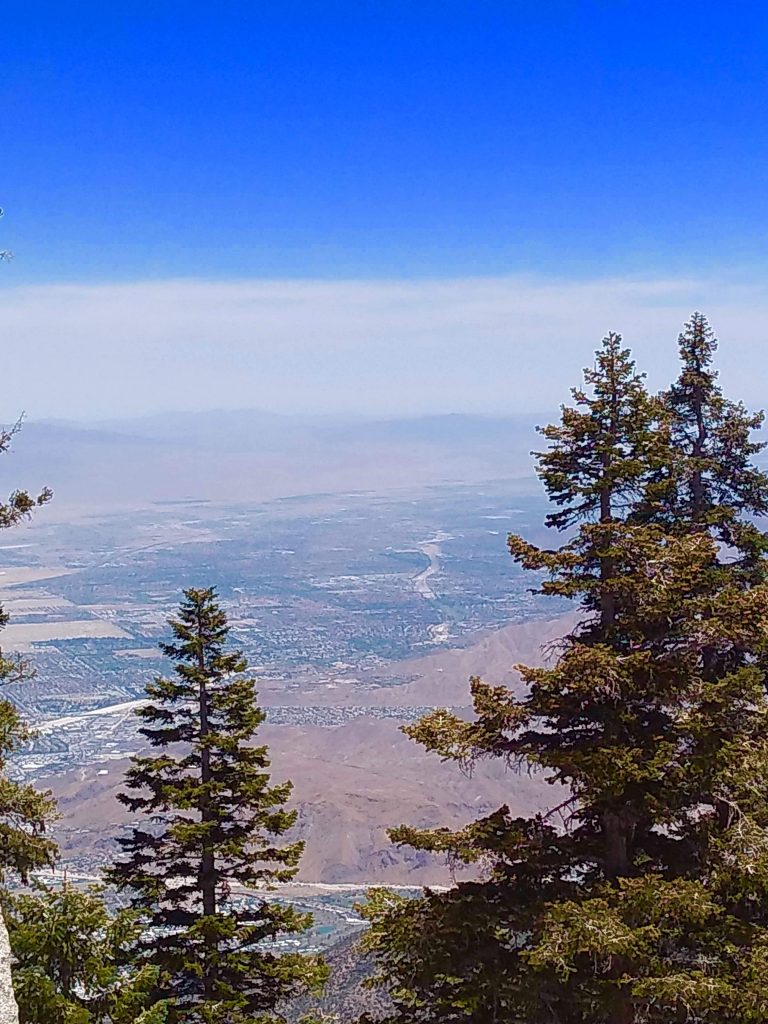 After exploring the park, I headed down to Palm Springs to find something refreshing to escape from the hot July desert heat. I just had to stop into a place that looked this cute. What a fun name! Just Chillin' has self serve frozen yogurt, gelato, smoothies, and lots of other goodies to cool off.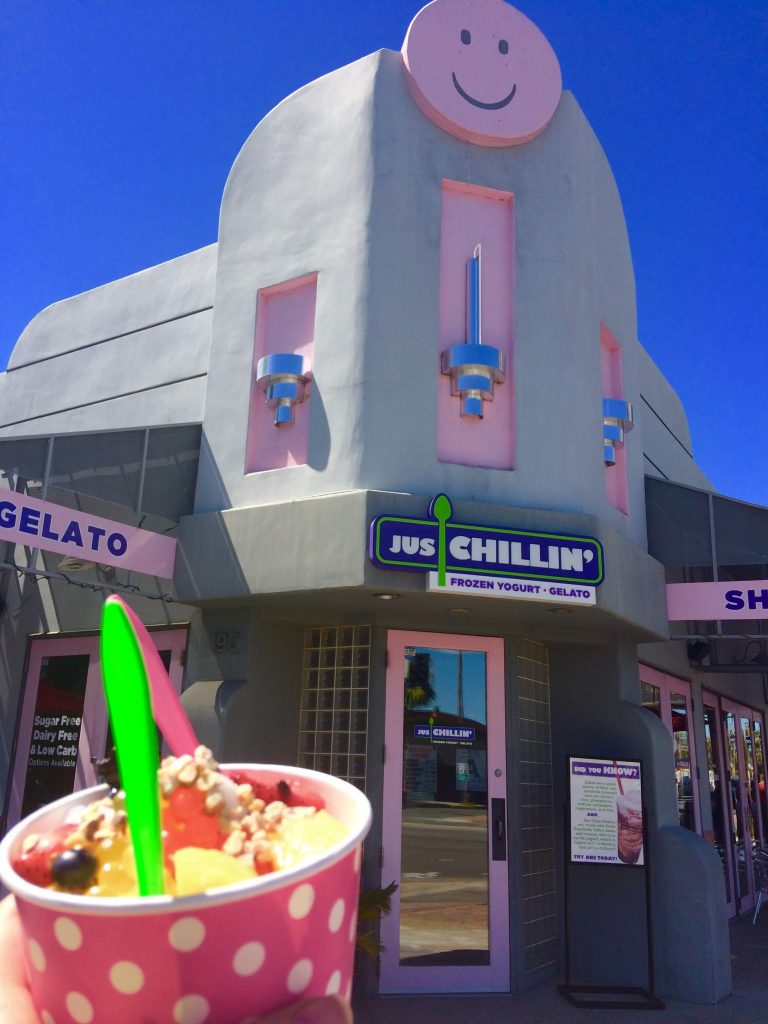 Don't forget to go say Hi to Lucy!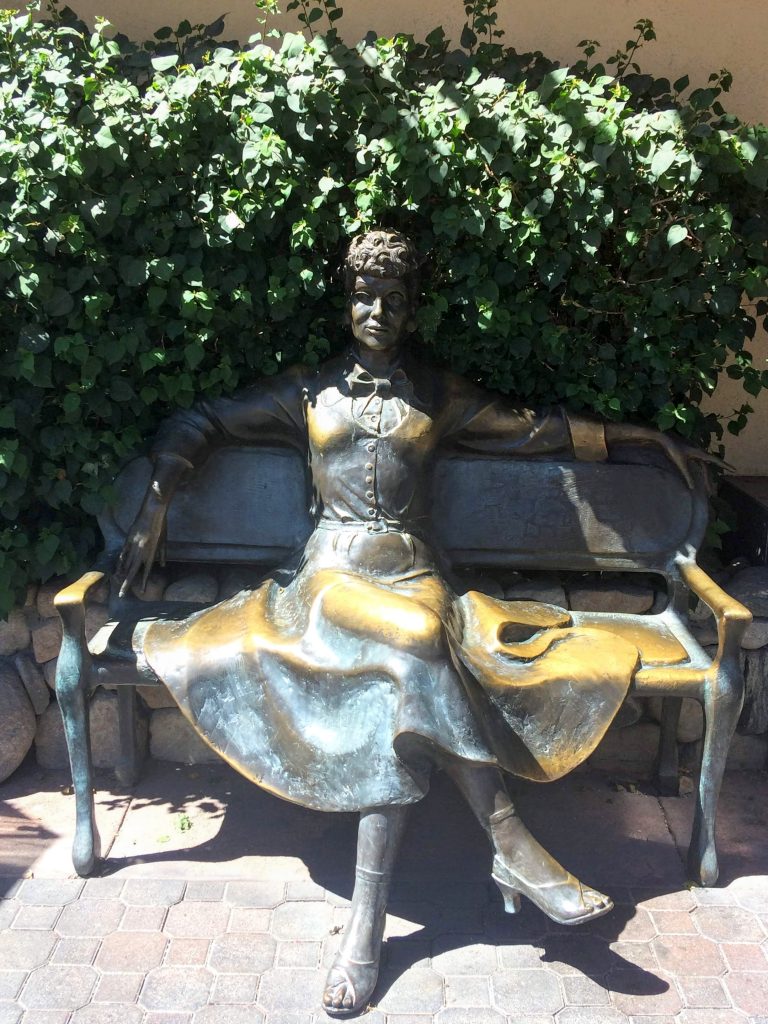 I discovered this beautiful little pocket of Southern California I never knew existed. New Cuyama is located just outside of Los Padres National Forest in Santa Barbara County. It's a beautiful agricultural valley with golden rolling hills.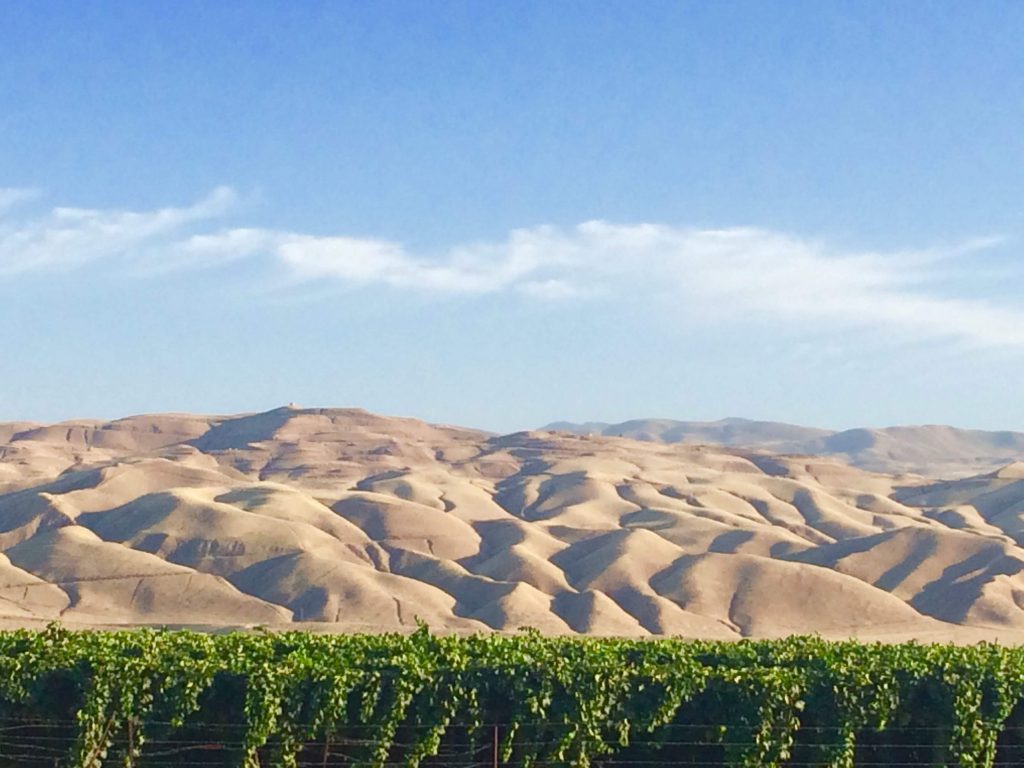 Blue Sky Center is a community driven foundation that provides support to the local community. Part of how they fund their program is providing a whimsical glamping experience on their campus. These tiny huts on wheels are built and designed by Shelton Huts, a local builder in Santa Barbara, California. Each one has its one unique shape and name. Meet the Snail Hut! I just had to add this special glamping experience to my unique things to do in Southern California list.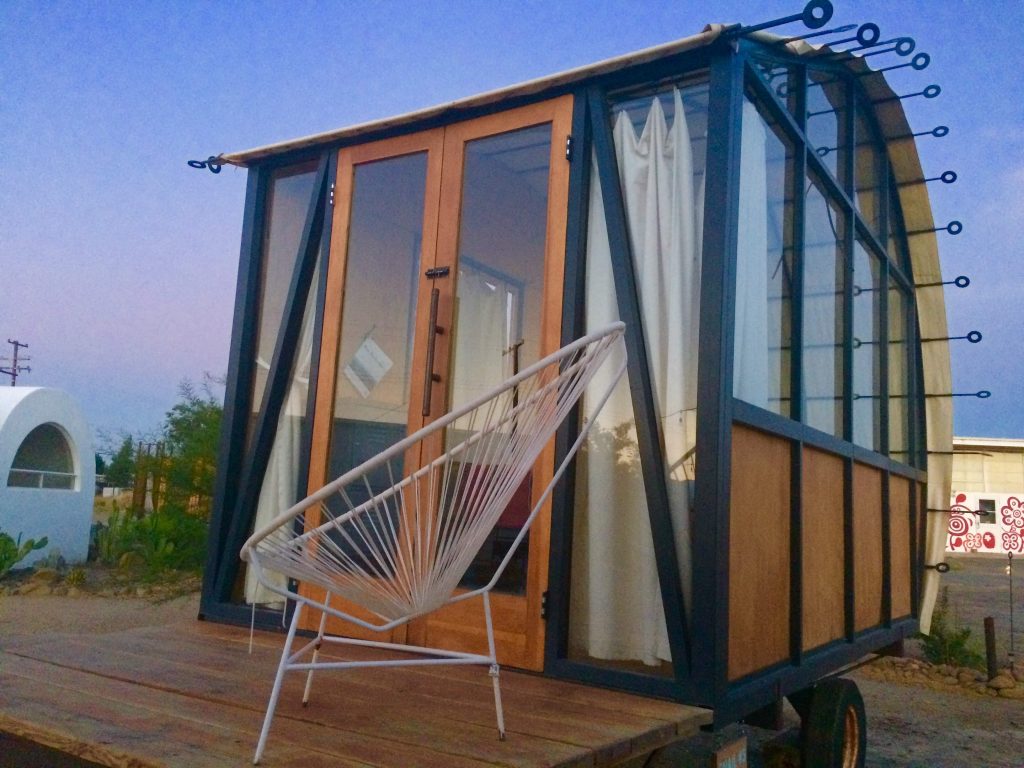 Remember: this is a glamping experience. Each hut has the basics inside: a bed, small desk space, and storage.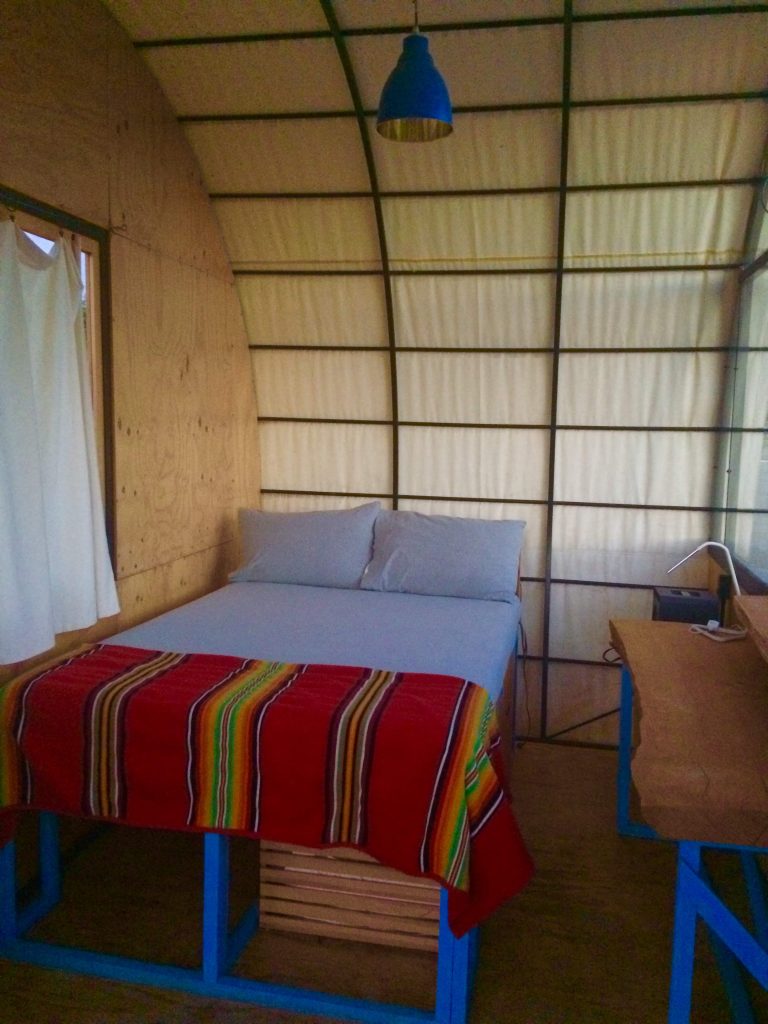 A common outdoor area is provided for evening fires, games, hammocks for relaxing and gazing at the stars.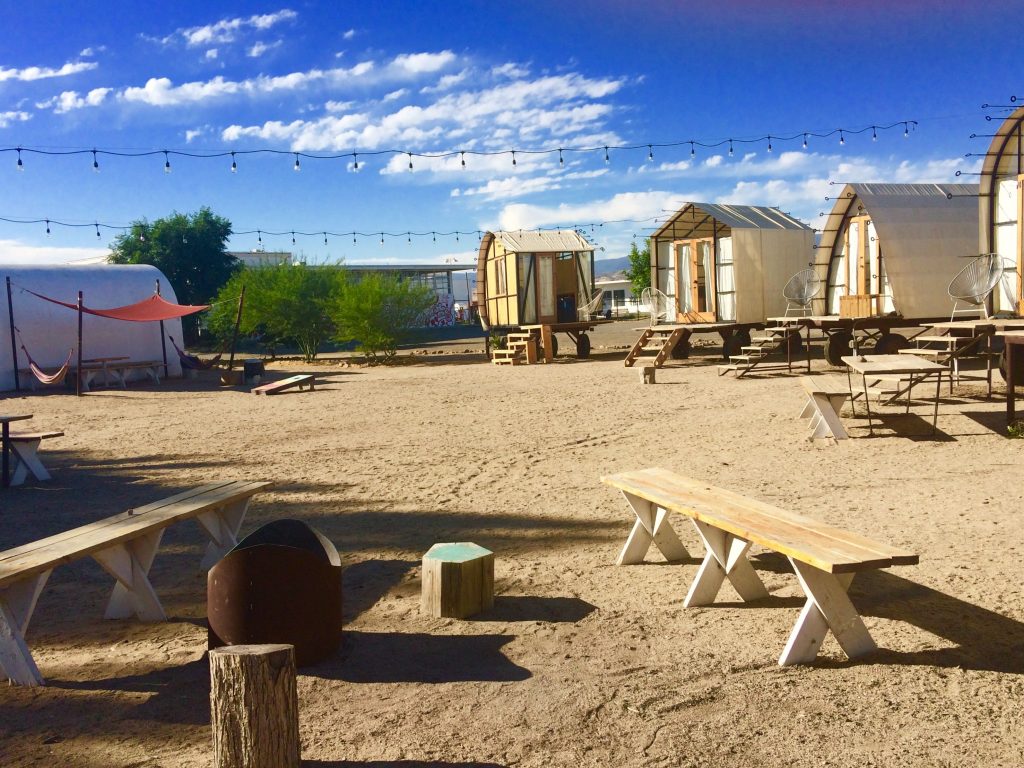 An indoor area has the essentials you need with a full kitchen, with a full gas stove top range. a dining area with plenty of dishes, and a lounge area for relaxing and fun board games. I'm proud to say I now know how to play Exploding Kittens!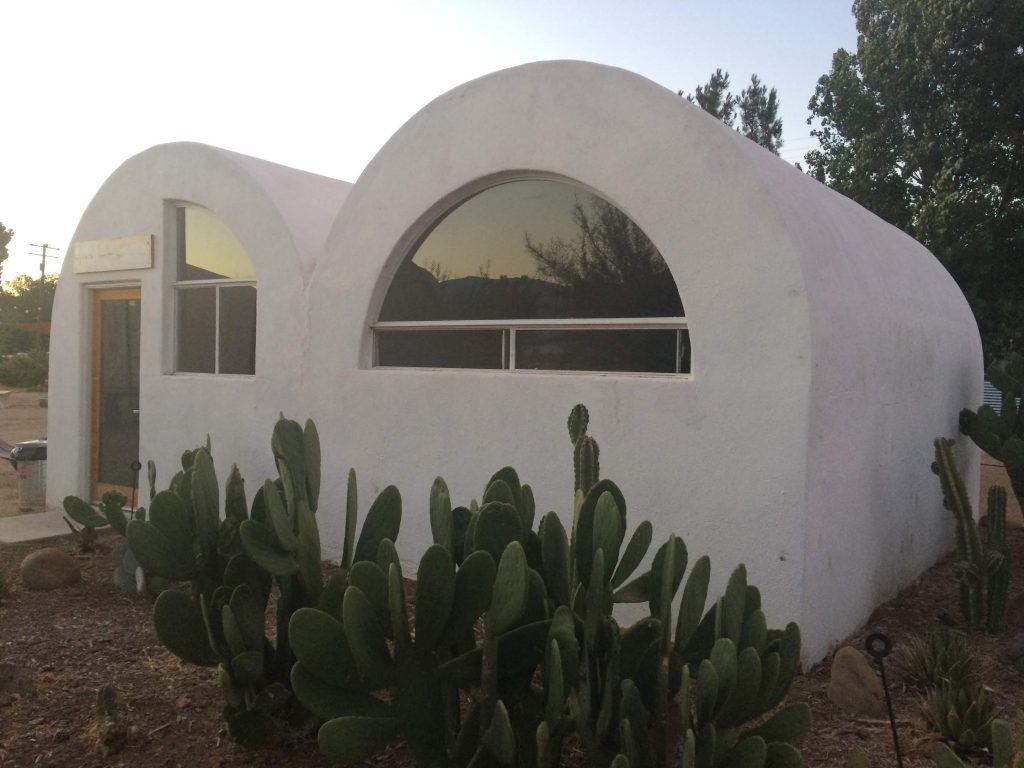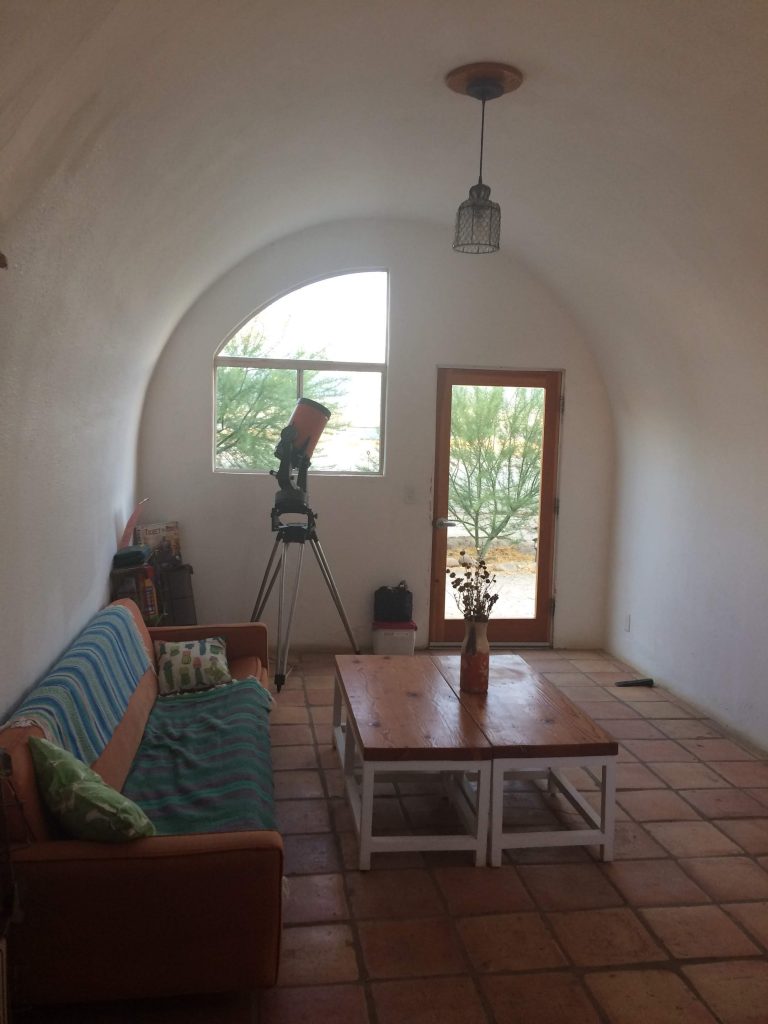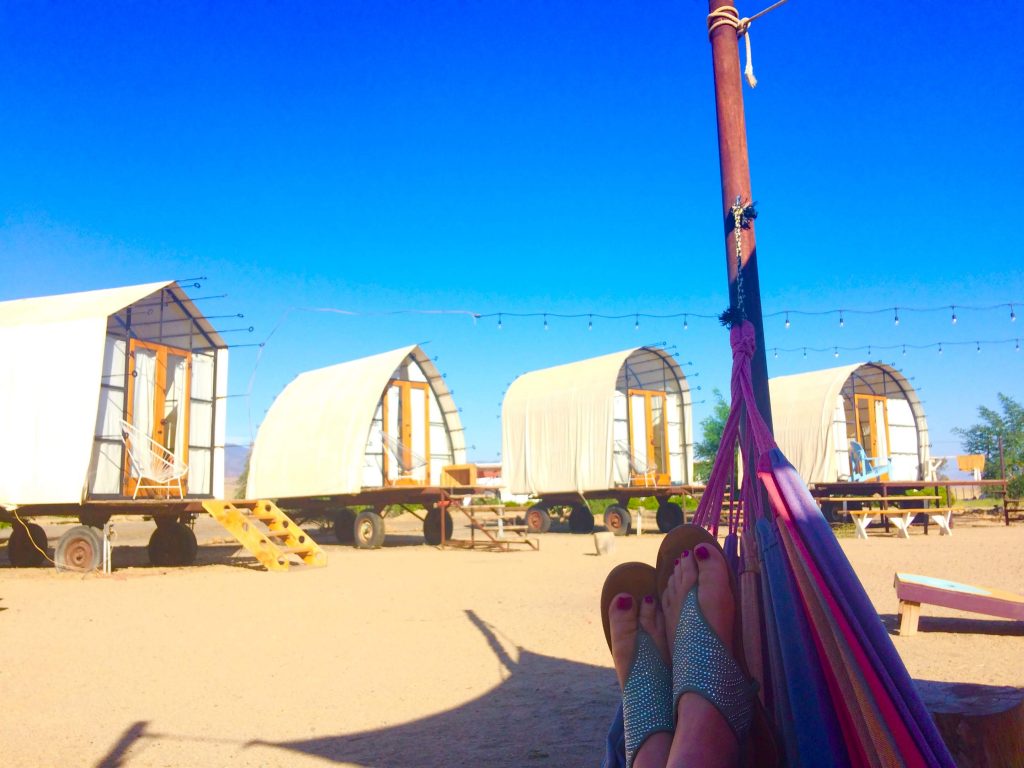 I didn't have a lot of time to explore the surrounding area. But there were a couple free outdoor nature areas with in a half hour or more drive to check out hiking trails and picnic areas. Carrizo Plain National Monument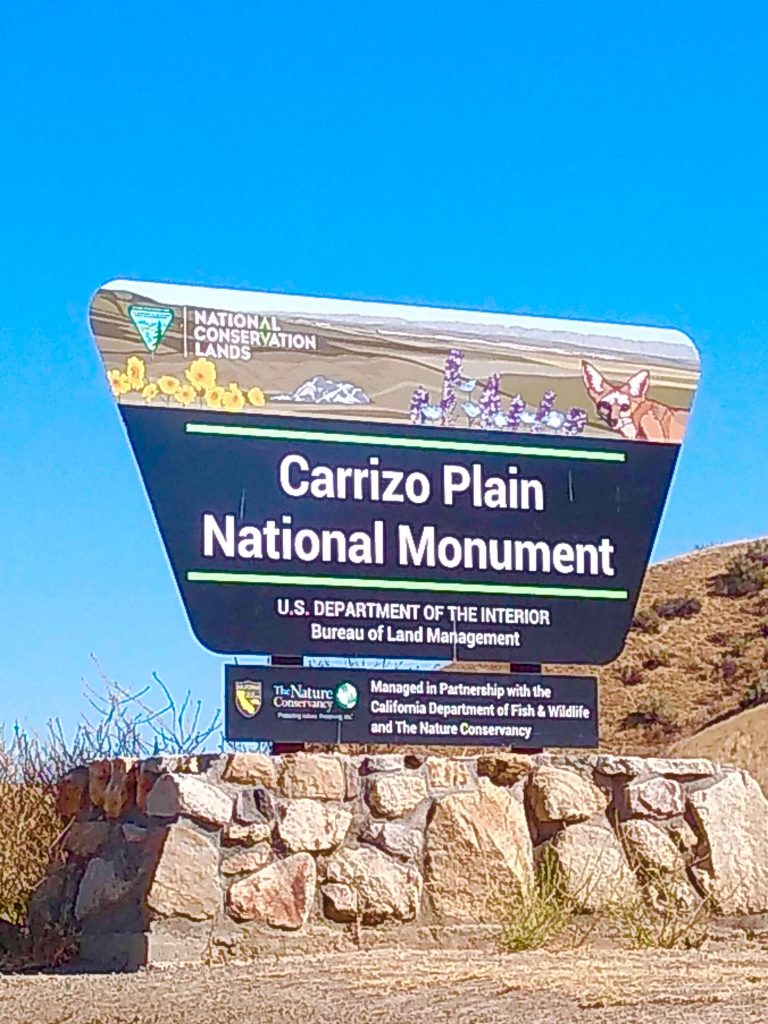 The outdoor information booth after the welcome sign has maps to all the trails, and Soda Lake is it's main attraction. Oh and by the way, you literally drive over the San Andreas Fault when you enter this park!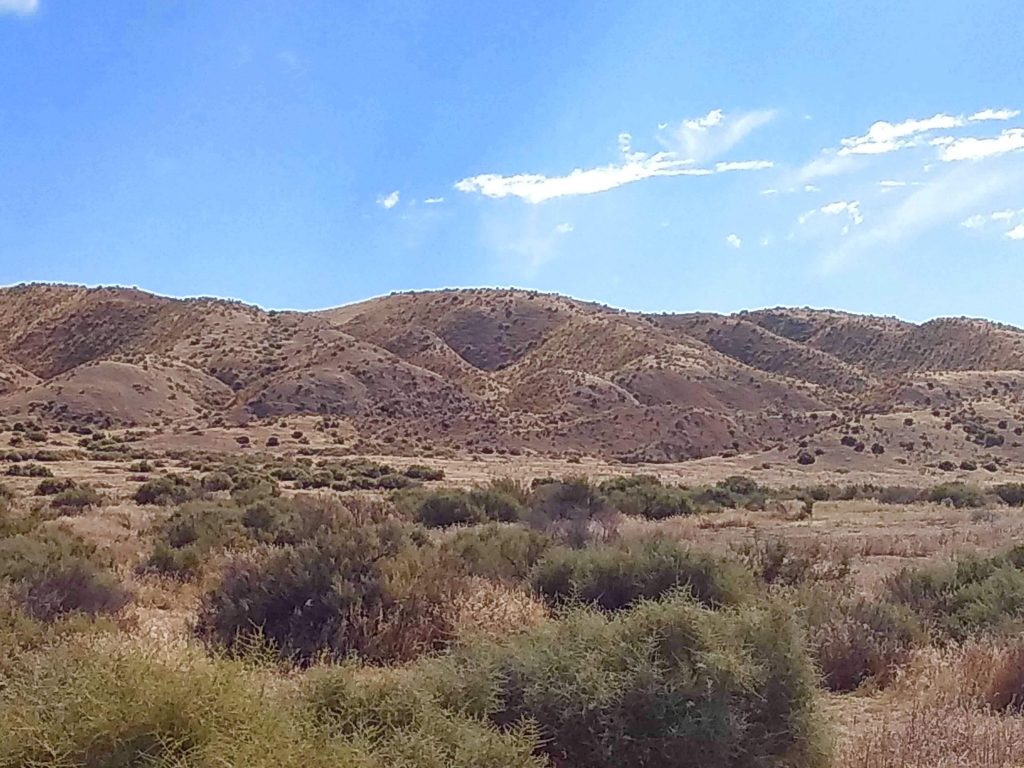 Wind Wolves Preserve With plenty of trails for all hiking levels, Wind Wolves Preserve also has many community events on their website to check out, like outdoor movie nights!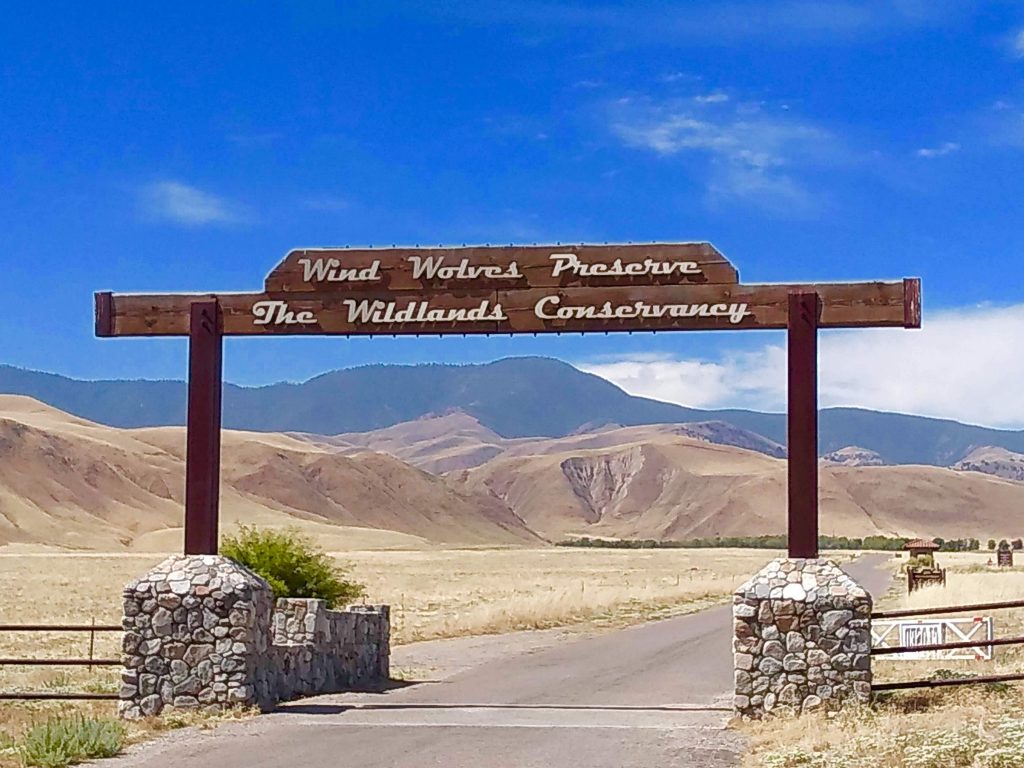 Tiny House Block Head down to sunny San Diego to check out a new tiny house community offering nightly stays to check out the local area. Maybe you've been wondering if living in a tiny house would work for you. Tiny House Block at the moment has 10 themed Tiny House rentals that you can stay in to test out tiny living. Located an hour out of San Diego in the Cleveland National Forest in an area known as Mt. Laguna , this is a beautiful pine tree oasis getaway in the mountains.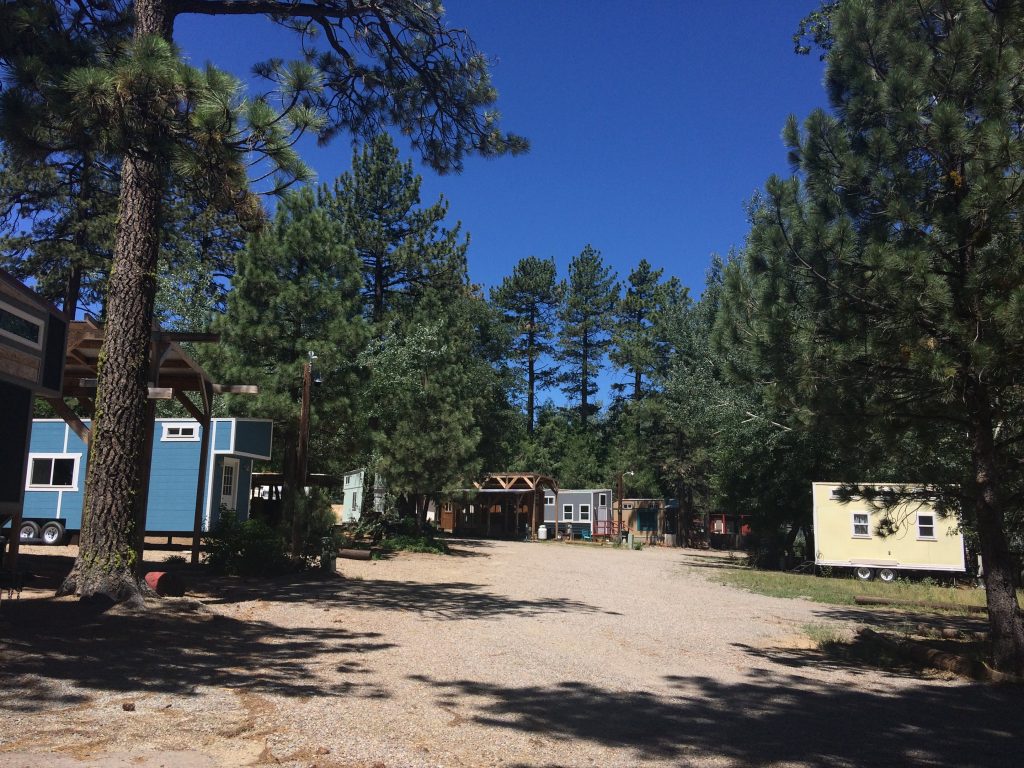 Anyone remember the movie WILD, starring Reese Witherspoon??? Right down the road from Tiny House Block off of Sunrise Highway is the famous Pacific Crest Trail. If you're looking for a place to rest off of the trail, Tiny House Block would be a great spot!Or you can just stop for a beautiful view of the desert from this vista point.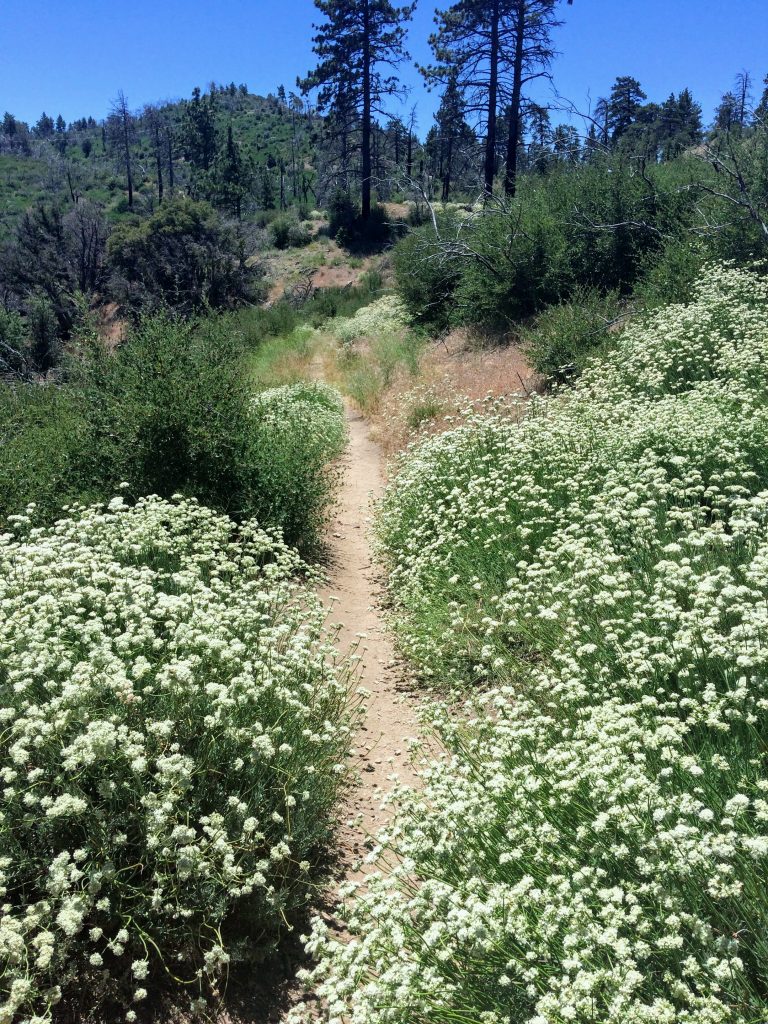 If my road trip inspires you to check out some unique things to do in Southern California, then you have to pass through Galleta Meadows to see artist Ricardo Breceda's metal sculptures.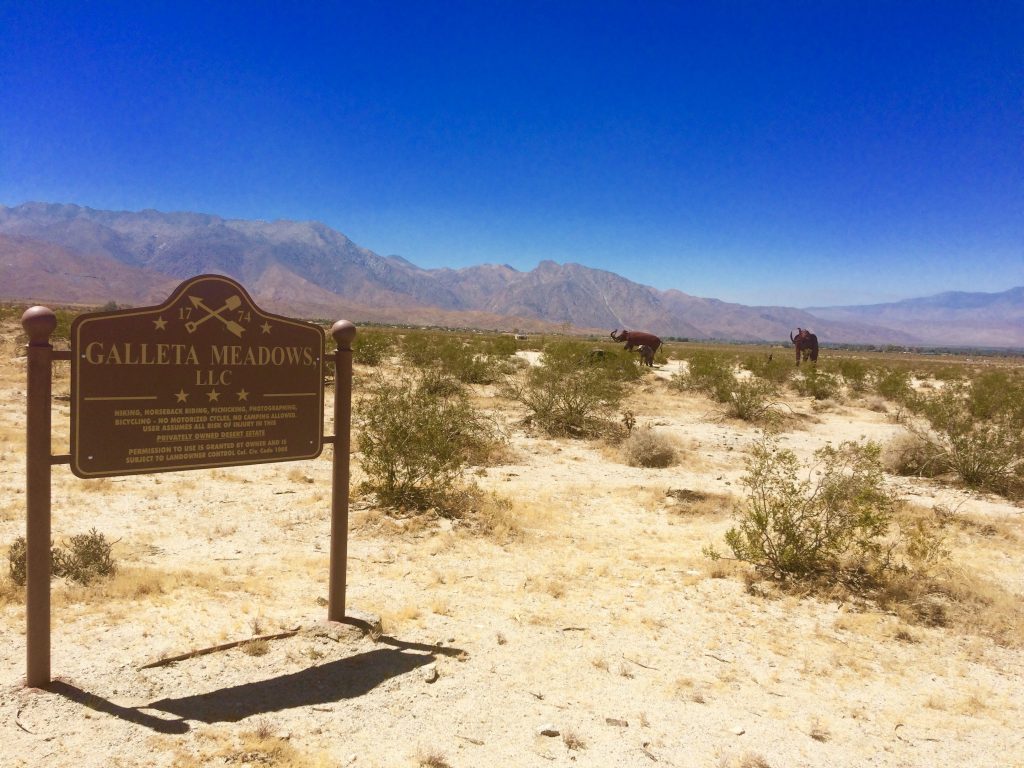 Clearly the horse sculptures were my favorite!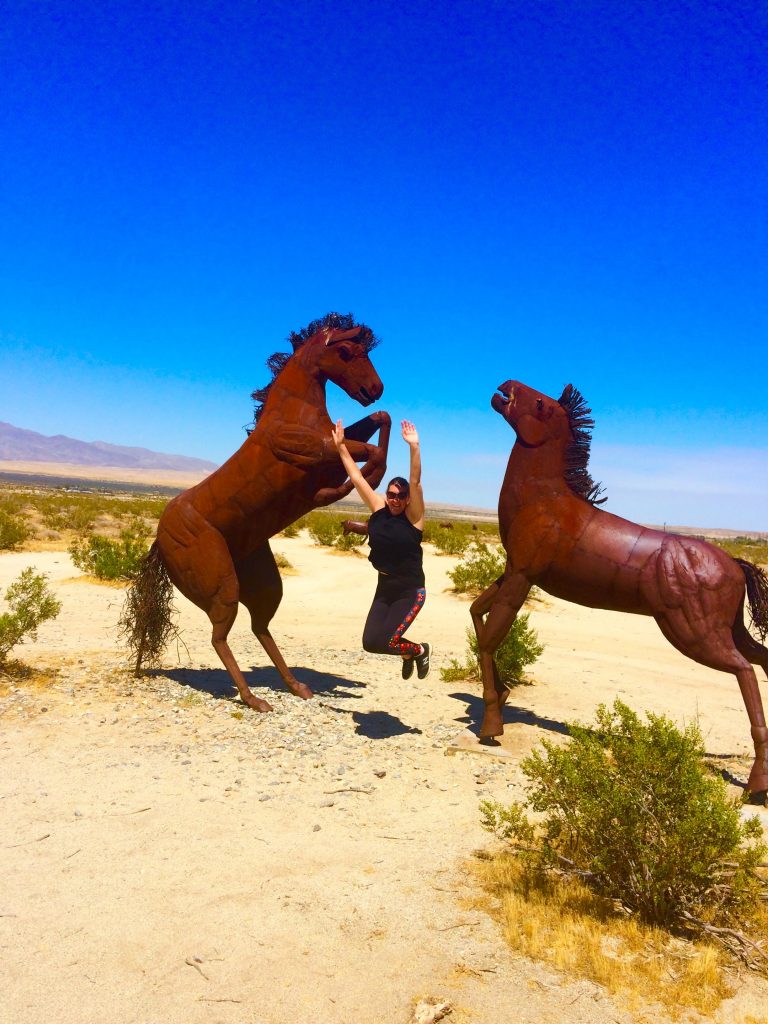 After passing through Borrego Springs, head out towards the Salton Sea, which has an interesting story behind it.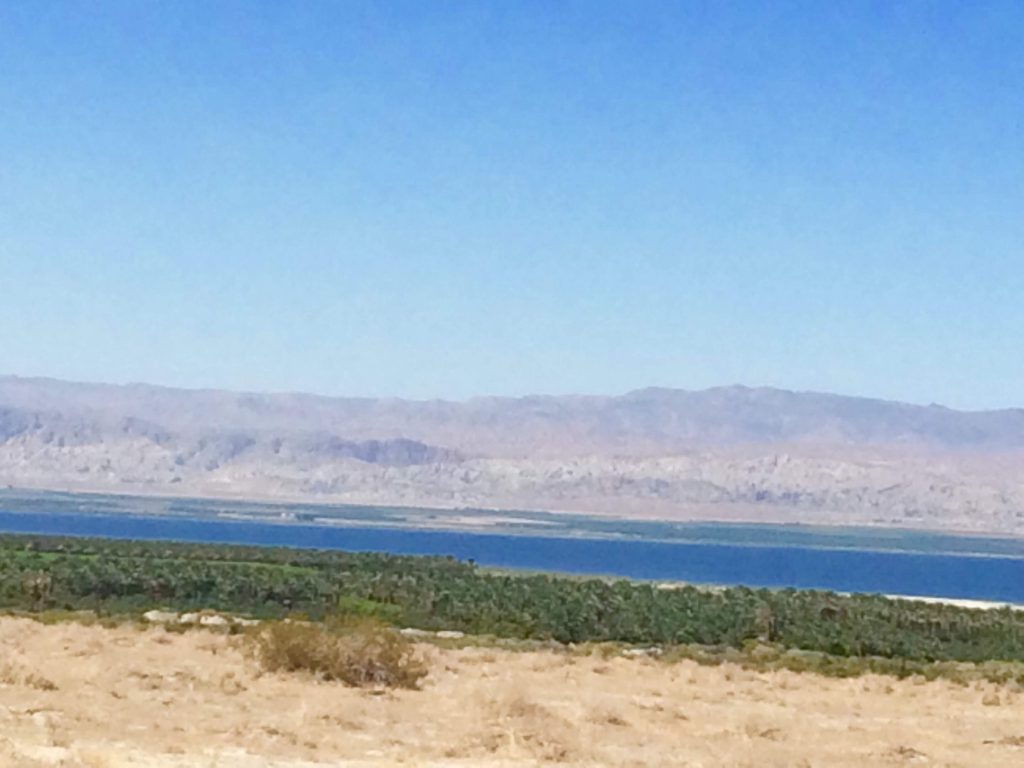 As you pass through this area you will notice tons of palm trees. I later figured out they were date palm trees, and this area is famous for their date shakes.  You can not go through this area without trying one of their delicious and refreshing desert desserts! Stop at Indio's famous Shield's Date Garden for a date shake. They have an outdoor cafe area to enjoy, but when I was there it was closed for remodeling. I only was able to see the front gift shop with all the possible date choices you could imagine.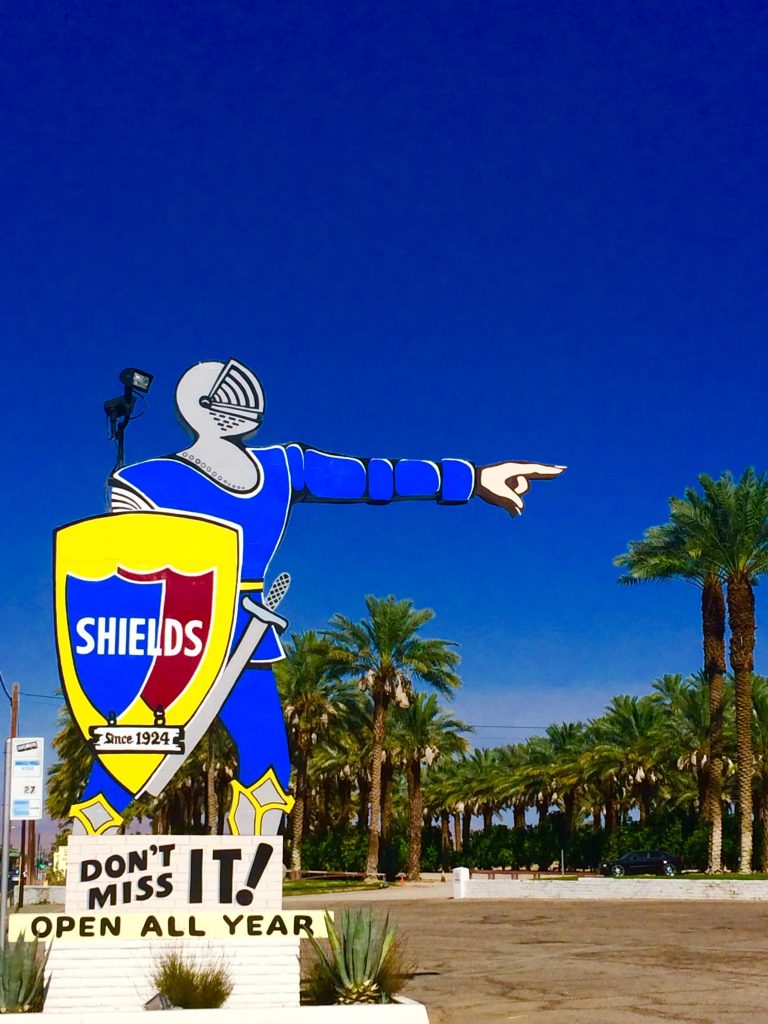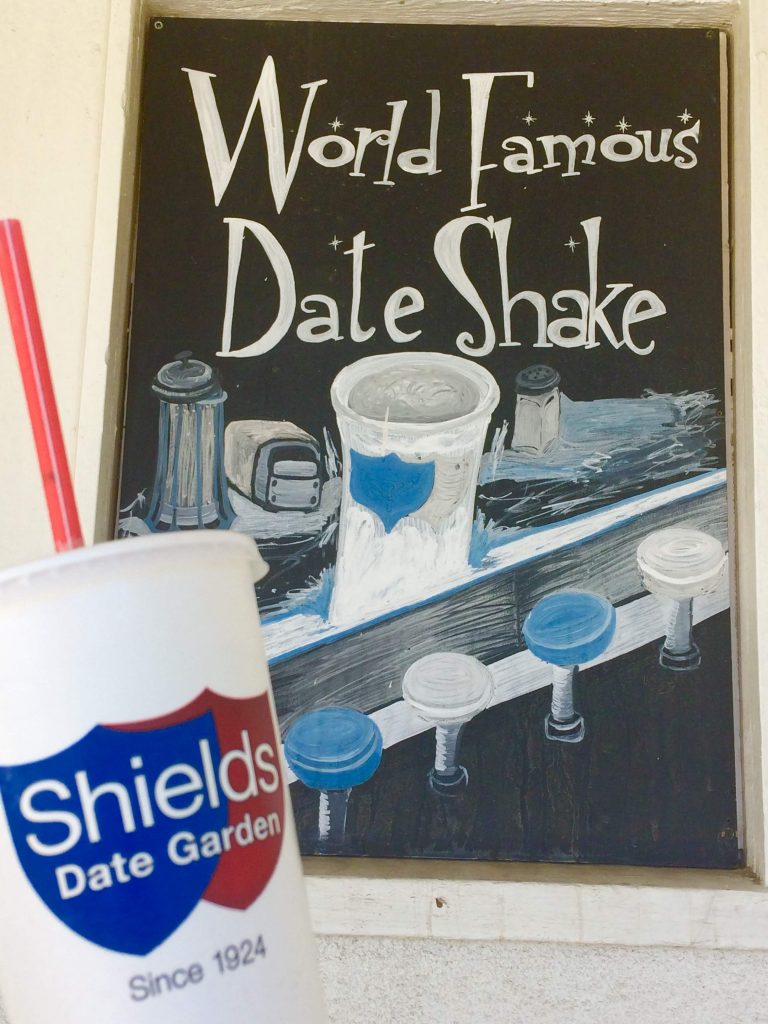 It's undeniable that what makes this part of California truly unique is being a mecca for stars, and a place where so many people want to come to fulfill their dreams. So to make this unique things to do in Southern California road trip complete, a hike up to see the Hollywood sign is on the list!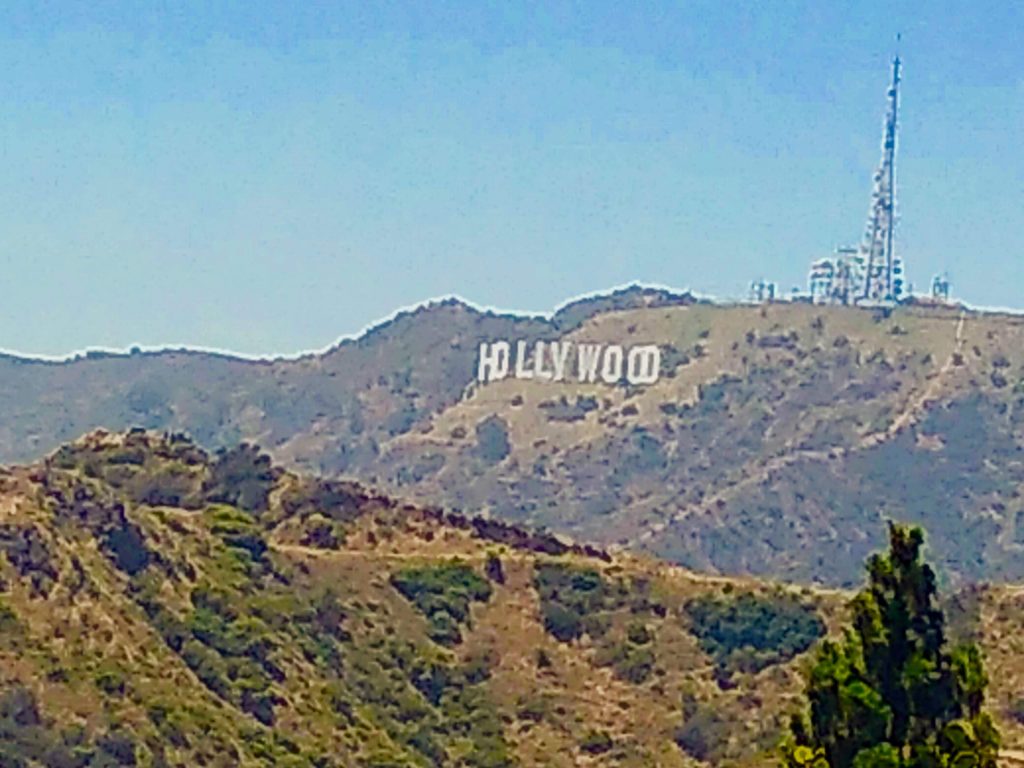 This is a very popular place to visit, so be prepared for the parking overflow. The top of Griffith Park has parking, but if you can't find anything, there is plenty along the road. You do have to walk a bit if you end up towards the bottom parking area, but it's not bad. If I can do it, so can you!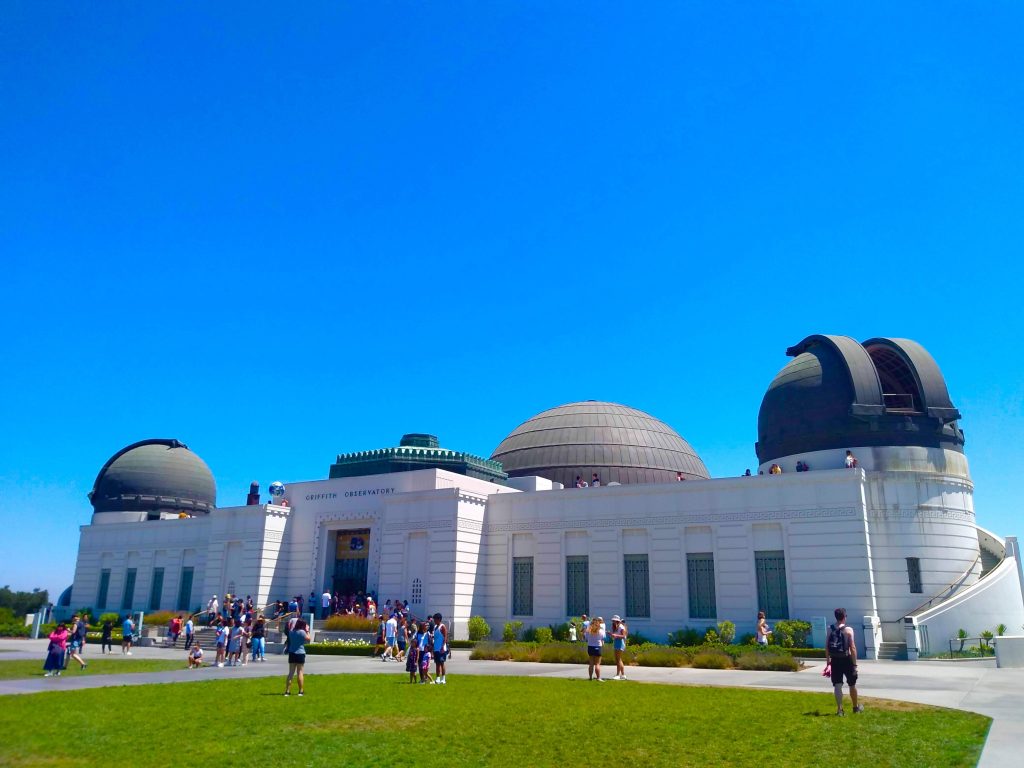 You just pay $10 parking fee, but the entry into the Griffith Observatory is free inside.
Looking for Unique Things to do in Southern California? Pin it!