I had the rare opportunity to stay in tiny house company owner Vina Lustado's Sol Haus Tiny House, in Ojai, California.
A small boutique design tiny house company that focuses on sustainability and an intentional expression of light spaces, smart usage, and charming creativity.
I came across Vina Lustado's tiny house design through the numerous videos, stories and information shared about her inspiring space a few years ago.
Vina started her tiny house build journey in September 2012 and since then she has lovingly shared her tiny abode with so many people, including me!
When I saw that she was looking for someone to stay in her home as a way to share her beautiful space and love for the tiny house movement, I had to reach out for this wonderful opportunity to stay in this space.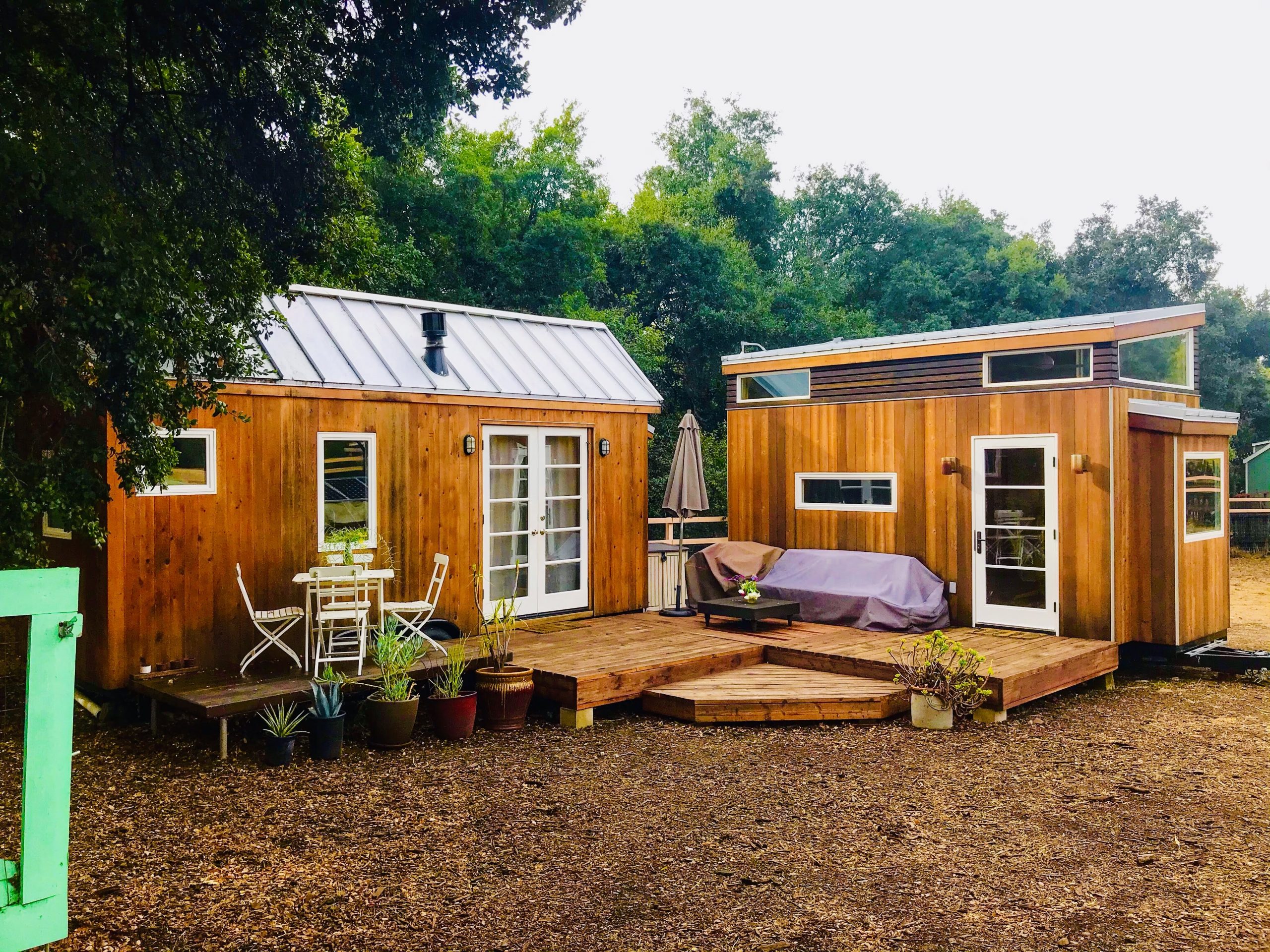 Enjoy a quick video walk through highlighting a few of the off grid features of Vina's tiny house as well as her special creative touches throughout…..
A Tiny House Company for the Planet
As soon as you enter Vina's tiny house you are immediately taken into a space that is clearly designed to nourish the soul and the planet.
Her design is simple yet functional.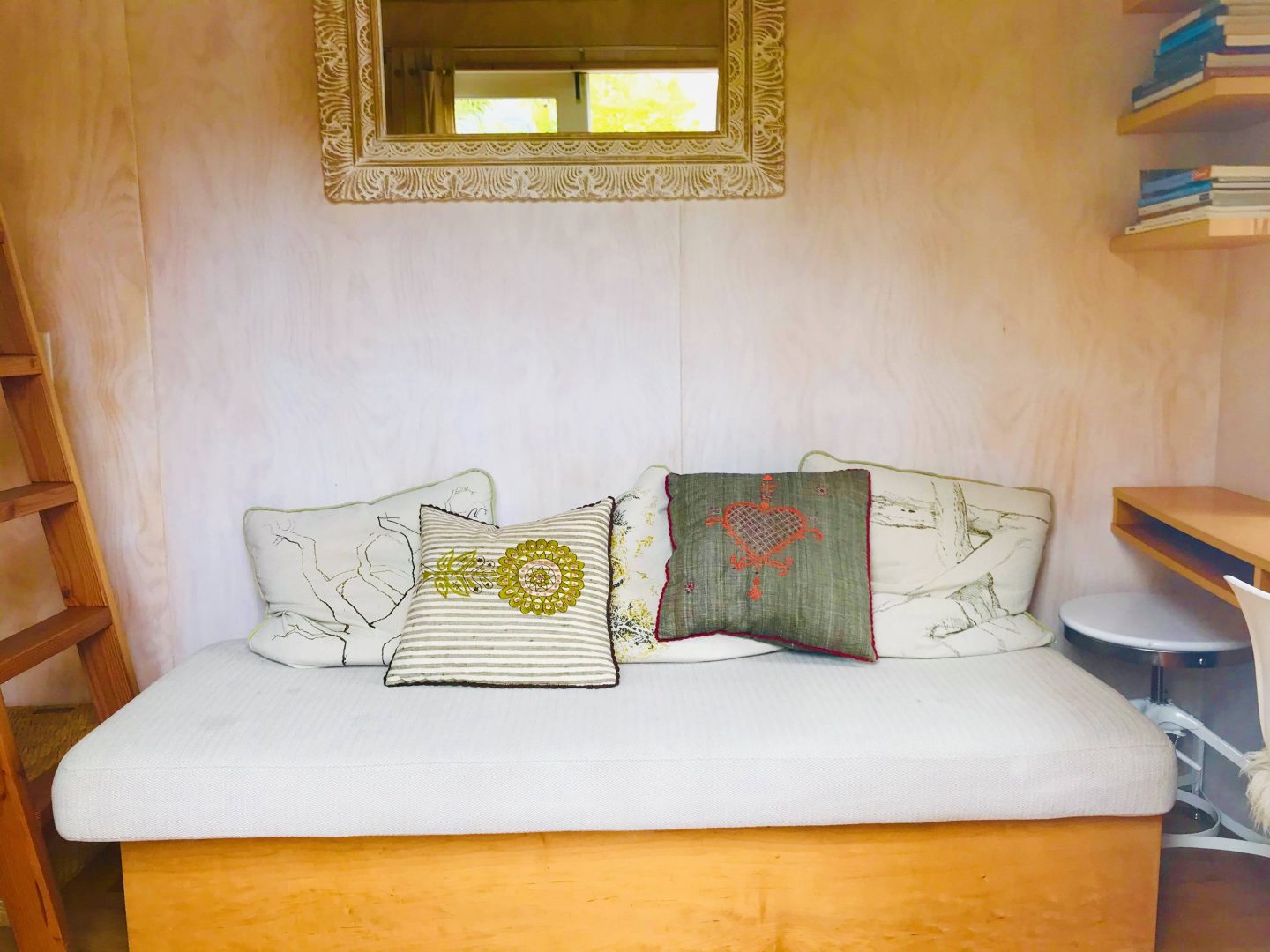 Each area of the tiny house is carefully planned to encourage space saving techniques and a minimalist lifestyle.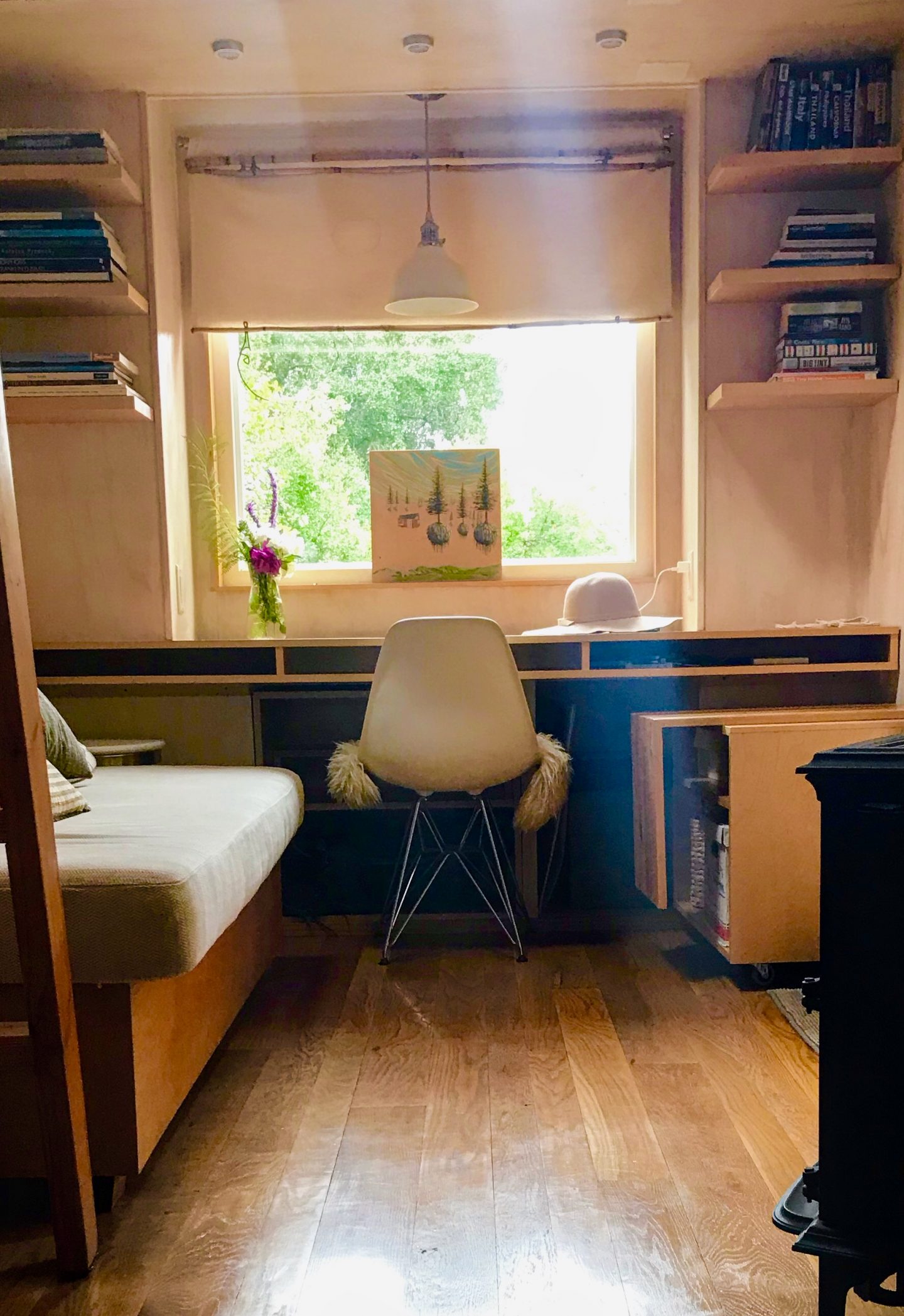 She also designed and built her second tiny house space, called the Sol Pod Haus, which is used for a home office space, but also includes a small kitchenette space and sleeping lofts for additional guest space.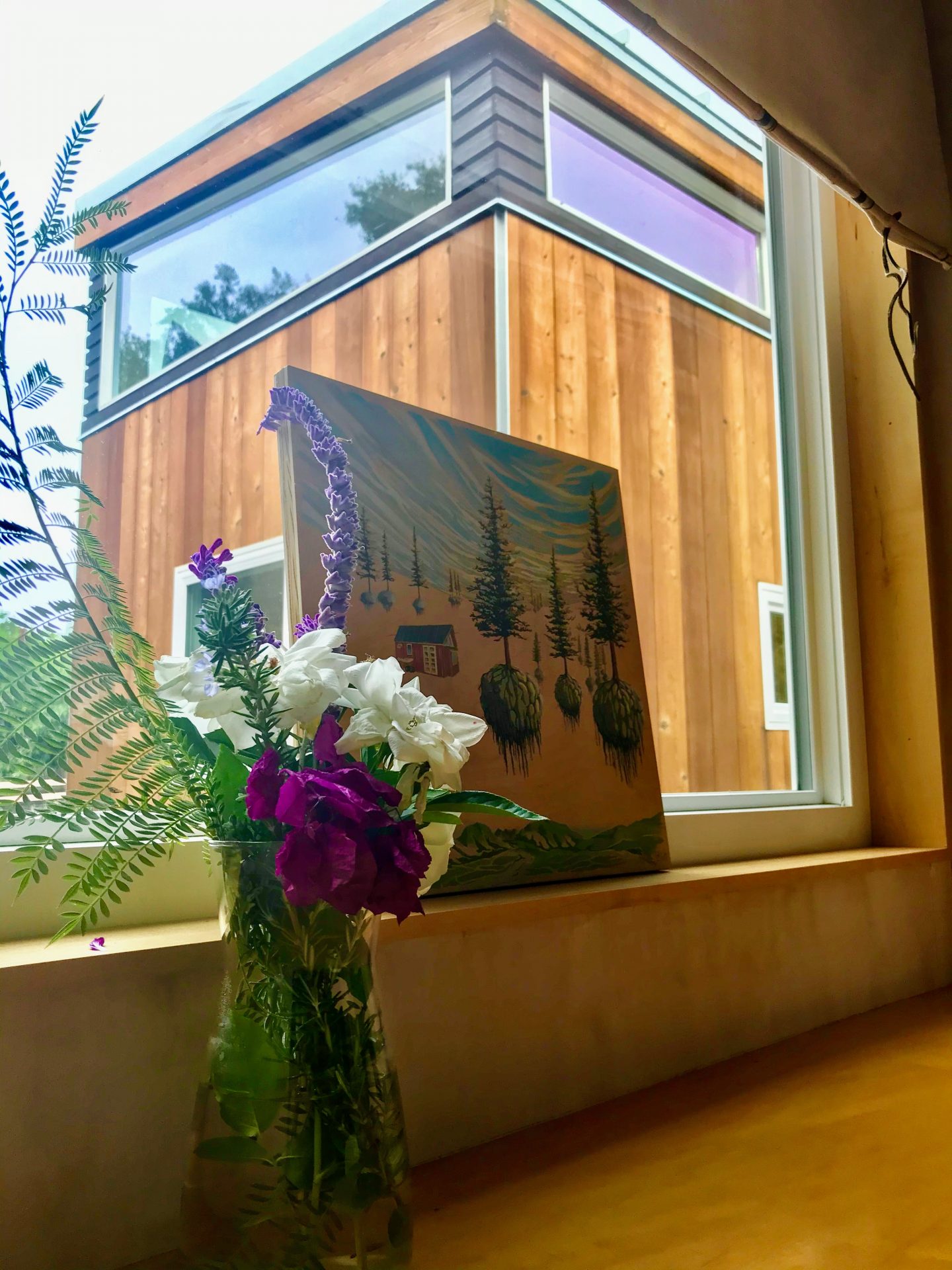 Sol Haus Design Tiny House Company Off Grid Options
Sol Haus Design prides itself on providing designs that support sustainability and an off grid tiny house lifestyle
Options can include:
Solar ready (space for batteries, hookups to solar panels)
Heating by gas fireplace (fireplace pictured made by Jotul)
Compost toilet
Propane cooking stove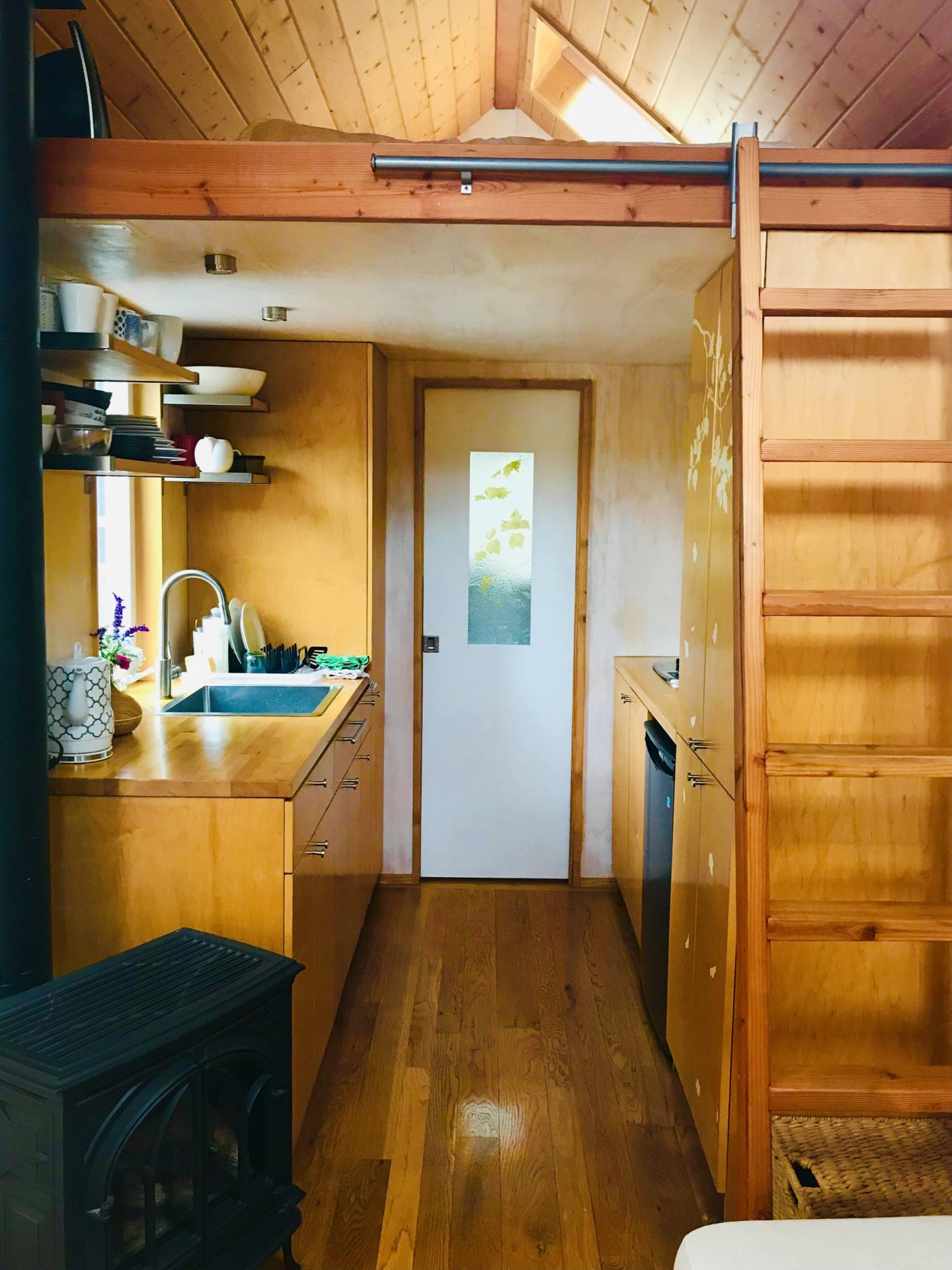 While staying in the Sol Haus Tiny House, I experienced first hand a taste of what off grid living can provide and I was pleasantly surprised.
I stayed a few nights during a rainy weekend, and the space was comfortably warm the entire time, just by the propane fireplace.
I had plenty of power for electronics and access to WiFi, making this the perfect live/work space.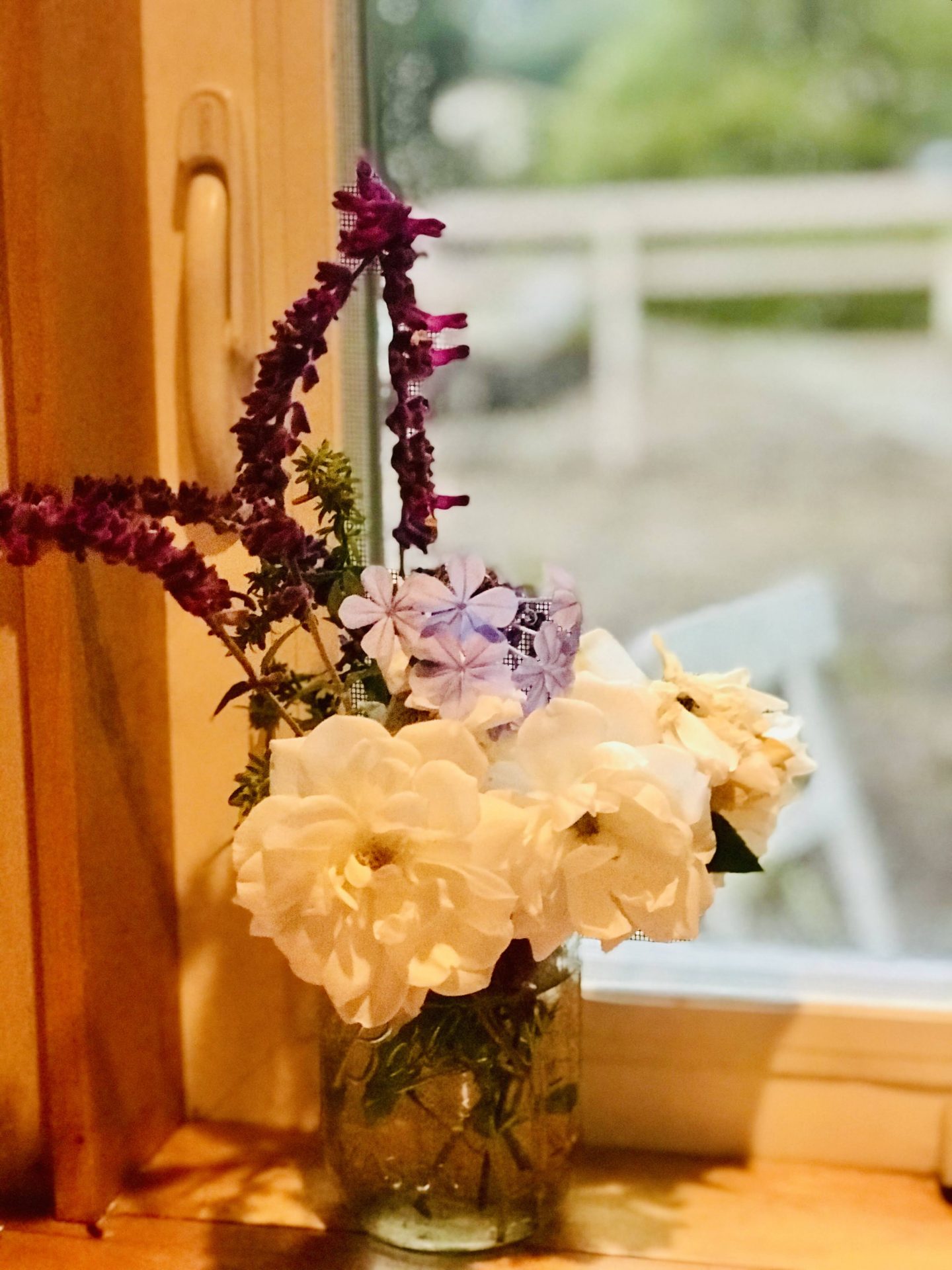 I cooked meals using the propane stove, and brought just enough groceries to fit in the fridge.
Clearly this tiny house company motto, is all about living with less….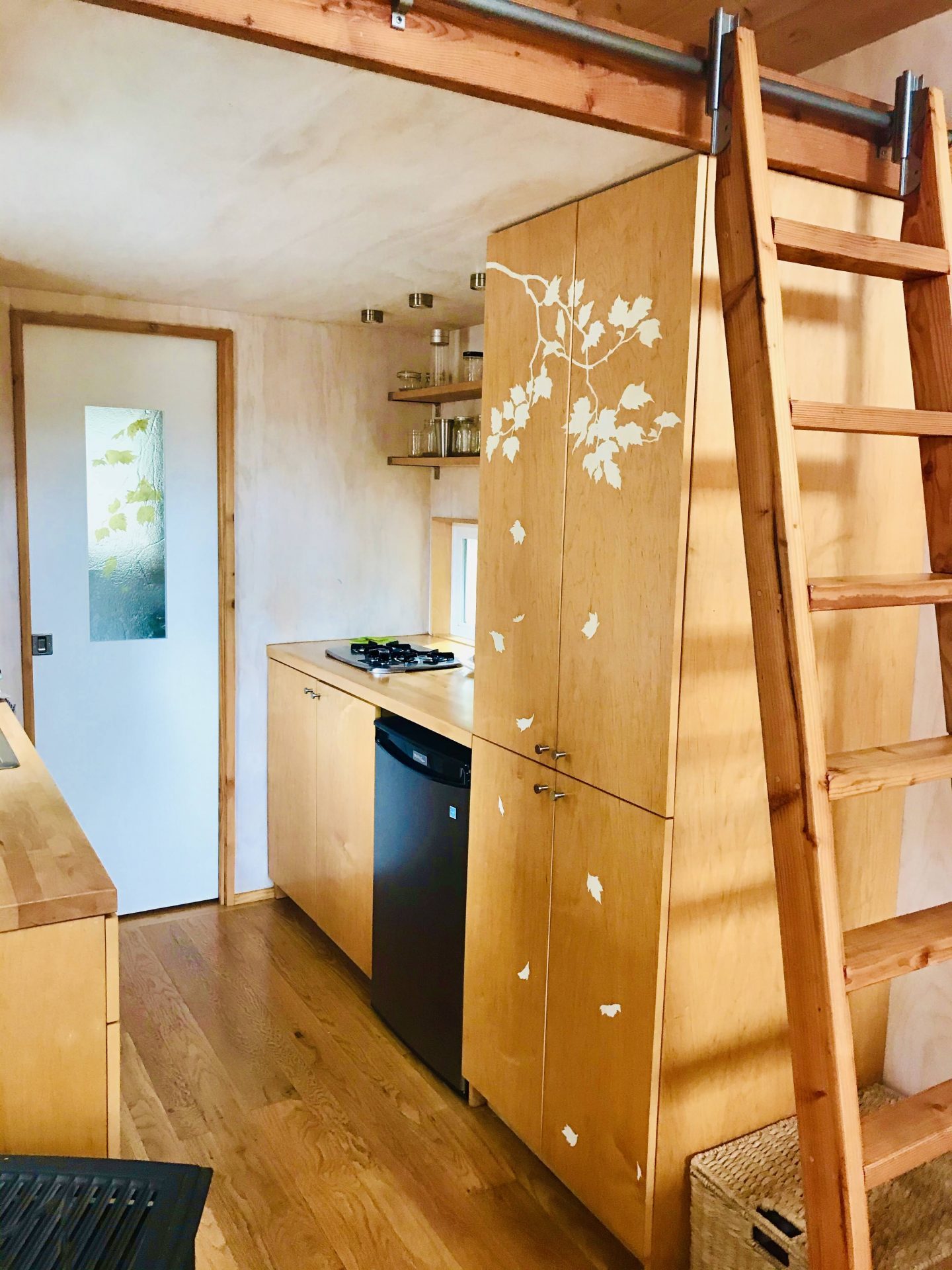 Who wouldn't love having this as a view when cooking meals?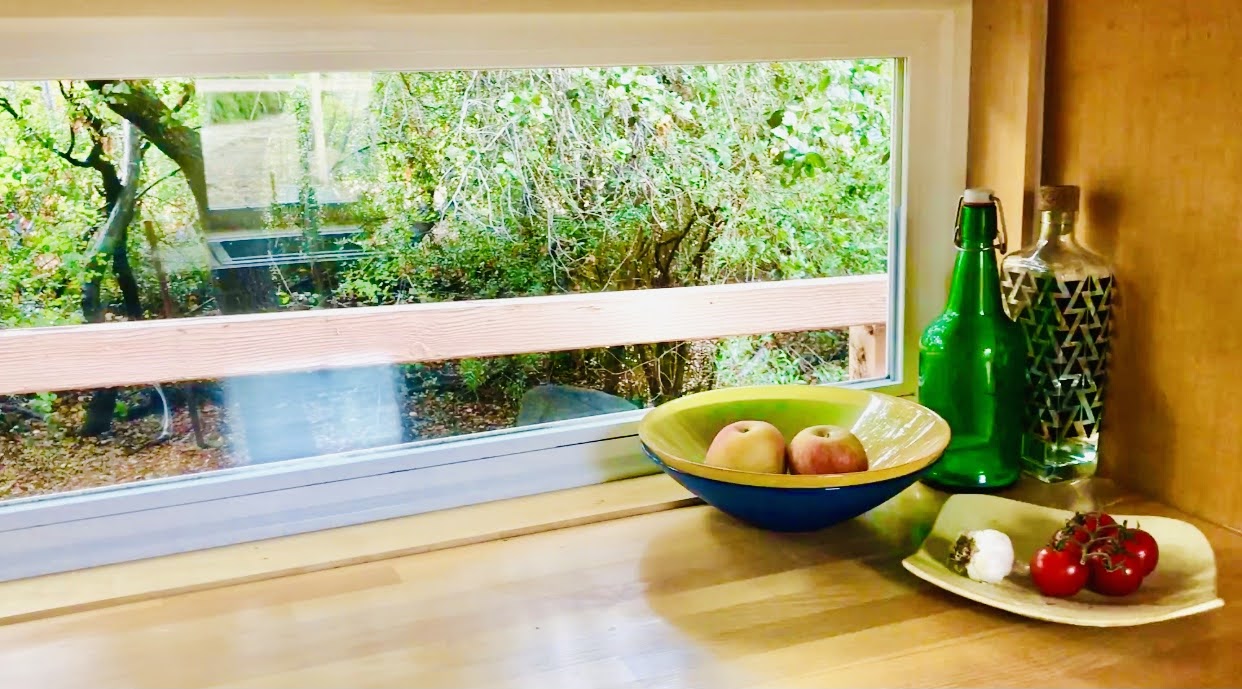 This was my first time using a composting toilet and I had zero issues!
The highlight of my stay, was waking up in this cozy loft with the morning sunlight coming through the skylight.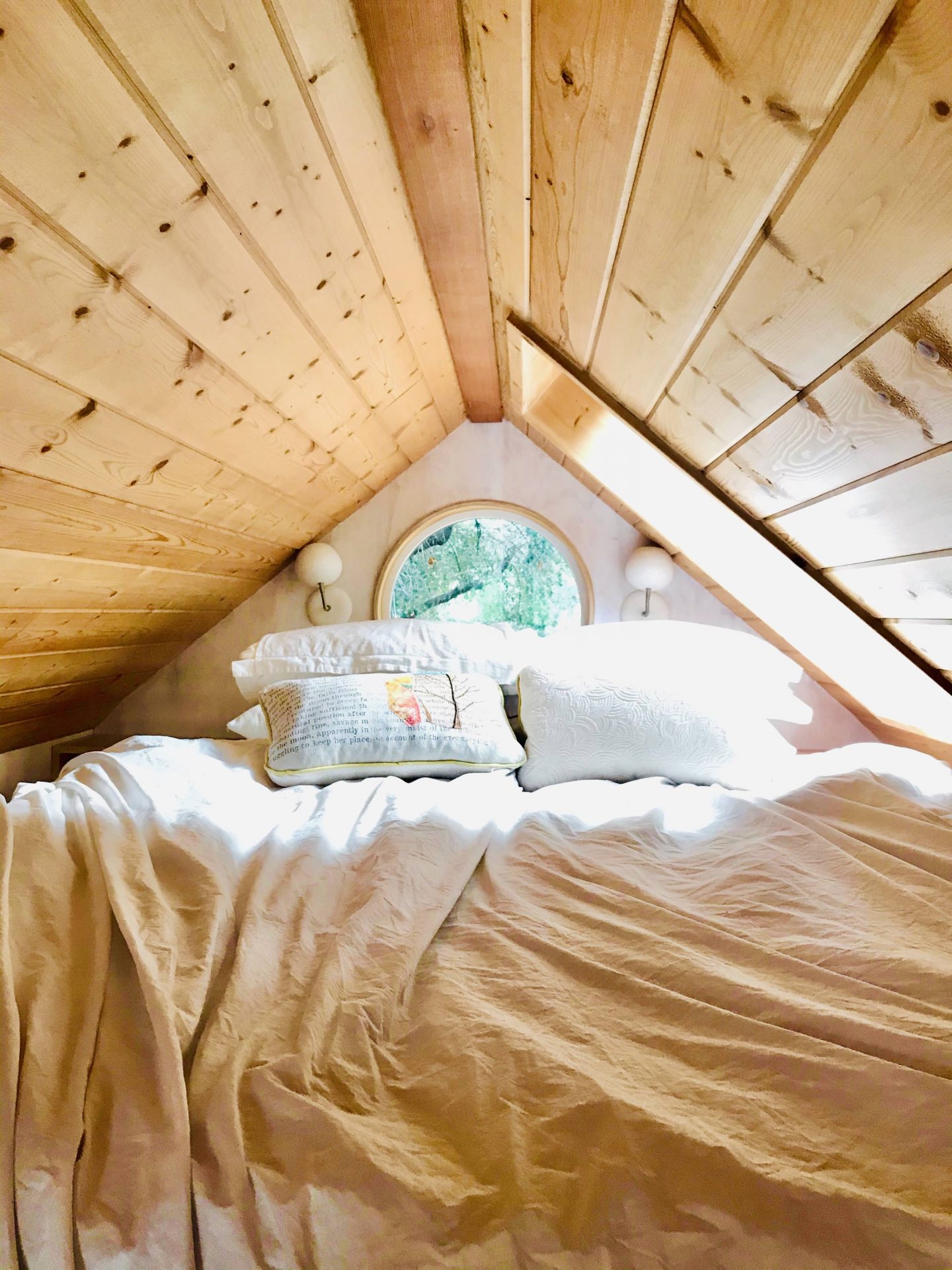 Vinas tiny house company is the perfect example of blending a minimalist tiny lifestyle with sustainability.
Vina offers full plans of all her tiny house models:
Or she can custom design a tiny house to fit your style and needs, using sustainable materials and practices that will nourish not only your soul but our planet!
What people are saying about Vina's Tiny House Company Plans:
"Building my own tiny home has been an incredibly rewarding process. Thank you, Vina, for being such an inspiration and for being so supportive during my build." Stuart Dakin/Sydney, Australia
"Thank you so much Vina! This is exactly what I had in mind. I'm really happy with these plans and feel my tiny house journey is on its first official steps!"
Liz Walch/Chicago, IL
"When I saw Vina's tiny little house I was hooked. I was amazed by the amount of natural light that filled the house… I am glad I have chosen Vina's plans."
Gudrun Buchhofer/Nova Scotia, Canada
"I scoured the Internet for my perfect tiny house design and as soon as I saw Vina's house I knew it was my perfect floor plan."
Nina Zamudio/Texas, USA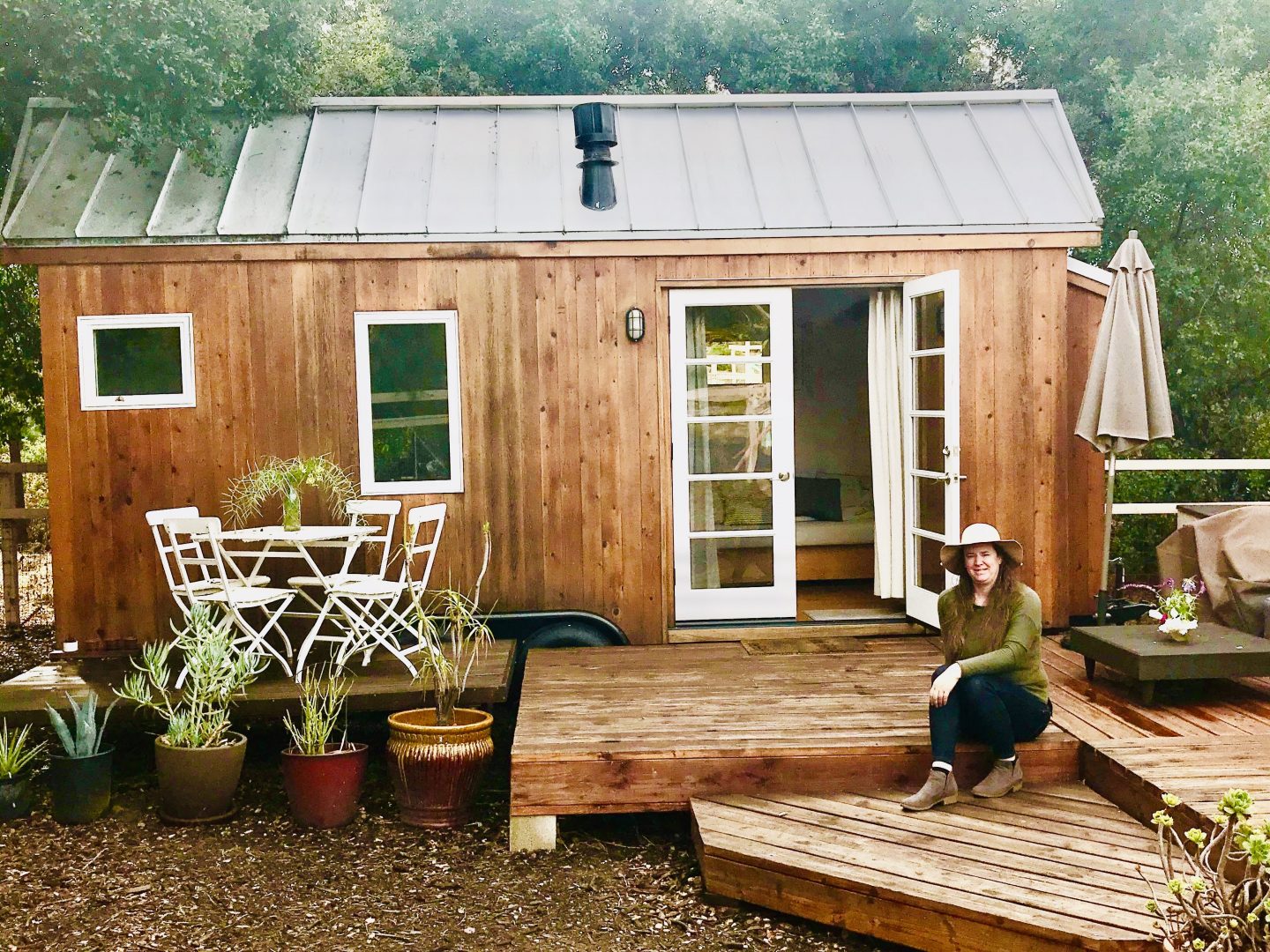 If you enjoyed this tiny house company, read about 7 tiny house on wheels builders Airbnb's you can stay in!
Researching the best tiny house plans? Pin it for later!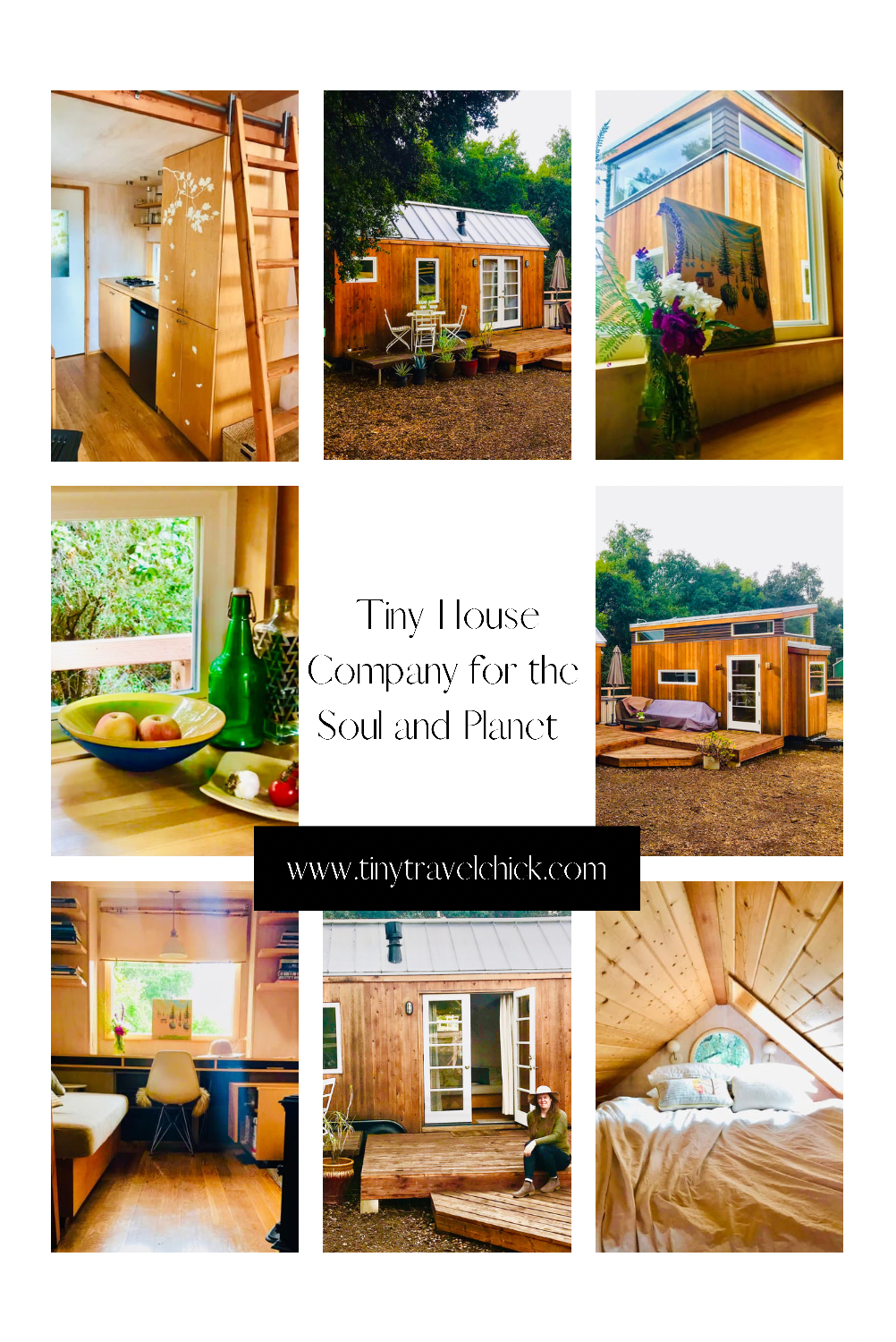 *Disclaimer: This post contains affiliate links that I may earn a commission that helps me to continue to bring you great tiny house content like this, thank you for your support! All opinions are my own, this stay was not sponsored or paid.