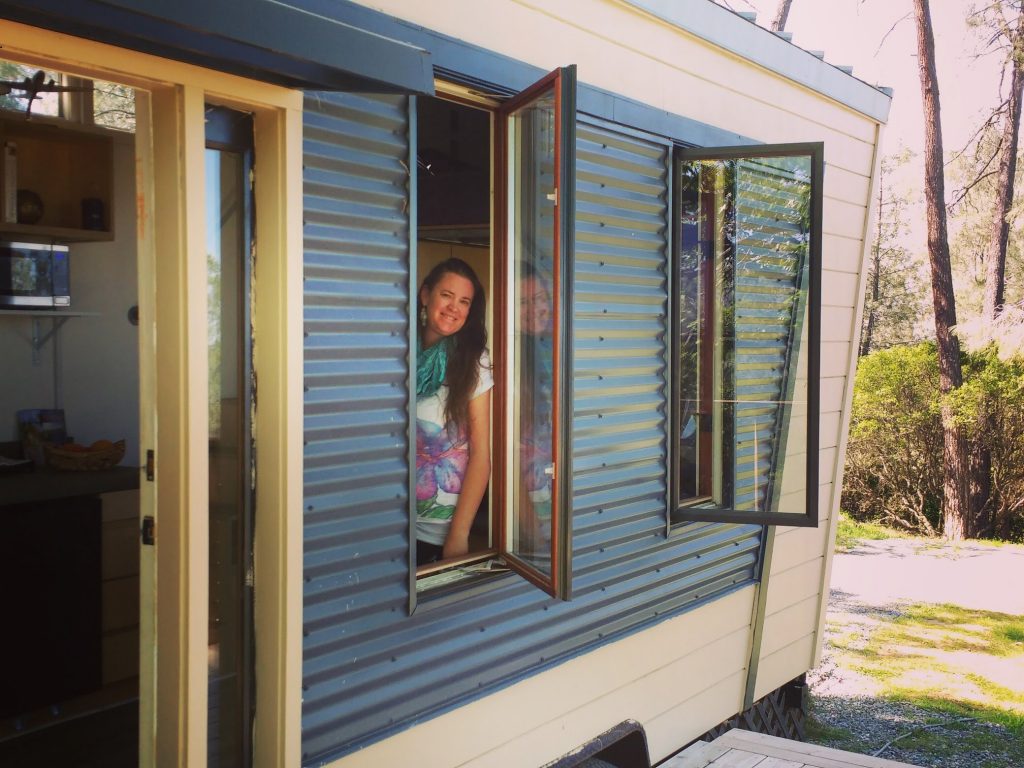 I'm so excited to see you came back to check out my best travel experience staying in the first Tiny House On Wheels ! Otherwise known as THOW. This award winning Tiny House was built by students at Laney College in Oakland, CA.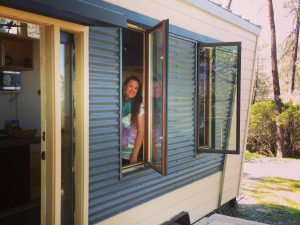 As part of my adventure, this Tiny House just so happens to be located within a few miles of my childhood home in Somerset, CA.
So much to my surprise I was very happy to see that someone was offering a Tiny House to stay in near by.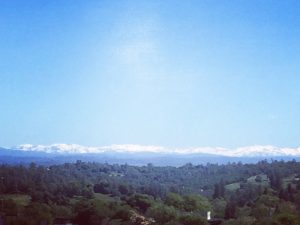 Not only am I enjoying finding these adorable THOW's, I'm also taking this seriously and really wanting to stay in these spaces and test out what the space feels like, so I can make some realistic long term decisions for my own Tiny House. I invited my dad to come along and tour the space as well, in the hopes that he can help me construct my own when I am ready to take this leap. It just so happens he was a building contractor his whole career, so this will be a great resource when I'm ready to build! Enough talking and let's check this one out!
My best travel experience in the first Tiny House on Wheels
Upon arriving at the Travelers TreeTop Tiny Home, we were greeted by our wonderful hosts, Clint and Michael, who have created a beautiful little Tiny House best travel experience oasis in the rolling green hills of Somerset, California.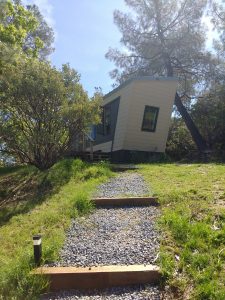 Perched up above the host's main house, the THOW already had it's own unique style about it. The slight angle in the structure gave the house a special design detail, as well as serving as a space enhancing trick.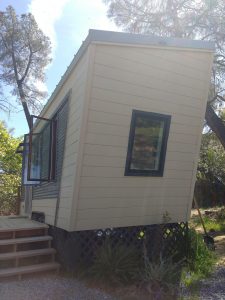 Many tiny house owners also build a deck in front of their homes to create additional living, usable space.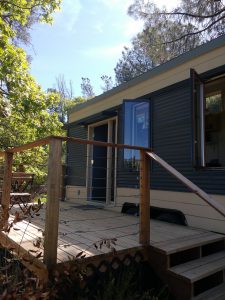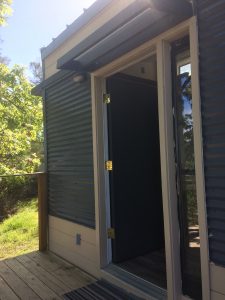 As you walk up the stairs to the tiny house and look left, you understand why building a deck onto the structure is a necessary addition to this adorable THOW.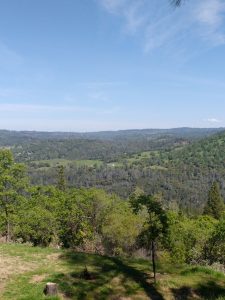 This Tiny House on Wheels gets the best travel experience award for offering this amazing view during my "test drive"! Although I only stayed here for one night, I could envision a tiny living lifestyle of waking up in the morning enjoying a warm cup of coffee, and ending the evening on the deck with a crisp glass of wine from one of the many award winning wineries in the surrounding area.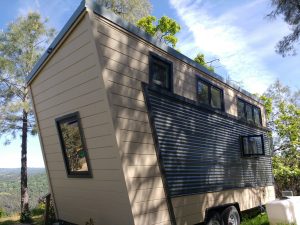 I noted the exterior architectural details of using wood and metal as an interesting and creative way to design a tiny house build. As part of my stay, not only will I be enjoying this tiny house as a best travel experience, but also to gain some research on my own tiny house journey of testing out what works and doesn't work for me while staying in these spaces. I imagine my readers will be a mix of people simply enjoying this as a destination experience, or as ideas for their own tiny house build. My intention is not to critique this space to discourage anyone from renting these spaces but rather as information that may be helpful to the tiny house community on what is useful information for their building plans.   The tiny house had so many windows that show cased the expansive view, but also served to allow you to feel like you have more space while your inside the tiny house.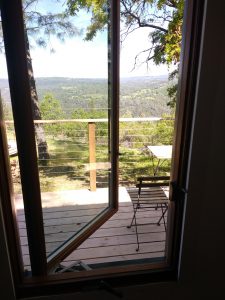 This tiny house had access to two lofts, on one end was the living room, with a table/shelf in the middle, the kitchen was on the left, and the bathroom was on the other end of the house. I really liked the layout of this space. We ended up having people over for dinner and four people fit very comfortably in the space, with room to cook and entertain guests.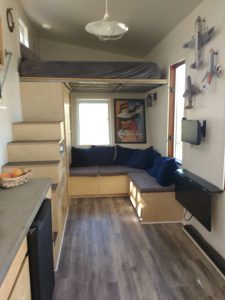 The design of this couch was my favorite feature. I think for myself, having an L-shaped couch in my tiny house will be essential for me to feel like I have plenty of space to stretch out as well as sharing the couch with others and not feeling crowded. What I especially liked about this design, were the loose throw pillows that served as the back rest of the couch and the seat cushions were very comfy.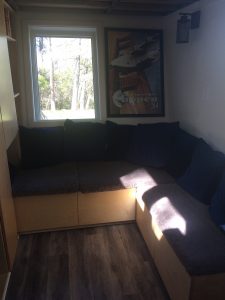 What is quite common in most couch designs is building storage into the seating area, this one had pull out drawers underneath.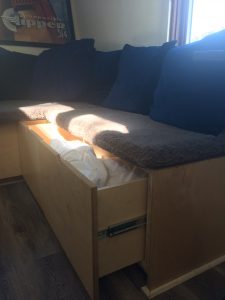 The living room contained a slant design as part of the usable space which created a lean at that end of the house.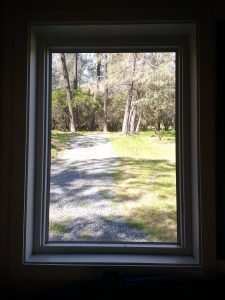 I did not have a problem settling in and enjoying The Room with a View! It just so happens that the host has a wonderful collection of old classics and this novel was by chance in the stack. I thought it was pretty clever to combine the two concepts!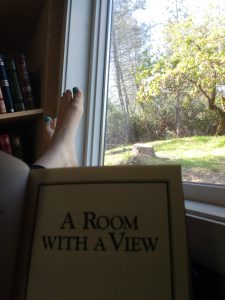 The angled bookcases created a unique design as well as ample storage for a reader's paradise.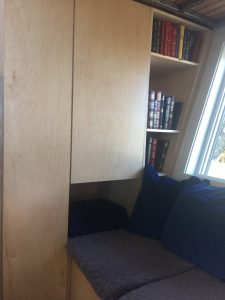 The doors opened up to two small closet spaces to hang clothes, shoes, bags, etc. Did I mention that part of the tiny living lifestyle is also learning to live with what you need? Obviously I only packed what I needed for this overnight stay but honestly this may end up being the quantity of clothing I will be owning at some point!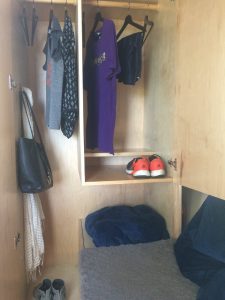 There was a nice storage space for blankets, which right underneath lifted into another space that could store larger items that may not be used on a daily basis.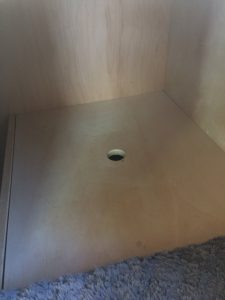 Plenty of storage tricks though out this tiny house.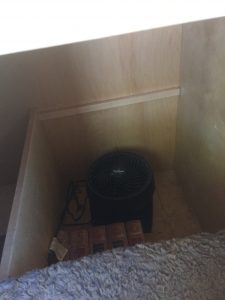 Building storage into the stairs, is another common design detail of most tiny house on wheels. This one had a mix of drawers and shelves that allows for some decorating and useful storage space, for items, like towels, or more clothes!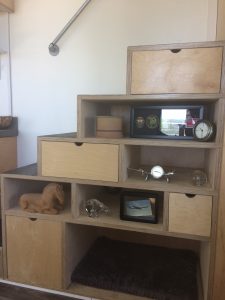 Plenty of deep drawers….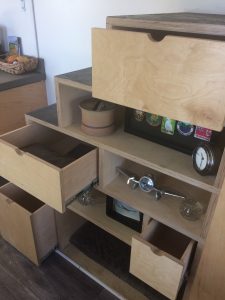 The stairs lead up to the main loft space, which holds a queen size mattress.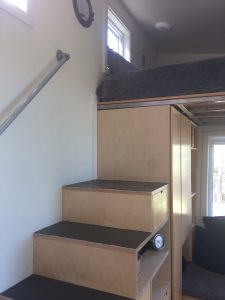 To be honest it only had enough room to fit the mattress. Which makes it a logistical difficulty to using this space with a second person. Again, as a travel stay, it's wonderful! However, for my personal tiny house build I would need more room to move around, and it was a bit high off the ground, and the stairs did feel steep when trying to get back down. Most likely I will be choosing to build a bedroom downstairs, and use a loft as storage or a space used occasionally.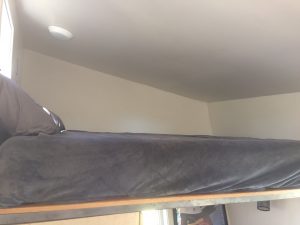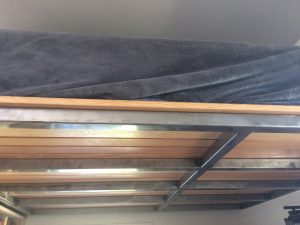 In the middle of the tiny house, was a folding table, that was great to share with one other person, however if I were to have guests over, I would use the couch as a space to entertain, or of course, on beautiful evenings, we could enjoy the deck!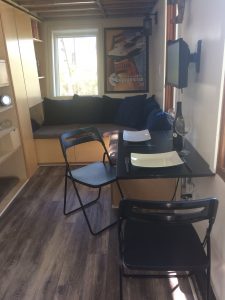 The table folds down to expand the space, as well as creating a shelf space. I'm trying to include pictures of how some details were constructed, in case someone wanted to build this table into their home. The bar came out of the holder and swings back toward the wall, that allows the table top to fold down to the wall.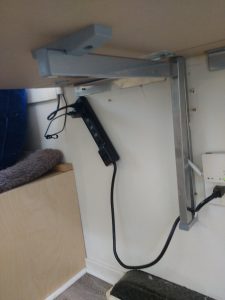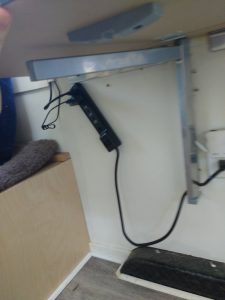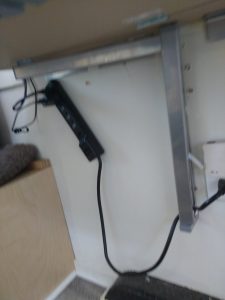 Viola! Now its an entertainment center….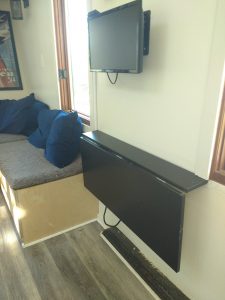 The kitchen had plenty of counter space for cooking, and space for appliances, such as a Keurig, and an electric stove top.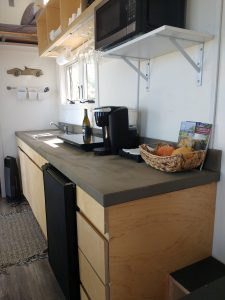 The host provided a countertop cooking stove, which was useful for overnight purposes, but I'm not sure its functionality would be an option for long term tiny living for me. I love to cook , so just the right stove/oven will be essential for me. A little something I whipped up in the tiny house!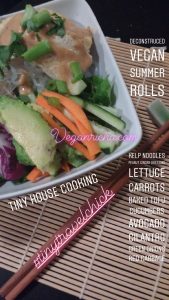 I really like the open cabinet concept as a way to store dishware, glasses, or cookbooks.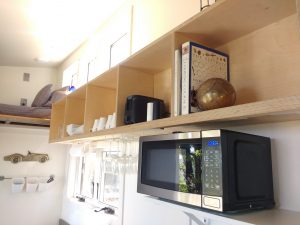 Spacing saving details can be added such as wine glass holders, which frees up valuable cabinet space.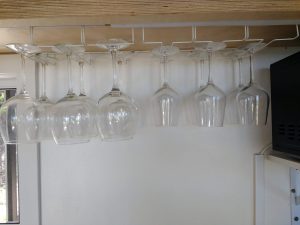 Plenty of space for dishware.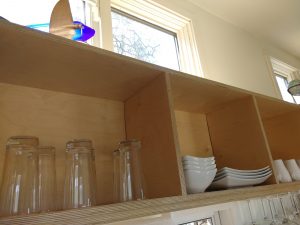 As well as cabinets below for all pots and pans, and a small refrigerator below.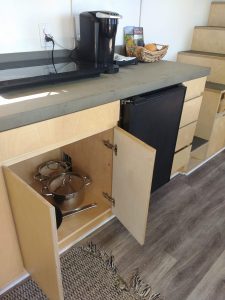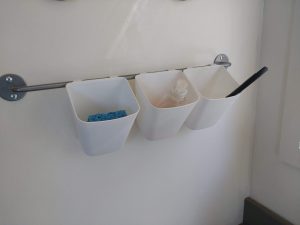 Using hanging wall containers help store away the every day essentials like sponges, soap, and kitchen tools.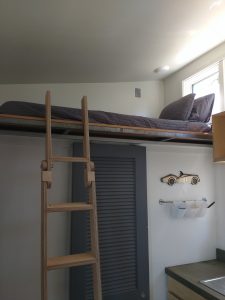 A second sleeping loft that fits a twin bed. Three people could live here together.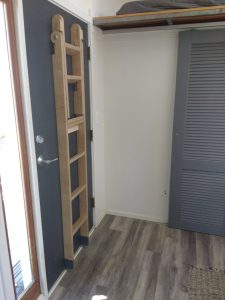 The ladder was stored behind the front door, and had it's own interesting design detail that opened on a hinge and then folded back down for storage.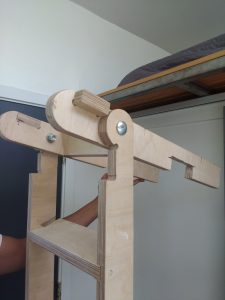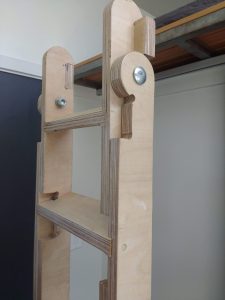 A simple shelf was attached to the back of the door so the ladder could be easily stored and out of the way.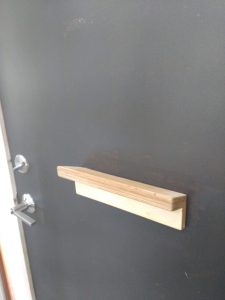 The bathroom was on the other end of the tiny house, and was a small space, but functional.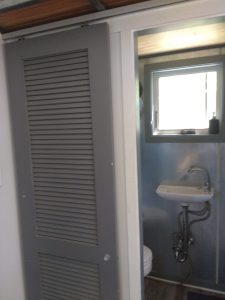 The sink was a bit tiny, so for me I'm going to need more space to juggle everything, but for the overnight stay it was perfect.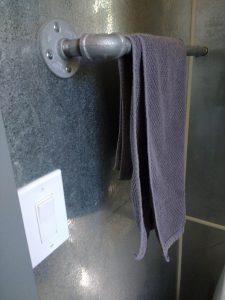 The towel bars were made of steel pipes, which I thought was clever, if someone wants to follow a reduce, reuse, recycle feature in their tiny house build.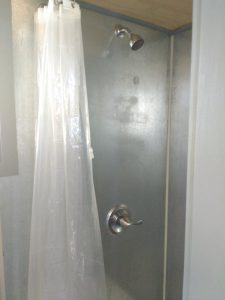 The entire bathroom was lined with a metal sheeting. I would say this house was very male friendly in its design details, maybe this could be a great man cave!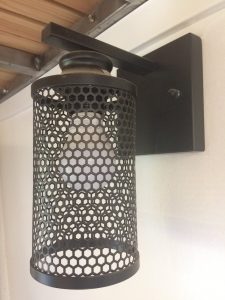 I wanted to capture the interesting decorating details for lighting ideas.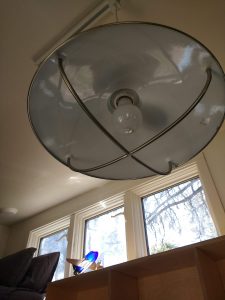 Okay back to this view! On a warm spring day this deck can be a wonderful addition to the space of this tiny house.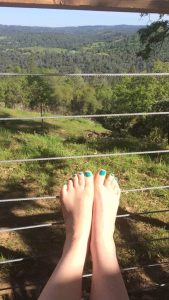 I wanted to add some pictures of options for solar power systems. Many tiny house owners opt for solar power as a way to live off grid if needed. Although the tiny house movement is becoming more popular, unfortunately zoning laws can create a barrier to tiny living.
A storage option holding water to be used within the tiny house, which did not affect water pressure.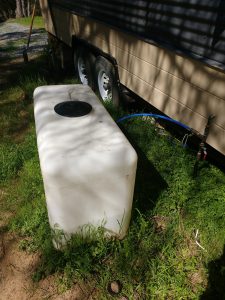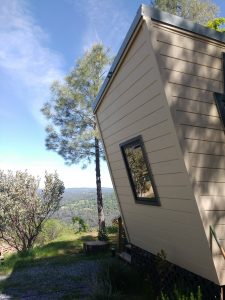 The best travel experience wine tasting destination in Somerset, California.
Now on to the important information: Where to go wine tasting! During my stay I had only one day to explore, but I found a gem for sure! Just a couple miles up the road from this unique Tiny House was a wonderful winery recommended by my host, called Saluti Cellars. To find Saluti Cellars from the little town of Somerset, continue up Grizzly Flat Road, and you can't miss the sign on the left side of the road.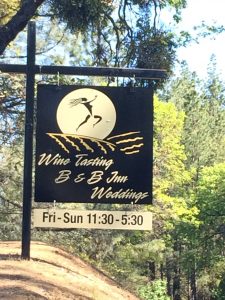 A wonderful couple Randy and Tina, transformed this 10 acre property into a wonderful oasis, for a day of wine tasting, a magical wedding destination and they even have a Bed and Breakfast on the grounds with access to a beautiful pool and spa.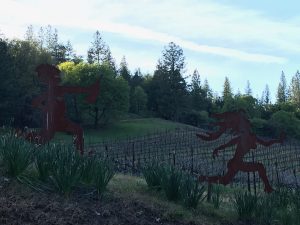 As you drive into the winery you are greeted by little artistic details throughout the grounds.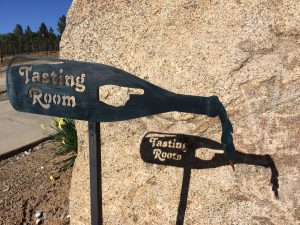 The winery offers many locations for wedding ceremonies, this view would be a spectacular backdrop for an outdoor setting.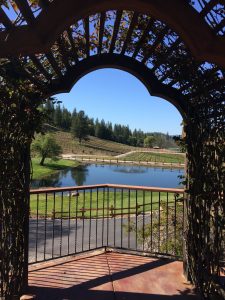 After tasting a variety of red and white wines, I went with Saluti Cellars award winning Viognier,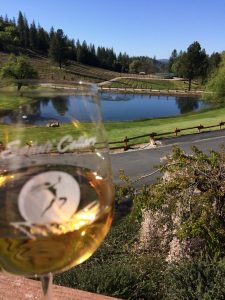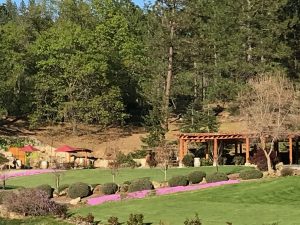 This area offers places to sit and enjoy your glass of wine by the fountain and enjoy the vista.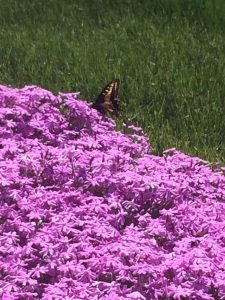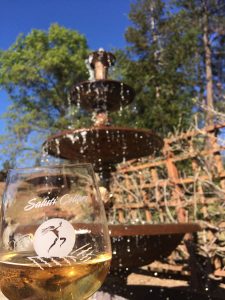 The grounds are open to stroll around and find your own private spot for a picnic in the grass, along with your favorite selection of wine.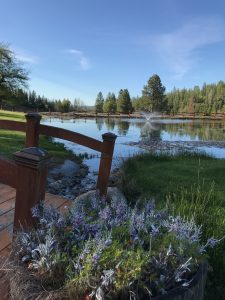 After a satisfying picnic and hopefully SEVERAL glasses of wine, head on over to the bocce ball, and horse shoe game area, and enjoy an afternoon of games. Just watch out for the Winos crossing the road!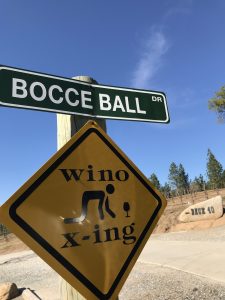 What a great backdrop for a fun filled spring day of games and wine tasting with friends and family!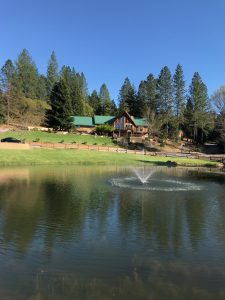 In addition to fun filled games the winery offers a pool area to enjoy a bottle of your favorite wine selection.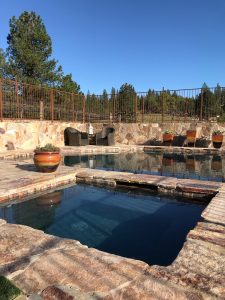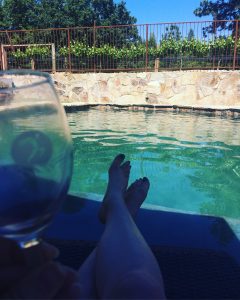 Even a gazebo area to sit back and relax and lounge on the couch and watch your favorite show!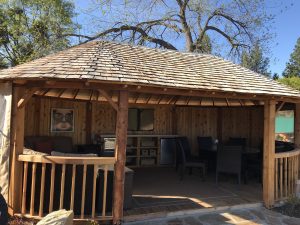 In the back of the winery Saluti Cellars offers a wedding venue area that caters to couples who would like more of a country type wedding theme. This area can be filled with tables and decorated for a wedding reception, or rented out for other large celebrations/events.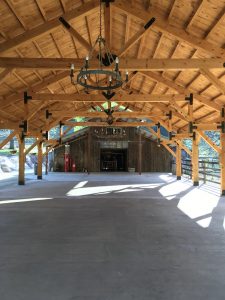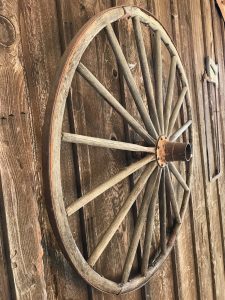 I visited Saluti Cellars in spring, just as the vines were being prepped to grow. I had to take an opportunity to practice a little photography….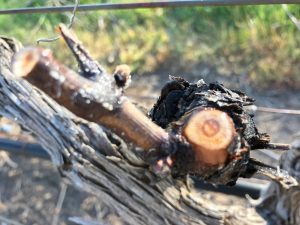 I highly recommend taking a bottle of Saluti Cellars wine back to the best travel experience tiny house vacation stay, to catch this amazing view at sunset!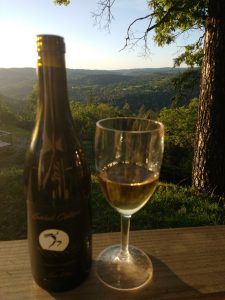 Right in the town of Somerset, is a wonderful little restaurant with great menu options. However, I was there for only one thing, Cheesecake! Gold Vine Grill has a cheesecake of the week, and this week was Amaretto cheesecake with a vanilla wafer crust.
Check out their menu! Hopefully soon I can go back, and sample some dishes and let you know my favorites….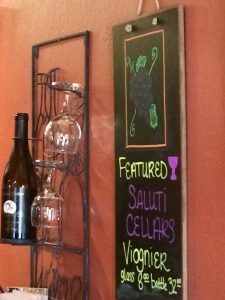 Gold Vine Grill is located right in the heart of the El Dorado County Wine Country, in addition to their signature dishes, they offer wine from the ever growing list of local vineyards. When I stopped in to pick my cheesecake, it just so happened that Gold Vine Grill was featuring the award winning Viognier from Saluti Cellars! Clearly I made a great choice…..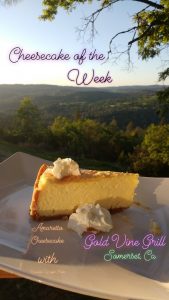 Bring the cheesecake back to the Tiny House, have a seat on the deck, indulge in your cheesecake slice of the week, wash it down with your favorite wine and take in the golden rays of the California sunsets. You will love it here! Hopefully it can become your next best travel experience in the beautiful rolling hills of El Dorado County Wine Country. Move over Napa…..checkout some Beautiful Places to Visit in California: Tiny House Wine Country Getaways!
Until my next "test drive", bye for now, or how the Italians would say……