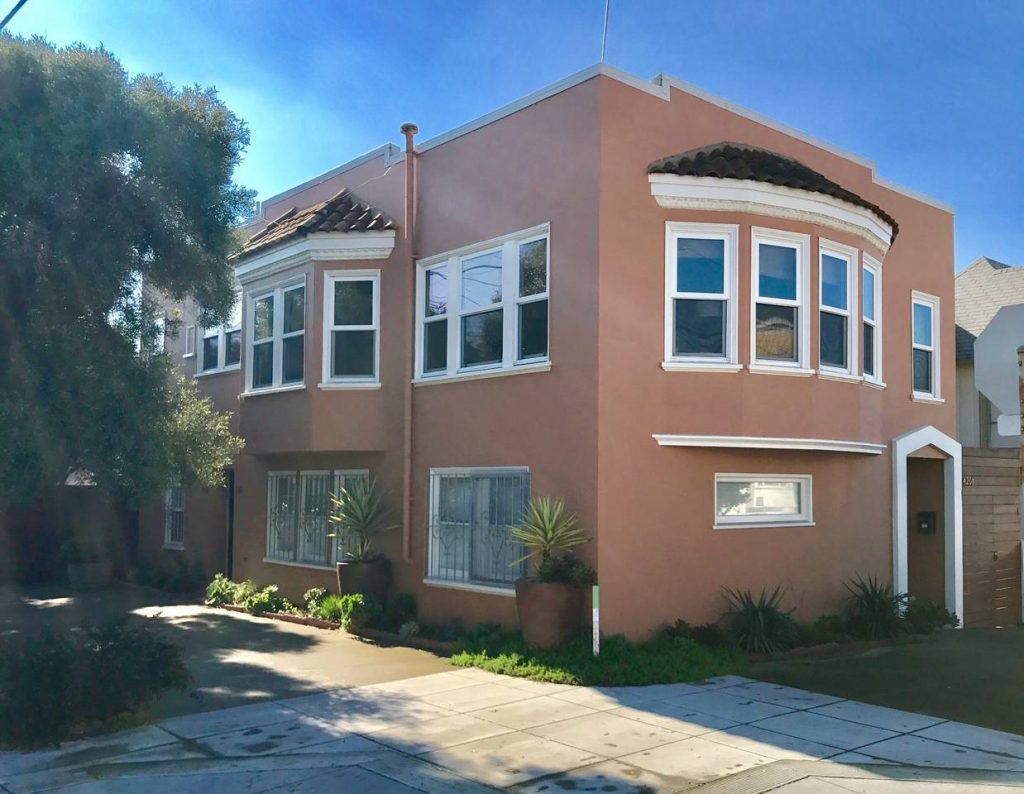 In May of 2017 I enjoyed a wonderful excursion which I call "Tiny Travel Chick's Carnaval AirBnB." I stayed in a San Francisco, California AirBnB to attend the annual Carnaval parade held in the Mission District.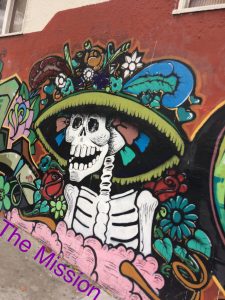 Walking down the streets and alleyways you can discover the mural artwork created by local artists. The Mission District represents the vibrant Latino community within San Francisco.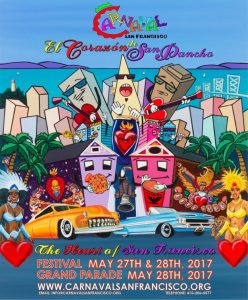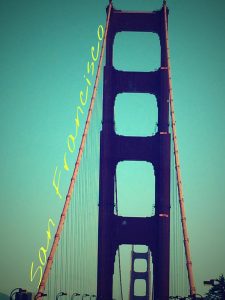 Tiny Travel Chick's Carnaval AirBnb: Dancing in the Streets
The big reason for Tiny Travel Chick's Carnaval AirBnB excursion: I did the unexpected and signed up to dance in the parade this year! I decided to represent my Chilean background and display my inner latina…..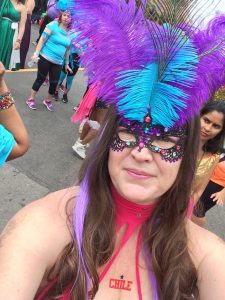 The Catholic tradition of Carnaval originated in Italy as a celebration of the weeks leading up to the first day of Lent. Participants dressed up in costumes and basically indulged in all things that they eventually gave up for Lent. The root of the word carnevale means to"put away the meat." As the tradition spread throughout other European countries, each region celebrated Carnaval in their own unique way. As Portugal colonized the Americas, each Latin country adopted the traditions of Carnaval and weaved them together with native cultural traditions. As the different cultures of Africans, indigenous people of the Americas, and Portuguese converged, a beautiful array of celebrations emerged in each country. Almost every country in the world celebrates Carnaval, including the the most famous one most of us are most familiar with. Mardi Gras emerged from the French and African-American cultures coming together to celebrate in the streets of New Orleans. I joined a great group of people representing a Bay Area company called WorkOut Temps.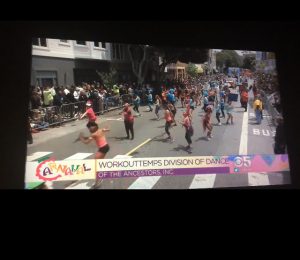 We practiced for weeks perfecting our choreographed routines, and then hit the parade route for the traditional Carnaval Grand Parade held on Sunday down Mission Street. Tiny Travel Chick's Carnaval AirBnB even got a little TV exposure!
What possessed me to think that I: number one, could stay coordinated and follow a dance routine; number two, perform over a mile long parade route? It's beyond me, but I'm proud that I did something totally new and exciting!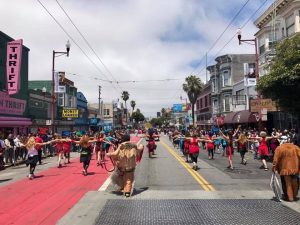 Tiny Travel Chick's Carnaval AirBnB: So many Beautiful Cultures!
Carnaval represented so many beautiful countries and cultures that day, including the Mexican tradition of El Diablo.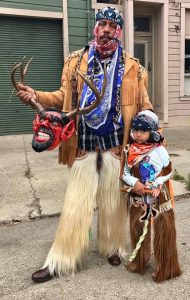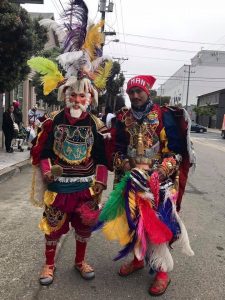 These girls dressed in the traditional textiles of Guatemala added two heaps of adorable to Tiny Travel Chick's Carnaval AirBnB trip…
This interesting character dubbed himself the Grand Marshal of the Parade.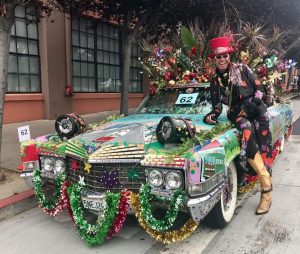 His grand Cadillac was covered in murals of San Francisco.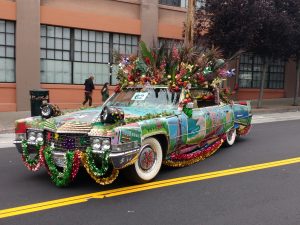 Even Asia was represented in the parade..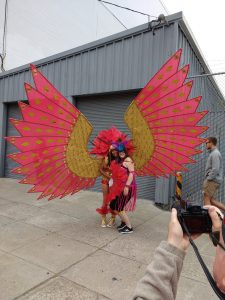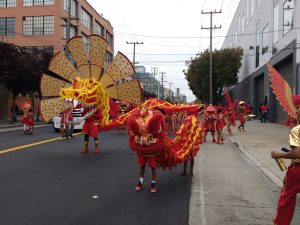 Bolivia showcased their traditional outfits and dances.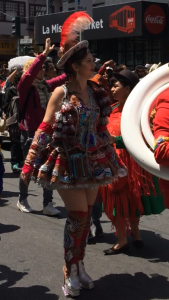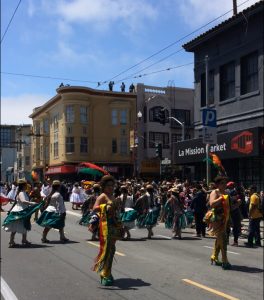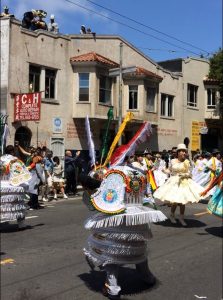 https://youtu.be/ruONlFyd3jw If you enjoyed the pictures and video, check out this years 40th Anniversary Carnaval Celebration May 26th-May 27th 2018!
Tiny Travel Chick's Carnaval AirBnb: Ocean Beach
I found Blake & Sara's Ocean Beach Pad, a remodeled apartment under their upstairs unit for my Carnaval 2017 stay.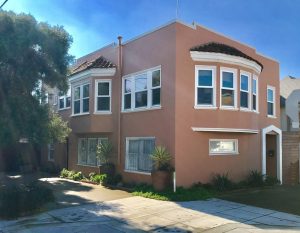 They left the key in the lock box and we let ourselves in.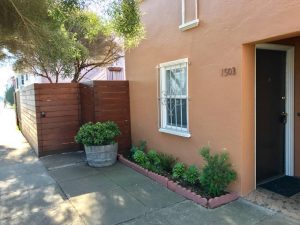 Beautiful interior, with full kitchen and bathroom. A very comfortable living area, a queen sized bedroom.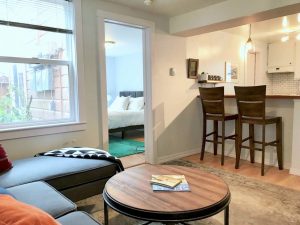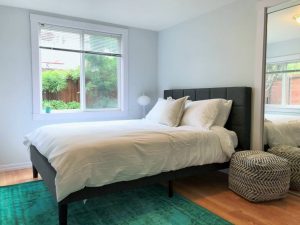 We had access to a tranquil backyard patio.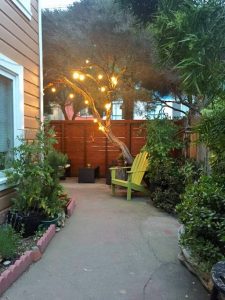 We never ran into the hosts and it was a very quiet stay in a downstairs unit. The apartment is within walking distance of Ocean Beach and located in The Sunset Neighborhood, near Golden Gate Park.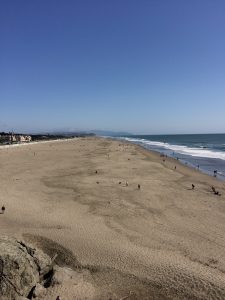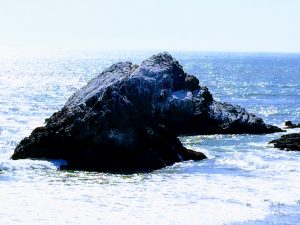 I mainly came to San Francisco to participate in the Carnaval. However, there are many attractions in the nearby neighboorhood: Cliff House Restaurant Golden Gate Park Academy of Sciences De Young Museum Japanese Tea Garden Conservatory of Flowers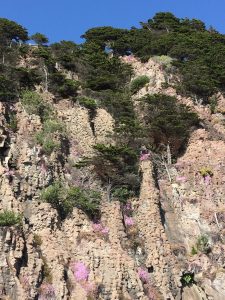 The Outer Sunset Neighborhood offers local restaurants, shops and art venues. Taking a stroll down its streets reveals succulents of all varieties and colors.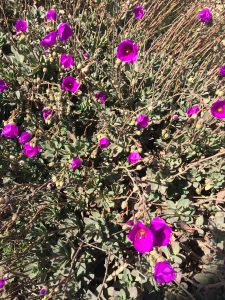 Try out the AirBnB experience. Most of the time you never meet the host, but sometimes you do and you are pleasantly surprised that people simply want to make you feel at home in the cities they call home.