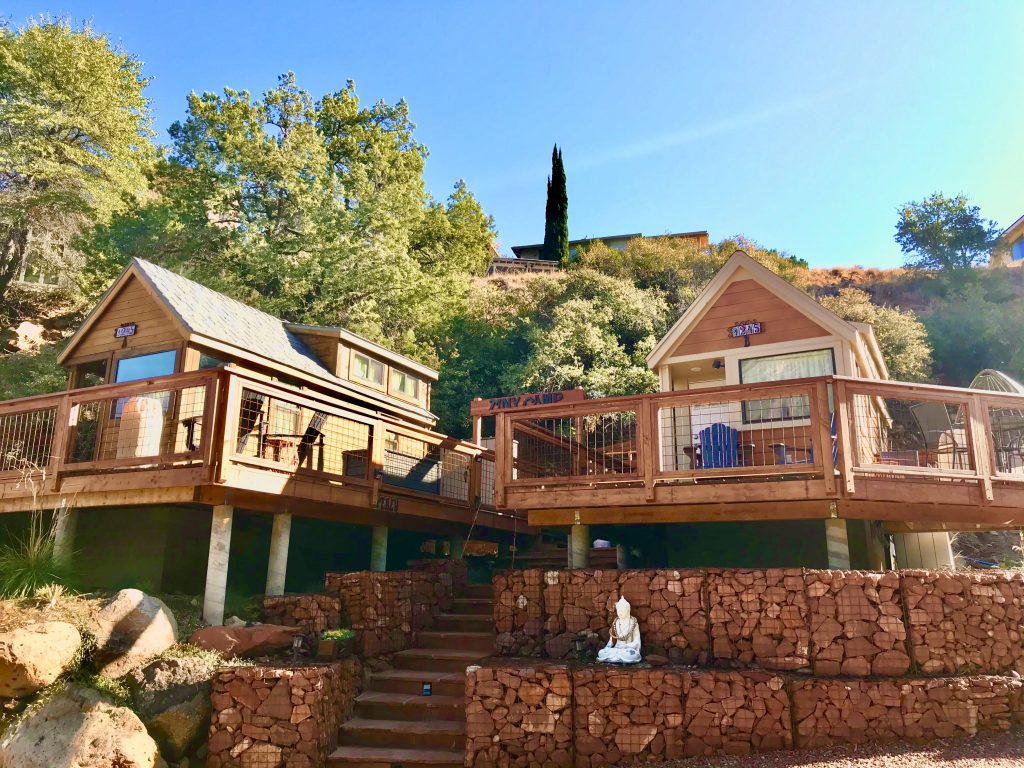 How do I even begin to describe my magical tiny house Sedona getaway nestled in Oak Creek Canyon, Arizona?
Coming to Sedona is one of those bucket list items that needs to be checked off your list!
I really had no idea how majestic Sedona really was until driving up Hwy 179, coming upon Bell Rock, and then turn after turn, everywhere you look your surprised by massive red rock formations.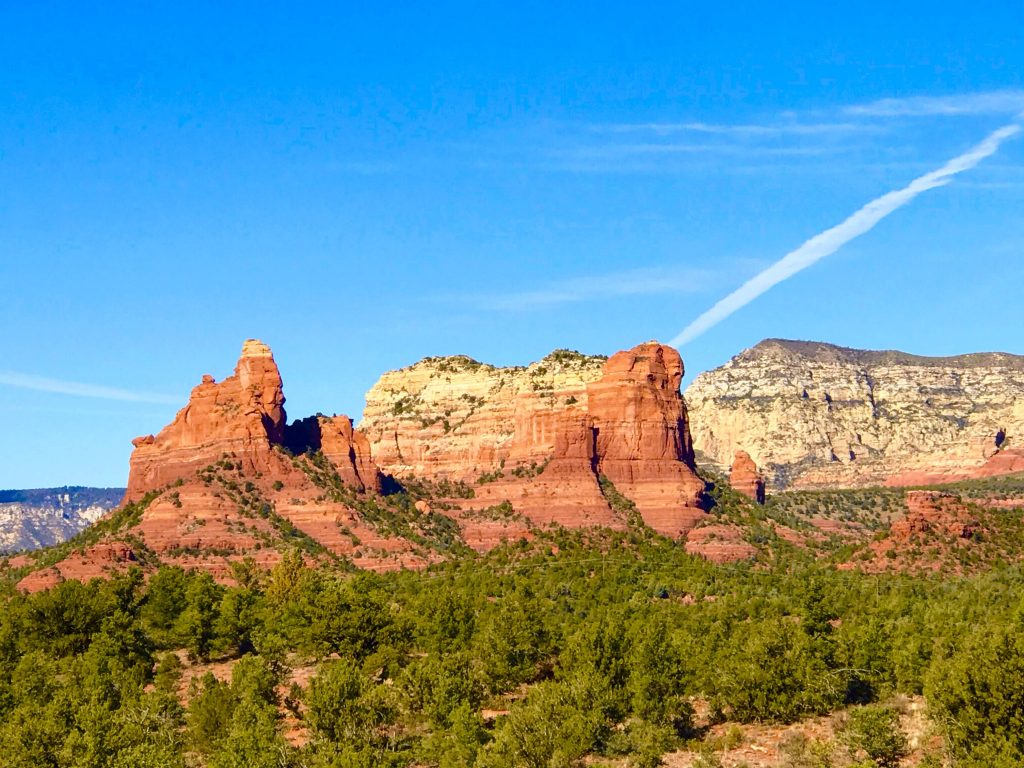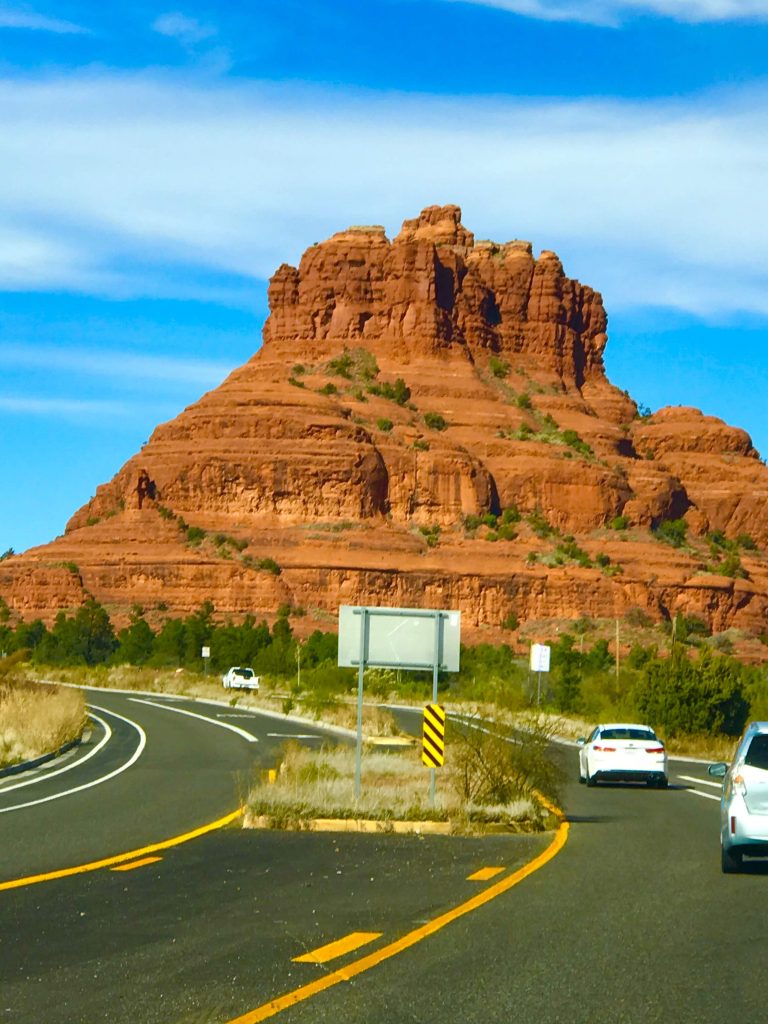 Driving up to Sedona
Not only is driving into Sedona a feast for the eyes, but heading up into Oak Creek Canyon, just 10 minutes outside of Sedona, is a scenic drive all in itself.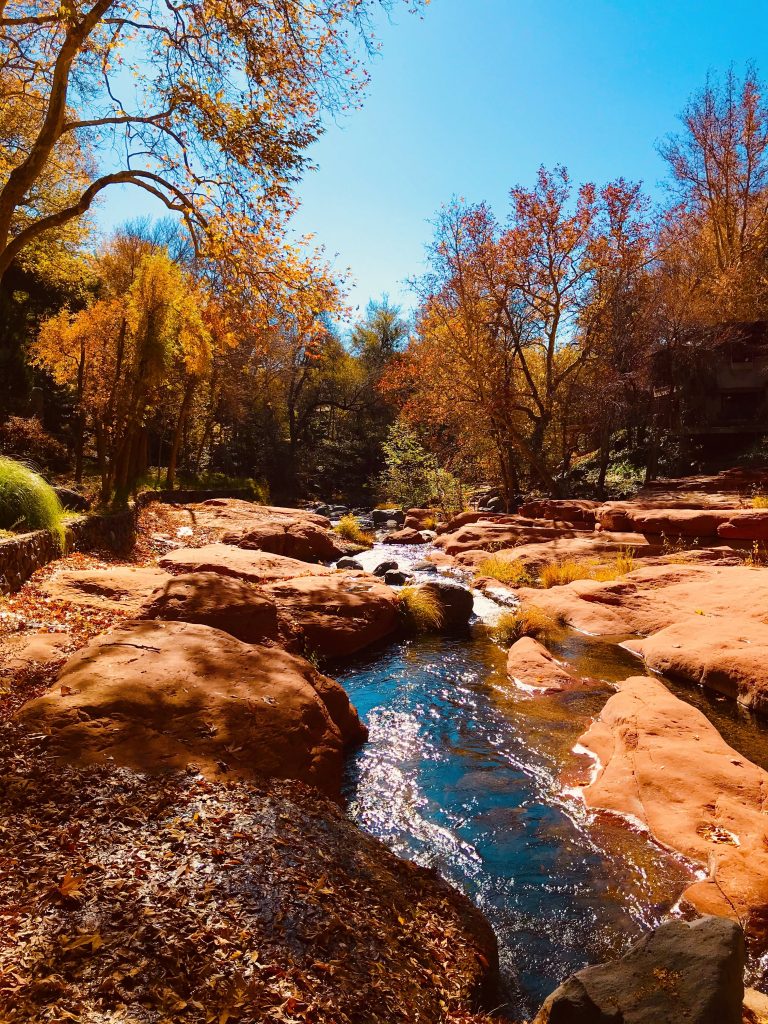 After you drive over Oak Creek heading into Tiny Camp Sedona your greeted with five luxurious tiny houses each with their own unique personalities.
Each tiny house is named to promote relaxation, mindfulness and inner peace during your stay.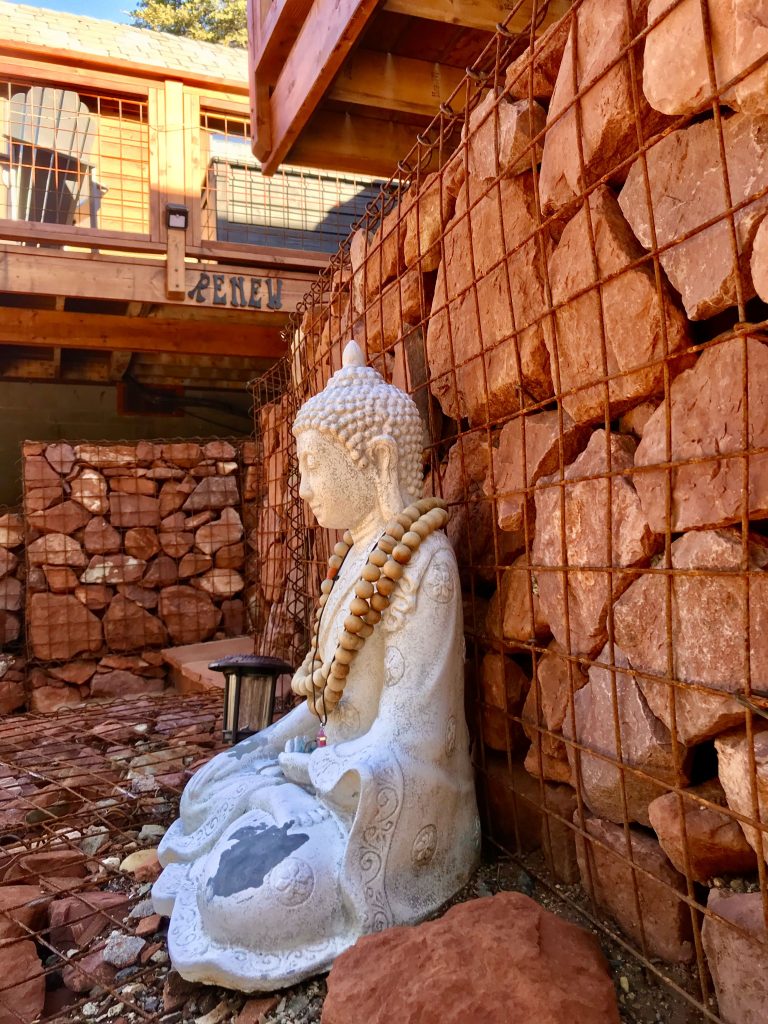 Choose a Tiny House to stay in!: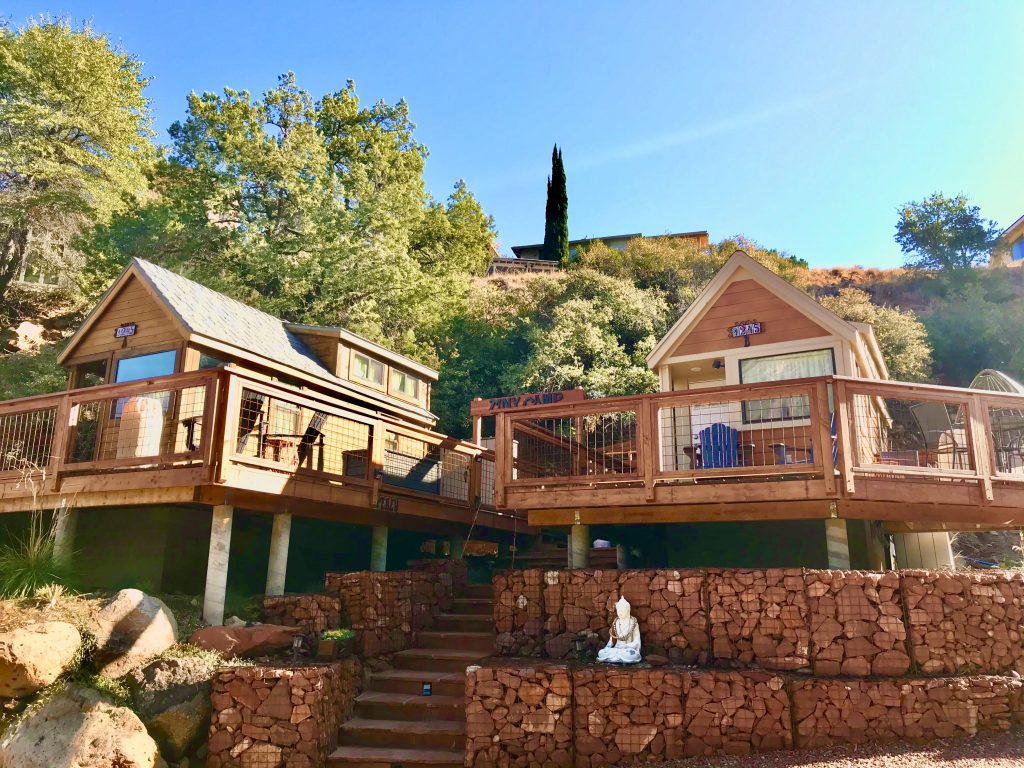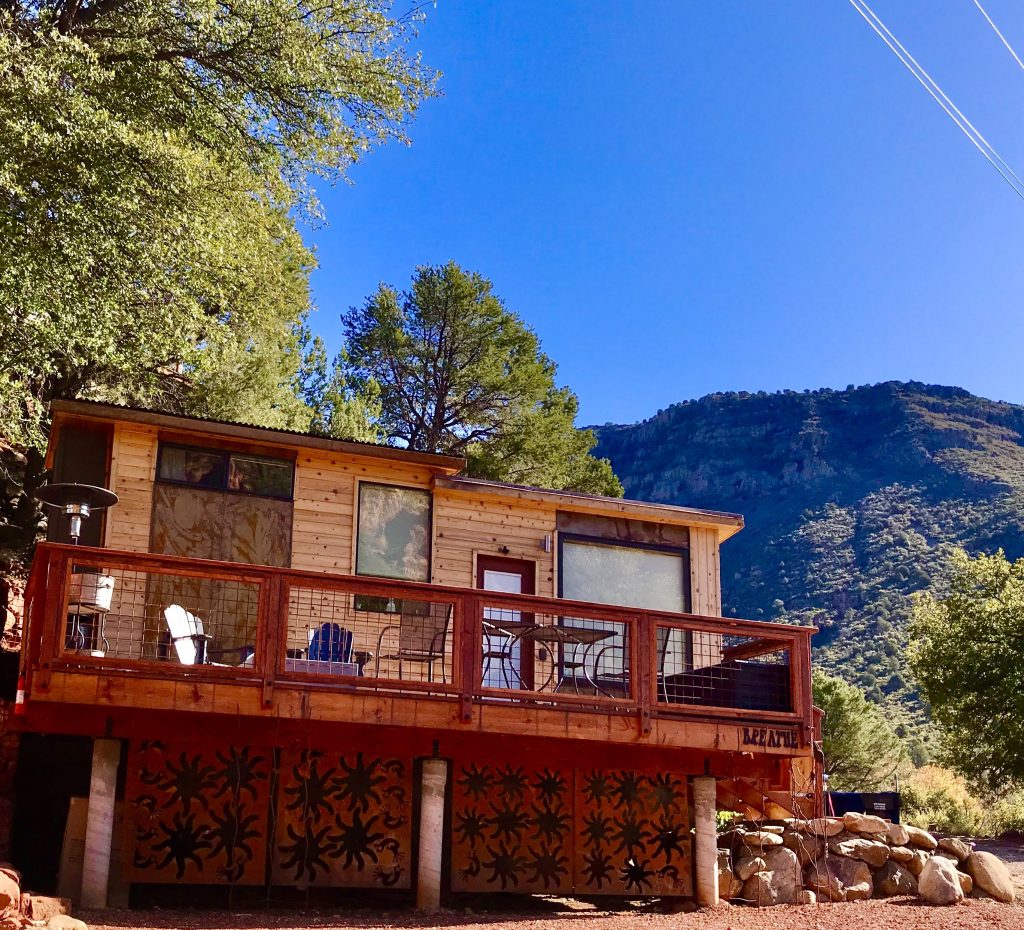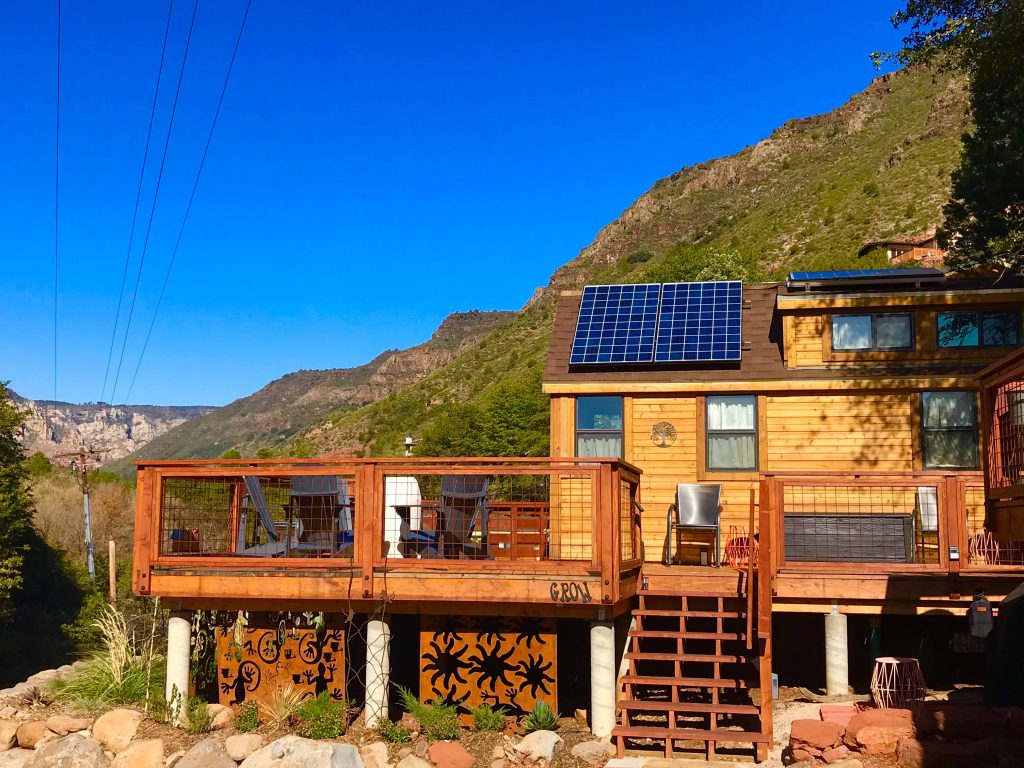 Each tiny house comes with it's own private balcony area, with a fire pit and complementary yoga mats!
After relaxing in your luxurious tiny house Sedona getaway make sure to go explore the surrounding attractions from hiking, restaurants, shopping, yoga, scenic drives and more!
4 Day Tiny House Sedona Camp Itinerary
With so many options to explore Sedona , and only 4 days to explore I had to pack it in.
Day 1: Enjoy a hike around Bell Rock and Courthouse Butte right off of Hwy 179 as you drive into Sedona. It's a great way to take in the surrounding views and it's an easy trail for all hiking levels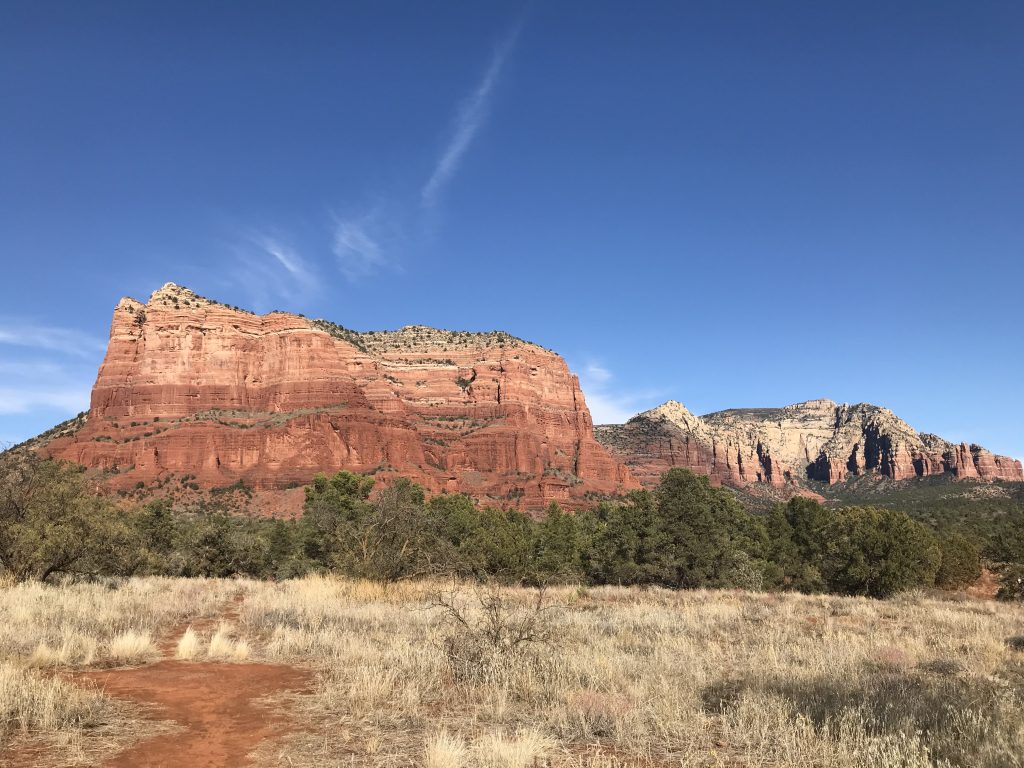 A walk through the charming town of Sedona, treats you to plenty of red rock sunset views while enjoying local shops and the holidays are the perfect time to enjoy this magical part of Arizona.
After an afternoon of shopping, head down to Salt Rock Kitchen for dinner and drinks, and take in the evening sunset from their relaxing outdoor patio dining area. The outdoor patio is heated and they give you warm toasty blankets during the cooler months!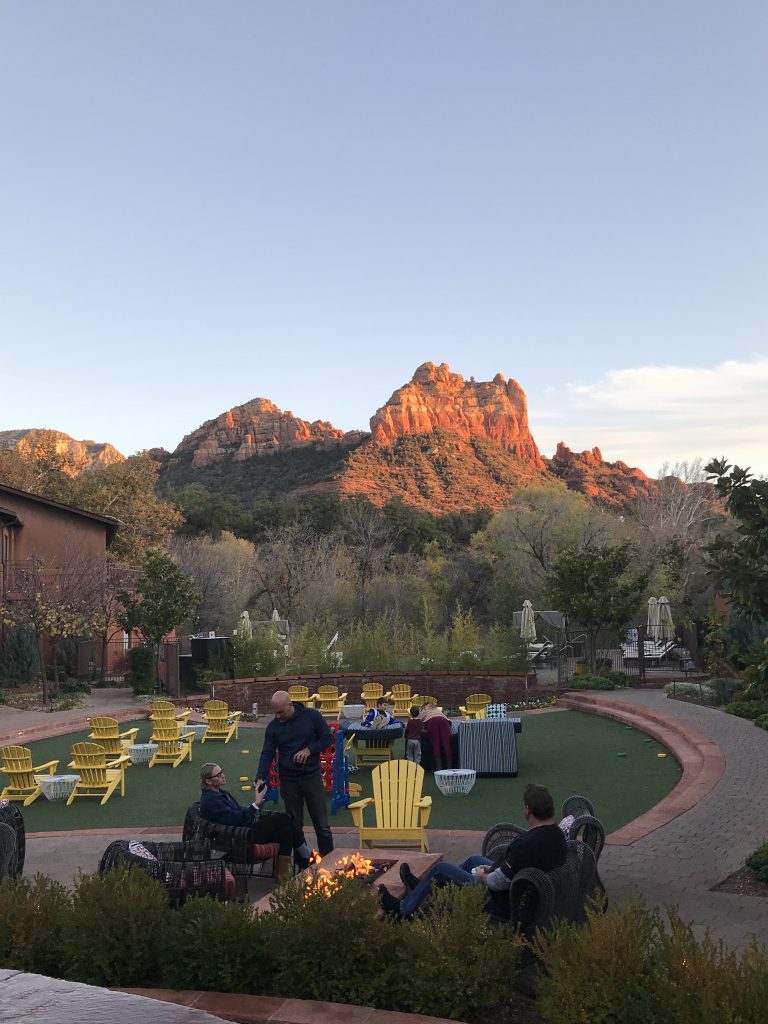 Day 2: Book a yoga/hike session with Yogi Blair from Vortex Yoga Hiking in Sedona, he took us on Chapel Trail with amazing views of Chapel of the Holy Cross, Bell Rock, Cathedral Rock along the way. Combining Yoga poses and the energy of Qi Gong mixed with the surrounding vortex energy of Sedona and you walk away with a new sense of balance. Plus he makes his own homemade chocolate for a post mindful meditation walk back!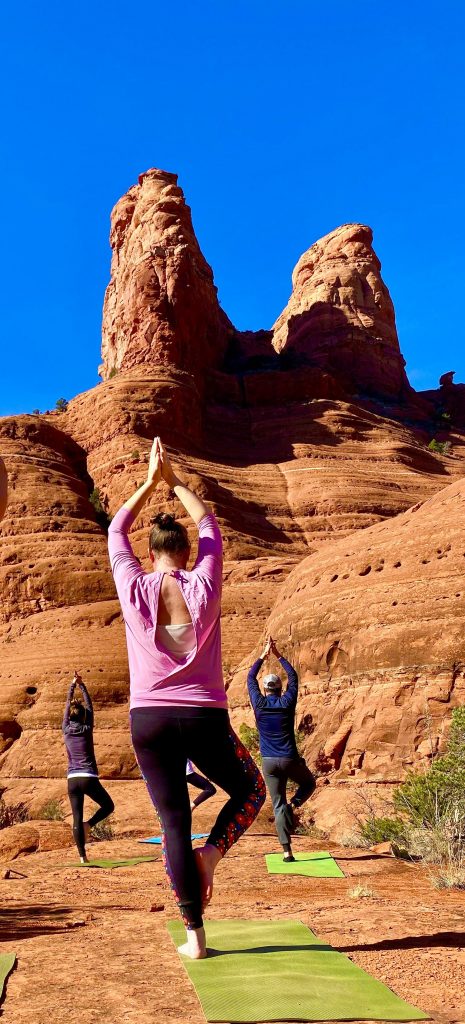 After coming off of the Chapel Trailhead make sure to head up the hill to check out the amazing views from Chapel of the Holy Cross and the church inside is worth a look inside as well.
To re-nourish the mind, body, and soul after your yoga/hike check out Chocola Tree with a wide array of healthy Vegan/Veggie/ Live Food options.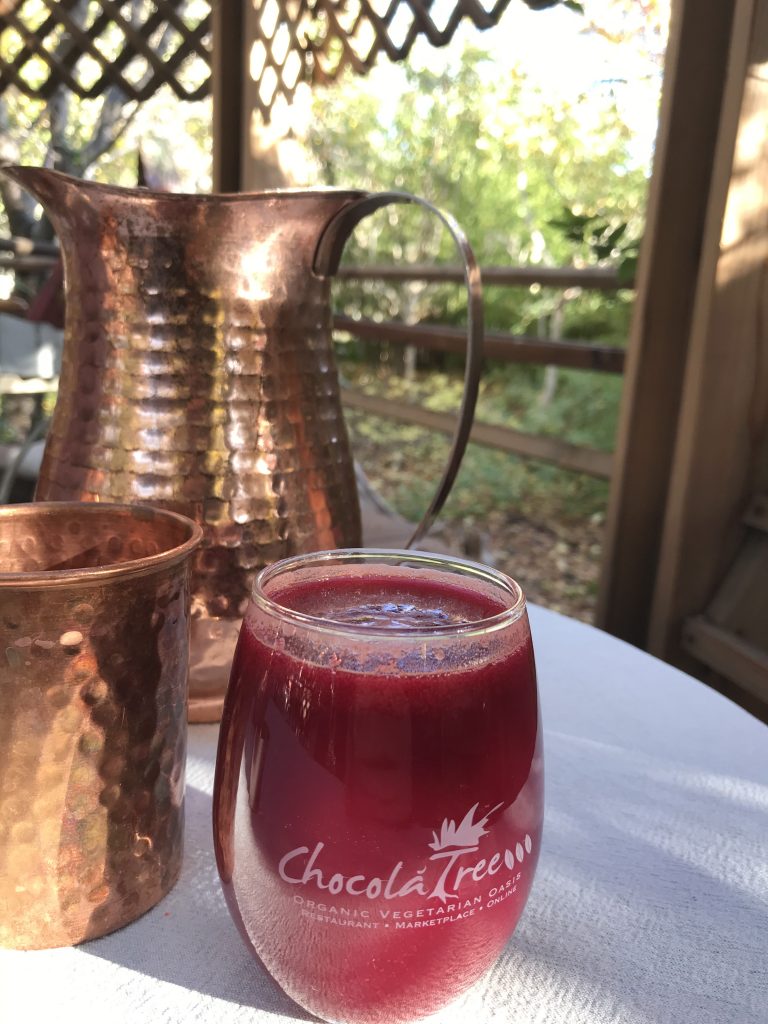 If you haven't heard of Chef Lisa Dahl, then you need to find out fast! Lisa Dahl created some amazing restaurant destinations throughout Sedona. Each with it's own distinct style, atmosphere, and cuisine.
Ranging from Latin inspired, rustic Italian, fine dining, pizza and burgers, there is a restaurant to satisfy your every desire and senses…
With 5 restaurants to choose from you are bound to find just the right one!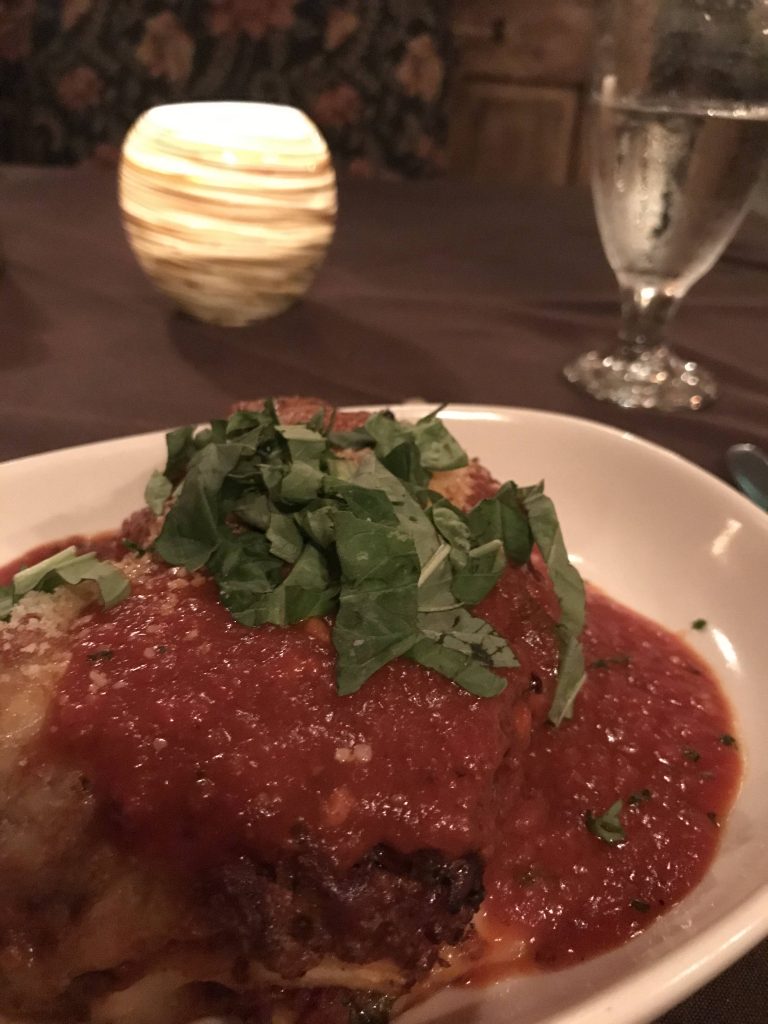 Day 3: Since I only had a few days to explore Arizona, I decided it was worth it to visit the Grand Canyon, Antelope Canyon, and Horse Shoe Bend all in the same day! This all day road trip is definitely possible if you have a short time to explore and you've never been to these iconic parts of Arizona.
Head up to the South Rim of Grand Canyon from the tiny house Sedona getaway via Hwy 89A. Within 2 hrs you are in the Grand Canyon National Park and there are plenty of spots along the South Rim for all those picture opportunities!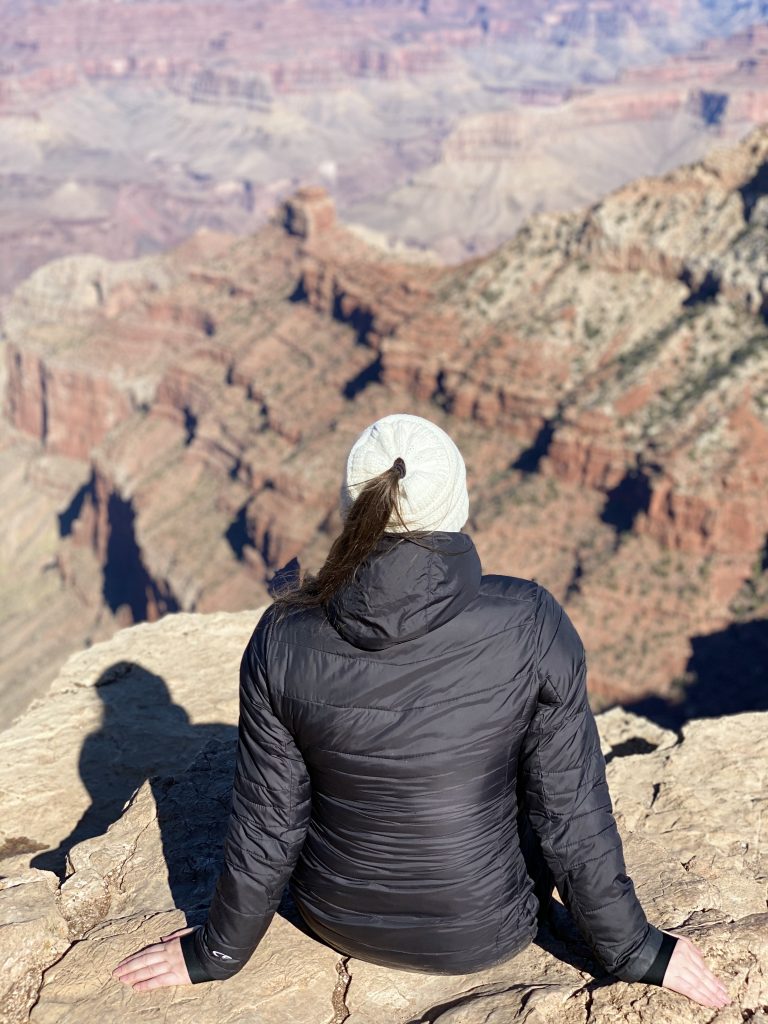 Continue on Hwy 64, towards Hwy 89 towards Page, Arizona, about a 2 1/2 hr drive and book a tour with a local guide agency for the slot canyons of Antelope Canyon. This area is a Navajo Reservation area so the only way to access these canyons is through a guided tour. I went with Taadidiin Tours taking you through the Canyon X portion of the slot canyons.
Note: I advise booking online early with a guide, these tours are very popular now.!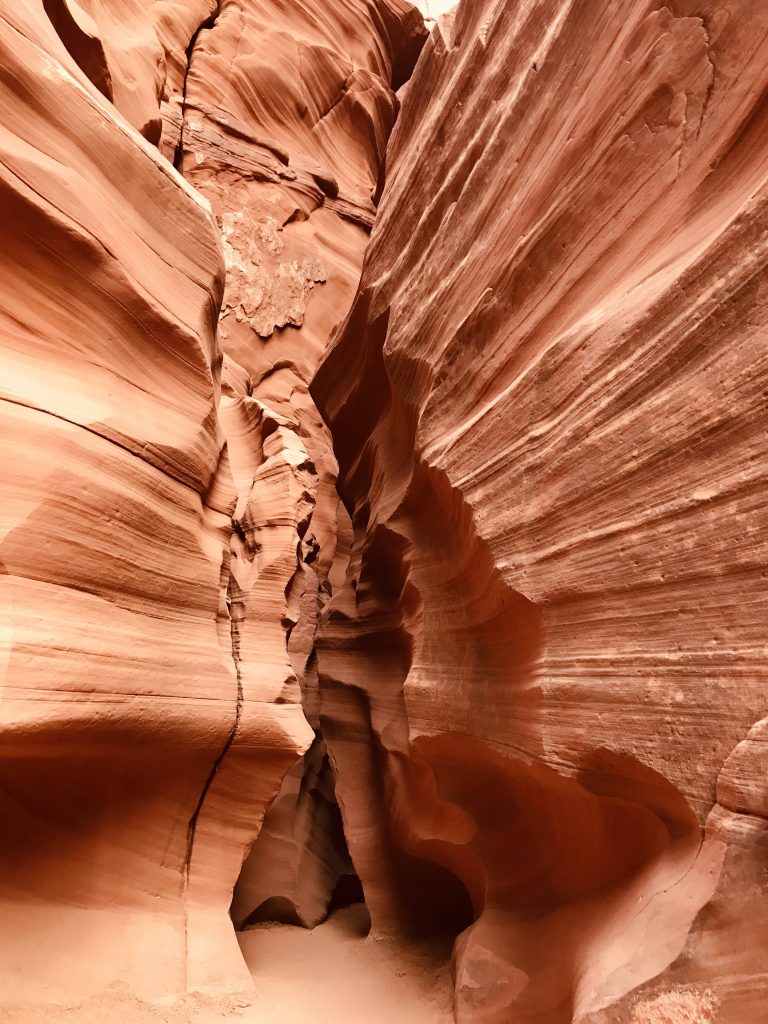 After your hike through the slot canyons, take Hwy 98 back to Hwy 89 and head to the famous Horse Shoe Bend for amazing photo opportunities! I went in November so due to weather I didn't get to experience the amazing sunsets from this view but it was still worth it to check out the Colorado River. Parking is just $10 dollars and it's a 20 minute walk down to the actual vista point.
Day 4: Relax on your tiny house Sedona private patio and take in the Oak Creek Canyon Views with complimentary coffee in the morning.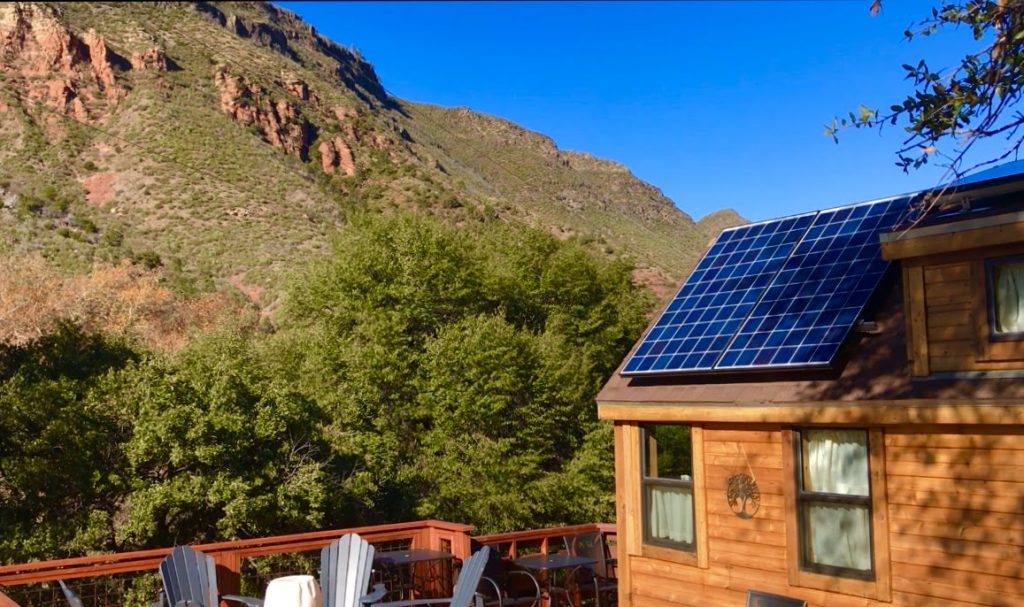 When I first arrived in Sedona, I drove past the restaurant Mariposa Sedona and fell in love with the view so much that I knew I had to eat there at some point during my 4 day stay. So I thought what a great treat to end the trip with lunch here! The outdoor patio is not available during the colder months but you still get an amazing view in the main dining area so it's still worth checking out another one of Lisa Dahl's restaurants.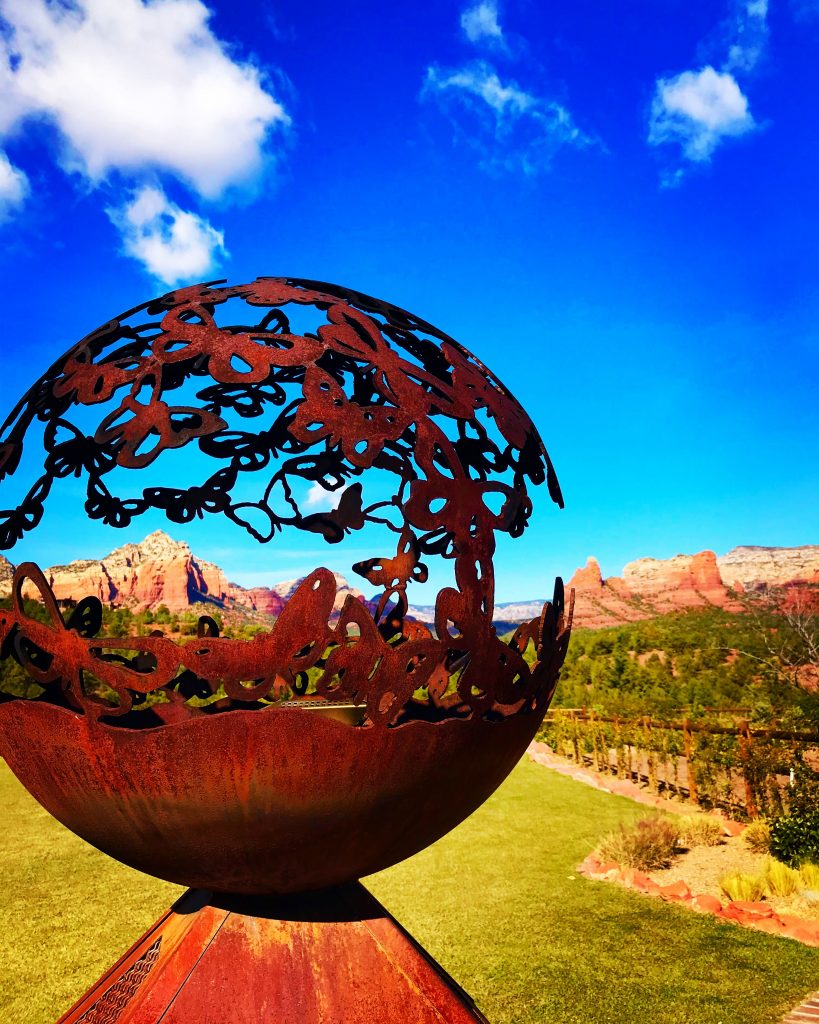 After a scrumptious lunch of Latin inspired dishes head up to the very popular hike to Devil's bridge. You will have to park in the lower parking lot if you don't have a 4WD to get to the trailhead. From the parking lot it's about a 4 mile round trip hike. All I know is despite the challenging parts of the last part of the hike, this unique view of Sedona is a must do on your Sedona bucket list! Plenty of families with children, and hikers of all ages and levels are on this trail, so take your time and enjoy it all!
Note: You will be challenged towards the last leg of the hike but plenty of people coming back down cheer you on and give you that last bit of encouragement to get to the top for this amazing view of Devils Bridge!
It's the perfect view to end your Tiny House Sedona Getaway…..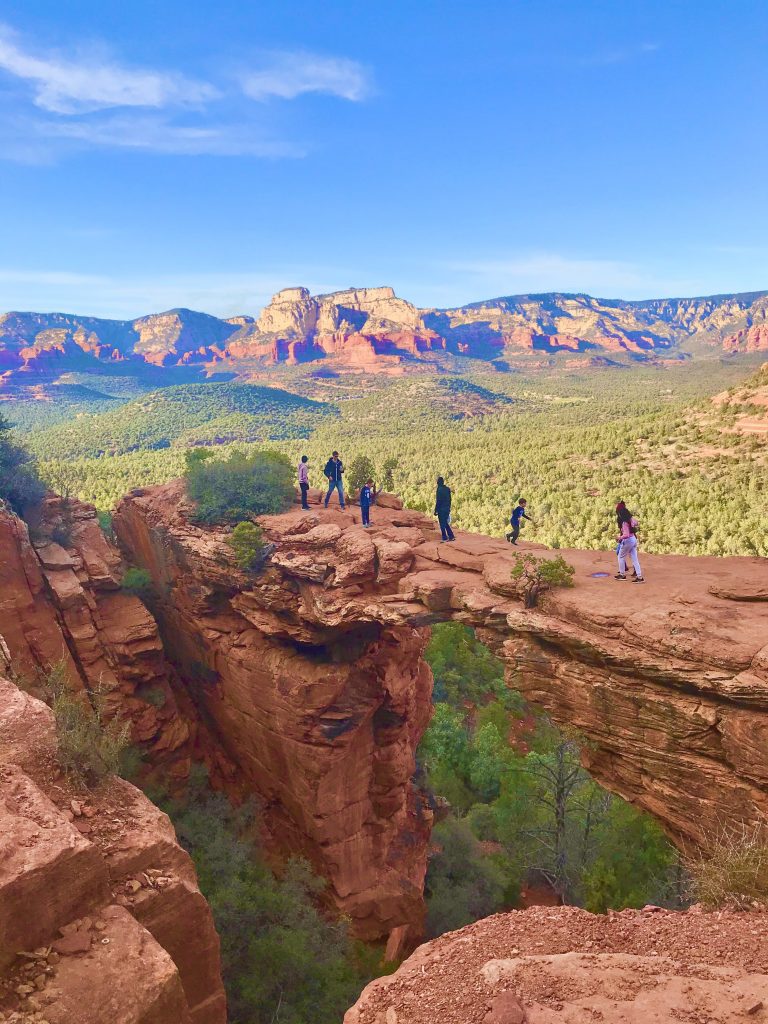 Want to stay in a Luxurious Tiny House Sedona Getaway?
Pin it!