Small beautiful houses come in many shapes and sizes and even on wheels! I've got 8 tiny houses on wheels that you can stay in and try out to see if tiny living is for you. Pam and Bruce Westra of Tiny Digs Hotel in Portland, Oregon designed and built 8 unique small beautiful houses for guests to stay in.
The Cottage Tiny House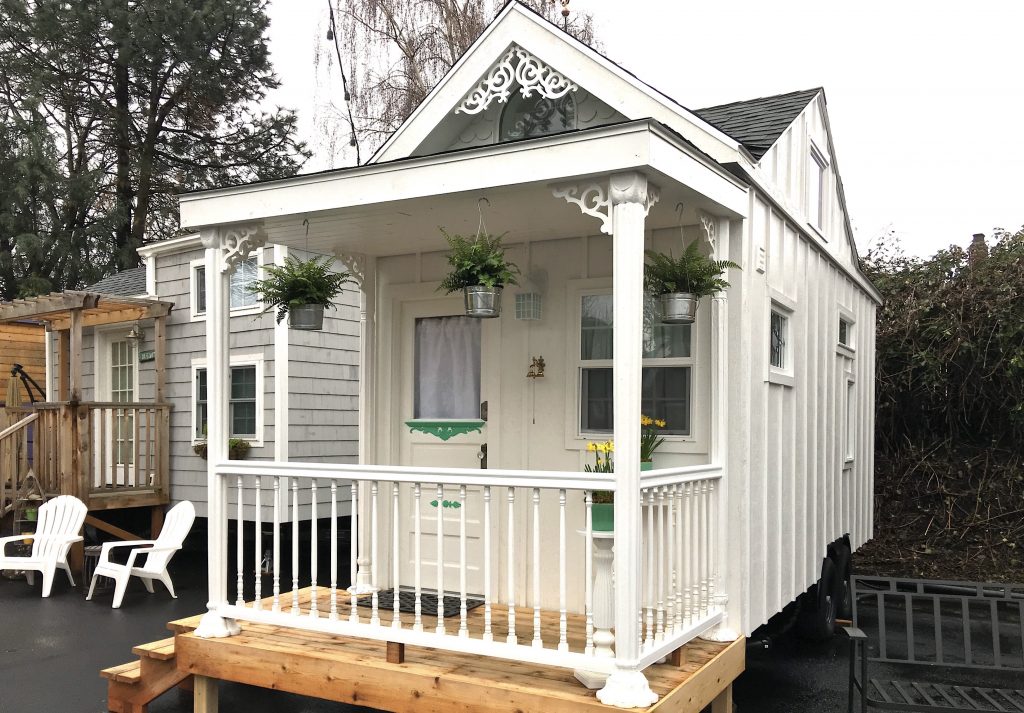 If you're all about tea parties and shabby chic then The Cottage is your cup of tea!
See what I did there?
From the ceiling to the floor, the cottage is decked out in chandeliers, candles, and tea sets…
Measuring in at 180 square feet, it has just enough space for a loft queen bed, a bathroom and a cozy living room complete with a electric fireplace.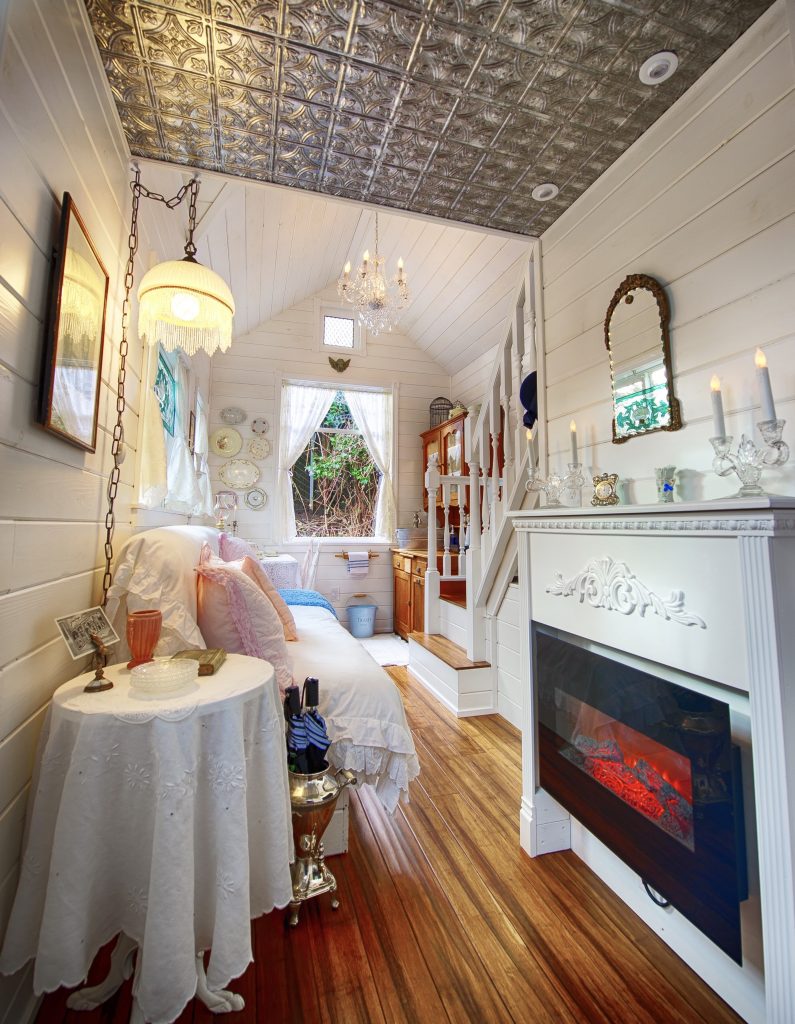 Keep in mind that these small beautiful houses at this tiny house hotel provide the same amenities and maybe a little bit more like a hotel stay.
The Cottage tiny house comes with a kitchenette, a small induction cook top, and a few cooking tools for light meals.
To book a night at The Cottage find out more here.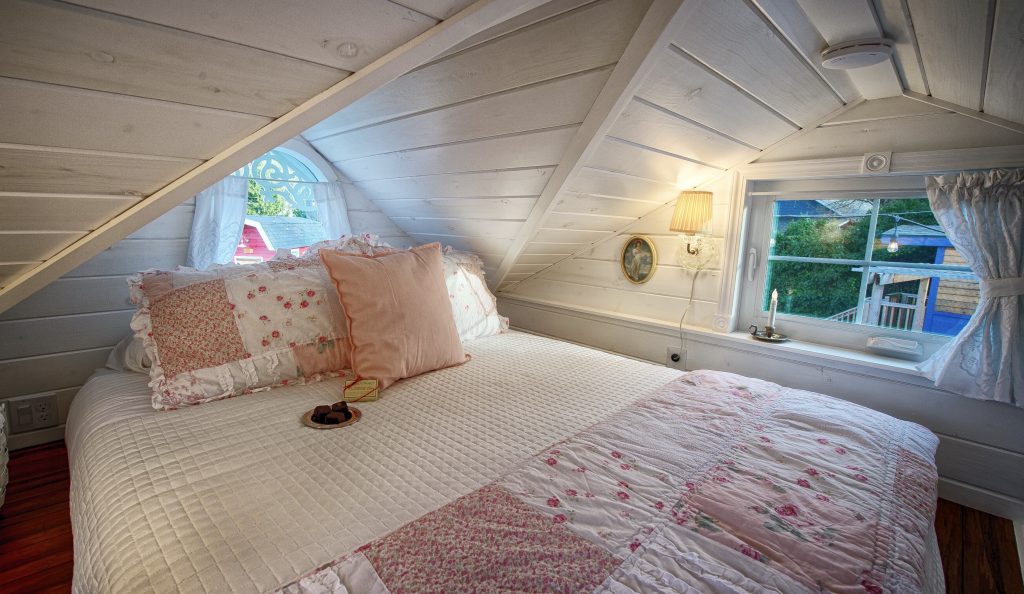 The Beach Tiny House is all about the summer vibes….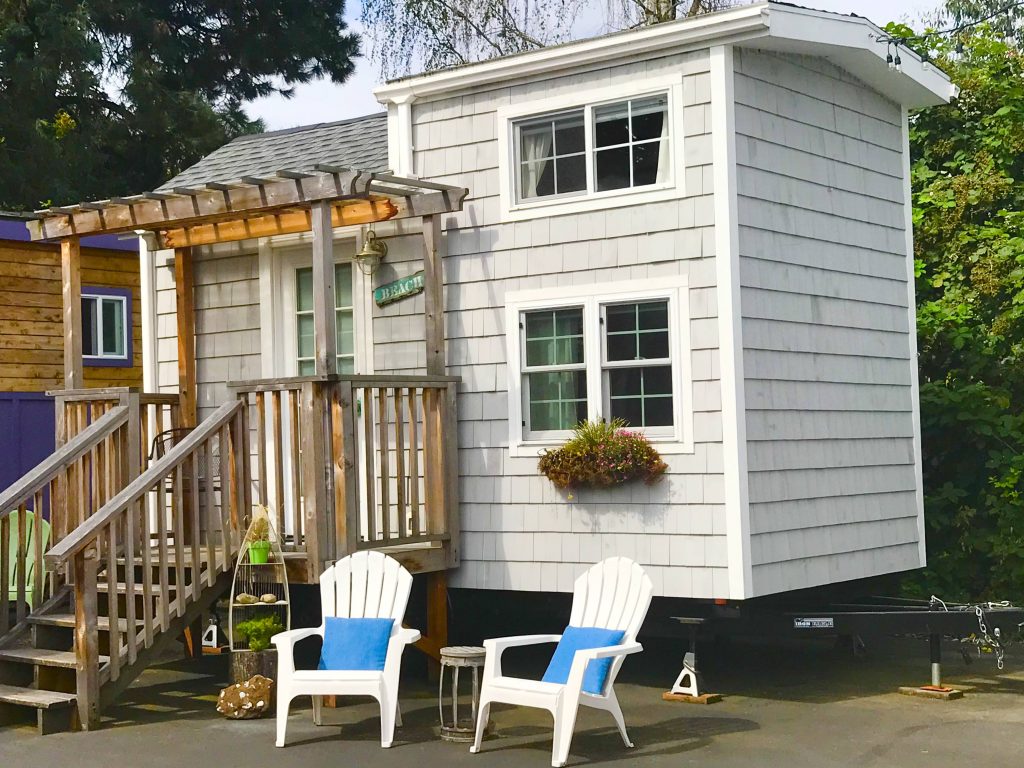 With a light and airy interior The Beach tiny house let's you feel like you're at the beach without the sand!
Small details are sprinkled throughout the tiny house, like an oar paddle for a loft railing.
How clever!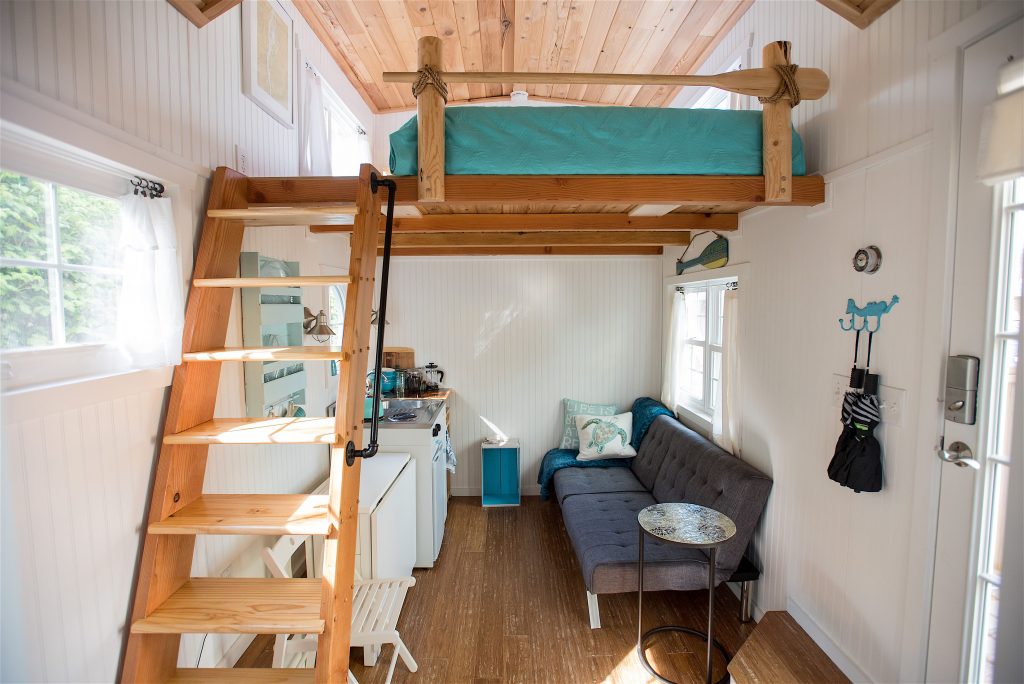 A simple interior with all the basics of a hotel stay, it comes with a small kitchenette and coffee and tea for the morning.
One of my favorites parts of visiting these tiny homes is to get ideas for a future build. I love the use of white siding and contrasting it with a light wood…
The Beach tiny house measures in at 150 square feet, with a bathroom, space for a pullout couch sofa, and a spacious loft.
To book a night at The Beach find out more here.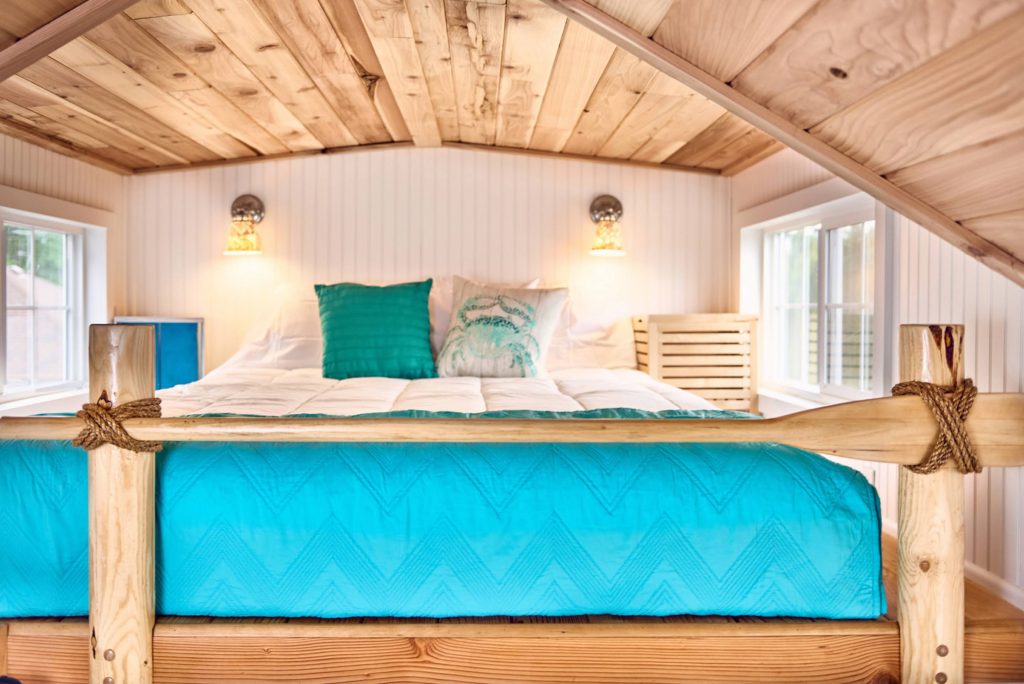 Some small beautiful houses have a special name….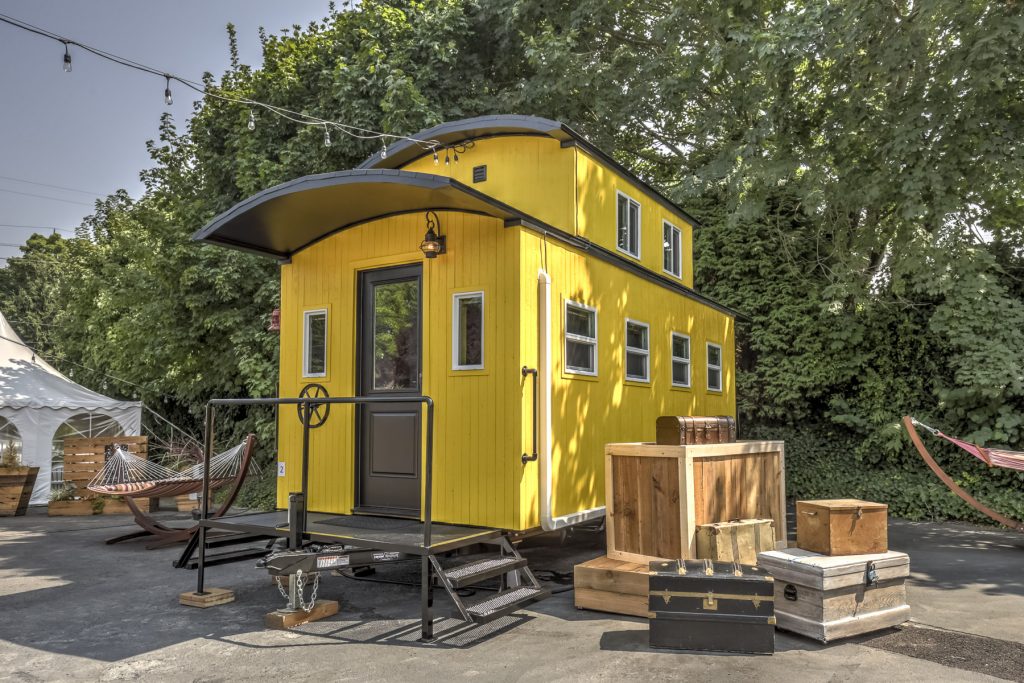 The Arthur Tiny House is named after host Pam's grandfather who had a passion for trains. So in special memory of his love for trains this unique tiny house features a curved rooftop for added space.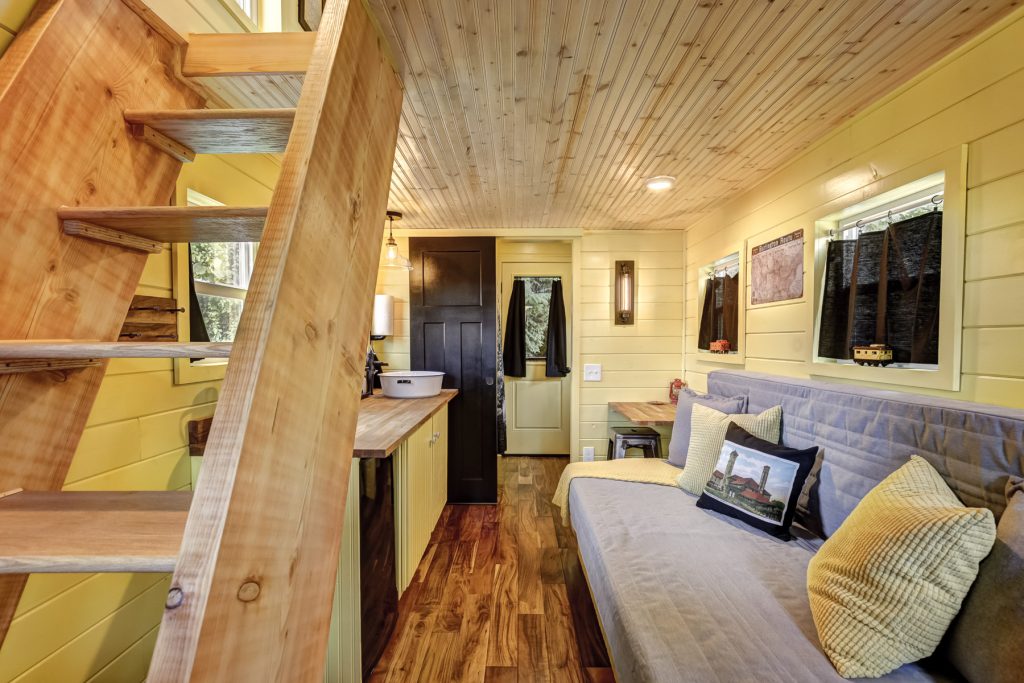 A splash of yellow gives it's own cheerful vibe.
180 square feet is the perfect size for a adventurous tiny house getaway with all the essentials.
A small kitchenette, bathroom with all the essentials, and a cozy loft for relaxing at the end of a busy day exploring Portland.
To book a night in The Arthur tiny house find out more here.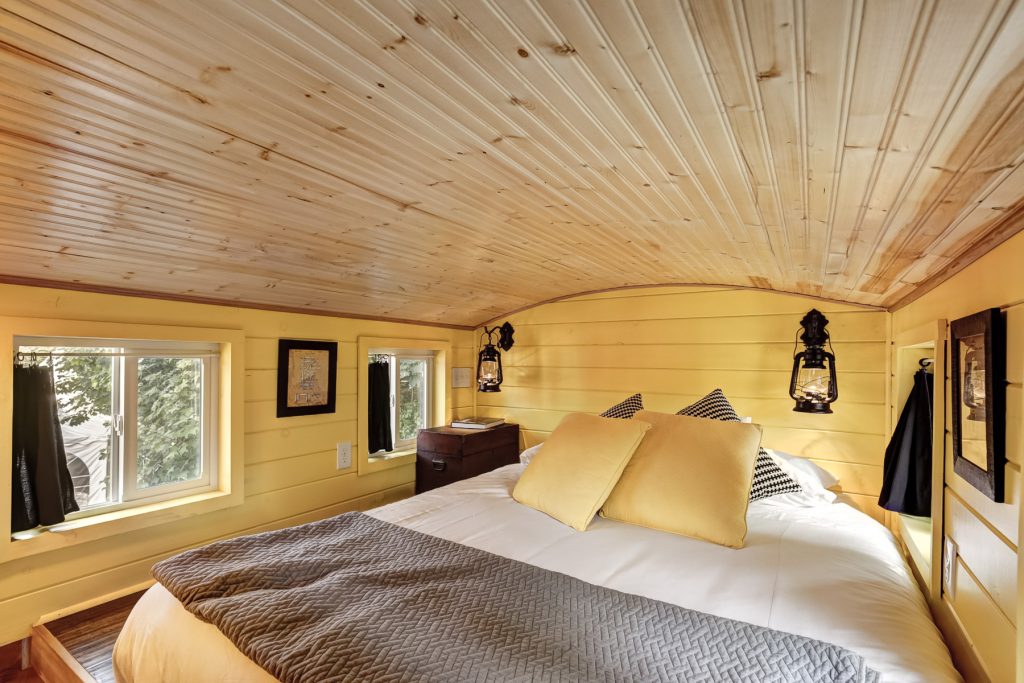 The Gypsy Wagon Tiny House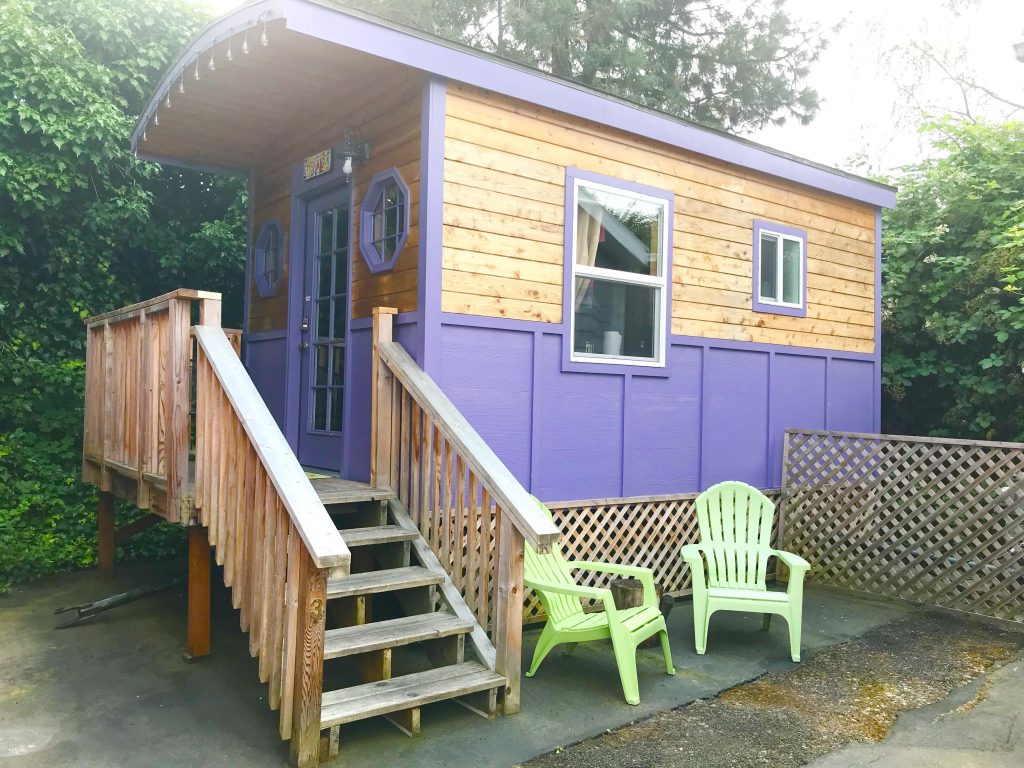 Gypsy wagons are definitely considered the original small beautiful houses on wheels when nomadic living was essential.
For some families traveling from town to town selling their goods and services from their tiny homes was an ideal lifestyle.
Combining making a living with a free spirited lifestyle.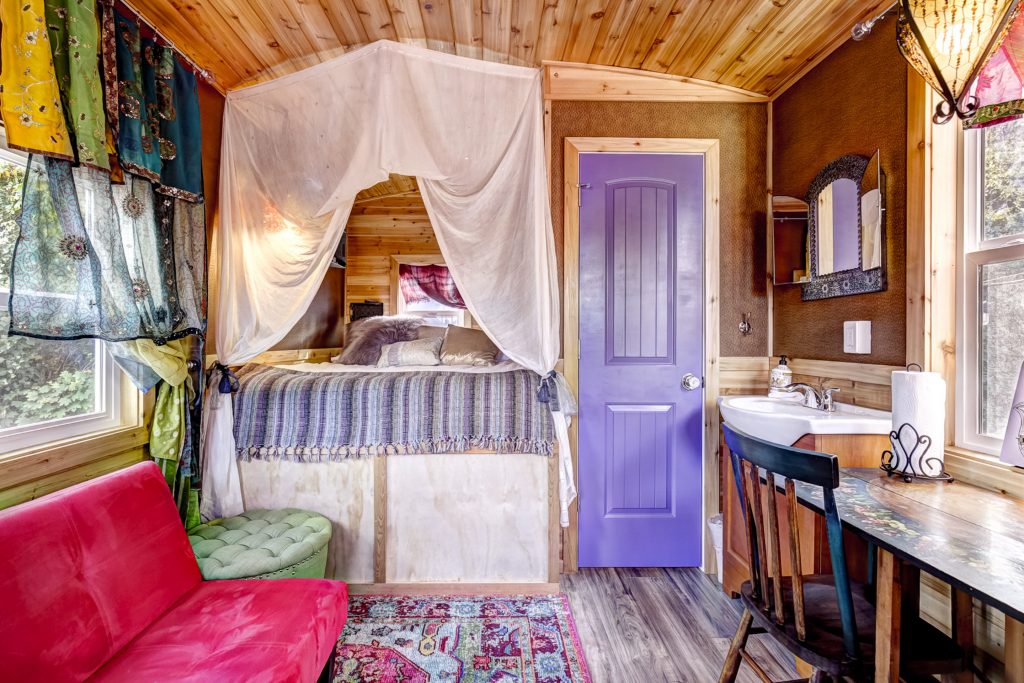 This tiny house is beautifully decorated with splashes of color and sparkles to make your stay extra whimsical.
I love that a tiny house can support your lifestyle and also to express your creativity!
The Gypsy Wagon comes with a small refrigerator, toaster oven, some dishes, and a full bathroom as well.
To book a night in the Gypsy Wagon find out more here .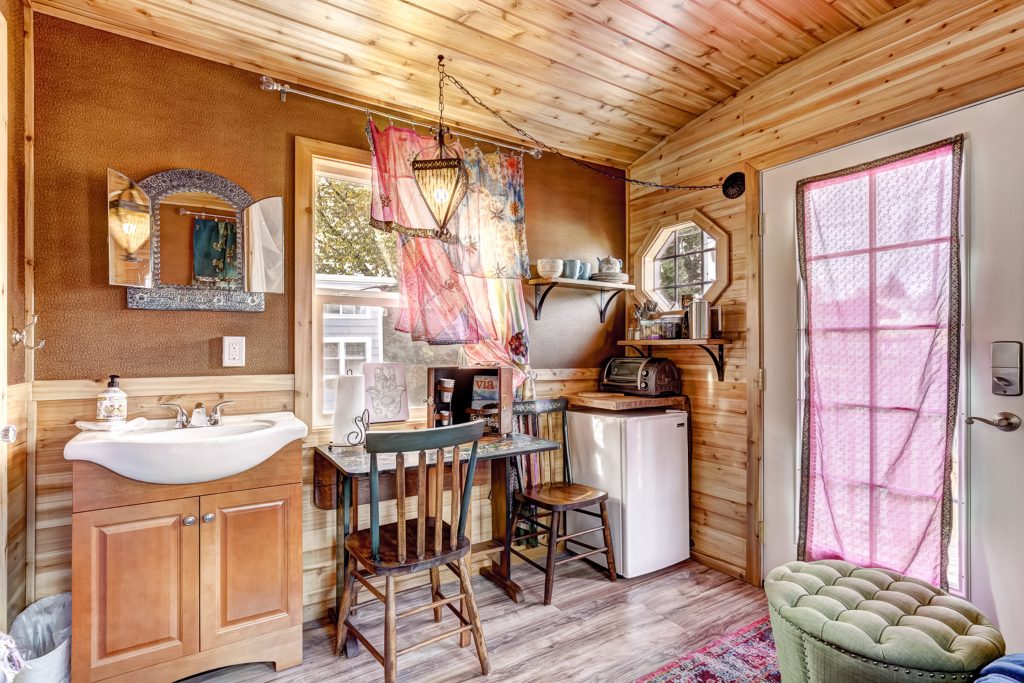 The Barn Tiny House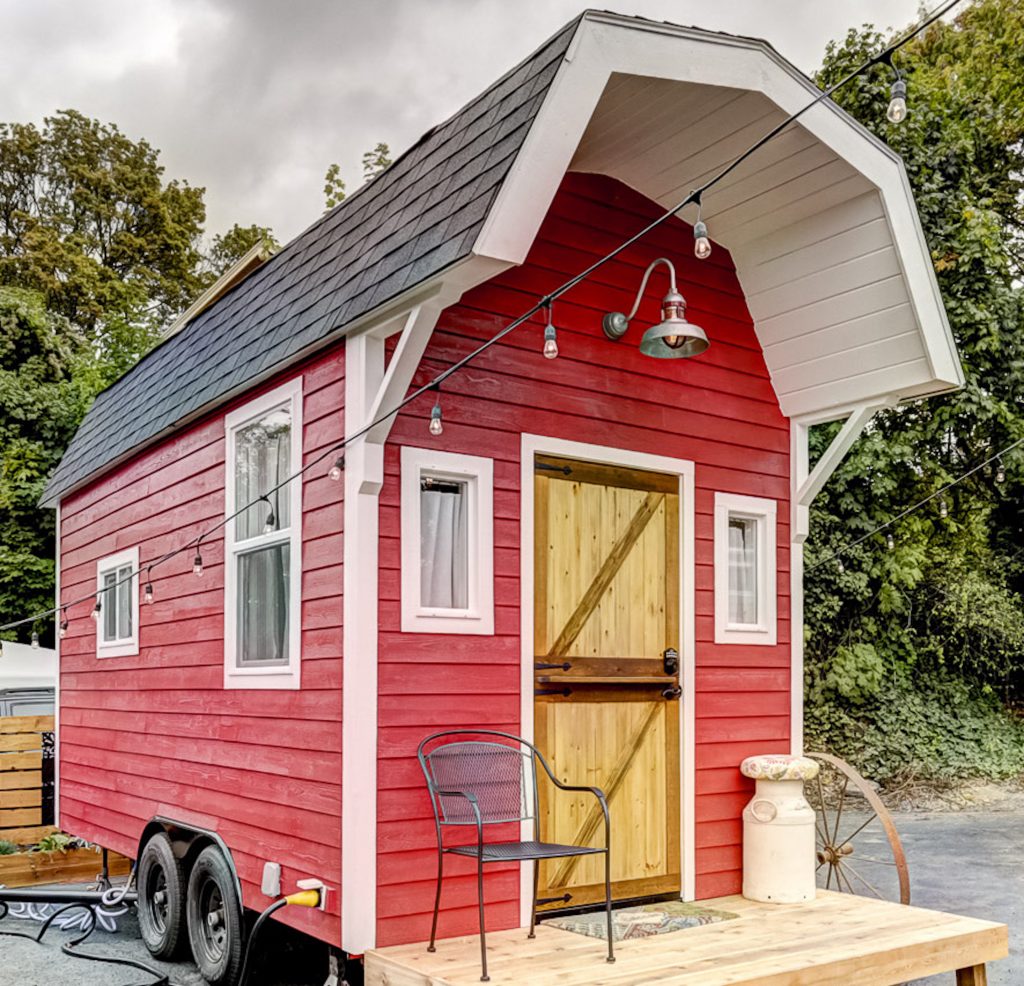 Why do I have the urge to sing "Old McDonald had a Farm" when I see this adorable tiny house?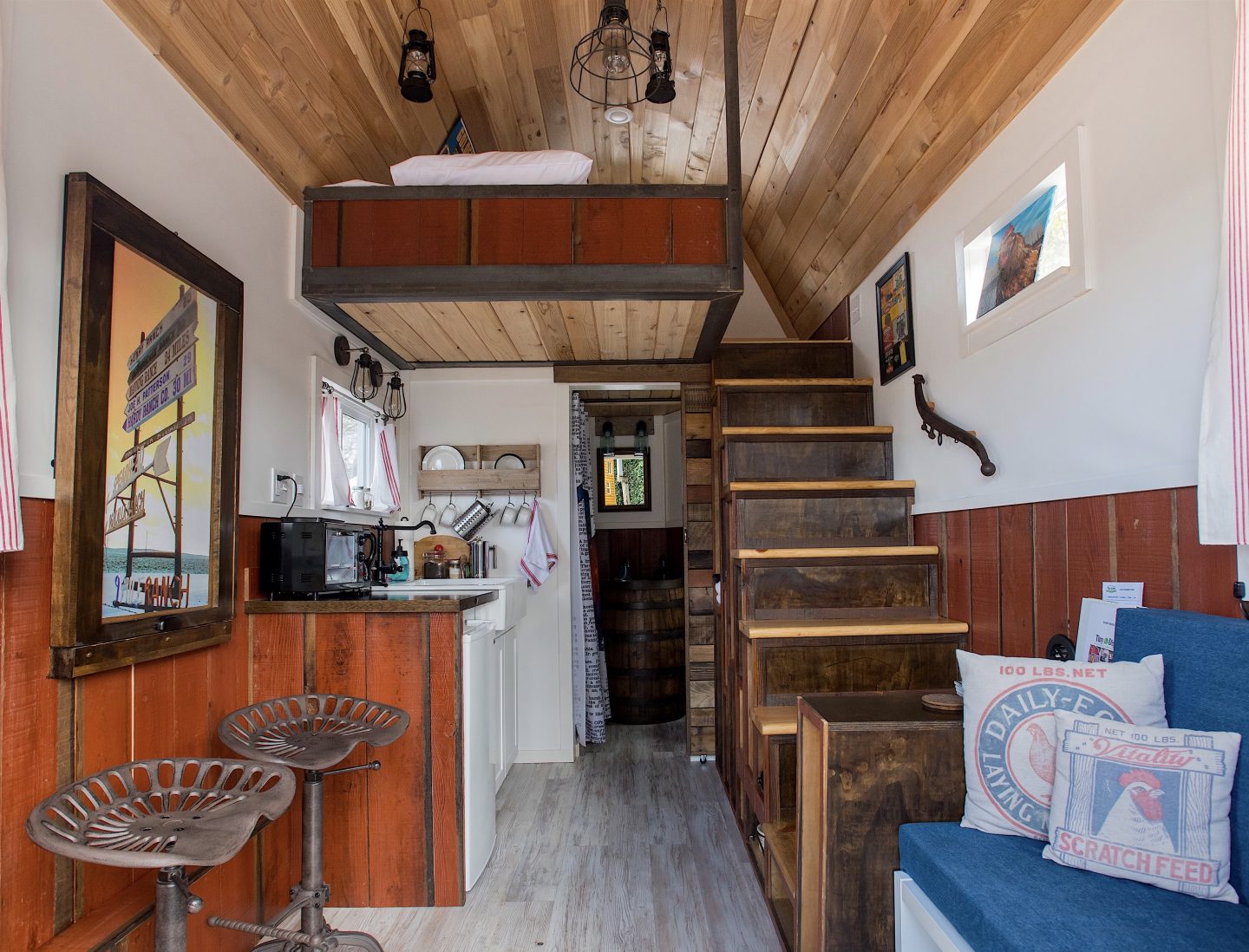 The hosts have done such a great job putting little unique details in each of these small beautiful houses on wheels.
The highlight of this tiny house stay is it's wood barrel sink in the bathroom.
The Barn tiny house has everything you need on your tiny house getaway, a small kitchenette, bathroom and plenty of storage in the custom built stairs.
To book a night in The Barn Tiny House find out more here.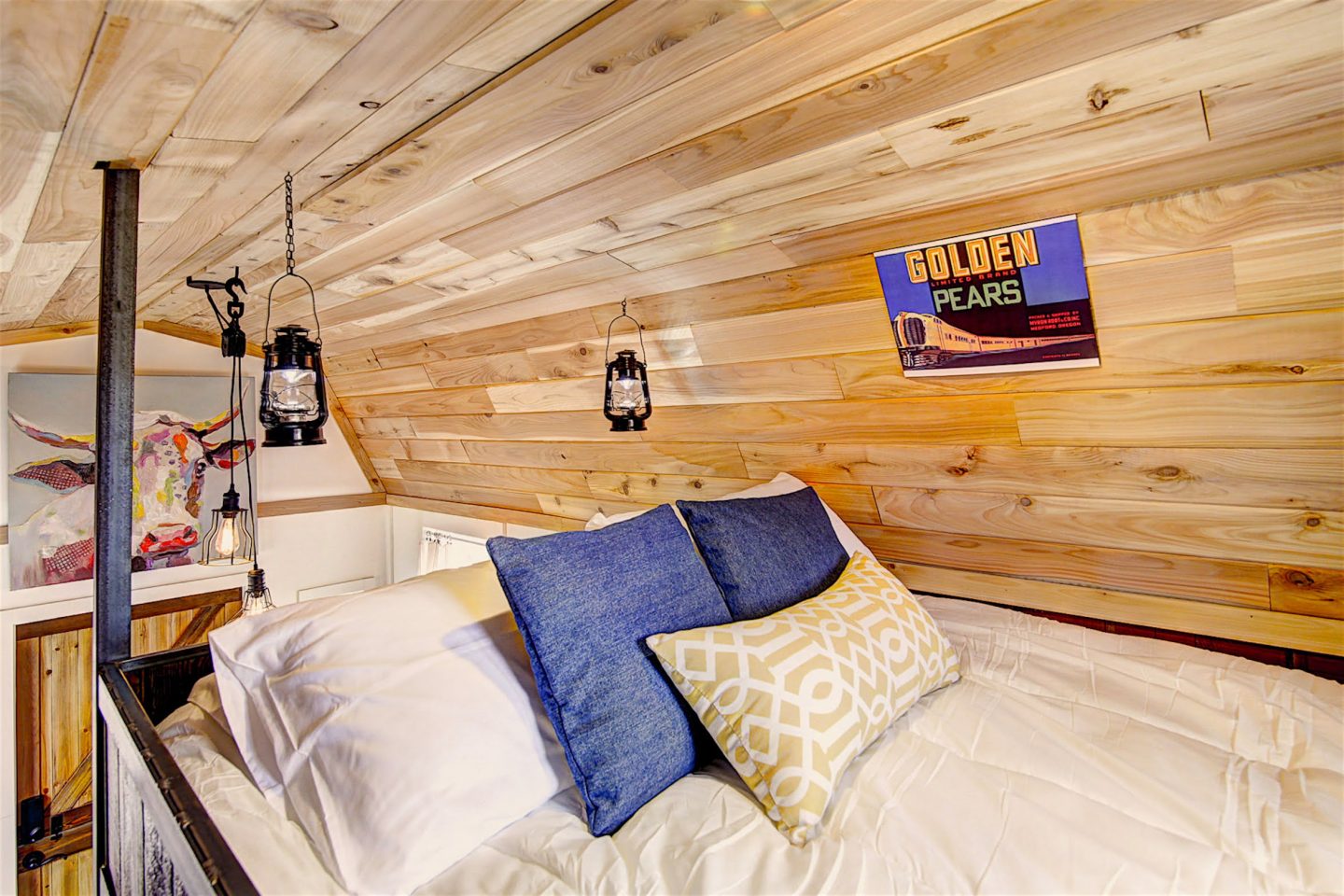 The Bamboo Tiny House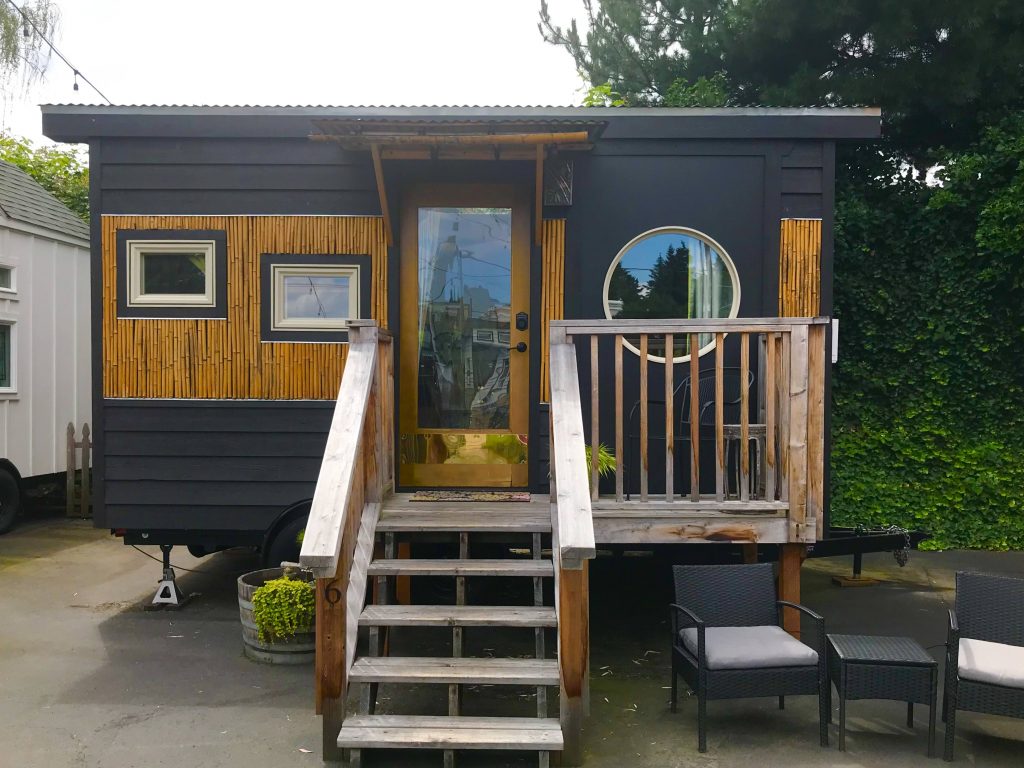 Easily my favorite tiny house I've seen so far, the Bamboo is all about Zen vibes.
I love all the mix of bamboo and the dark wood throughout this special tiny house. The exterior is known as shou sugi ban and it's not only a attractive design element but it also makes the exterior water resistant too!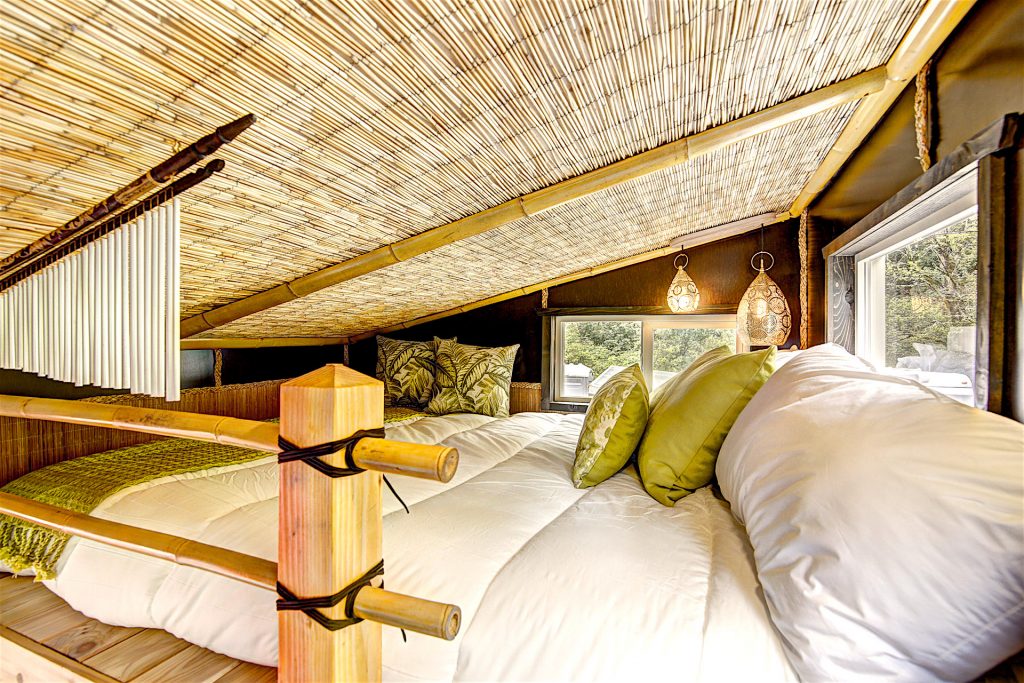 Check out these custom made Tansu stairs perfect for storage in a tiny house.
Leading up to the loft, guests can enjoy a cozy relaxing space.
To book The Bamboo Tiny House find out more here.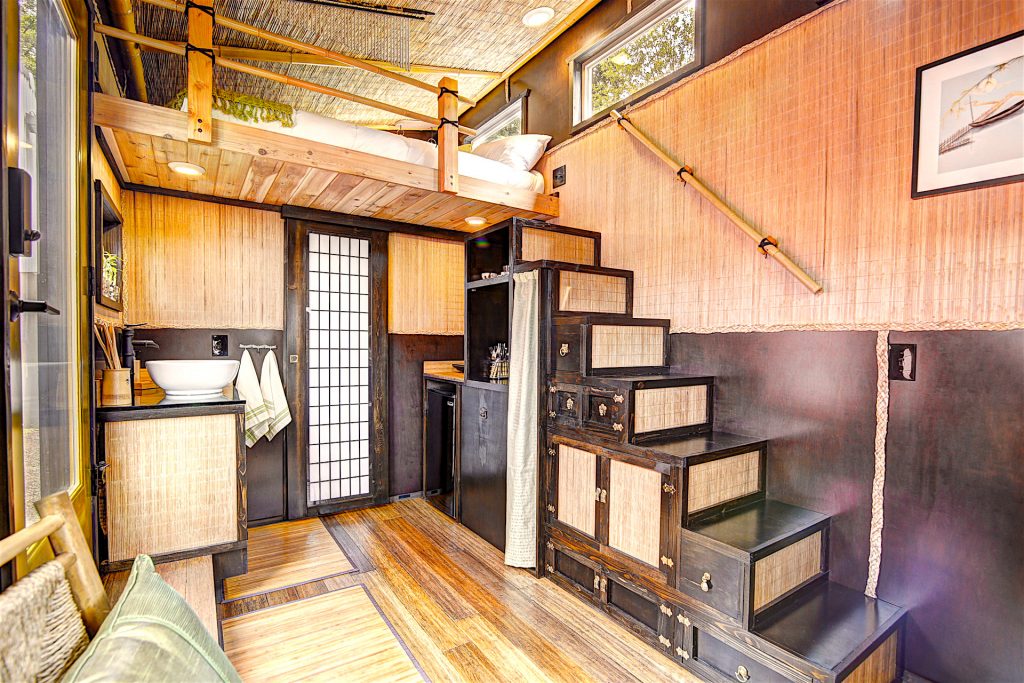 Small beautiful houses on wheels can be modern too….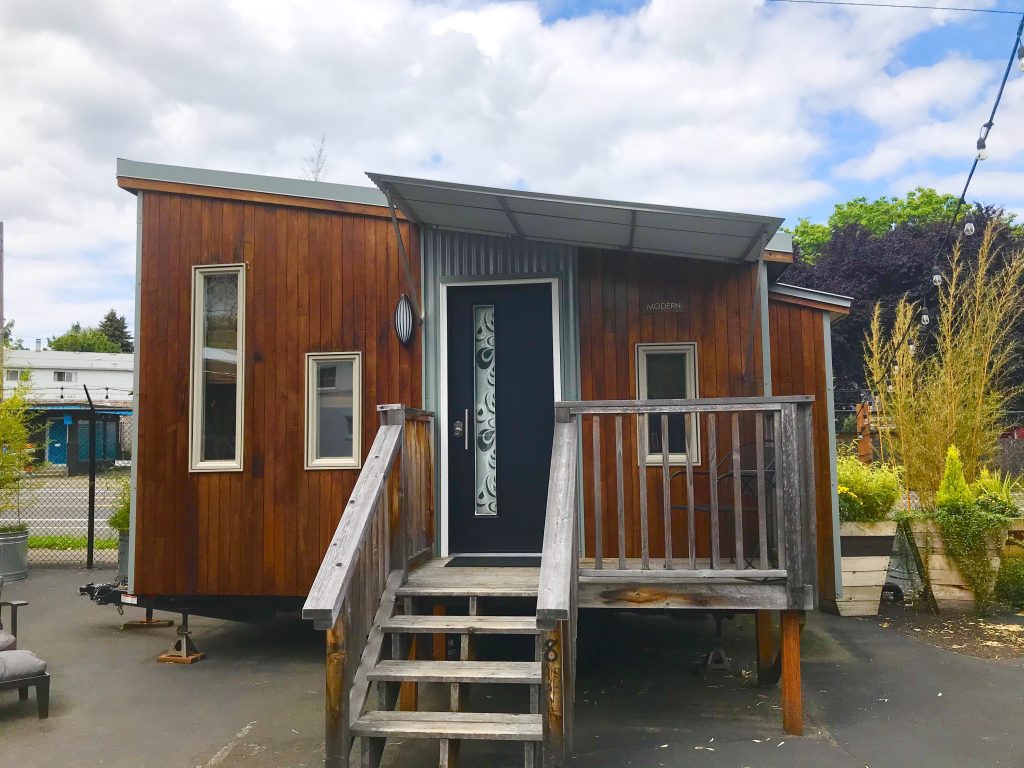 I have to say The Modern Tiny House wins the award for being the most unique tiny house I have seen through my tiny house travels!
Have you ever seen a floating living room?
This custom made platform hovers above the bed with a see through view below.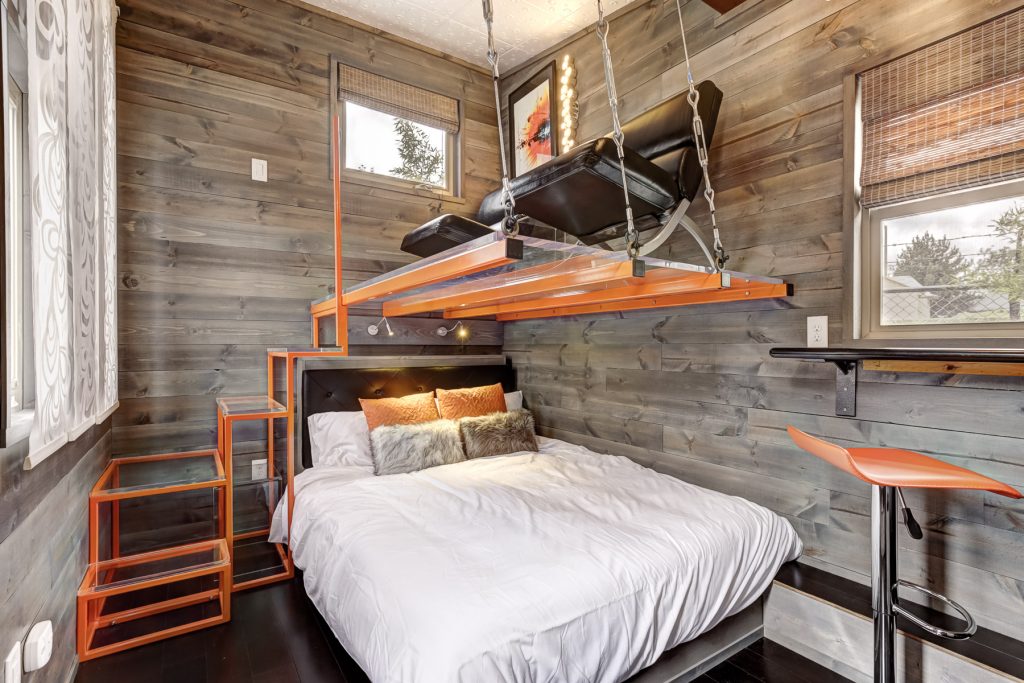 With it's geometric lines, and bold colors this tiny house stay is an experience all in it's own.
Enjoy a rainhead shower, a large spacious open concept bathroom, a small kitchenette to prepare simple meals and a comfy queen size bed.
To book a night at The Modern Tiny House find out more here.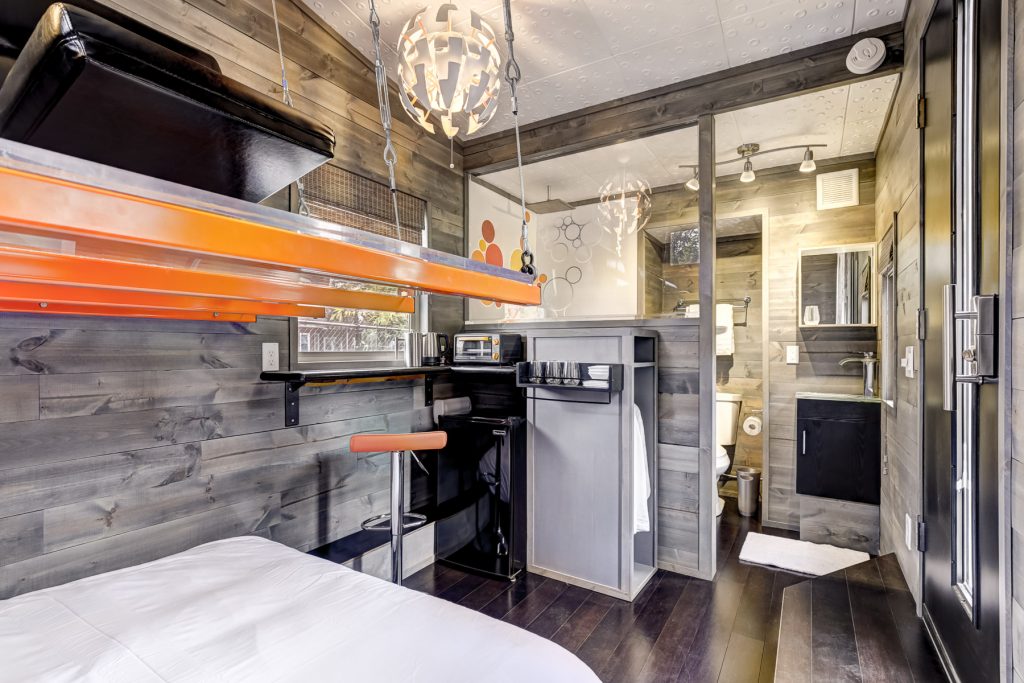 The Cabin Tiny House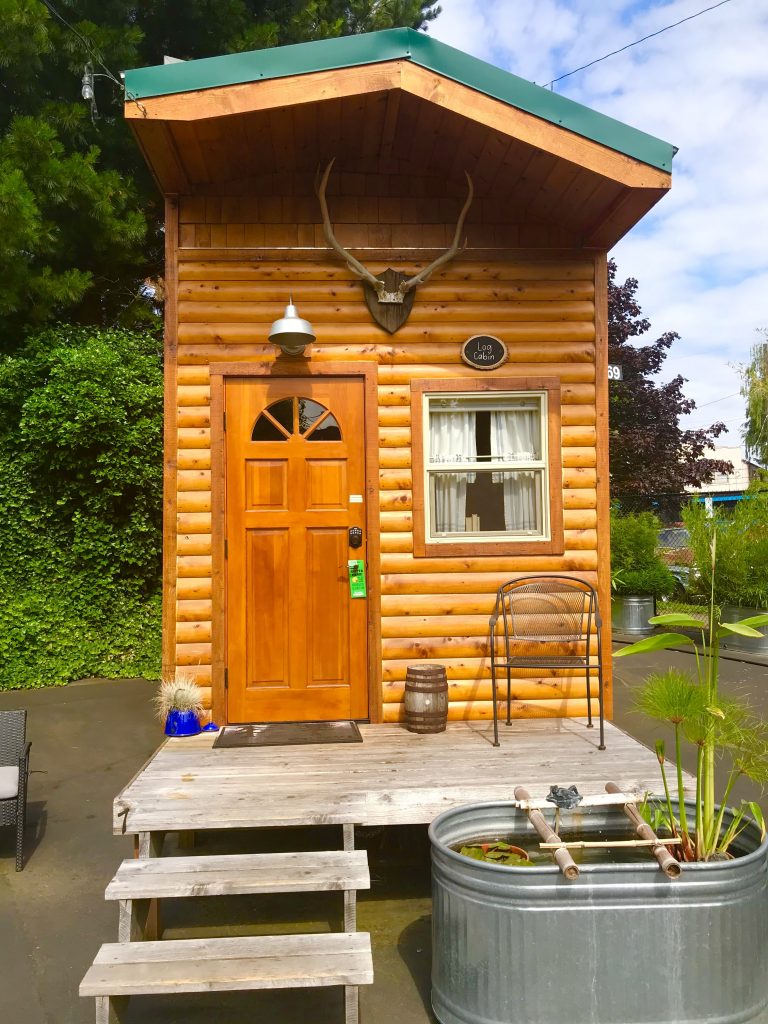 It's a miniature log cabin on wheels with every inch of the house covered in wood logs.
If you're looking for a adventure without the bears roaming around outside then this is the tiny house for you!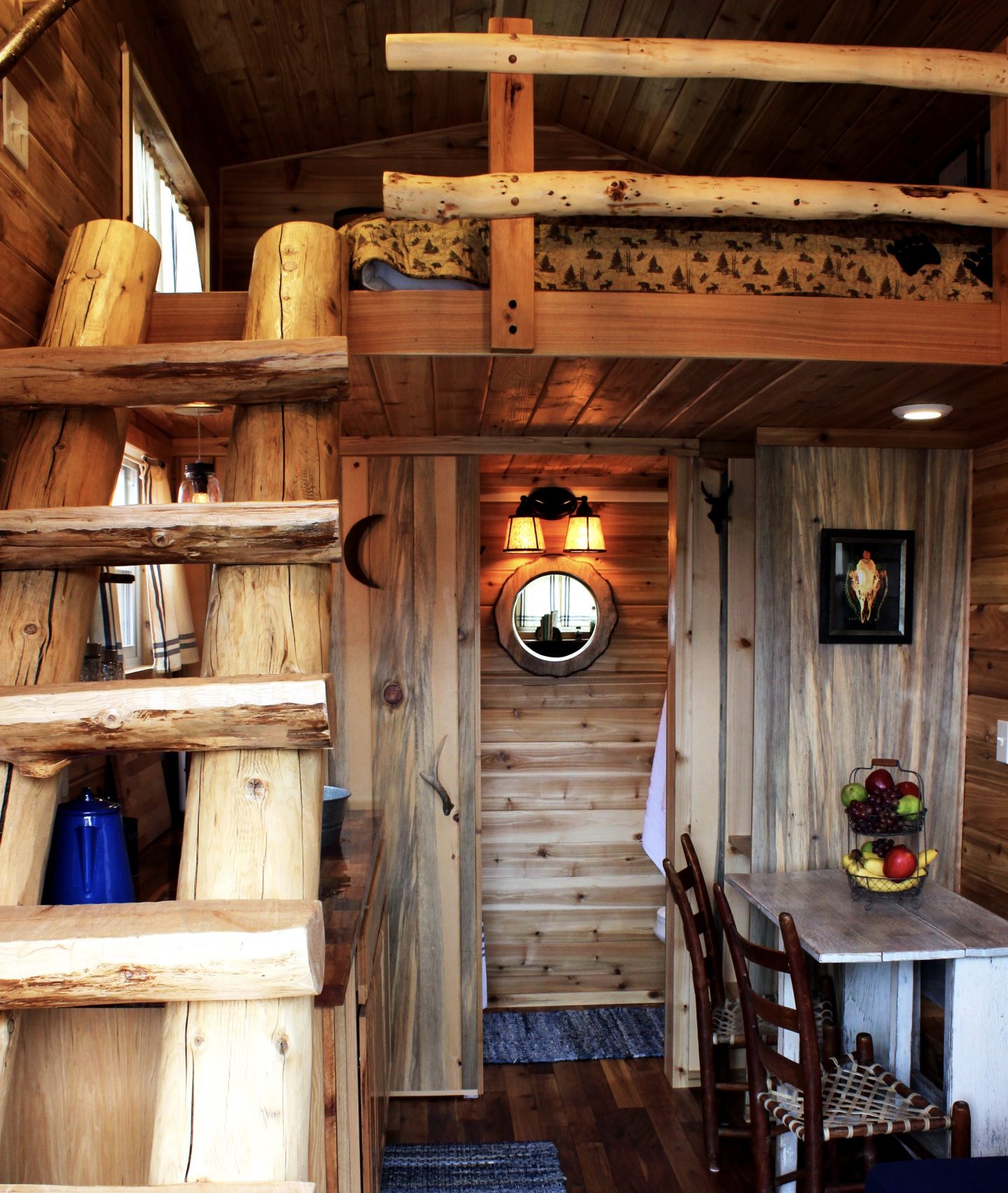 The Cabin tiny house is 150 square feet of coziness with it's own electric fireplace heater for the cooler nights.
With a queen size bed in the loft and a pull out couch on the mainfloor this tiny house can fit a small family.
To book a night in The Cabin Tiny House find out more here.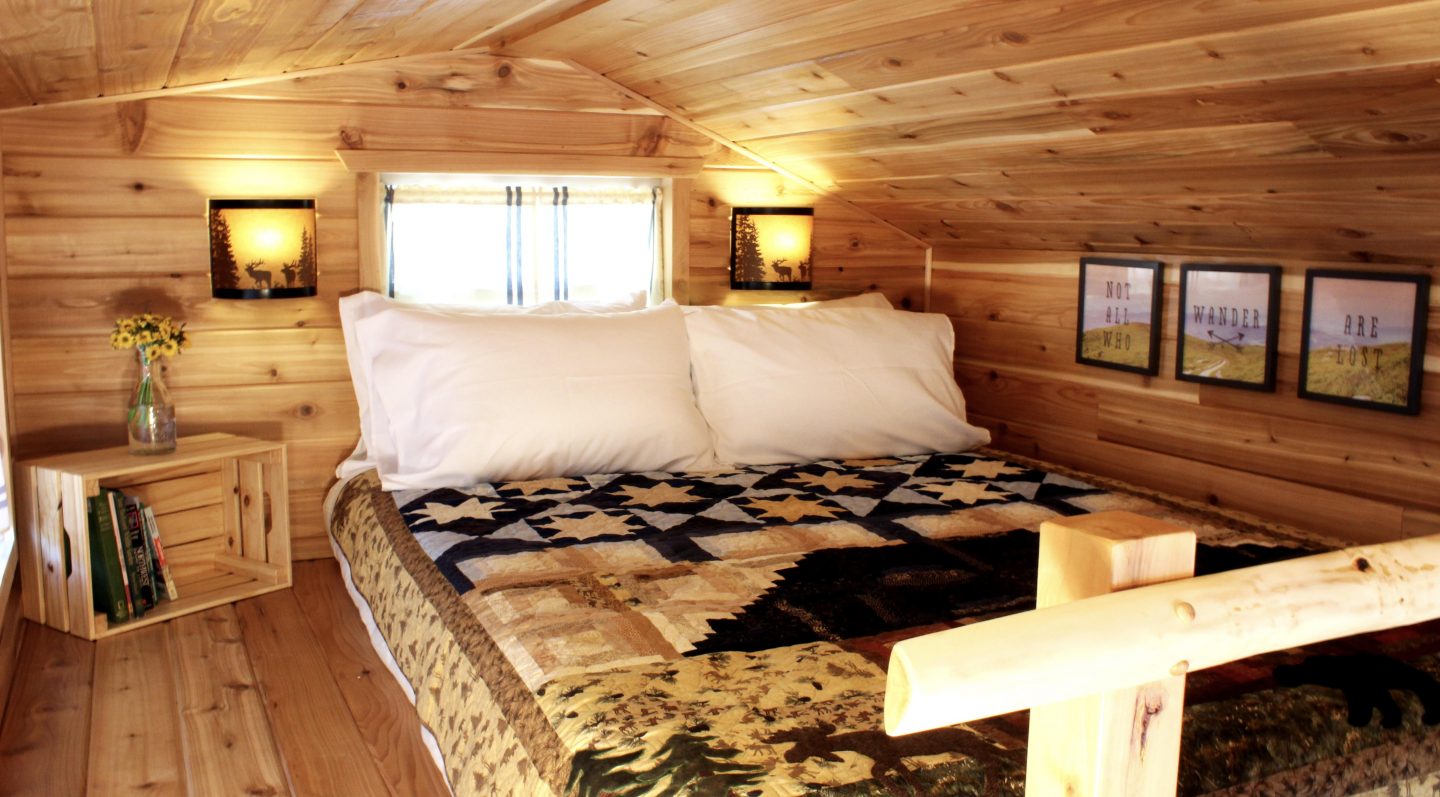 With 8 small beautiful houses on wheels to choose from at Tiny Digs you are bound to find the right style for you! Take a virtual tour of all 8 tiny houses too!
Planning a trip to Oregon? Pin It!